Update: Evers Vetoes More Republican Bills
Gov. Tony Evers vetoed a Republican plan to lower taxes with state surplus money, asking Republican leaders to come back to the table over K-12 funding. Republicans said the veto was an opportunity missed to lower taxes for Wisconsinites.
February 28, 2020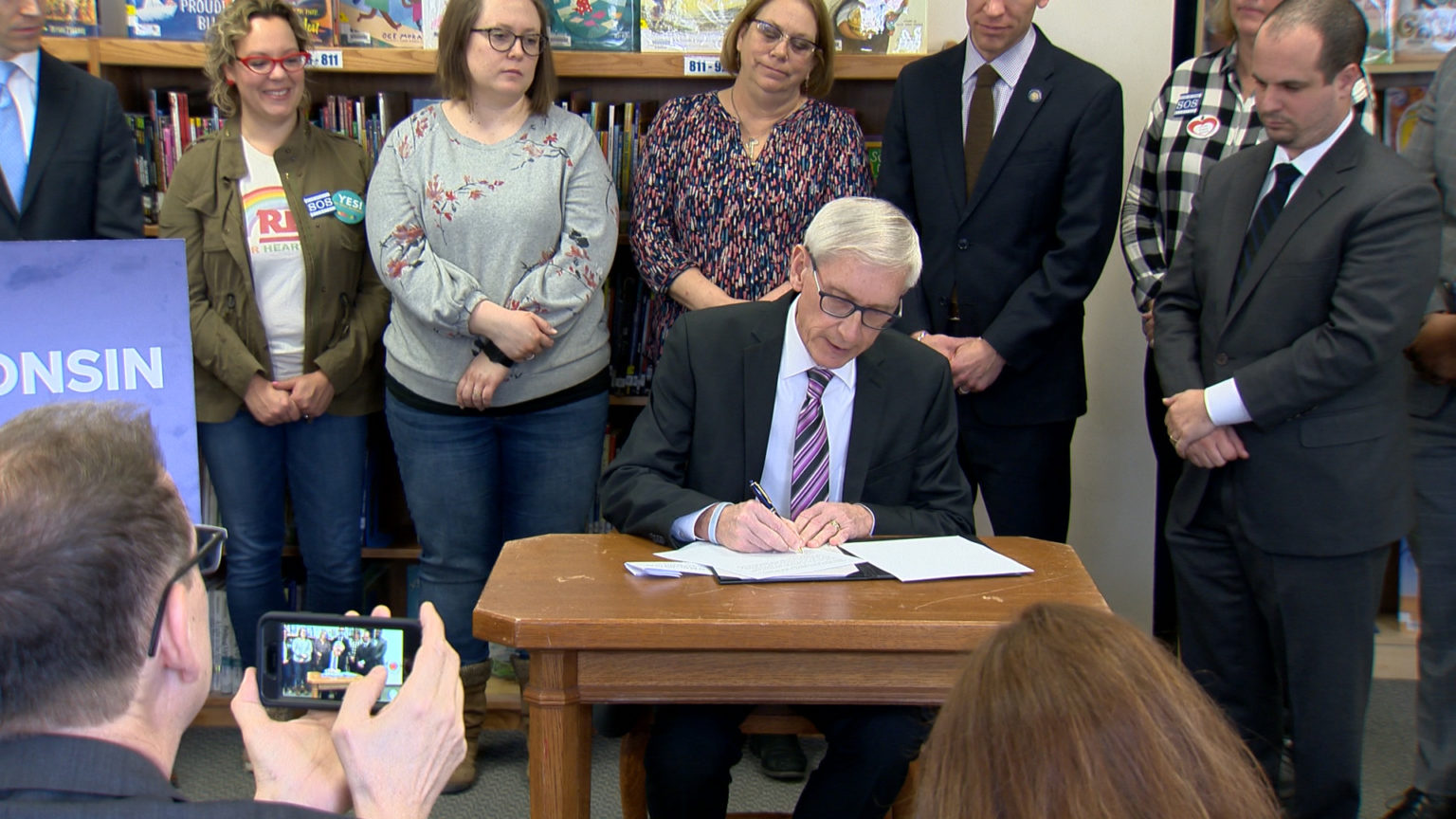 ---
Gov. Tony Evers vetoed a Republican-passed "tougher on crime" legislative package days after vetoing a GOP plan to use state surplus money for a tax cut.
"Leaders at the federal level and in states like Pennsylvania, Mississippi, and Texas have been able to enact meaningful and bipartisan criminal justice reform through policies that focus on rehabilitation and reduce incarceration, particularly the over-incarceration of poor people and people of color," Evers said. "A massive and costly expansion of our prison system would take Wisconsin down the wrong path."
Senate Majority Leader Scott Fitzgerald, R-Juneau, criticized the veto in a statement, saying: "Republicans in the Legislature took the issue of crime in our communities seriously when we passed a number of tougher-on-crime bills. Unfortunately, Governor Evers did not share the same concern for the safety of Wisconsinites and vetoed many of our measures today."
Evers also vetoed bills regarding direct primary care and breaches of the peace.
Earlier in the week, Evers took his veto pen to a Republican plan to lower taxes with state surplus money, saying Republicans did not do enough to support K-12 education funding.
The debate centered around how the state should spend a projected surplus of state funds. Evers asked the legislature to take up legislation that would allocate the funds to schools in an effort to return to two-thirds funding. Republican legislative leaders proposed their own plan for the surplus in the form of a property tax cut. 
"Republicans are more concerned about the perceptions of giving a Democratic governor a win than by getting things done," Evers said. "But at the end of the day…I'm not the one that's losing. The kids are losing. Our schools are losing."
Here's @GovEvers's announcement: pic.twitter.com/2n3TRSaAQ5

— PBS Wisconsin (@PBSWI) February 26, 2020
The Legislative Fiscal Bureau released new numbers in January that showed the state is expected to take in $818.2 million more in tax revenue than in the last two-year cycle. After setting aside 'rainy-day' funds, the state will have a balance of $705.2 million at the end of the 2021 fiscal year–which is about $450 million more than originally projected. 
Republican legislative leaders said their caucus is proud of their record on school funding and decried Evers's veto Wednesday. 
"I am extremely proud that Republican majorities in the Legislature pulled together and passed a plan that cut income taxes, slashed the personal property tax, paid down debt, and put money away in the state's rainy day fund," Senate Majority Leader Scott Fitzgerald, R-Juneau, said in a statement. 
"While I'm disappointed in the governor's actions, I'm not surprised–this is the second income tax cut he's vetoed as governor," he added. 
As Evers announced his veto, he called on Fitzgerald and Assembly Speaker Robin Vos to "come to the table" to revisit a plan for school funding. Fitzgerald did not say in his statement whether he would consider negotiating a plan on school funding, but Vos, R-Rochester, said "the regular session of the state Assembly has concluded."
It seems that Governor Evers is obsessed with growing government more than addressing the needs of the middle class. This was a missed opportunity to do the right thing. #AnotherVeto #NoMiddleClassTaxCut https://t.co/QnJtDVNvrM

— Speaker Robin Vos (@SpeakerVos) February 26, 2020
"I don't care who gets the credit," Evers said. "I just know that people of our state deserve elected officials that get things done and funding our schools and reducing our property taxes should be something we can agree on, so I am hopeful that Republicans will come to the table."
The Republican-controlled legislature could attempt to override the governor's veto. In his statement, Vos said the Assembly would set aside time in May to attempt to override the veto, which would require at least three Democrats to vote with Republicans.
---
Recent Here & Now
//php dynamic_sidebar( 'news-sidebar-2' ); ?>