Evers Discusses Federal and State Action on COVID-19
Wisconsin is headed "into the worst of it," Gov. Tony Evers said in a Monday briefing as the state's number of COVID-19 cases climbs to 1,221.
March 30, 2020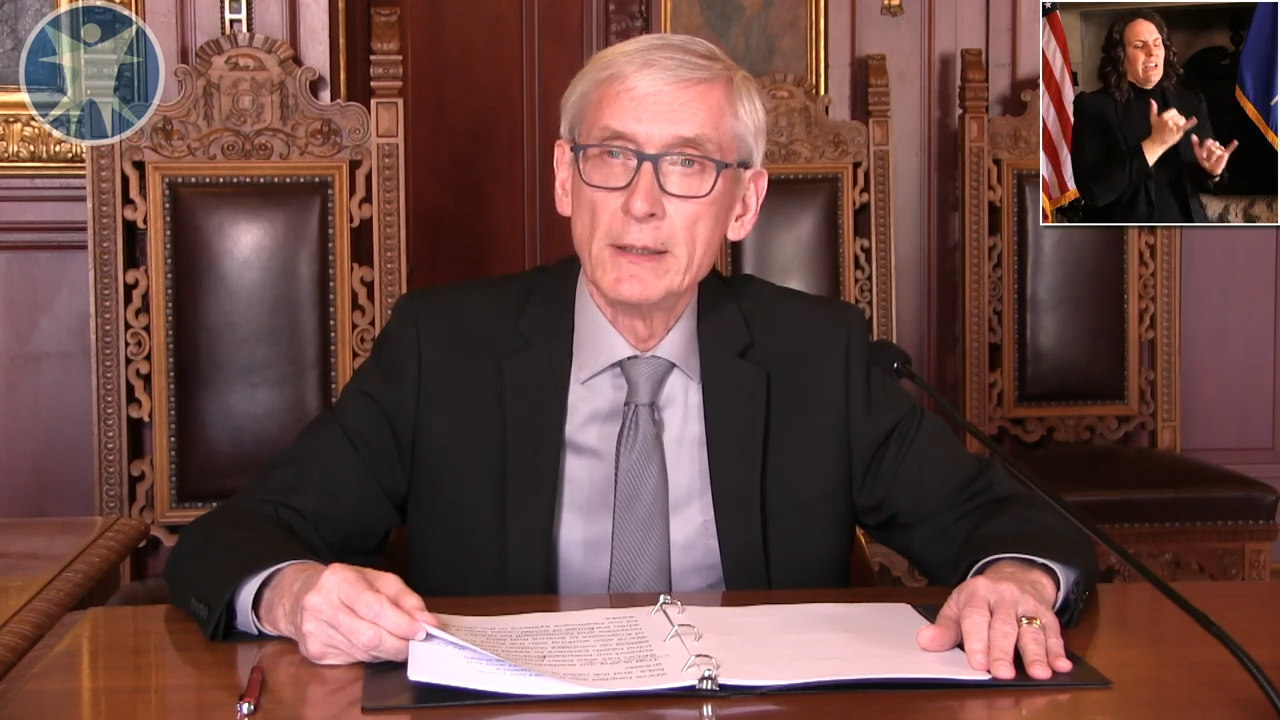 With 1,221 confirmed cases of COVID-19 in the state, Wisconsin is headed "into the worst of it," according to Gov. Tony Evers in a media briefing Monday. 
"I'm sure many of us would like to just wake up from this nightmare tomorrow morning and say it never happened," Evers said. "But the responsible thing to do is to plan for the worst, and hope for the best, but that's exactly what we're doing here in Wisconsin."
Evers said that is why he put forward legislation over the weekend to, among other provisions, help support the state's workforce as many face unemployment. 
"The UI [unemployment insurance] call center also received more than 1.5 million calls in that same [one-week] time period, which is an increase of 6,208% over their average weekly call volume," Evers said. "We need the Legislature to take action and get rid of the one week waiting period before you can start receiving benefits."
The state's legislative leaders said Monday they are exploring options to hold a session–that is consistent with social distancing practices–in the coming weeks to take up legislation related to COVID-19. 
"Despite the disagreement over the weekend, we're continuing to make progress on a bill," Senate Majority Leader Scott Fitzgerald, R-Juneau, said in a statement. "I'm still having discussions with Speaker Vos, caucus members, the governor's staff, and the leadership of the minority party. We're hopeful we can hit the floor with a bill that can address policy concerns in the next couple weeks through a virtual session of the Senate." 
He and Assembly Speaker Robin Vos, R-Rochester, wrote a letter to the governor over the weekend questioning the amount of spending Evers included in his proposal. They also asked the governor to buy personal protective equipment for healthcare workers using federal funds.
"Our administration continues to work aggressively to acquire PP[E] through multiple channels, which include FEMA and the Strategic National Stockpile," Evers said Monday. 
He added that the federal funds were a good step forward, but said Wisconsin still needs state and local responses to the public health crisis. 
"We're learning more about the funds coming in from the federal government including when we will receive the dollars and how they can be spent," Evers said. "Again, we hope for maximum flexibility in terms of meeting the needs of Wisconsinites across the state."
In terms of when Wisconsin might hope to see a turnaround in the COVID-19 outbreak, state health officials said at the briefing Wisconsinites should be patient. 
"It'll be a couple of weeks before we start to really understand how well we all are doing social distancing…to really judge ourselves against the worst case models," said Department of Health Services Secretary-designee Andrea Palm. 
"My personal view is that we have already saved lives by doing safer at home," said state epidemiologist Dr. Ryan Westergaard. "I'm convinced that the interventions we've taken so far have led to fewer transmission events than would have happened otherwise."
---
Recent Here & Now
//php dynamic_sidebar( 'news-sidebar-2' ); ?>