Despite rising temperatures, Milwaukee schools lack air conditioning
About half of Milwaukee Public Schools buildings lack full or partial air conditioning, risking learning loss, but the district has no plan for major upgrades despite growing risks from extreme heat.
Wisconsin Watch
October 23, 2023 • Southeast Region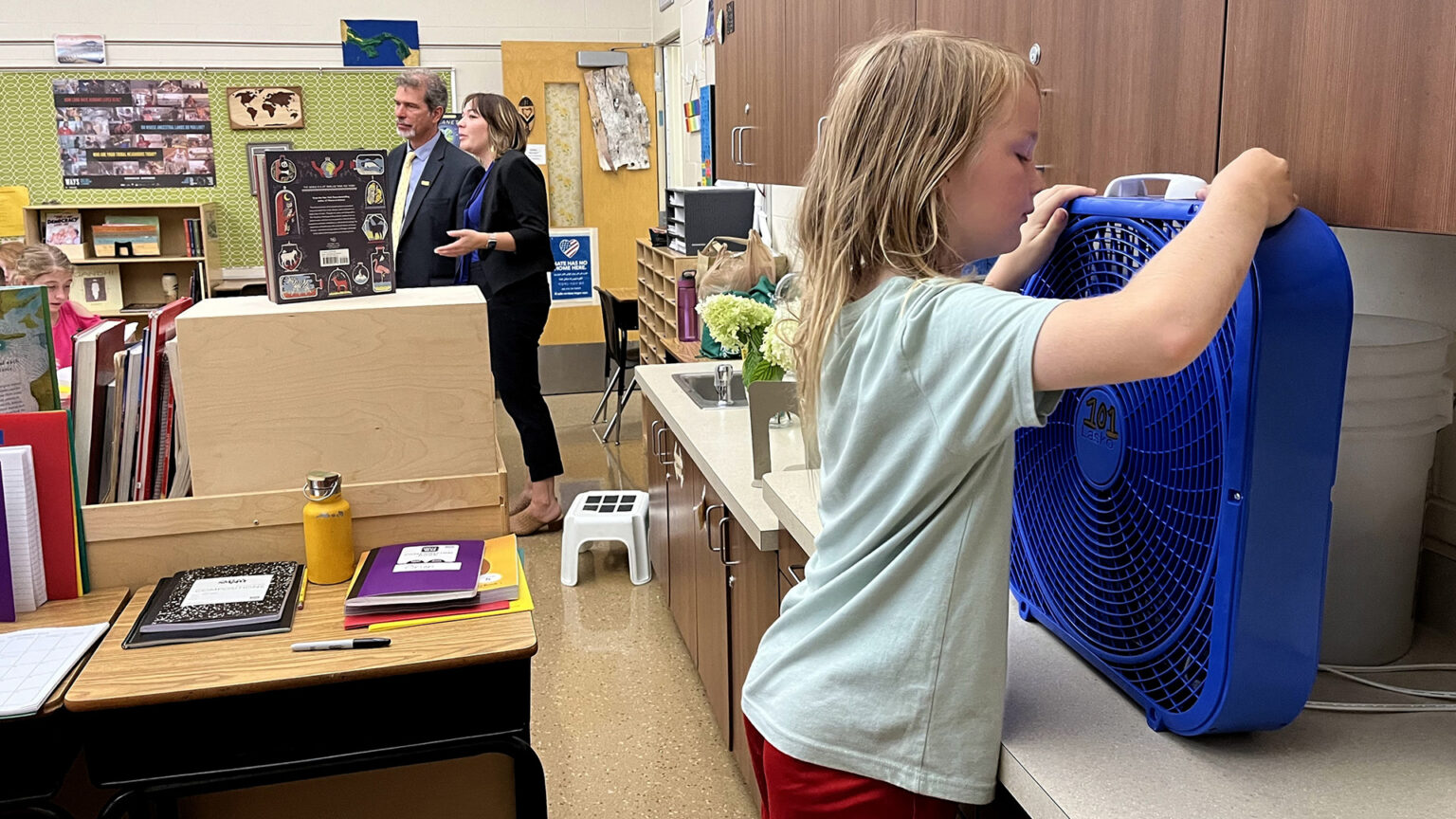 ---

This article was first published by Wisconsin Watch.
Melissa Pacheco remembers multiple days when her daughter and nephews came home from school with headaches from overheating. One day, her nephew vomited as a result, she said.
She blamed the lack of central air at Academia de Lenguaje y Bellas Artes, a south-side Milwaukee public school that teaches bilingually from preschool to eighth grade.
Pacheco tried to organize other parents to push for investments in air conditioning, but school leaders prioritized recreational equipment instead, she said. She elevated her heat concerns to the Milwaukee Public Schools board as it planned for students to return to in-person learning earlier in the COVID-19 pandemic.
After that didn't work, Pacheco during the 2021-2022 school year pulled her seventh-grade daughter from the school she attended since kindergarten.
"I was like, 'I'm so done with them. Nothing gets done,'" the 41-year-old mother said.
Academia de Lenguaje y Bellas Artes is among about half of public schools in Milwaukee — and thousands nationally — that lack full or partial indoor air conditioning, according to district officials. That shortcoming has caused school closures and left students struggling to concentrate when temperatures rise.
Milwaukee Public Schools has long acknowledged difficulties in keeping classrooms cool, and the pandemic highlighted another indoor air quality challenge: how to limit the spread of COVID-19 and other diseases. But it also provided an opportunity. The federal government created a program — the Elementary and Secondary School Emergency Education Relief Fund — to address pandemic-related needs, including upgrading ventilation and air filtration.
The Milwaukee district, Wisconsin's largest, received more than $770 million in relief funding across three rounds, with 65% of that money arriving in the last installment. Some school leaders and staff hoped the district would invest in air conditioning, but the school board has allocated money elsewhere, citing concerns about pouring money into obsolete buildings needing replacement.
The result is a system of haves and have-nots that leaves those in stuffy classrooms behind. The district has yet to create a strategy to install air conditioning in all its buildings or create a place to retrofit or replace them.
"We still have no idea — even a semblance of an idea — of how we're going to keep our buildings cool so that we don't have to close them when we have extremely hot weather," said Angela Harris, chair of the Black Educators Caucus MKE, which represents the interests of Black teachers and students.
Indoor heat lasts for months
Harris has long advocated for the district to invest in air conditioning for its classrooms. She teaches first graders at Dr. Martin Luther King Jr. Elementary School on the city's East Side.
Lake Michigan's proximity moderates temperatures in the building compared to the central city. Still, her classroom temperatures would eclipse 90 degrees Fahrenheit, she said. She brought three fans to school and asked parents last year to donate water bottles she kept cold in a cooler.
Amy Daroszeski taught English at Rufus King International High School in a nearly 90-year-old building without air conditioning on Milwaukee's North Side.
She raised concerns to the school board about hot classrooms before the pandemic. When the district planned to bring students back after the pandemic shutdown forced them to work remotely, Daroszeski questioned how schools would limit COVID-19's spread in classrooms that lacked airflow.
She could open only one of her four classroom windows because the others lacked screens, and in 2019 that window was bolted to open only 8 inches. Her classroom was hot and humid from August through part of October, she wrote in an email to the board in 2020. Her classroom thermostat showed high humidity and temperatures reaching 86 degrees Fahrenheit, according to photos she sent to the board via email.
Margaret Olinger Schmidt, a former district language teacher who worked in several buildings over five years, said her classroom felt uncomfortable throughout August, parts of September and near the school year's end in April and May.
"We're not just talking about a few days where it's hot outside, we're talking about you can't open the window to get a cool breeze," she said. "If you're lucky, you might have one fan in your room."
Inequities in air conditioning
Jordan Contreras doesn't just teach Spanish at Milwaukee School of Languages on the city's Northwest Side. He also finds solutions to meet the basic needs of his students, including keeping them cool.
Contreras' windowless classroom looks like it once served as the school cafeteria's storage unit. During warmer days, rotating fans in each corner keep the air flowing.
Contreras said some of his students have gotten headaches or left class to take a walk because they couldn't concentrate.
"It's hard for us as teachers to teach properly when we're sweating and overheating," Contreras said. "So imagine students coming from an air-conditioned home, or a home that has air ventilation, to a classroom with no windows."
The average U.S. school building is about 50 years old. In Milwaukee, it's 80 with many constructed before air conditioning existed, said Stephen Davis, a district spokesperson. Some schools were outfitted with the technology as it became available, but only 56% of the district's 156 schools currently offer full or partial air conditioning, Davis wrote in an email.
Peter Lowry, a Milwaukee School of Languages junior, said students in air-conditioned classrooms are privileged over those who sweat it out. Lowry struggles to concentrate on hot days and has skipped school when he knew the heat would sap his productivity.
Black and Latino students are less likely to sit in air-conditioned classrooms, resulting in more learning loss on hot days, research shows.
White public school students in Milwaukee lose about 0.8% of a year's worth of learning each year, compared to a 9.3% loss for Black students and 11.2% loss for Latino students, according to a 2021 Guardian analysis of data compiled for a study of heat-related learning loss in American and international schools.
Excessive heat is responsible for 5% of the gap between standardized test scores of students of color and their white counterparts, according to a 2020 study in the American Economic Journal: Economic Policy.
Air conditioning inequities exist even within individual buildings. In some cases, administrative offices, libraries and main offices have air conditioning while classrooms don't. In other cases, temporary solutions — such as purchases of portable air conditioners for certain classrooms — may also create inequities between traditional public and charter schools that share a building.
Calls to retrofit older buildings
Milwaukee Public Schools has long identified air conditioning upgrades as prohibitively expensive while using facility funds for other purposes, Harris said.
During a 2021 heat wave that closed schools early, Superintendent Keith Posley said the district would prioritize air conditioning in its third round of federal pandemic relief, but the cost would range from $1.5 million to $2.5 million per building, depending on size, the Milwaukee Journal Sentinel reported.
Advocates for cooling upgrades thought pandemic funding could bring the district closer to universal air conditioning.
Henry Leonard, a school board director, initially agreed. But he changed his mind after hearing the price estimate for retrofitting outmoded buildings and installing air conditioning: about $550 million — a cost that may now top $1 billion.
Instead, Leonard suggested the district should start smaller by allocating funding for rebuilding older schools, but that proposal didn't gain traction, he said, adding that the district still lacks a long-term building replacement strategy.
Nationally, 41% of school districts needed to update or replace HVAC systems in at least half of their schools, according to a 2020 federal Government Accountability Office report.
Unhealthy classroom temperatures can result in headache, fatigue and respiratory symptoms, research shows, and young children are disproportionately affected.
It's a "double whammy," said Jonathan Levy, chair and professor at the Boston University School of Public Health, adding people who are more prone to health effects from poor air quality often face greater exposure to poor air quality due to infrastructure disparities.
Shundal Tillman worries about how excessive heat in classrooms affects his two daughters who have asthma.
Milwaukee has been ranked as one of the most challenging places in the country to live with asthma.
The condition is the leading cause of absenteeism and resulted in 13.8 million missed school days nationwide in 2013, according to the federal Centers for Disease Control and Prevention.
Olinger Schmidt, the former Milwaukee Public Schools teacher, said she saw upgrades work on a small scale while teaching in a nearly century-old building in Shorewood, north of Milwaukee. The Shorewood district retrofitted its elementary and high schools with air conditioning.
"It can be done. It's expensive, yes, but the planet's only getting hotter," she said.
Other districts are investing in air conditioning
In 2019, the Fond du Lac School District passed a $7 million referendum to add air conditioning in eight buildings.
Outside of Wisconsin, Boston Public Schools retrofitted 78 schools with more than 3,800 window air conditioning units in one year. Half the buildings were built before World War II. Funding for the upgrades came from the mayor's Green New Deal for Boston Public Schools, a $2 billion plan to upgrade schools.
In Detroit, leaders plan to install or improve air conditioning in all schools by 2027 and phase out or rebuild schools that can't accommodate such upgrades. The district is using $136 million in pandemic relief to install or improve heating, ventilation and air conditioning — part of $700 million in building renovations, Outlier Media reported.
Connecticut Gov. Ned Lamont established a $56 million grant program to fund public school HVAC upgrades.
Excessive heat disrupts early start schools
Excessive heat in recent years — including in 2023 — forced Milwaukee Public Schools to cancel classes at "early start" schools that begin in mid-August. On other hot days, some parents have kept their students home.
About 1,500 classrooms in early start buildings lack air conditioning.
School board director Aisha Carr in 2021 proposed using $140 million in pandemic funding to install air conditioning in the more than half of early start schools that lack it.
A majority of her board colleagues shot down the proposal. Opponents argued she underestimated costs and that the board shouldn't upgrade cooling in some schools but not others. Unacknowledged in that discussion: a status quo of inequality between early start schools with air conditioning and those without it.
The board later enacted Carr's scaled-down proposal to allocate $300,000 for window air conditioners or industrial fans in early start schools.
The schools received two fans per classroom, Nicole Armendariz, a district spokesperson, confirmed in an email.
After district schools got $100,000 in pandemic relief for projects of their choosing within a loose set of guidelines, three schools — Allen-Field Elementary, Ninety-Fifth Street School and Riverside University High School — asked for air conditioning. Their requests were denied.
Leonard said $100,000 wouldn't have covered each school's installation costs.
Investments in air quality, other items
The district invested a larger chunk of rounds two and three of pandemic relief in air quality improvements. That included $2 million for updating air conditioning in master closets and more than $100 million on items like temperature control modifications, carbon dioxide detectors, air purifier filters, building outdoor classrooms and replacing windows, doors and carpets.
So far, Wisconsin districts have allocated more than a quarter of third round COVID funding to construction, according to the Institute for Reforming Government, a conservative think tank. In Milwaukee, that construction includes upgrading turf ball fields, tennis courts, a high school stadium, a fieldhouse and pool and locker room renovations.
As Milwaukee School of Languages builds an outdoor classroom and restructures a tennis court, Lowry said his fellow students would instead prefer air conditioning.
"The priorities are in the wrong places," he said.
But Contreras, the Spanish teacher, sees the outdoor classroom as a temporary solution and plans to teach there when his classroom gets too hot.
The district has until September 2024 to spend $138 million in remaining pandemic funding. It doesn't plan to spend any on air conditioning at additional schools, Armendariz confirmed.
School Board President Marva Herndon said the district hopes to secure a separate federal grant for air conditioning installation.
Until that happens, Lowry and his peers will face obstacles not present in some other schools.
"Some schools have a higher education than Milwaukee School of Languages because they have better conditions to learn in," he said. "We don't."
The nonprofit Wisconsin Watch collaborates with Milwaukee Neighborhood News Service, WPR, PBS Wisconsin, other news media and the University of Wisconsin-Madison School of Journalism and Mass Communication. All works created, published, posted or disseminated by Wisconsin Watch do not necessarily reflect the views or opinions of UW-Madison or any of its affiliates.
---
Recent Here & Now
//php dynamic_sidebar( 'news-sidebar-2' ); ?>