Biden Makes Two Virtual Stops in Wisconsin
The Democratic presidential candidate made virtual stops in La Crosse and Milwaukee, discussing plans for rural Wisconsin and criticizing the president's response to the coronavirus pandemic.
May 20, 2020 • West Central Region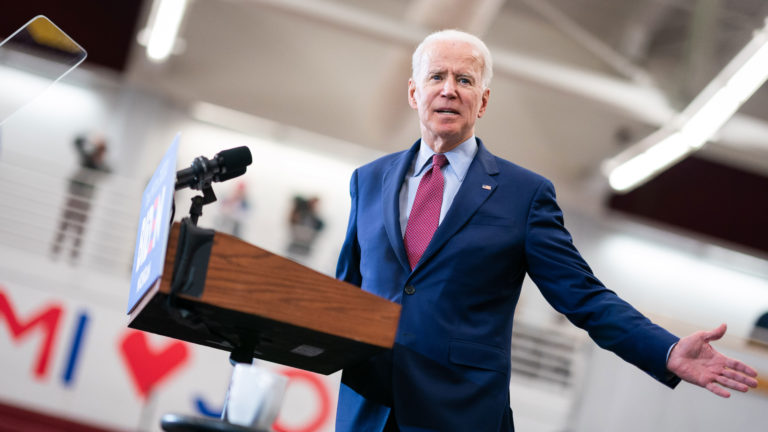 ---
Democratic presidential candidate Joe Biden made two stops in a virtual swing through the Badger state Wednesday, discussing plans to bolster rural Wisconsin and combat the coronavirus pandemic.
His Wednesday morning virtual event included a round table with stakeholders from the agriculture, health care and tourism communities, moderated by La Crosse Democratic U.S. Rep. Ron Kind.
"Rural Wisconsin isn't getting a fair shake, rural America is not getting a fair shake," said Rob Grover, the economic development and tourism coordinator for Trempealeau County. "We really need a focus economically that's not just about Wall Street, but once again focuses on Main Street business."
"You're really--and all your colleagues are incredibly--important and you deserve support from every level of the government," Biden said.
During both the round table and in a virtual Milwaukee rally, Biden criticized the federal government's response to the coronavirus under President Donald Trump's leadership.
"COVID-19 is not his fault. Failure to respond quickly is a big problem. It's called lack of leadership," Biden said.
He applauded Democratic Gov. Tony Evers and his response to COVID-19 in contrast.
"More than 90,000 Americans have lost their lives [in] this pandemic, including more than 450 Wisconsinites, a number that certainly would be higher, would not for the foresight and leadership of your governor," he said.
Biden stressed the importance of Wisconsin as a swing state in the upcoming presidential election, saying the state "has the power to pick a different path," in a rejection of Trump administration policies.
The state Republican Party said the former vice president's virtual swing through the state was an effort to "pander to Wisconsinites from his basement."
"Wisconsin needs President Trump's continued leadership in the White House to get us through the COVID-19 pandemic and back to prosperity," state party chair Andrew Hitt wrote in a statement. "Joe Biden's increasingly far-left agenda couldn't be more wrong for Wisconsin."
Biden's virtual appearances in Wisconsin underscore the new look of campaigning remotely as pandemic concerns have put a hold on large rallies. Biden held both Wisconsin events from his Delaware home, using local officials from Milwaukee and La Crosse to provide geographical distinction between the events.
Democratic U.S. Sen. Tammy Baldwin spoke after Biden during the Milwaukee rally, and tried to drive some of the same voter engagement that a rally would bring.
"Now, this is a rally, and like any rally, you've got to have organizers with clipboards," she said. Absent those organizers, Baldwin urged attendees to visit a Biden campaign app to sign up to volunteer.
"We know that the road to the White House runs right through our state," she said.
Recent Here & Now
---