Wisconsin's Covid Condition: The Pandemic Recedes in its Second Summer
New COVID-19 cases, hospitalizations and deaths are all hitting their lowest reported levels in the state, but with only about half of Wisconsinites vaccinated for the coronavirus, public health authorities are urging more people to do so as the Delta variant looms.
June 25, 2021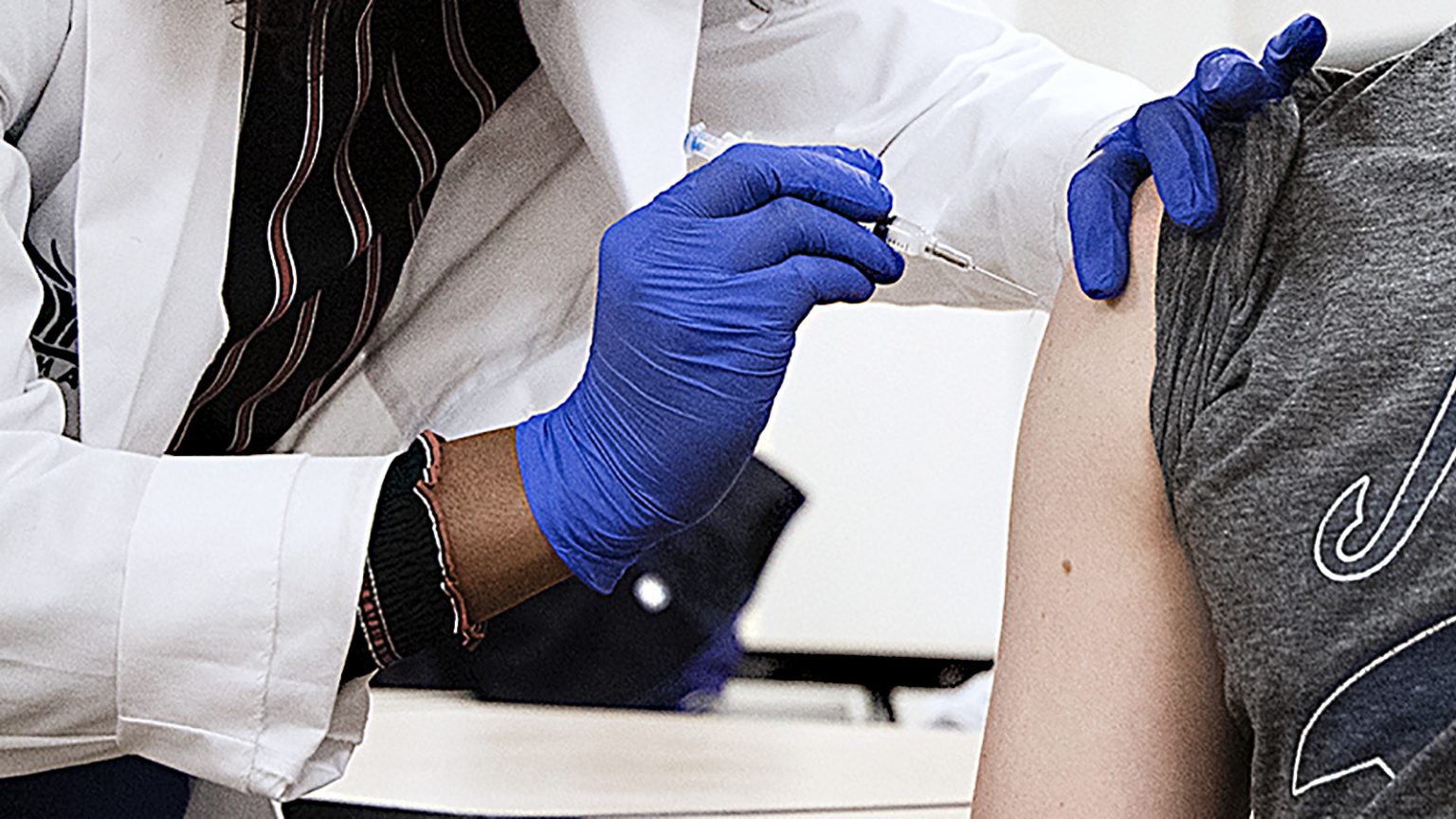 ---
Over the course of June 2021, reports of new COVID-19 cases and deaths around Wisconsin have hit their lowest sustained levels of the pandemic, as has the number of people getting vaccinated for the coronavirus since shots first rolled out six months earlier. This new lower-key situation — one in which Wisconsinites en masse are returning to patterns of daily life in place before the disease struck — has the state's public health apparatus adjusting as well, prioritizing the continued distribution of vaccines even as demand for them drops, and preparing for the emergence of a dangerous virus variant that has swept across the world.
Here's the status of the COVID-19 pandemic in Wisconsin.
Low summer numbers
The number of new confirmed COVID-19 cases reported around Wisconsin since the start of June has steadily declined. Its 7-day average was just above the 150 mark at the beginning of the month, dropped below the 100 mark within a couple of weeks and subsequently dropped to and hovered below the 80 mark. These are the lowest levels since the last week of March 2020, when the pandemic was just getting started and limited testing levels meant cases were being undercounted.
The percentage of positive tests for COVID-19 dropped by more than half since June began, falling from just under 2% to just under 1% over three weeks later. These rates are the lowest ever for the metric, and signify that spread of the coronavirus continues to be limited.
Hospitalizations in Wisconsin related to COVID-19 have dropped from just under the 200 mark at the beginning of June to just over 100 by late in the month, with some regions of the state reporting only a handful of patients.
Confirmed COVID-19 deaths have likewise dropped off since the start of June, with no new fatalities reported on a given day more often than not. The 7-day average of deaths barely hits one, a far cry from its peak level in the low 70s in November 2020 when the pandemic was at its worst in Wisconsin.
At the same time, the rate of new COVID-19 vaccinations in Wisconsin continues to be at a slower pace than several months earlier. As of June 1, a total of 5,214,173 doses had been administered to the state's residents. By June 24, that figure had reached 5,501,512, which marks an additional 287,339 doses delivered in those three-and-half weeks, only about 5% of the total.
The percentage of Wisconsin residents who have received at least one dose of a COVID-19 vaccine teetered at the edge of a symbolic milestone as of June 24, with 49.9% of the state's population getting a shot, accounting for 2,905,832 people overall. As for the number of Wisconsinites who have completed their vaccine series, that number stood at 2,668,640 as of June 24, or 45.8% of the total population. Those figures place Wisconsin pretty close to the U.S. average in terms of vaccinations, according to the Johns Hopkins Coronavirus Resource Center.
Meanwhile, Wisconsin's COVID-19 vaccination rates continue to vary widely by age, race/ethnicity and even by gender, as well as geographically around the state. The oldest age group — senior citizens who are at least 65 years old — have been vaccinated at a rate of nearly 85%, or more than five out of six. The youngest age group eligible for vaccination — children ages 12 to 15 — have been vaccinated at a rate of 25.9%, or just over one in four.  Wisconsinites who identify racially as Asian and white have been vaccinated at nearly twice the rates as those who identify as Black, and at a rate that's nearly a third higher than those who identify as Native American. These disparities have remained persistent over the past six months, even as efforts to close those gaps continue. And about 7% more women than men have been vaccinated so far.
Shifting vaccination tactics
As pandemic metrics continue to drop in Wisconsin, the state's efforts to further contain the spread of COVID-19 are adjusting in response.
Getting more Wisconsinites vaccinated for the coronavirus remains a top priority for the Wisconsin Department of Health Services, but the same decline in people taking this step that continues to concern public health authorities also means that resources dedicated to vaccines aren't used to their full extent. Therefore, the state health department has relaunched a promotional media campaign to encourage more people to sign up for and complete vaccinations, while also reducing days and hours of operation at six vaccine clinics around the state.
Starting on June 14, the operations at community-based clinics in Barron, Douglas, La Crosse, Marathon, Racine and Rock counties were shortened to one to two days per week, with specific hours and days varying among them. These clinics are offering both the two-dose Pfizer and one-dose Johnson & Johnson vaccines. The state health department indicated that the clinics will make efforts to ensure all of the clinics' patrons will be able to complete their vaccine series, and emphasized that shots are available in many settings, including local and tribal health departments and clinics, pharmacies, individual health care providers and other channels.
At the same time, two large vaccine operations in Wisconsin are shutting down operations at the end of June. A clinic at the Alliant Energy Center in Madison is halting testing and vaccinations on June 26, with the local health department continuing to offer these services at its offices and via local clinics. Another clinic at Lambeau Field in Green Bay is closing on June 30, with vaccines continuing to be distributed at a regional health care provider's clinics.
"I want to assure everyone that there are still many ways to get vaccinated," said Department of Health Services Deputy Secretary Julie Willems Van Dijk in a news release. "We have said this many times before and it still remains true — our top priority is to make the COVID-19 vaccine as accessible to all Wisconsinites as possible."
Local health departments are also dealing with a glut of the Johnson & Johnson vaccine, with vaccinators reporting less interest in it, emergency federal approval for which was temporarily paused in April. Because this vaccine only requires a single dose, though, it is being promoted as an option for those people who find it difficult to schedule a second dose of the Pfizer or Moderna vaccines.
Even as summer continues, the state is preparing for continued pandemic surveillance come fall and the start of a new school year, given that no COVID-19 vaccines have yet to get emergency federal approval for use among children younger than 12, and with vaccination rates still at relatively lower levels among teenagers.
On June 22, Gov. Tony Evers and the state health department announced a new voluntary program, funded by the federal government and free to recipients, that will connect districts and individual schools with partners to test for the coronavirus among teachers, staff, students and their families. The specific testing programs for Wisconsin schools will vary at their discretion, could be focused on unvaccinated individuals, participants in school-based activities and events, and in instances when there is a local outbreak of COVID-19. This program will have access to both rapid result antigen-based tests and the more accurate polymerase chain reaction testing protocol.
"Throughout this pandemic, we have seen how access to adequate COVID-19 testing can work to limit the spread of this virus," said state Department of Health Services Secretary-designee Karen Timberlake in a news release. "This testing program is designed to support the health and well-being of teachers, staff members, and students throughout the state by offering access to COVID-19 testing supplies, diagnostics, and specimen collection services to schools at no charge."
Tracking the Delta variant
While continuing to promote COVID-19 vaccinations and prepare for testing among Wisconsin's unvaccinated schoolchildren, the state health department is also keeping an eye on coronavirus variants that have emerged and are spreading. The concept of a race between variants and vaccinations has motivated health care providers and public health authorities for months, and even with half of the state's residents getting at least one shot, those who have not remain in the thick of this fray and are susceptible to infection.
The latest variant of concern is known as Delta — as the World Health Organization started labeling variants with Greek letters at the end of May — and is otherwise designated B.1.617.2. The Delta variant was first identified in India in October 2020, and subsequently spread in that nation, the United Kingdom and around the world, including in the United States in recent months. It has been found to be considerably more transmissible than the Alpha (B.1.1.7) variant and the original strain of the virus, with people who get infected by Delta twice as likely to be hospitalized based on data from England and Scotland. However, people who are fully vaccinated for COVID-19 are nearly as protected from Delta as they are from other variants.
As the Delta variant spreads in the U.S., people who haven't been vaccinated or who have only received a single dose are facing a high risk of infection. In Wisconsin, the state health department has commenced tracking Delta as part of its surveillance of variants. As of June 25, it has identified 36 instances of Delta out of a total of 4,401 overall variant infections found in 16,079 positive cases. That means variants have been identified in just over one-quarter of the cases sequenced by the state (which are positive cases of COVID-19), with Delta so far making up a minuscule percentage of that total.
Public health authorities are anticipating the potential for Delta to spread further in Wisconsin, though, and therefore points to its risks as yet another reason for people who haven't been vaccinated yet to do so.
The pace of the pandemic also slowed markedly in the summer of 2020, and while widespread vaccinations have transformed its landscape in 2021, the virus has not disappeared.
"We urge Wisconsinites to protect themselves, their families, and their communities by getting vaccinated," said state health department Secretary-designee Karen Timberlake in another news release. "The sooner people get vaccinated against COVID-19, the less opportunity for the virus to keep mutating."
---
Recent Here & Now
//php dynamic_sidebar( 'news-sidebar-2' ); ?>