Wisconsin's Covid Condition: The Delta Outbreak Declines Slowly, More Booster Shots Are Recommended
The state's numbers of new COVID-19 cases and hospitalizations are starting to drop slowly from their early autumn highs, with more protection from the disease imminent as the FDA and CDC recommend more options for fully vaccinated people to get an additional dose and mix-and-match vaccine types.
By Will Cushman, Kristian Knutsen
October 22, 2021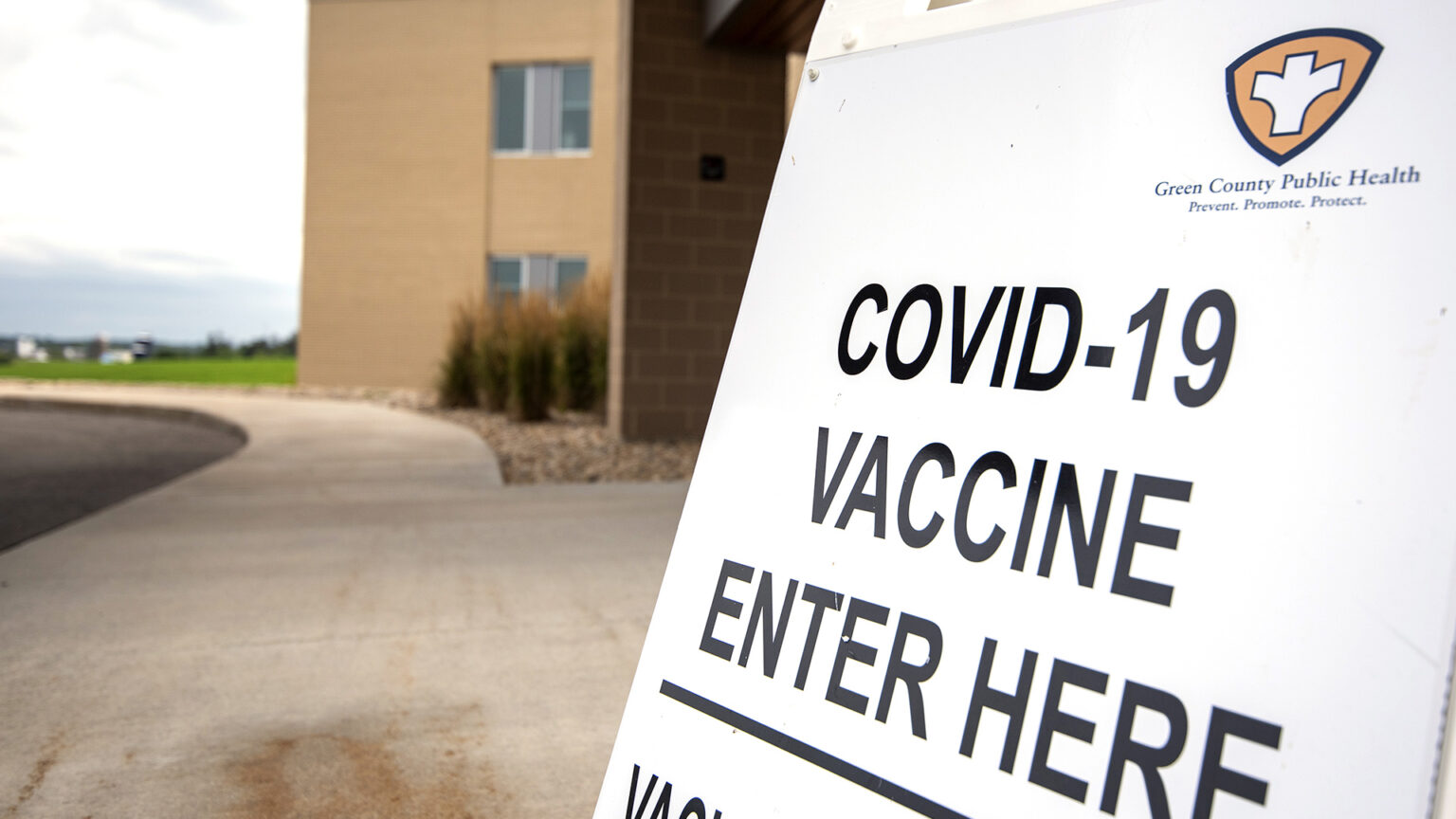 ---
Wisconsinites who have been vaccinated for COVID-19 and are eager to continue protecting themselves and their families in the face of the protracted pandemic will soon have additional options to receive booster shots and get more children vaccinated.
Federal regulators have endorsed two more types of vaccines to use as boosters for a broader group of people, including the ability to mix and match different brands. At least one vaccine is expected to be approved shortly for children ages 5-11, making hundreds of thousands of more Wisconsin residents eligible to get their shots.
COVID-19 transmission has remained "very high" in Wisconsin in mid-October, but the state is seeing a sustained decline in new cases for the first time since the Delta variant took hold in August to cause the latest spike in disease. The average number of daily cases remains close to 2,000, however, with more than 1,000 Wisconsinites receiving in-patient care for the disease every day. Here's the status of the COVID-19 pandemic in Wisconsin.
Higher numbers decline slowly
New confirmed cases of COVID-19 are clearly on a downswing in Wisconsin for the first time since the Delta-driven surge began in the summer of 2021. The 7-day average for new cases fell below 2,000 on Oct. 18 for the first time in more than a month. Three days later, it stood at 1,817, marking the thirteenth consecutive day the measure dropped.
Still, case activity levels continued to be "very high" across the state, according to the Wisconsin Department of Health Services, with 40 counties seeing no significant change in new cases over Oct. 6-19. Over the same period, 27 counties saw case activity shrink, with three recording growth in cases: Buffalo, Jackson and Manitowoc.
COVID-19 hospitalizations across the state remain high. As of Oct. 22, there were 972 covid patients hospitalized, the first day since early September that figure dropped below the 1,000 mark. Of that total number of patients, 310  were receiving intensive care. Compared to a week earlier, the total number of hospitalizations was down by more than 120 patients, but the number of ICU patients was up slightly.
Meanwhile, COVID-19 cases and deaths in Wisconsin nursing homes surged between mid-August and mid-September, with outbreaks attributed to breakthrough cases among their more medically vulnerable elderly residents and lagging vaccination rates of staff. Nearly nine out of every 10 Wisconsinites who live in nursing homes have been vaccinated, compared to not quite two out of every three staff who work in these settings.
Overall, the statewide average daily number of new deaths attributed to COVID-19 stood at 12 on Oct. 21 after hitting 16 just over a week earlier, its highest level since February.
More booster options
Vaccinators in Wisconsin are preparing to administer more COVID-19 booster shots for some fully vaccinated people, as well as start to inoculate more kids. They're getting ready as federal regulators approve boosters of the Moderna and Johnson & Johnson vaccines and move toward approving a youth version of the Pfizer vaccine to children ages 5-11.
The Moderna and Johnson & Johnson boosters will be rolling out before Pfizer's vaccine for youth.
On Oct. 20, the U.S. Food & Drug Administration authorized a single dose of the Moderna vaccine to be administered as a booster at least six months after completing the primary series of two shots for several broad classes of recipients. That booster authorization includes people 65 and older, as well as adults ages 18-64 who are at higher risk of severe disease and those who live or work in high-risk settings, including health care workers, first responders and teachers. The FDA also authorized boosters for any recipients of the Johnson & Johnson vaccine at least two months after receiving their shot.
Along with authorizing boosters, FDA regulators authorized mixing and matching booster shots, meaning someone who initially received a Johnson & Johnson vaccine could receive a Pfizer or Moderna booster, or in another combination. That authorization came as limited data show the Johnson & Johnson vaccine's efficacy possibly declining more rapidly than Pfizer's or Moderna's.
On Oct. 21, an advisory committee for the Centers for Disease Control and Prevention weighed whether to endorse expanded COVID-19 booster options. Its medical advisors debated whether there was enough data, particularly pertaining to the long-term efficacy of the Johnson & Johnson shots, to widely approve booster shots. Ultimately, the CDC committee recommended Moderna and Johnson & Johnson booster doses for the same groups of people authorized by the FDA, including adults who live in long-term care settings. Its recommendations also gave a green light for people to mix-and-match boosters.
More than 270,000 doses of the one-dose Johnson & Johnson vaccine had been administered in Wisconsin by Oct. 21, according to the state health department. However, that number is eclipsed by the more than 2.5 million doses of the two-dose Moderna vaccine and the over 3.6 million doses of the two-dose Pfizer vaccine that Wisonsinites have received.
On Oct. 22, Pfizer provided data to the FDA indicating that its vaccine has been found to be effective in preventing COVID-19 symptoms among more than 9 out of every 10 children ages 5-11 in a clinical trial. It also reported no cases of severe illness. An FDA advisory committee is set to meet Oct. 26 to decide whether or not to recommend authorization of the vaccine for children in that age range.
Nearly 55% of Wisconsinites have been fully vaccinated for COVID-19, with that level exceeding the 65% mark among all adults. However, more than two in five Wisconsinites remain completely unvaccinated, and the number of people seeking shots has fallen to new lows in late October. The 7-day average of vaccine doses being administered across the state declined from just above 5,000 to just under 4,000 over the week leading up to Oct. 21.
While a state incentive program to boost vaccinations expired in September, several local governments are continuing to incentivize the shots.
In Milwaukee, the city health department announced that it is giving $25 gift cards to 1,000 people who get their second dose of a vaccine. This incentive will be distributed at three locations around the city.
In northeastern Wisconsin, the Oneida Nation is offering a $500 dollar incentive for its tribal members and employees to get vaccinated. Originally slated to run through the end of September, this program has been extended through March 2022. Tribal leaders hope the reward will help boost its vaccination rates above the 75% mark.
---
Recent Here & Now
//php dynamic_sidebar( 'news-sidebar-2' ); ?>