Wisconsin's Covid Condition: State moves to help struggling hospitals, Milwaukee numbers reflect vaccination gaps
A months-long surge in COVID-19 patients is making for minimal hospital capacity across the state, prompting Gov. Tony Evers to request help from FEMA, while pandemic conditions in southeast Wisconsin underscore the protective power of vaccines.
December 10, 2021 • Southeast Region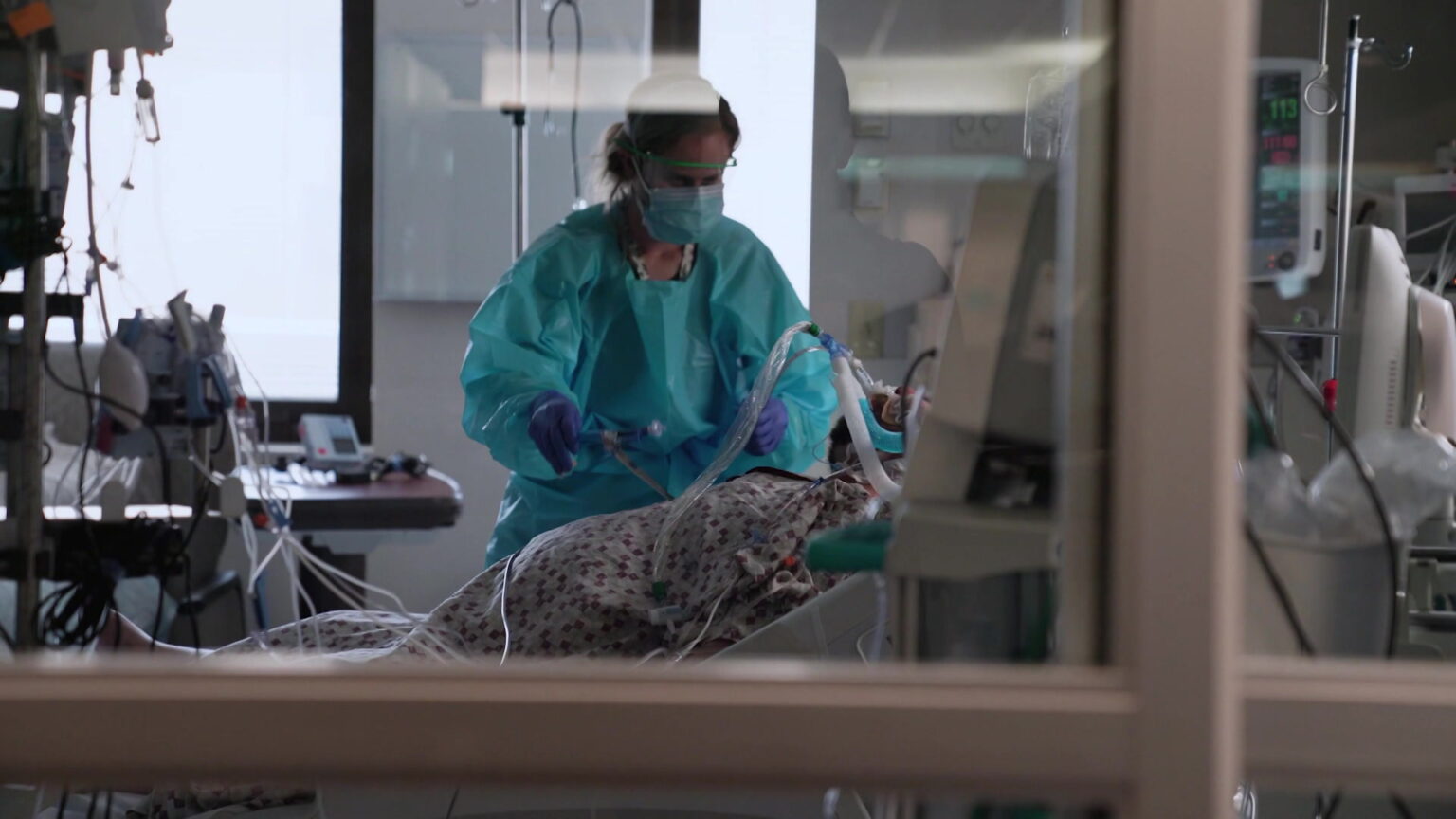 ---
Wisconsin hospitals are facing a deluge of COVID-19 patients for the second time in as many winters, and as pandemic stresses inflame a health care staffing crisis, the state is requesting emergency assistance from the federal government.
This covid surge, which has been building since late summer, is being fueled by the Delta variant, uneven vaccination rates and almost no public health restrictions. Meanwhile, labs are detecting a small but growing number of new cases tied to the Omicron variant, which was first identified in South Africa in November. Omicron has likely been circulating for weeks in Wisconsin, with confirmed cases in Milwaukee County reported at the beginning of December. The variant's arrival has been overshadowed, though, as the state contends with what is so far the second worst surge of the pandemic but still threatens to worsen.
Here's the status of the COVID-19 pandemic in Wisconsin.
Hospital strained to their limits
Months after the Delta variant arrived in Wisconsin, it continues to drive very high transmission across Wisconsin, with an average of more than 3,000 new cases being confirmed every day in early December.
While most people diagnosed with covid can recover at home, the sheer number of people getting infected in late 2021 has pushed hospitalizations to new heights for the year. On Dec. 10, the Wisconsin Hospital Association reported hospitals were treating 436 COVID-19 patients in intensive care units and 1,634 COVID-19 patients overall. Those are the highest levels for each since late November and early December 2020, respectively.
Compared to Wisconsin's worst COVID-19 surge in November 2020, hospitalizations in early December 2021 represent about 70% of that peak. Still, less than 3% of ICU beds across the state were immediately available, and large swaths of Wisconsin have had zero ICU bed availability at various points in early December.
Covid patients are filling up to a third of some intensive care units, according to Wisconsin hospital CEOs who urged residents to get vaccinated during a Dec. 7 discussion hosted by Wisconsin Health News. A large majority of those hospitalized for covid are unvaccinated, they said.
While total hospitalizations remain below the 2020 peak, worsening workforce shortages in the health care industry mean that strained staffing levels have become a larger factor limiting hospitals' capacity to care for both covid and non-covid patients.
"We have very tight hospital capacity today, as you're hearing not only from us, but also from hospital leaders all over the state," said Karen Timberlake, Secretary-designee of the Wisconsin Department of Health Services, during a Dec. 8 media briefing.
"This is fundamentally a staffing challenge," Timberlake said, noting that 270 hospitals and care facilities in the state have requested staffing assistance in recent months.
In response, Timberlake said the state health department has contracted to staff more than 360 nurses, certified nursing assistants and support personnel at around 65 hospitals and long-term care facilities in Wisconsin.
However, Timberlake acknowledged that hospitals need more relief. On Dec. 8, Gov. Tony Evers announced that he requested additional emergency staffing assistance from the Federal Emergency Management Agency. The state is requesting five FEMA teams of 20 workers, which Timberlake said she hoped would be in the state within weeks.
Additionally, 60 National Guard members are being trained to provide nursing assistance at state-operated mental health facilities.
The situation in southeast Wisconsin
After a brief slowdown earlier in the fall, new cases and hospitalizations have surged once again around the state, including in its most populous region. On Dec. 8, hospitalizations topped 600 for the first time in nearly a year for a nine-county hospital region centered around the Milwaukee metro area in southeast Wisconsin.
While the first detection of the Omicron variant was in Milwaukee County, local officials said Delta remains the driving force behind growth in cases and serious disease.
"We are full. Period," said Eric Conley, president of Froedtert Hospital, during the Dec. 7 Wisconsin Health News roundtable. Froedtert has the region's second largest number of beds with more than 700, and Conley said one-third of the system's ICU patients were currently being treated for COVID-19. He said that almost nine out of 10 covid patients at that point were unvaccinated.
Vaccination rates in the Milwaukee metro area diverge widely between local communities, a pattern that has persisted since spring 2021. During a Dec. 7 media briefing held by city and county officials, Greenfield Health Department Officer Darren Rausch pointed out that while vaccinations in the county have edged higher in late 2021, most of the increase is due to people seeking booster shots and to a lesser extent doses for newly eligible 5 to 11-year-olds. About 15% of county residents in that age group had received their first dose of vaccine by Dec. 7, Rausch said, slightly behind the statewide rate of about 20% that state health officials reported the following day.
The result is that while more than two-thirds of the county's adults were fully vaccinated, disparities in vaccination rates by age are persisting, as well as those by race and ethnic group.
"We continue to [see] that Hispanic and African American communities in our county have rates less than 50% fully vaccinated," Rausch said. "We want to continue to see those rates increase."
Meanwhile, Rausch noted new cases are growing more quickly in Milwaukee's suburbs than in the city, as opposed to earlier in the Delta wave when case growth was centered in Milwaukee's denser neighborhoods.
"The suburban communities are really blowing up at a higher rate," Rausch said.
Much of the transmission in both Milwaukee and its suburbs is occurring among school-age children, he added. That trend aligns with what health officials are seeing across Wisconsin.
Lower vaccination rates among children, a return to in-person instruction that often doesn't include required mask-wearing and fewer public health restrictions make for more transmission opportunities among the elementary school age group, explained Karen Timberlake of the state health department.
"We certainly have seen a particularly sharp increase [in cases] in those unvaccinated children," said Timberlake. "And while we know that covid does not tend to make younger children as sick as it does older adults, we also know that they can get sick, they can end up in the hospital, and they certainly can transmit covid to their family members and others in their community."
---
Recent Here & Now
//php dynamic_sidebar( 'news-sidebar-2' ); ?>