Wisconsin's Covid Condition: Delta Maintains Its Grip as Hospitalizations Remain High
While a wave caused by a coronavirus variant is waning in other parts of the U.S., new cases and hospitalizations are hanging at higher levels in the state as the total death toll passes 8,000.
By Will Cushman
October 8, 2021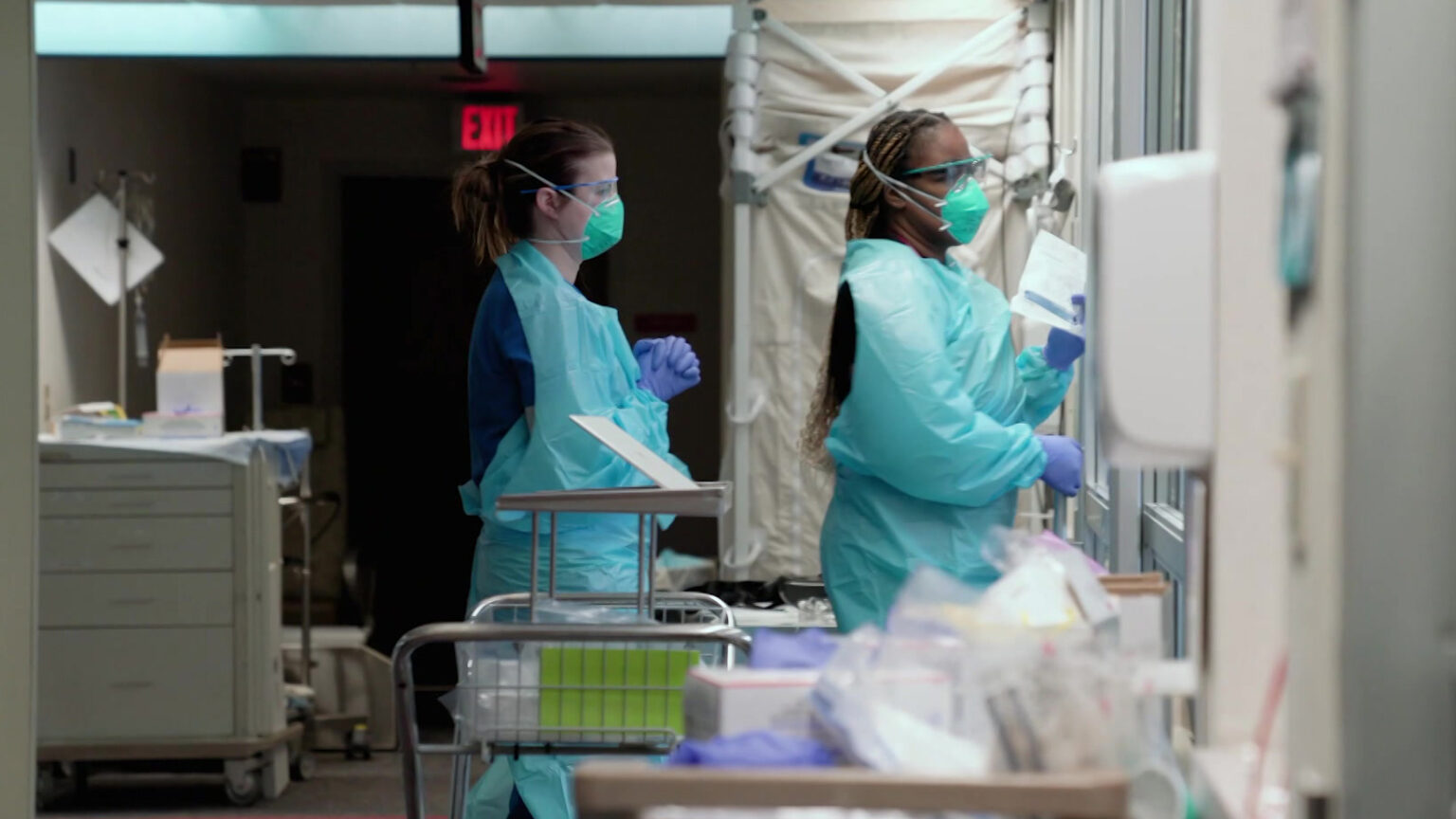 ---
In spite of wide availability of life-saving vaccines, about a dozen Wisconsinites are dying from COVID-19 each day more than a year and a half into the pandemic, with the state's confirmed death toll surpassing 8,000 at the end of September.
Even as the Delta wave abates in many parts of the United States, in Wisconsin a small decline in new daily COVID-19 cases reported at the end of September stalled over the first week of October. New cases, hospitalizations and deaths due to the disease remain stuck at high levels.
More than 40% of Wisconsinites are still unvaccinated, and the number seeking shots has fallen to a new low point. Meanwhile, more than a month into a new academic year, schools around the state continue to be a nexus for the virus's spread and bitter disputes over whether and how to curb it. Here's the status of the COVID-19 pandemic in Wisconsin.
A high plateau
Wisconsin's 7-day average for new confirmed COVID-19 cases stood at 2,590 on Oct. 7, near the average number of new cases reported one year earlier as the state's deadliest surge was accelerating toward a November 2020 peak.
However, unlike a year before, the number of new daily cases slowed somewhat during the last week of September 2021. By Oct. 1, the daily average was down by about 15% from a recent high of 2,939 set on Sept. 20, and subsequently rose slightly again during the first week of October.
With more than 2,500 people in Wisconsin testing positive every day, the Wisconsin Department of Health Services reported that disease activity remained "very high" statewide, with 17 counties experiencing "critically high" local disease activity.
Counties with the highest levels of local spread are predominantly rural, and generally have both smaller populations and lower vaccination rates. They're concentrated in central, northeast and northwest Wisconsin. Nationwide, the covid death rate in rural areas has been double that seen in cities and suburbs during the latest surge. Rusk County, which has consistently been among the least vaccinated in the state, had the highest per capita number of new cases across Wisconsin during the latter half of September and early October.
At the same time, transmission is so widespread thanks to the highly contagious Delta variant that even locales with higher vaccination rates have significantly higher rates of disease than during the summer.
Dane County remains the only place in the state to have reinstated a local mask mandate in response to the Delta wave. In Milwaukee, where officials have faced public pressure to enact such an order, health commissioner Kirsten Johnson said she did not plan to do so, and would focus instead on improving the local vaccination rate.
Meanwhile, the number of people hospitalized with covid in Wisconsin has held fairly steady between 1,100 and 1,200 since mid-September. On Oct. 8, there were 1,162 COVID-19 patients receiving in-patient care across the state, with 307 in intensive care.
The statewide number of covid patients in Wisconsin's ICUs has held remarkably steady since early September at between about 300 and 340 each day. However, that figure obscures the worsening situation throughout much of the state. While hospitalizations have declined in the Milwaukee metro area and held relatively steady in south-central and western Wisconsin, they've steadily climbed in areas to the north.
In Wood County, with just half of residents were fully vaccinated by the end of September, intensive care staff at the main campus of the Marshfield Clinic described the pain and frustration of treating another wave of covid patients who are both younger and sicker than in previous waves of the pandemic.
"We're seeing that they're deteriorating quicker as well," said Vicky Varsho, a chief nursing officer at Marshfield Clinic in a mid-September interview with PBS Wisconsin. "And being sicker requires more resources."
Varsho and her colleagues described a tragic situation unfolding in that hospital's ICU — one they underscore could have been diminished through wider vaccination.
Many ICU patients do not recover from COVID-19, which is reflected in Wisconsin's growing death toll. On Aug. 1, 2021, before the Delta variant became so dominant, the state health department reported an average of just one covid death per day. As of Oct. 7, the average number of Wisconsinites dying from covid was 12, a level that has held steady for about a month.
Among the roughly 300 Wisconsinites who died with covid in September was a police officer in Fond Du Lac who contracted the virus while on the job. The city's police department did not say whether he was vaccinated.
As is the case across the United States, a small number of fully vaccinated people in Wisconsin have become seriously ill after experiencing a breakthrough infection, and an even smaller number have died. The age-adjusted covid death rate was 11 times higher in August for people who were not fully vaccinated, according to the state health department. The hospitalization rate was about eight times higher among this group.
"In areas that have high levels of vaccination, you're not seeing quite as sharp a peak [in hospitalizations] as you would otherwise expect," said Dr. Nasia Safdar, medical director for infection control at UW Health. Safdar described the Delta variant's continuing impact on hospitals in the state during an Oct. 6 interview on Here & Now's Noon Wednesday.
While getting vaccinated is the best way to avoid serious COVID-19 outcomes, a new pill developed by the pharmaceutical giant Merck could significantly reduce covid-related hospitalizations and deaths if administered to patients early enough in their illness. That's according to the company, which intends to apply for an emergency use authorization for the drug, known as molnupiravir, from the Food and Drug Administration.
A difficult start to the school year
The Delta variant proliferated across Wisconsin as most school districts in the state were preparing to embark on a new academic year marked by a return to in-person instruction.
The timing prompted a number of districts to impose safety precautions like mandatory indoor masking as a majority of children in the state — including all children younger than 12 — remain unvaccinated.
The safety precautions, and sometimes simply their consideration, has unleashed a wave of opposition, heated debate and harassment directed at school boards and administrators in the state. In a Sept. 23 speech, State Superintendent for Public Instruction Jill Underly called for greater civility in the furor over how children are educated amid a deadly pandemic.
Many school districts have opted not to require masks in their buildings, but masking is required on all school buses per a federal order. However, enforcement of the rule has been uneven as masking disputes rage all while Wisconsin experiences a pandemic-related bus driver shortage.
Meanwhile, COVID-19 cases among children have spiked in Wisconsin since the start of the school year. The Centers for Disease Control and Prevention published on Oct. 1 a study of school districts in Arizona showing that those with masking requirements had lower covid rates than schools where masking was optional.
Vaccinations for children could also help significantly curb spread of the disease, and they may be on the horizon later in 2021. On Oct. 7, Pfizer asked federal regulators to approve a modified version of its two-dose vaccine for emergency use in children ages 5 to 11, an age group that includes around 28 million Americans and 500,000 Wisconsinites.
---
Recent Here & Now
//php dynamic_sidebar( 'news-sidebar-2' ); ?>