Wisconsin's COVID Condition: Cases Plateau, Vaccinations Pass 1 Million and No More Mask Mandate
As the one-year anniversary of the start of the COVID-19 pandemic passes, Wisconsin is seeing stubbornly high case numbers, advancing vaccinations and variants and an end to the statewide mask mandate.
By Will Cushman
April 2, 2021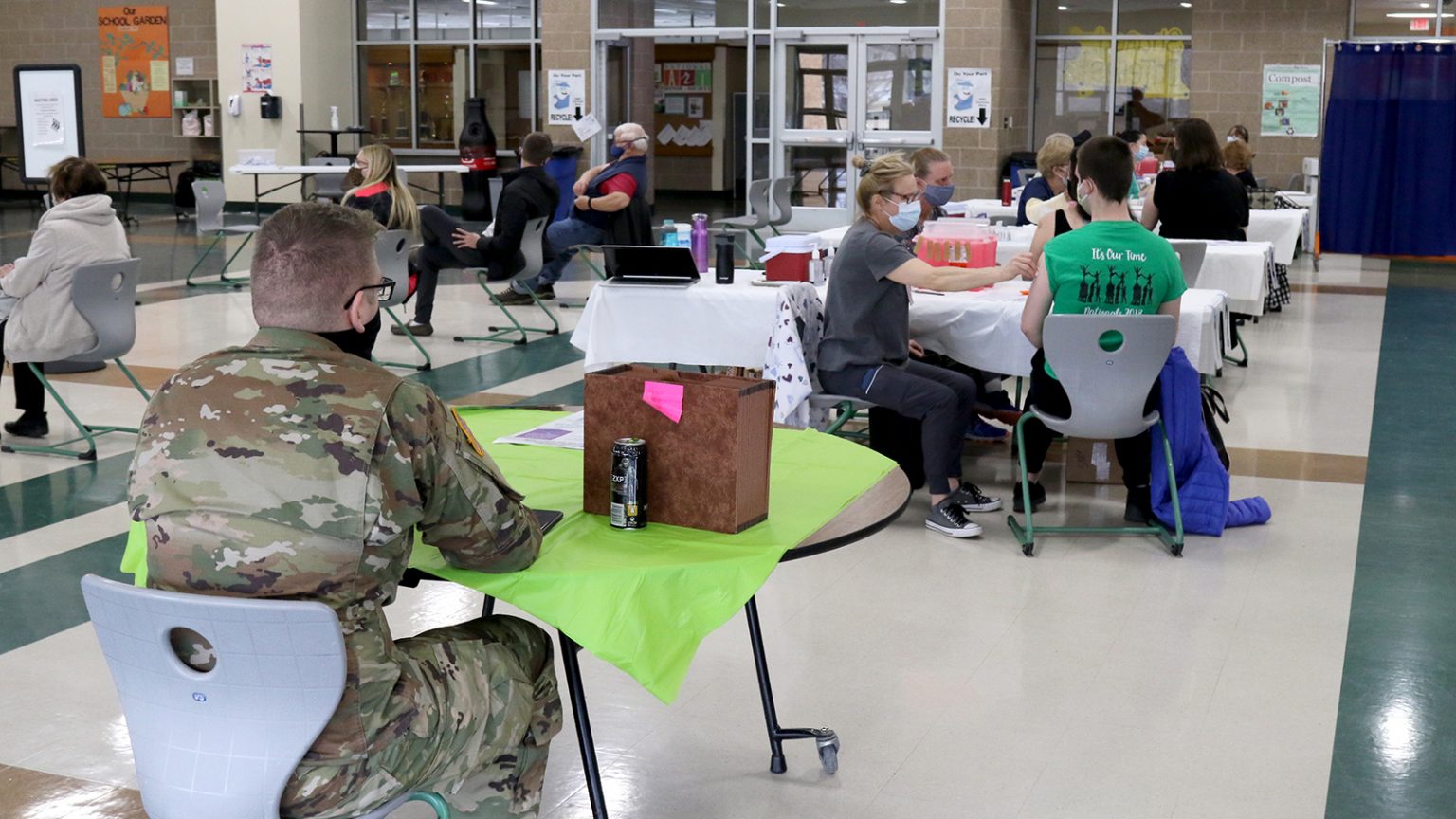 ---
The COVID-19 pandemic in Wisconsin is gradually shifting into a new phase as its second April begins. Cases are starting to rise again and hospitalizations have stopped falling, an increasing number of people are being vaccinated and more contagious variants are quickly proliferating. Meanwhile, the statewide mask mandate is no more. Here's where things stand in Wisconsin.
Stubbornly high case numbers
After steadily declining for months, new confirmed cases of COVID-19 in Wisconsin leveled off and even increased slightly over the course of March. The 7-day average for new cases has been hovering between 350 and 500 — much lower than highs reached in the fall of 2020, but still high enough to threaten another surge more than a year into the pandemic.
Test-positivity rates are also climbing, albeit not rapidly, approaching the 3% level after reaching a low point of 2% in early March. Over the same time, the daily number of new hospitalizations has hovered around 50.
Vaccines and variants advance
The stubbornly high numbers are being reported at a critical juncture in the pandemic: The state is racing to vaccinate as many Wisconsinites as possible as quickly as they can just as more contagious variants of the coronavirus are becoming dominant in the United States.
As of April 2, 2,978,088 doses of COVID-19 vaccine have been administered in the state, with 1,859,640 Wisconsinites, or 31.9%%, receiving at least one shot and 1,121,306, or 19.3%, completing their series.
The pace of Wisconsin's vaccine administration has been among the fastest in the nation, though it's varied from county to county. Officials have repeatedly moved up eligibility dates for wider groups, and on March 30 Gov. Tony Evers announced all Wisconsinites 16 and older would be eligible to receive a vaccine beginning April 5. That's nearly a month before universal adult eligibility was previously planned, as more vaccine doses become available and public health officials aim for a sufficiently high percentage of the state's population to be inoculated against the virus to curb its spread. The state is also seeking to make sure vaccination efforts address health inequities, and the Wisconsin Department of Health Services has awarded $6.2 million in grants to 100 organizations to expand vaccine access to marginalized and underserved populations.
Urgency surrounding the vaccination campaign has heightened as more contagious variants of the coronavirus spread in Wisconsin. The state genetically sequences only a small fraction of positive specimens, but even so, the number of three worrisome variants are on the rise.
Out of 630 specimens analyzed in the week ending April 1, 78 were identified as one of these variants, about 12% of the total. They include 61 specimens of the B.1.1.7 variant first identified in the United Kingdom, six specimens of the B.1.351 variant first identified in South Africa and one specimen of the P.1 variant originating in Brazil.
Mask mandate struck down
Meanwhile, Wisconsin has few statewide tools to mitigate the spread of COVID-19 after the state Supreme Court on Wednesday ruled that state law does not permit the governor to issue successive public health emergency declarations in response to the pandemic. The 4-3 decision, with the court's conservative justices in the majority, had an immediate effect of striking down Wisconsin's statewide mask mandate. Masks had been required in enclosed public spaces since August 2020.
The decision means public health restrictions aimed at slowing the spread of COVID-19 vary throughout the state as a patchwork of local policies are left in place. For example, in Dane County, the local public health agency issued an updated order on April 2 that maintains a face covering requirement for indoor public spaces but eliminates it for outdoor gatherings, among other changes.
The national and global situation
All of these shifts are occurring amid a backdrop of worsening outbreaks in the U.S. and globally. Many European nations are reissuing stay-at-home orders and other restrictions in an attempt to curb a surge in disease largely driven by more contagious variants and a vaccine rollout the World Health Organization called "unacceptably slow."
Brazil continues to deal with enormous case numbers and the highest daily death tolls in the world, also largely thanks to the spread of the P.1 and other variants. Cases and deaths are also on the rise in India and Kenya.
Closer to Wisconsin, its neighboring states of Minnesota and Michigan are also contending with spikes in cases. The surge in Michigan has public health officials alarmed as hospitalizations and deaths rise along with cases and the governor there requests an increase in vaccine allocation.
---
Recent Here & Now
//php dynamic_sidebar( 'news-sidebar-2' ); ?>