Where did all the mosquitoes go?
A snowy winter in northern Wisconsin set the stage for a pesky mosquito season, but a dry summer has reduced standing water some species of this insect pest rely on to breed in southern parts of the state.
August 3, 2023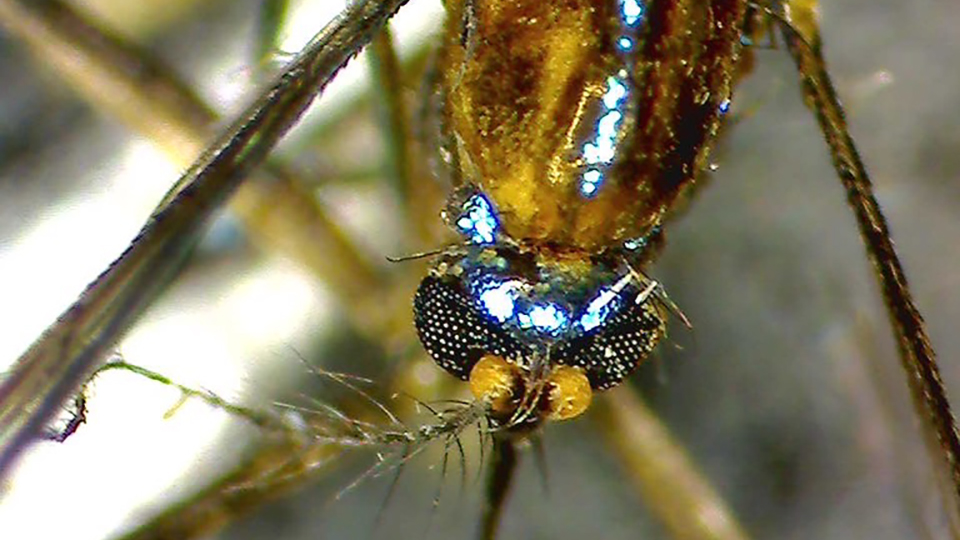 ---
The incessant buzzing and biting of mosquitoes can ruin summer barbecues, pool parties, hikes, camping trips and almost any other outdoor activities.
But insect experts say that the exceptional lack of rain in 2023 has led to much smaller-than-usual mosquito populations around broad swaths of Wisconsin.
"Mosquitoes emerge from standing water – like what's in our gutters and puddles or in more forested areas – but we haven't had a lot of that," said Lyric Bartholomay, a public health entomologist and professor of pathobiological sciences at the University of Wisconsin-Madison. "So without much rain, there just haven't been good habitats for mosquitoes to grow."
Wisconsin isn't alone in seeing lower mosquito populations.
"All around the Midwest – in northern Illinois and I think even into Minnesota – everybody's saying that the numbers of nuisance mosquitoes are remarkably low this year," noted Bartholomay.
However, while residents in the most dry, southern areas of Wisconsin are enjoying a largely low mosquito summer, there have been differences in which of the state's regions have dealt with the bothersome bugs and which ones have not.
"The mosquitoes that are up north are often the ones that emerge in the spring with the snowmelt," explained Bartholomay. "Typically, what we see is that these really pestiferous mosquitoes emerge and people are really bothered for a while, but I think that season was extended this year because it actually was quite cool, and there was a lot of snowpack and snowmelt. So, unfortunately I think people up north experienced more of those nasty mosquitoes for longer than in previous years."
Bartholomay is relying on personal observations to assess the low mosquito numbers, as well as reports "from our colleagues who are in mosquito abatement districts down in Illinois because we don't have a systematic sampling system here in Wisconsin," she said. However, the City of Milwaukee Health Department does do mosquito population sampling and is also showing lower numbers.
Bartholomay added that just because the 2023 season has been very mild on mosquitoes so far, it doesn't mean that will last.
"There's still certainly the possibility that we could catch up. In most years what happens is the nuisance mosquitoes will be the worst right around the beginning of July and here we are in August," she said. "So, if we get some big rains, then we'll see more of those horrible biting mosquitoes. It really depends on the weather."
Bartholomay also warned that while the mosquitoes with the lower numbers – the Aedes type – are "a significant nuisance" and the "most pestiferous" of the Wisconsin's over 50 species of mosquitoes, there's another kind of mosquito whose populations aren't suffering from the dry weather.
"There are some other mosquitoes that we should worry about – those are the Culex type. They are the ones that can transmit the West Nile Virus – and those mosquitoes are doing just fine," she said.
These Culex mosquitoes have different breeding location patterns than the Aedes types, said Rebecca Osborn, a vector-borne disease epidemiologist with the Wisconsin Department of Health Services.
"They lay their eggs in permanent bodies of water, whether that's lakes or rivers or streams," she said. "So they don't rely on precipitation and those mosquitoes aren't as impacted when we have a drought."
Osborn said the Culex mosquito numbers are "fairly low" in 2023 compared to previous years.
More importantly, there have not yet been any seasonal reports of humans in Wisconsin contracting West Nile virus yet as of Aug. 1.
Since 2018, the state has averaged 11 human cases of West Nile virus each year. According to the state health department, there were six confirmed and probable cases in Wisconsin in the entirety of 2022.
Statewide so far in 2023, West Nile virus has only been found in two bodies of water in Milwaukee County, while one horse in Dunn County has tested positive for the virus. Over the past decade, human-positive cases of the virus have shown up in Wisconsin as early as June.
"Usually we would see our first positive pool in late June or early July," Osborn said. "So this year is relatively quiet so far."
West Nile virus does not originate within Culex mosquitoes. Instead, the Culex type must first bite an infected animal or human and then bite another animal or human to transmit the virus. The virus, which can be fatal, causes symptoms such as high fever, headache, neck stiffness, convulsions, vision loss, numbness and paralysis.
Despite the absence of West Nile virus infections so far in 2023, Osborn noted that the state health department hasn't been able to test as many bodies of water this year because the agency has been focusing on testing for disease-carrying ticks.
"It's too early to celebrate," said Osborn, adding that she expects more West Nile virus positive tests to show up later in summer. "Generally, we see a peak in West Nile activity in August and September," she said.
Mosquitoes found in Wisconsin can spread several diseases and public health officials provide information about avoiding bites and reducing breeding habitat.
Another serious disease spread by mosquitoes that has been historically significant and remains a serious issue around the world is malaria, which was thought to be eradicated from the United States in the mid-20th century. By the 1970s, though, cases started growing again, and were thought to have been associated with people traveling to the U.S. However, local transmission of malaria was identified in Florida in 2003 and more cases are being reported in that state again in 2023, as well as in Texas.
Osborn added that while malaria has now shown up in two southern states, "the risk is very low that we would see any local locally-transmitted malaria in Wisconsin."
Bartholomay agreed and noted the exceptionally dry summer and the corresponding low populations aren't necessarily a death knell for buzzing, biting, blood-sucking mosquitoes.
"I always bet on the pest – they always seem to adapt and work around these stressful conditions," she said, adding that these particular insects "have eggs that are really environmentally tolerant – they can survive for years."
And if some species of the state's dozens of species of mosquitoes die off for whatever reason, there are others to fill their spot.
"There are mosquitoes on the move," said Bartholomay. "If we were to start to lose some species because of these really stressful weather conditions, we might have just the right conditions for mosquitoes from Missouri or Ohio to move north. Pests find a way."
---
Recent Here & Now
//php dynamic_sidebar( 'news-sidebar-2' ); ?>