When is it OK to leave fallen leaves in yards?
The annual autumnal ritual of raking the lawn serves many purposes, but there are advantages in letting leaf litter lie on the ground to conserve nutrients and help beneficial insects.
November 15, 2022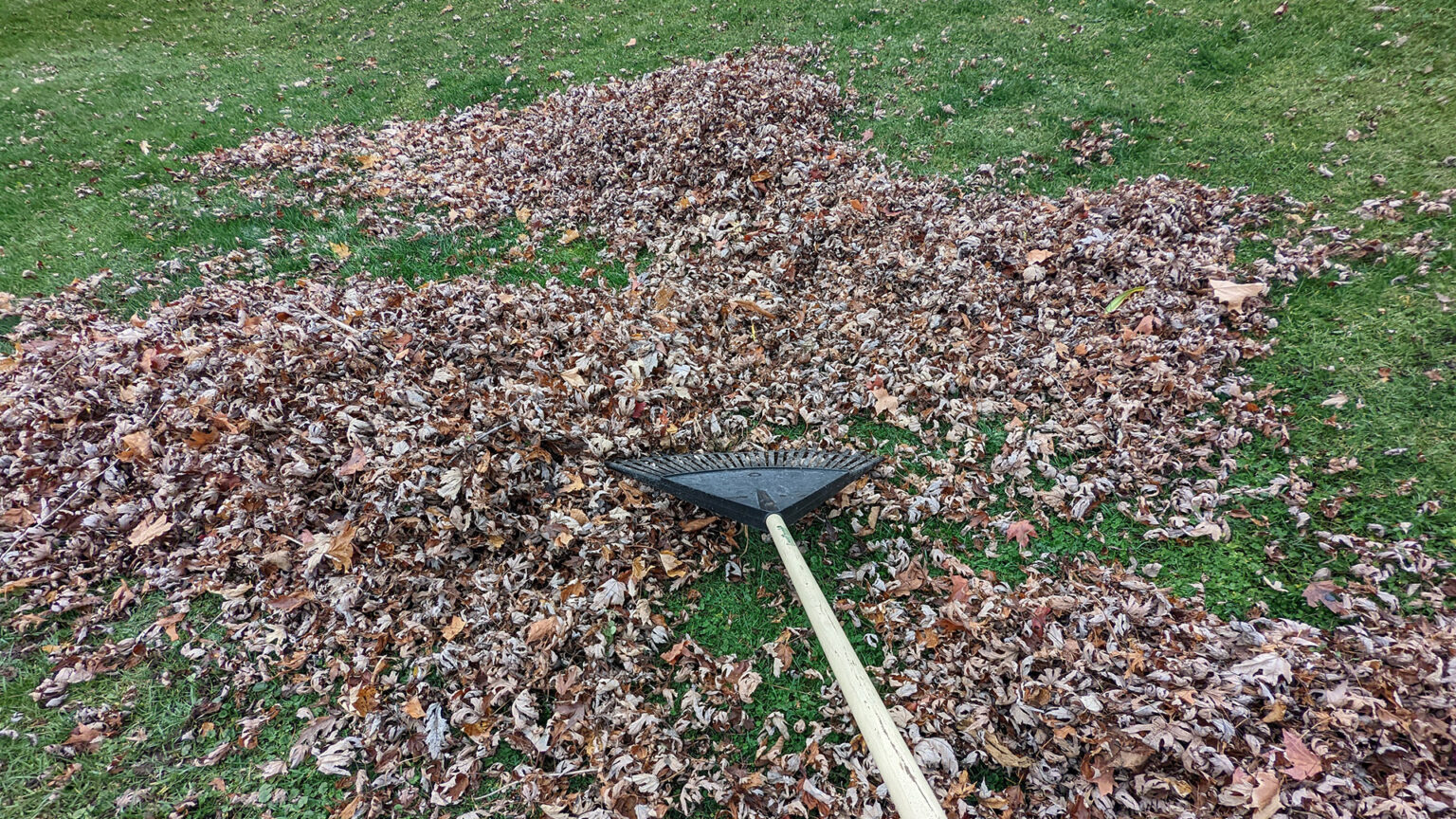 ---
The beauty of fall in Wisconsin comes at a cost.
To enjoy the breathtaking kaleidoscope of colors that our trees and their leaves provide, we must endure the entire leaf life cycle.
When the temperature drops, leaves fade from their youthful green to the elder shades of yellow, orange, red and brown. Then, when their vibrance is spent, they fall from the trees, creating a natural litter on streets, sidewalks, roofs and lawns.
Not long after, a dread sets in for homeowners, knowing they'll have to do something about that blanket of dead foliage. Soon, blisters and backaches follow from the penance of raking. Or worse, the incessant howl of the leaf blowers pierce the quiet serenity of a weekend morning.
But wait – maybe none of that work is necessary.
There is a movement, a growing effort by horticulturalists, naturalists, environmentalists and backyard advocates to let the leaves stay when they fall, to simply — leaf them alone.
"You don't have to rake your leaves. You don't have to use the leaf blower. You don't have to remove them at all," said Diana Alfuth, a horticulture specialist with UW-Madison Extension.
Alfuth said there are several reasons to let leaves be.
"They are a great resource for the environment. They're full of nutrients, so you can let nature take care of them and recycle them back into the ground for plants to use them next year," she said. "And, they also provide shelter for some of the beneficial insects we want to keep around."
Of course, there is a catch and some general rules to follow to get the full benefits from not removing leaves while not wrecking a lawn.
"If you're looking out at your lawn and it's 50% covered with leaves, but you can see 50% grass yet, then there's no reason to rake those leaves off," explained Alfuth. "But if you've got such a heavy coating of leaves that you can't see a blade of grass through it, then they will get matted down under the snow and they'll smother the grass and you'll have dead grass there next year."
Alfuth also recommended firing up a lawn mower one last time to help things along.
"If you can run the mower over them and chop them up a little bit, they'll fall down between the grass blades and they will decompose and release the nutrients," she said. "But if you've only got leaves on 20% of your yard, just ignore them."
When it comes to providing little winter homes for insects, Alfuth warned that it's important to figure out how to offer shelter to the bugs in your area that you want to have around, and not the pests.
"Some of the beneficial insects that hunker down under the leaves are the basic moths that we want around because they do a lot of pollination at night," she said. "But if you've had a problem with a particular pest — like cutworms, squash bugs or asparagus beetles — you will want to look into that pest's lifecycle to see if it overwinters in leaf litter or plant debris and if so, then you're probably going to want to rake those leaves out of that area."
Beneficial bugs and pests aside, it's important to remove leaves from yards — no matter how many – if they are diseased.
"Typically, leaf diseases are fungal and so they can stay on the dead leaves through winter and then the spores blow up in spring and infect the new leaves as they're coming out of the buds," explained Alfuth.
One statewide plant disease that's particularly troublesome has been septoria leaf spot, which affects lilacs and makes the leaves start browning at the bottom of the shrub and working up the plant.
There are also two diseases that Alfuth said are harmless but frighten tree-lovers because they look problematic.
"Those are the tar spot disease, which affects Norway and silver maples. That one develops big black spots on the leaf," she said. "And then there's anthracnose, which can affect maples and oak trees" and presents as smaller, brown spots on leaves.
Another option for leaf removal that still utilizes their useful nutrients is to redistribute the leaf litter in plant beds or onto gardens.
"You can always compost them to use as a soil amendment down the road or to mulch them for use on your strawberry bed or newly-planted perennials where the leaves can not only protect plants over winter, but next year, they can help with weed control and moisture moderation," advised Alfuth.
One last thing to keep in mind when it comes to raking is the effect it might have on neighbors.
"If you have a big tree that drops a lot of leaves that all blow into the neighbors' yards, you could make an enemy there," warned Alfuth. "So in that case, maybe you should rake some of them up or at least be aware of which way the wind is blowing."
---
Recent Here & Now
//php dynamic_sidebar( 'news-sidebar-2' ); ?>