Voting Event Collected Nearly 11,000 Absentee Ballots
The Saturday event called "Democracy in the Park" was put on by the City of Madison and will repeat this coming Saturday, Oct. 3.
By Marisa Wojcik | Here & Now
September 28, 2020 • South Central Region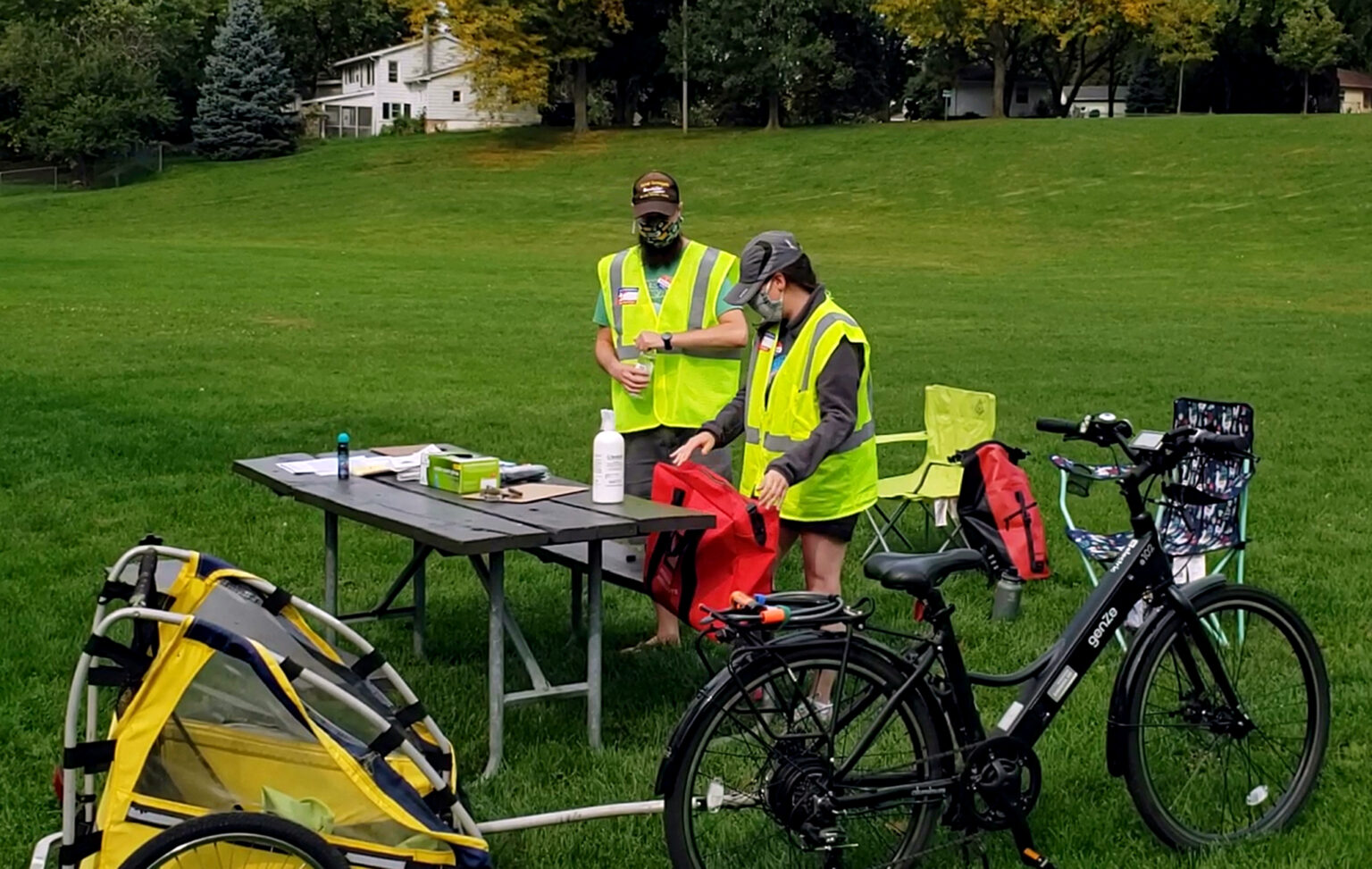 ---
If you saw "VOTE" signs posted around the city of Madison on Saturday, you didn't miss the election. It was part of an initiative called "Democracy in the Park" put on by the city clerk's office. Poll workers donning bright yellow vests posted up in more than 200 neighborhood parks from 9 a.m. to 3 p.m. for voter registration, absentee ballot witnessing and drop-offs, and generally answer voting questions.
Almost 11,000 absentee ballots were collected throughout the course of Saturday's event, which has already been slated for at an additional round this coming Saturday, Oct. 3.
The event was challenged by Republicans arguing it was an unlawful early voting practice. Assembly Speaker Robin Vos and Senate Majority Leader Scott Fitzgerald, through attorney Misha Tseytlin, issued a letter to Madison City Clerk Maribeth Witzel-Behl arguing the "Democracy in the Park" event was not an "authorized" nor "secure" method of ballot collection.
"The threat that this procedure poses to ballot integrity is manifestly obvious," the letter stated.
It went on to urge the city clerk's office to cancel the event under threat of a potential future lawsuit and should hold the ballots collected in the park separate.
Madison City Attorney Michael Haas, former Wisconsin Elections Commission administrator, fired a letter back arguing the event was legal and the GOP letter of protest did not outline any specific violations of the law. He also stated the significant constraints the COVID-19 pandemic has put on voting and the U.S. Postal Service's ability to deliver ballots back in time to be counted.
"Absent any directive from the Wisconsin Elections Commission or a court, the City will proceed with Democracy in the Park, and it will process the ballots collected with other absentee ballots," Haas said.
Wisconsin Elections Commission spokesperson Reid Magney told the Wisconsin Journal Sentinel as of Sunday they were still analyzing the event.
All absentee ballots were collected by trained and certified poll workers. The ballots received a tamper-evident seal and were counted twice before being collected by the city clerk's office.
In a statement Friday from City Clerk Witzel-Behl, she clarified the event was not in-person absentee voting.
"Poll workers will not be able to issue anyone a ballot at the park. The only way to receive a ballot right now is through the mail," Witzel-Behl said.
On Friday, the city clerk's office reported 88,135 absentee ballots had been issued to Madison voters.
---
Recent Here & Now
//php dynamic_sidebar( 'news-sidebar-2' ); ?>