Trump, Biden Hold Competing Rallies in Wisconsin Four Days Out
The president spoke at an event in Green Bay, while the former vice president held a small event in Milwaukee.
October 30, 2020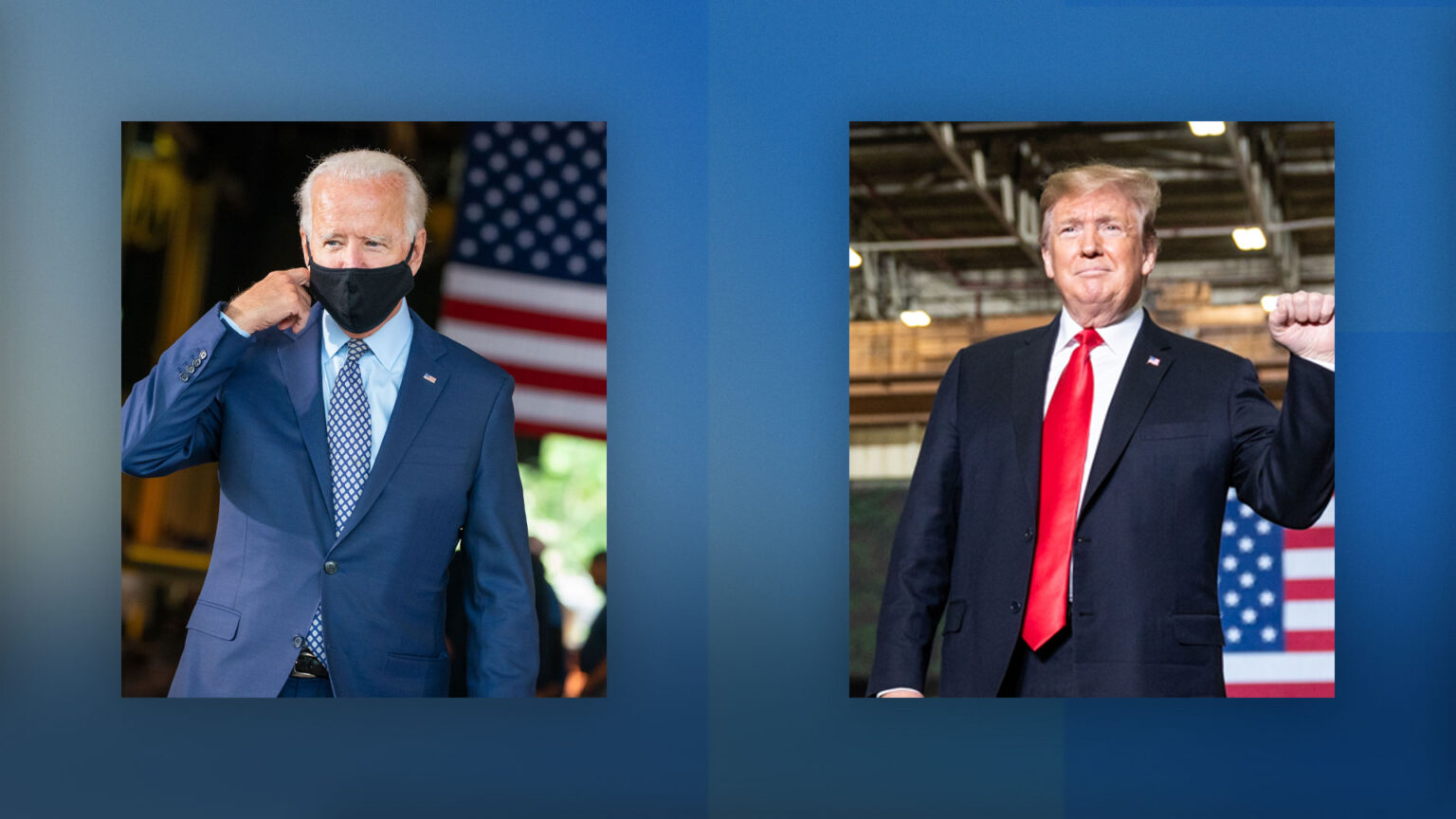 ---
Both men at the top of the ballot Nov. 3—President Donald Trump and Democratic candidate Joe Biden—rallied in Wisconsin with fewer than 96 hours before polls open in Wisconsin on Election Day.
The rallies come as 1.7 million Wisconsinites have already sent in their absentee ballots or voted early in the election. The competing events were also against a backdrop of trailing polls results for the president—a new Marquette poll shows him down five points, and a UW Elections Research Center poll shows him down nine points in Wisconsin.
"[If] we win this state, you know what? It's over," Trump said, touting Wisconsin's role as battleground state in the electoral college. "We're going to win this state and we are going to win four more beautiful years."
According to a breakdown from the Marquette poll, the early vote heavily favors Biden, while Trump is expected to win among those voting later or on Election Day.
"Get out and vote please, get out and vote," Trump said. "[It is the] most important election of your lifetime."
This is the president's third visit to the state this week, after holding rallies in Waukesha on Saturday and West Salem on Tuesday.
The president said his record on jobs and the economy is what distinguishes him from his Democratic opponent.
"Joe Biden will shut down your state's economy, wipe out your factories, ship your jobs to China," he said.
Trump said Biden would "send your state into a catastrophic…depression."
The president spoke to a crowd of thousands at Green Bay Austin Straubel International Airport Friday afternoon. He addressed the crowd as the state is still struggling with rising COVID-19 cases; Wisconsin had its second day of more than 5,000 new coronavirus cases Friday. The outdoor rally saw some, but not all attendees wear masks.
In contrast, the Biden event was to be limited to fewer than 50 attendees in an airplane hangar at Milwaukee's Mitchell Airport.
Biden said the president's handling of the coronavirus should preclude him from receiving four more years in office.
"This week, Wisconsin, like other states, set a new record for daily cases. Hospitals are running short on beds—you just had to open a field hospital," Biden said. "Unlike Donald Trump, we're not going to surrender to this virus."
He also challenged the president on his economic message.
"Trump's trade policies decimated, devastated Wisconsin's dairy industry," Biden said. "Last year. Wisconsin lost more dairy farms in any state in the nation."
This was the former vice president's third visit to the state in 2020, after visiting Kenosha in the wake of the Jacob Blake shooting and Manitowoc in September.
Ahead of the election, Trump is expected to make another stop in Kenosha on Monday.
This story was updated to include reporting from the Biden event.
---
Recent Here & Now
//php dynamic_sidebar( 'news-sidebar-2' ); ?>