Tony Evers, Tim Michels tout their platforms in one-off 2022 gubernatorial debate
In a rapid-fire exchange of responses, the Democratic incumbent and Republican challenger in the race for Wisconsin's top office made their cases on high-profile and more under-the-radar issues.
October 15, 2022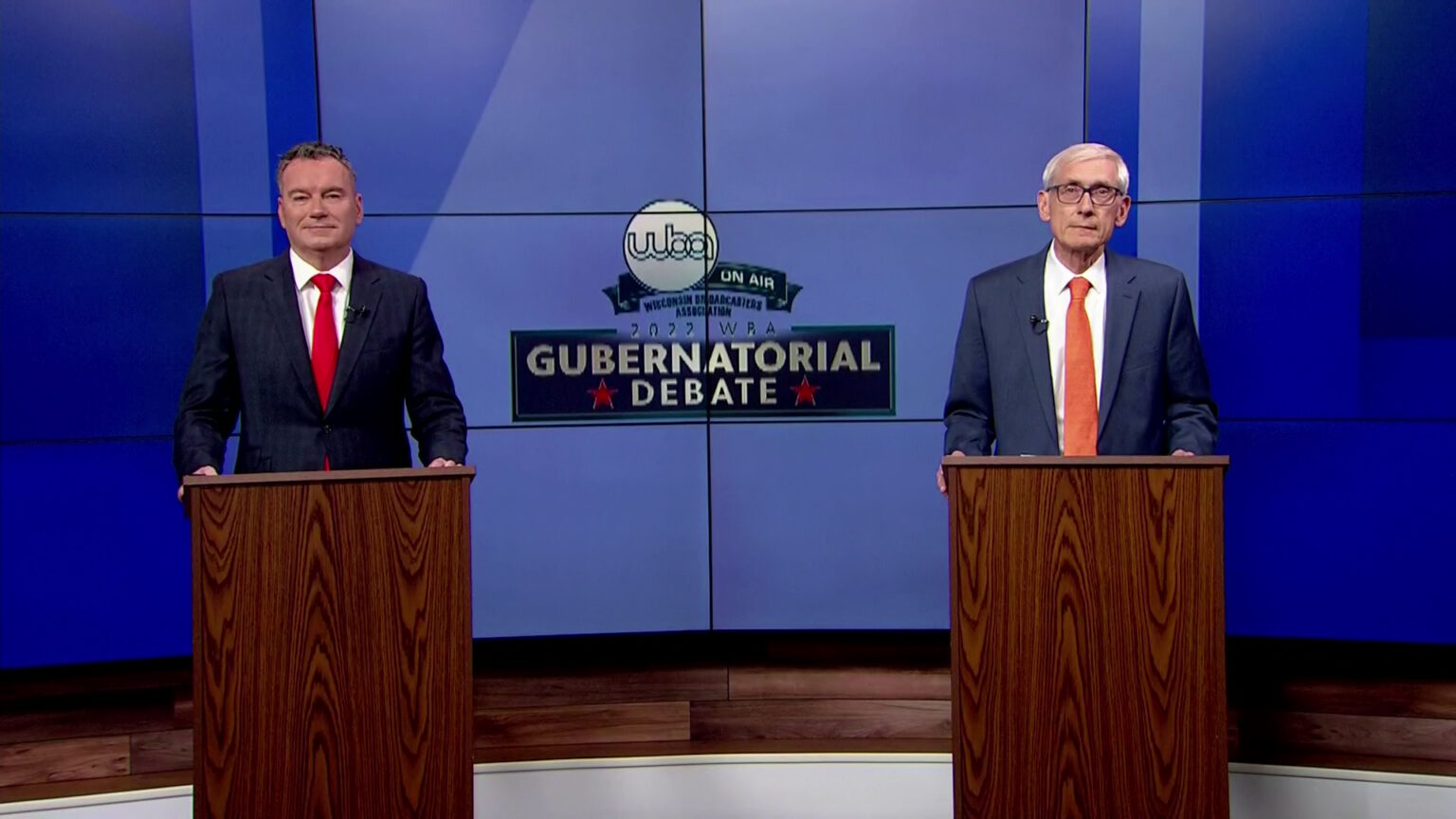 ---
In their first and only debate, Gov. Tony Evers and Tim Michels clashed on topics from inflation to municipal funding to climate change as the candidates for governor of Wisconsin head into the final weeks before the 2022 midterm election.
While the Democratic incumbent Evers focused mostly on laying out specific plans for a potential second term of his administration, Michels focused on how his leadership style and experiences as the head of Michels Corp. would translate to state government.
The debate featured questions from a panel of six journalists — including PBS Wisconsin's "Here & Now" host Frederica Freyberg — about 20 different broad subjects. Here's a look at exchanges between Evers and Michels over four of them.
Inflation and rising prices
The debate kicked off on the topic of inflation, with both candidates offering their approaches on how to address rising prices.
Evers said he would reduce taxes on the middle class by 10%, get rid of Wisconsin's minimum mark-up law on gas and offer parents a child-care tax credit.
"I do have a plan, I've been really hoping that the Republicans would come in," Evers said, "And we could do something about it right now."
Michels blamed the Biden and Evers administrations for rising prices, including the cancellation of the Keystone XL pipeline for an increase in gas prices. Michels also said he would oversee a "massive" tax reform.
"I understand how to read a balance sheet," Michels said. "I'm going to do everything I can to put more money in people's pockets to help them with the price at the pump and the surging price of groceries."
Municipal funding
Evers talked a lot about municipal funding during the debate, calling it his "top priority." He said municipalities currently don't get enough money in shared revenue from the state government to properly fund law enforcement and social services, among other things.
In response, Evers proposed a 4% increase in funding for municipalities each year under his next budget.
"When I ran for office the first time, I made a pledge to the municipalities across the state that we would increase share revenue," Evers said. "[I tried] to do it in my first budget, tried to do it in my second budget … and it was zeroed out [by state Republicans]."
Michels said there was "plenty of money in government", citing the $40 billion biennial budget for the state government. He said he would sit down with the Legislature to make sure state revenue makes it to municipalities across the state.
"The bureaucracies here in Madison need proper leadership," he said. "We're going to make sure that [Wisconsin has] adequate funding for the big problems."
Gov. Tony Evers is the Democratic incumbent in the 2022 race for governor of Wisconsin. (Credit: Courtesy of the Wisconsin Broadcasters Association)
Tim Michels is the Republican challenger in the 2022 race for governor of Wisconsin. (Credit: Courtesy of the Wisconsin Broadcasters Association)
Education and students
The most recent standardized test data indicates that fewer than half of Wisconsin students are proficient in math and language arts. At the same time, education is the second most important issue to Wisconsin voters according to the most recent Marquette Law School poll.
Evers, who is a former public school teacher, said Wisconsin's school districts need more funding for programs like special education, mental health and literacy.
"In the state of Connecticut, it costs $47,000 a year [in] tuition — in the state of Wisconsin Milwaukee Public Schools costs $16,000 — there's a big difference there," Evers said in a shot at Michels owning homes on the East Coast. "Yes, I'm going to increase the budget."
Michels, who is a proponent of school choice and voucher programs in Wisconsin, said the education system in Wisconsin is "broken." To fix it, he would "empower" parents through providing tuition dollars that allow students statewide to attend private schools at reduced cost.
Michels also said he would spend more money than any other Wisconsin governor on education, but did not offer specifics.
"Tony Evers has been in charge of education his whole life," Michels said. "You would think that education would be going well under his leadership, but it's not, something has to change."
A question about controversy over critical race theory noted the Wisconsin Department of Public Instruction considers it a university-level academic theory, and the state superintendent wrote is not being taught in Wisconsin K 12 classrooms.
Michels said that parents should be involved in how race is taught in classrooms, and not left to "edu-crats." He reiterated that parents should be allowed to choose the school their child attends, which would give them a larger say in education about racial issues.
"I disagree with the statement that everything is being taught properly," he said. "Parents have come in and shown me the stuff that is being taught to their kids in school, and they're outraged and they don't like it."
Evers strongly pushed back on the insistence critical race theory is being taught in Wisconsin schools, calling it a "ruse."
"Should we talk about the fact that Japanese Americans were interned during World War Two? Of course we want to talk about that," Evers said. "We shouldn't be afraid of that."
Climate change
Another stark contrast between candidates came when they were asked about climate issues. While both agreed that it is the job of the government to ensure every Wisconsinite has access to clean drinking water, Michels hedged on the fact that a global rise in average temperatures is attributable to human activity.
"There's a lot of discussion about, has the temperature gone up? Temperature has always fluctuated throughout the history of this world," Michels said. "We can't just say that it all happened because of man's actions in the last 100 years."
Michels subsequently touted the environmental practices of his family business, and said he would fix a "close to broken" state Department of Natural Resources.
"Look, I want a clean planet for my children, my future grandchildren, I want clean drinking water," he said, "We're going to make sure that the people of Wisconsin know that they're being taken care of and that we are going to take care of the environment."
Evers said he does accept evidence of human-caused climate change, and touted his administration's Climate Energy Plan that has increased solar energy output in Wisconsin.
"We are going to continue to make sure that the clean energy plan is in place," Evers said. "I'm so pleased with the farmers of the state — they're working together on making sure that their practices are good."
Evers also slammed Fred Prehn, a Republican appointee to the state Natural Resources Board member who has refused to vacate his seat after his term expired, saying in a text he would "be like a turd in water" and refuse to leave the position.
"I heard my opponent slam the DNR just for a few minutes there, but the reason we can't get going on is because one member on the DNR board won't leave, and the Senate won't approve my well-qualified candidate," Evers said. "That's crazy."
This 2022 general election, which also includes races for U.S. Senator, state treasurer, secretary of state and local offices, will take place on Tuesday, Nov. 8. On Election Day, polls are open from 7 a.m. to 8 p.m. More information about candidates is available at Wisconsin Vote.
---
Recent Here & Now
//php dynamic_sidebar( 'news-sidebar-2' ); ?>