Sara Rodriguez, Roger Roth on their 2022 run for lieutenant governor of Wisconsin
Voters are choosing between a pair of state lawmakers for the second-in-command role under the governor — the Democrat from the Milwaukee suburbs and the Republican from the Fox Valley share why they're seeking the office.
August 23, 2022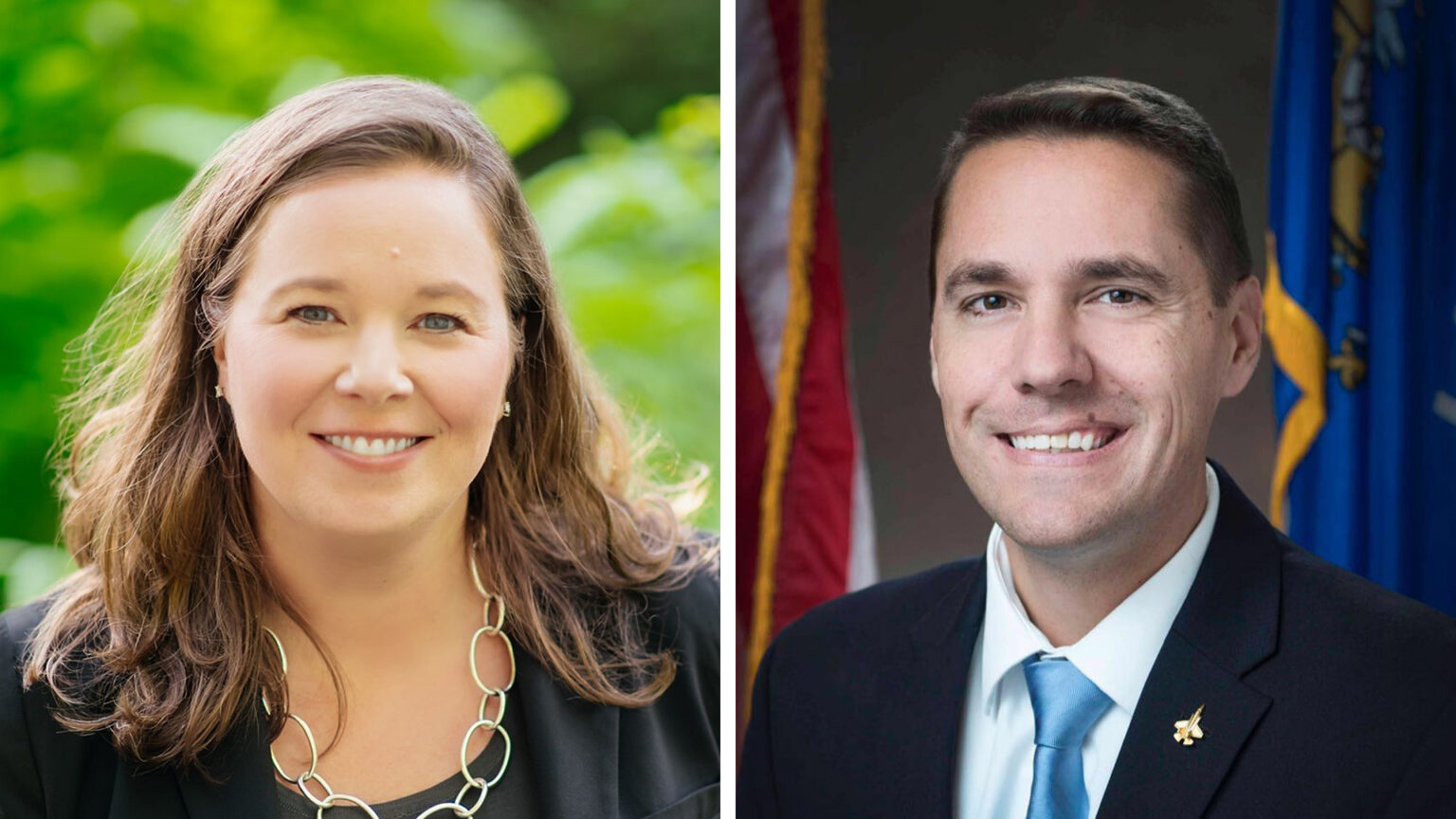 ---
In the statewide race for the low-profile, limited-responsibility office of lieutenant governor, Wisconsin voters narrowed a large pool of 10 candidates down to just two in the Aug. 9 primary election. The lone remaining Republican and Democratic candidates are elected officials in the state Legislature – but that's where their similarities end.
Paired on the ballot with incumbent Democratic Gov. Tony Evers is state Rep. Sara Rodriguez. She was elected to Assembly District 13, which includes suburban areas in western Milwaukee County and eastern Waukesha County, in 2020.
On the Republican side, voters chose state Sen. Roger Roth to join the gubernatorial ticket of construction business owner Tim Michels. Roth was elected to Senate District 19, which includes most of Appleton along with Neenah, Mensha and areas west of the Fox Valley area, in 2014.
Rodriguez and Roth vary widely on their priorities and plans for the job of lieutenant governor, which lacks any mandated duties other than to serve as a backup in the event that the governor becomes incapacitated or leaves office.
Here & Now asked the lieutenant governor candidates why they're running, their thoughts on issues such as abortion and election policy, and how their legislative home districts may help their party's ticket win a statewide race.
You're currently a state representative. Why do you want to be lieutenant governor?
Rodriguez: I ran for lieutenant governor because I knew the most important thing that we did this November was to re-elect Gov. Tony Evers and he was going to need a strong partner by his side on that ticket.
In terms of my background, I am a sitting representative so I understand the policy implications in Wisconsin. Prior to being in the Assembly, I was a health care executive where I managed large teams and multimillion dollar budgets. So, I believe I can be a strong partner for Gov. Evers in something as large and complex as the Wisconsin state government.
But for much of my career, I was a public health nurse and that's the lens that I want to bring to the lieutenant governor's role, which is one of investment in our kids and communities and one of prevention. As a clinician, I know that the medicine we give the people and the procedures that we do is such a tiny fraction of how healthy we are. It is really about where you live, the air you breathe, the water you drink, and whether you've got a good paying job to put food on the table and to actually pay for those medications.
Roth: I've been a state senator for the last eight years, so I've had a bird's eye view of Tony Evers' administration these last four years, and I'm running simply because Tony Evers has failed Wisconsin. He is not able to effectively manage the broad state agencies. Nurses can't get licensure. People who are looking for unemployment benefits can't get their calls answered at [the Department of Workforce Development]. He's been an abject failure from one side of state agencies to the other. And that's why I'm running – to partner with Tim Michels – to turn this state around.
We need some leadership that understands how the world works, understands how small business owners and moms and dads across our state function, and has the ability to instill leadership in a vision across our state agencies. Tony Evers can't. Evers can't do it. I'm running with Tim Michaels to get it done.
If elected as lieutenant governor, what would your priorities be?
Roth: I've got the experience of 17 years in the Air National Guard. Tim Michels has active duty experience. Gov. Evers and Rodriguez don't have that National Guard experience. The governor is the commander in chief with over 10,000 National Guard forces in our state. And I look to be a principal adviser to Tim Michaels here on those National Guard issues, which are complicated – just the dual role that they play in protecting our state and our nation.
There are other issues I've led on in the Legislature. I'm the author of the Universal School Choice Bill, which Gov. Evers vetoed. He denied parents the ability to have a say in their children's education and make those choices in what school is best for their kids. We're going to get that passed. I expect to play a big role in doing that as well. I authored a bill to eliminate the state income tax. So, at a time when Tony Evers wanted to raise taxes by $3.5 billion dollars, I'm out there advocating for their full elimination. So, I expect to work closely with Tim Michaels to lead some substantial tax reform here in our state.
Rodriguez: I would love to work on health care initiatives with Gov. Evers if that's where he'd like to direct my time. I want to continue the great work that current Lt. Gov. Barnes has done within the green energy sector — I really want to make sure that that doesn't get lost in the transition. We need to continue to move forward on those things and really get Wisconsin to be a leader in this technology space. Thirdly, I would love to work on entrepreneurship. I have a small business myself and that's an area where I think we can have some bipartisan solutions on how to make sure we're supporting small businesses here in Wisconsin.
In June, the U.S. Supreme Court overruled Roe v. Wade, eliminating the constitutional right to an abortion at the national level after almost 50 years. Now in Wisconsin, an 1849 law criminalizing abortion has gone into effect. What next steps should the state now take on abortion policy?
Rodriguez: Gov. Evers has been clear that he is taking this to court. The antiquated, extreme law from 1849 that we have on the books in Wisconsin is just something that is untenable to most Wisconsinites. I agree with most Wisconsinites. Over 60% of folks believe that this decision should be between a woman and her physician. And so we're going to work through the court system. Also, the Legislature could always come back and work with Gov. Evers on something that makes sense and something that most Wisconsinites want.
Roth: The Supreme Court has weighed in and now in Wisconsin we have a law here that we've had for quite some time. Tim Michaels and myself, we support life. We support all life. What we're going to do right now is make sure that we are fully funding crisis pregnancy centers around our state. There were just over 6,000 women in the last year who made the tragic decision, the difficult decision, to abort a child. And those circumstances aren't going to change. But what we can do is to make sure that they have access to counseling, that they have access to referrals, that they have access to health care through some 90 crisis pregnancy centers that exist right now in our state. You can expect us to stand up and step up and make sure that we're supporting these mothers in their time of need.
What should the future of Wisconsin election policy look like?
Roth: In the Legislature, we've passed almost 20 bills related to election integrity. These are important bills, which, I think, if you stepped aside and forgot about who was the author and what their party was, I think you would recognize that we need uniform voting laws throughout the state of Wisconsin. We need uniform application of those voting laws across our state. I think all Republicans and Democrats can agree to that. And those 20 bills that we passed – that Gov. Evers vetoed – you're going to see the Legislature pass those bills again and you're going to see Tim Michaels step up to make election integrity a priority. The goal is we want to make it easy to vote, but very hard to cheat, and that's what those bills do.
Rodriguez: Right now, we have very clear, transparent and safe elections. That's been proven over and over again. We have people that work on the local level that make sure that all of the guidelines are followed and all of the laws are followed. We should continue along that path. And so right now, I think we just need to make sure that everybody in Wisconsin knows that their vote matters and that we want to encourage folks to get out there and vote. These are safe and secure elections.
Rep. Rodriguez, you are a Democratic elected official for Wisconsin Assembly District 13, which covers some of western Milwaukee County and the area surrounding the city of Brookfield in Waukesha County. How does your support there help you and Tony Evers win this election?
Rodriguez: I currently live in Waukesha County, and I have to tell you that Waukesha County is changing. I know from the conversations with my neighbors that they know that the Republican Party has moved so far to the right that they are promoting divisive, radical, out-of-touch policies that do not match what Wisconsinites want. And so those conversations that I'm having day-to-day within Milwaukee and the suburbs of Milwaukee, I know that the Democratic policies that we are promoting, these are the ones that Wisconsinites want us to implement.
Sen. Roth, you are a Republican elected official for Wisconsin Senate District 19, which covers the Fox Valley area. How does your support there help you and Tim Michels win this election?
Roth: You can't win statewide in Wisconsin without winning the Fox Valley. The Democrats have their bases of support in Dane and Milwaukee counties. That's where that's where they build their significant base. Republicans, they have their base of support traditionally in the WOW counties [of Waukesha, Ozaukee and Washington]. So, those sort of counteract each other. But if you go back almost 20 years, statewide candidates that win the Fox Valley – whether it's Obama or Trump or Walker or Evers or Baldwin or Johnson – whoever wins the swing area of northeast Wisconsin, they win the state. I come from northeast Wisconsin, I've got tremendous name recognition in northeast Wisconsin and tremendous support from the people of northeast Wisconsin. So, having myself on the ticket is absolutely going to help Tim Michaels and other Republicans win statewide here in Wisconsin.
The general election for lieutenant governor of Wisconsin – as well as elections for governor, state treasurer, secretary of state, the U.S. Senate and U.S. House, and legislative offices around the state – will be held Tuesday, Nov. 8. More information can be found at Wisconsin Vote.
---
Recent Here & Now
//php dynamic_sidebar( 'news-sidebar-2' ); ?>