Research on Coronavirus Variants at UW Lab Buoyed by CDC Funding
Sen. Tammy Baldwin touts federal funding for genomic research at UW-Madison, where scientists are studying how COVID-19 cases are distributed around Wisconsin.
By Murv Seymour
April 6, 2021 • South Central Region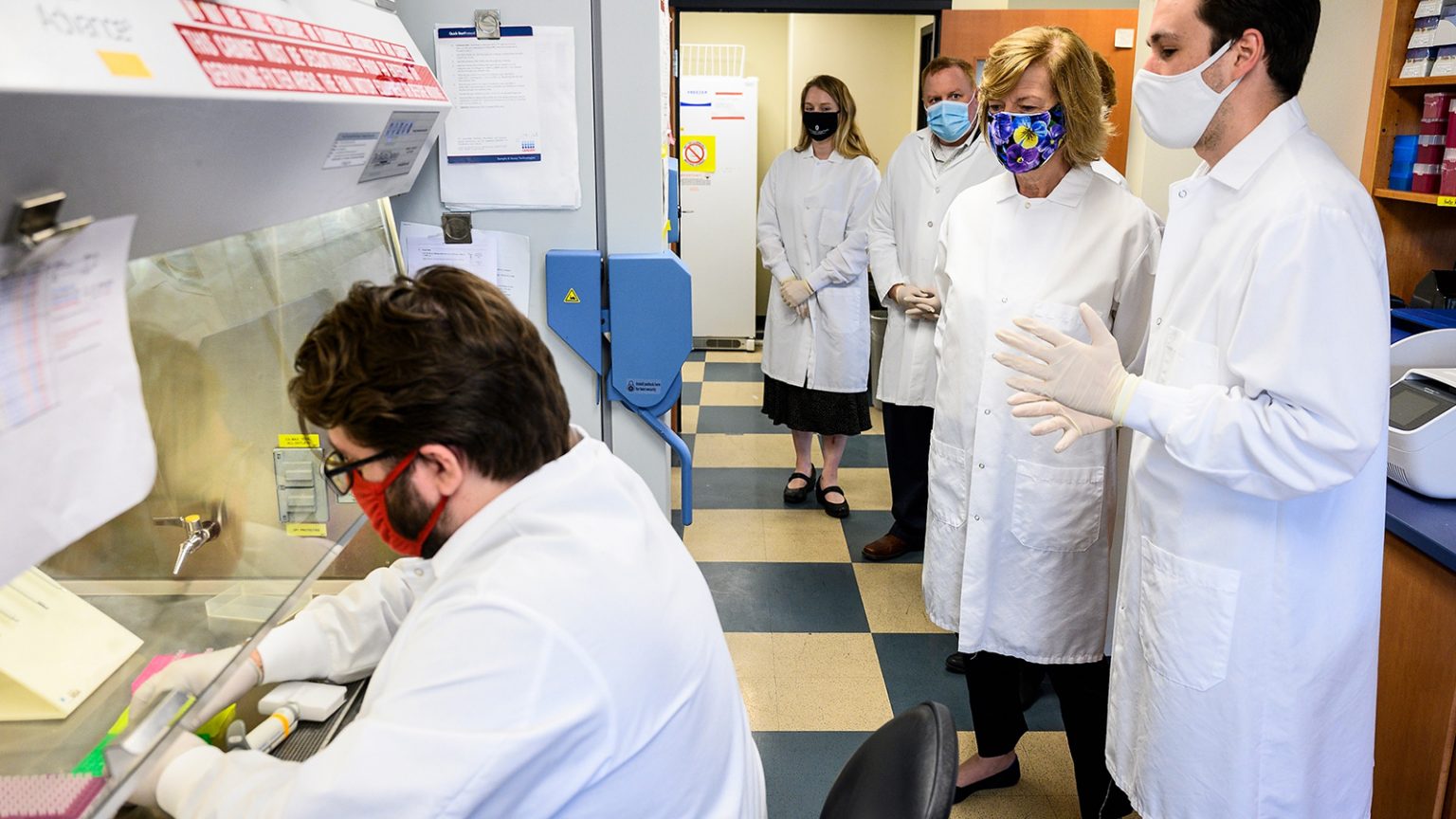 ---
The kind of work being done at a Wisconsin lab could be a shot in the arm, so to speak in the fight against the shifting terrain of COVID-19. As the number of variant coronavirus cases increases, lawmakers are hopeful funds from the American Rescue Plan Act of 2021 can fuel research labs like the AIDS Vaccine Research Laboratory at the University of Wisconsin-Madison. The $1.75 billion package signed into law in March funds COVID-related research focused on detecting variants of the virus.
On Monday, April 5, U.S. Senator Tammy Baldwin, D-Wisconsin, met with researchers on the UW-Madison campus before going on a tour of the facility where scientists have been building what could be described as a family tree of the coronavirus by studying COVID-19 cases in Milwaukee and elsewhere around southern Wisconsin.
The AIDS Vaccine Research Laboratory has partnered with UW Hospital and Clinics, along with the Wisconsin Department of Health Services and local public health departments around the state to conduct genomic sequencing throughout the pandemic.
The Friedrich Laboratory, led by UW School of Veterinary Medicine professor Dr. Thomas Friedrich, began shifting its work from HIV and the Zika virus to sequencing the genes of coronavirus samples in March 2020 just as the pandemic emerged in the state. The idea was to track the spread of COVID-19 and later to watch for the arrival of viral variants in Wisconsin. So far, the lab has received $1.3 million in funding from the Centers for Disease Control and Prevention to help do its work tracking COVID-19 variants.
"We are lucky to have the infrastructure built years ago by UW and federal resources that allowed us to shift so quickly to studying an emerging pandemic. Sequencing has helped us understand the way COVID-19 has spread in Wisconsin, and given us and our partners in state and local health departments the best information possible while they make decisions to help stop further spread," said Friedrich.
"We now have more than $60 million in federal funding at work on COVID-19," said UW-Madison Chancellor Rebecca Blank.
The B.1.1.7 variant of COVID-19 has hit one Dane County childcare center particularly hard. Contact tracing by Public Health Madison & Dane County has revealed 35 people tested positive with this more infectious coronavirus variant, with 21 children and workers testing positive, along with 14 of their family members.
Public health officials said most of the children experienced mild symptoms like fever, cough, fatigue, headache, muscle pain and nasal congestion. They warned parents not to mistake these symptoms for seasonal allergies; it's best to get tested and rule out COVID-19 first, they urged.
"We know the variants are more infectious, and younger children can't be vaccinated yet, so this is an important reminder that we must all continue to take precautions," said Janel Heinrich, director of Public Health Madison & Dane County. "Get tested if you are showing any symptoms, get your children tested if they are showing symptoms, and get vaccinated as soon as you can. The vaccines are highly effective against severe disease and death from COVID-19 infection, even with the most prevalent variants."
On April 5, the state health department announced anyone in Wisconsin 16 and older is now eligible to get the COVID-19 vaccine at no cost.
In her appearance at UW, Baldwin said the battle against the coronavirus is an ongoing effort, and the work being done on the campus and around the state is critical in forging a strategy to protect people against the growing transmission of variants.
According to the Wisconsin Department of Health Services, as of April 6, 2021, there were 581,070 confirmed cases of COVID-19 in Wisconsin.
"We haven't beaten this pandemic, especially when it comes to emerging variants and mutations of the coronavirus, which represent an ongoing threat to the health and security of our nation," Baldwin said.
According to the Centers for Disease Control and Prevention, COVID-19 variants are prevalent in Minnesota, Michigan and Florida, among other states. Unvaccinated travelers returning to Wisconsin are encouraged to follow CDC travel guidelines.
Editor's note: This article is corrected to indicate the AIDS Vaccine Research Laboratory at UW-Madison has received $1.3 million in funding from the Centers for Disease Control and Prevention for coronavirus genomic research.
---
Recent Here & Now
//php dynamic_sidebar( 'news-sidebar-2' ); ?>