Protesters Clash with Police Over Community Policing Concerns
Protests erupt in Wisconsin in the wake of George Floyd's death in Minneapolis, causing clashes with police.
Here & Now
June 1, 2020 • South Central Region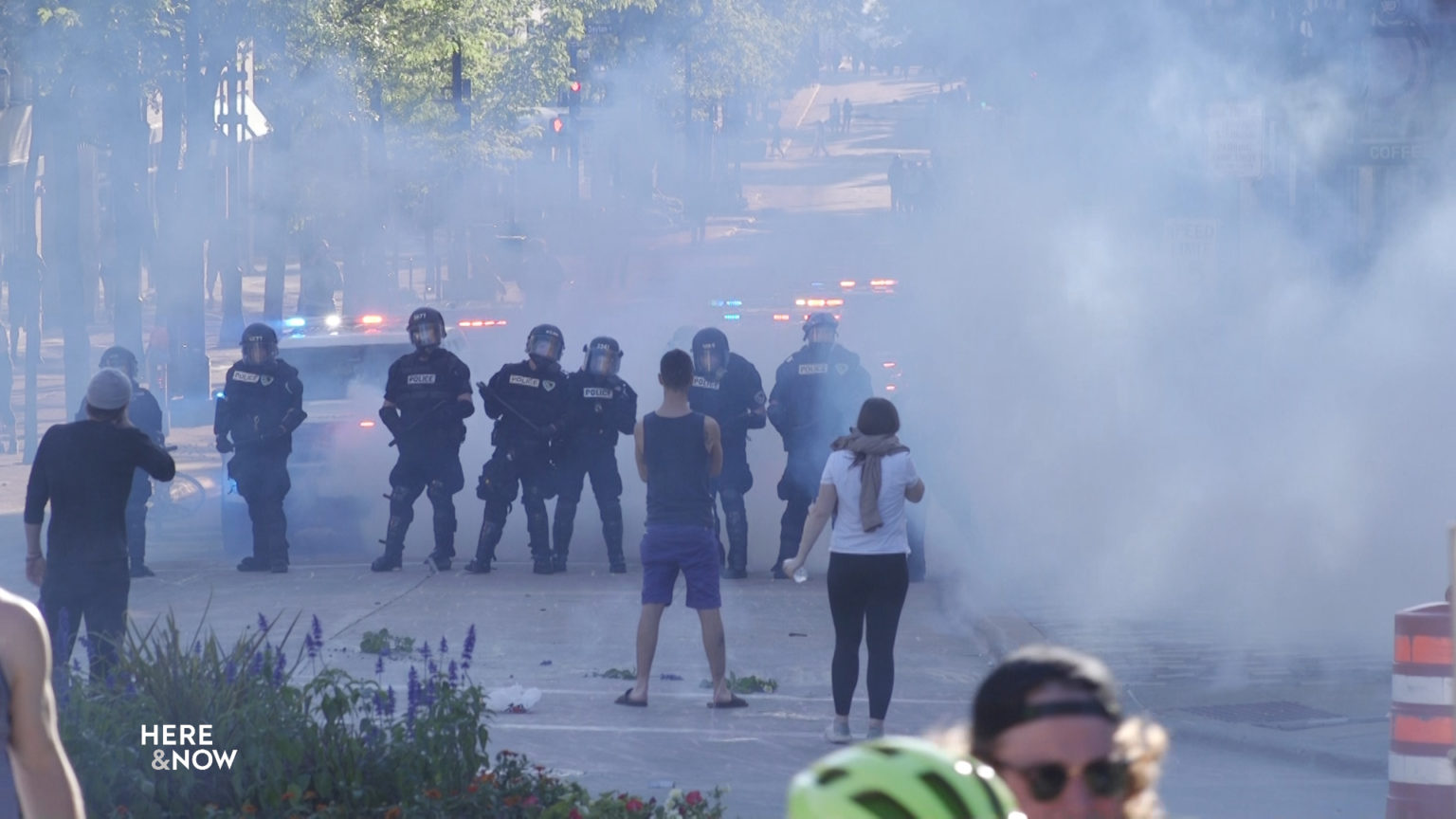 ---
The day began with a peaceful rally at the state Capitol, outlining continued frustration in the relationship between police and the city's black community.
Five years ago Madison police shot and killed 19-year-old Tony Robinson. Since then, protesters say not much has changed.
"We know the narrative: black unarmed man killed by the police and nothing happened, we know why we're all here," said Lorien Carter, Robinson's aunt.
When prosecutors decided not to press charges against the officer in 2015, community activist Brandi Grayson pushed for more community control over the police.
"We also are campaigning for community control over policing, meaning that we want communities to be able to set the priorities and policies of local police departments," she said during a 2015 interview with PBS Wisconsin.
Five years later, her push continues.
"We demand control over the [explicative] police. We demand reparations for all black bodies," she said during Saturday's rally.
This came as rallies cropped up around the state in solidarity with those in Minneapolis protesting the police killing of George Floyd, all calling for greater accountability among the police.
The protesters' peaceful message however, was juxtaposed Saturday and Sunday with civil unrest.
Early Saturday evening, a small group of protesters began looting storefronts in Madison's downtown, which sparked an hours-long standoff with police. Protesters returned Sunday, causing more clashes.
"This violence does nothing to support the interests of social justice nor police and criminal justice reform," said Satya Rhodes-Conway, Madison's mayor. "This conduct harms our community as we attempt to express our outrage and advocate for needed change."
The mayors of Madison and Milwaukee instituted curfews for Saturday and Sunday in the wake of violence, and the national guard was activated to support police efforts.
As the city and the state move forward from the civil unrest, Madison city council president Sheri Carter says it takes action to address racial disparities.
"We all know about racism, and I can tell you racism is never going to end when it's just up to the people who have to deal with racism every day to end it," she said. "It takes all of us."
---
Recent Here & Now
//php dynamic_sidebar( 'news-sidebar-2' ); ?>