National Guard Helps Testing Efforts, Staffing Tuesday's Polls
As the state continues to increase testing, the Wisconsin National Guard will provide 25 testing teams as early as Wednesday to help the effort. The guard will also help fill a shortage of poll workers in the 7th Congressional District special election.
May 12, 2020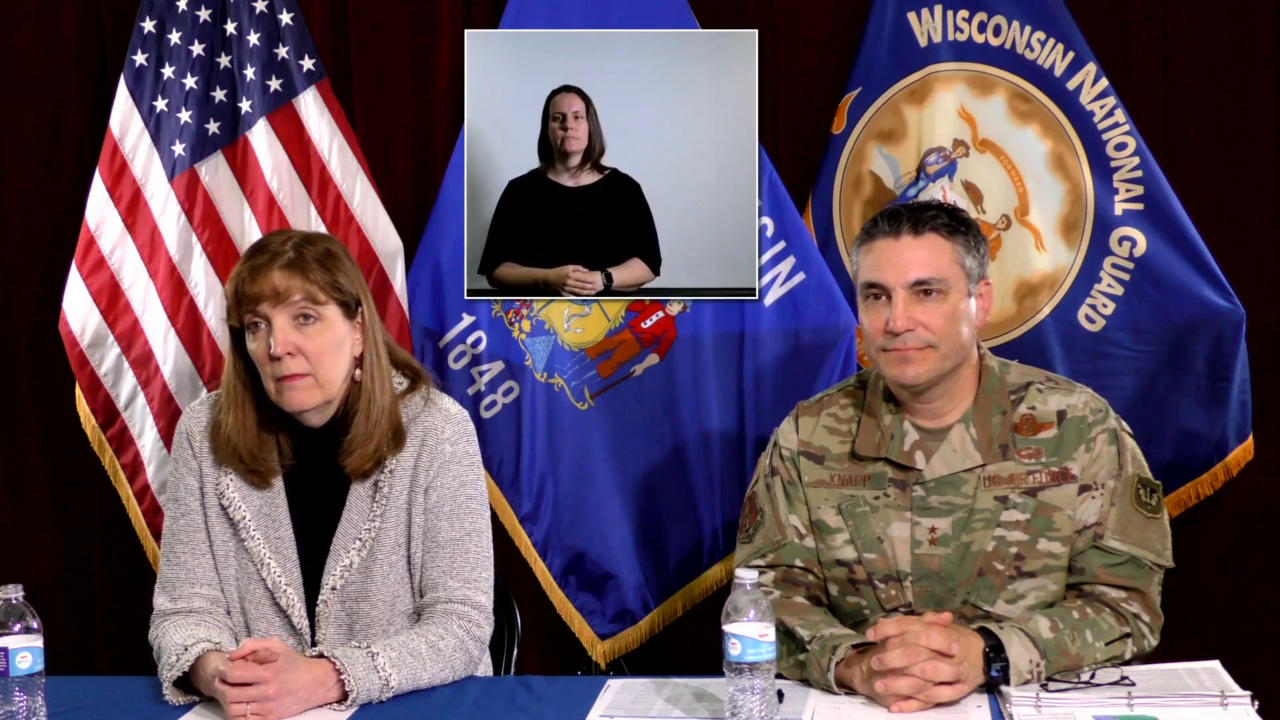 ---
The Wisconsin National Guard will expand the number of teams conducting COVID-19 to 25 as early as Wednesday according to Adjutant General Paul Knapp. The current missions include two community testing sites in Milwaukee that opened Monday.
"I'm pretty jazzed about those results," Knapp said of the nearly 2,000 tests guard members conducted at those sites. "I'm expecting that number to go up significantly today."
The state continues to push for increased testing as a method to contain the disease. Gov. Tony Evers set a goal last month to conduct 85,000 tests weekly or more than 12,000 daily. Deputy health secretary Julie Willems Van Dijk said the state is currently testing 4,000-5,000 per day, which the state is hoping to increase.
"We are gearing up to test all of the long term care facilities in the state at skilled nursing homes, so that will add to our total," she said. "We're working with health care providers to ramp up their testing as well."
The Department of Health Services is expected to release data this week on specific nursing homes that have COVID-19 outbreaks in an effort to increase transparency, Van Dijk said.
"It spreads very quickly when people are living in congregate settings closely together, like a nursing home or a dormitory, and it attacks people who are of older age," she said. "Nursing homes are a top priority in our testing strategy."
Some health care providers in Wisconsin are making antibody tests available, which can determine whether a patient had COVID-19 previously rather than at the time of the test. Van Dijk said the state is not ready to widely implement antibody testing, but could test smaller, cross section-like samples of the population as part of DHS's surveillance of the disease.
This comes as the state allowed retailers Monday to open for five customers at a time, and as the state meets five of the six gating criteria Evers laid out before beginning to reopen.
Van Dijk said that the decision to allow retailers to open in that limited way was because of the low risk involved, though she said state health officials would be "keep[ing] our finger on the pulse" to make sure hospitals were not overwhelmed.
"With that number of customers in a retail establishment, it is much easier for the owners and the employees to do the kind of physical distancing, to do the kind of cleaning of surfaces that people may touch and to take proper precautions to reduce the risk of transmission between people," she said.
"It's this balance between how we all want to get back to normal life and how we do it safely," she added.
Van Dijk said that as the state increases testing and contact tracing, it is important for Wisconsinites to be as helpful as they can with contact tracers, making sure to answer their calls and provide as much information as possible.
Assisting the 7th Congressional District
Tuesday marks the second time in a matter of weeks that Wisconsinites will go to the polls amid the COVID-19 pandemic. Knapp said roughly 160 guard members would help fill a shortage of poll workers in the state's 7th Congressional District special election to replace the retired Sean Duffy.
He said the guard members would be helping in their home counties wearing civilian clothes, and providing assistance however the local clerks needed them.
Flyover
Knapp added that the Wisconsin National Guard would be participating in a statewide flyover Tuesday evening to honor health care and frontline workers.
Knapp said the flights were part of regular training and proficiency missions, which pilots need to remain up-to-date on qualifications.
---
Recent Here & Now
//php dynamic_sidebar( 'news-sidebar-2' ); ?>