Milwaukee elects first Black mayor, as Cavalier Johnson sails to landslide victory
The city's Acting Mayor won nearly three-quarters of the votes cast in the first race since 2004 without an elected incumbent, following a campaign that focused on rising violent crime, addressing employment disparities and other issues.
By Will Cushman
April 6, 2022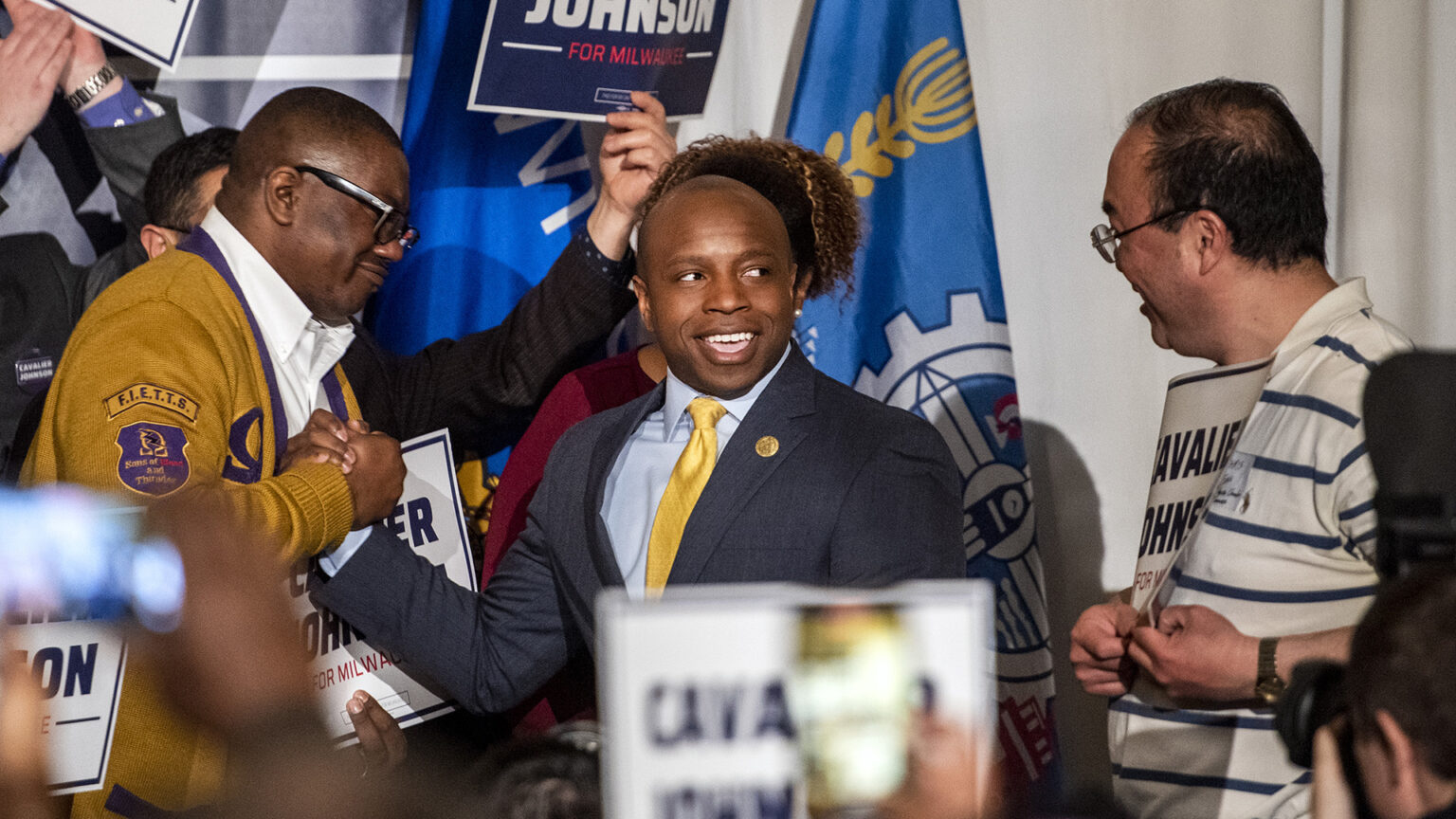 ---
For the first time in Milwaukee's 176-year history, its voters have elected a Black man to lead Wisconsin's largest city. Cavalier Johnson won a landslide victory over Bob Donovan in the April 5 special election to choose a successor to longtime former mayor Tom Barrett.
Johnson, who was formerly Milwaukee Common Council president and has served as Acting Mayor since late 2021, received 62,143 votes, or 71.51% of those cast, according to unofficial results. Donovan, a former city alder, received 24,543 votes, or 28.24%. Johnson will now serve the remainder of a term vacated by Barrett, who resigned in December to serve as Ambassador to Luxembourg for the Biden administration.
"I want to thank Milwaukee's voters," Johnson told a crowd of supporters gathered at the Hilton Milwaukee City Center after his victory became clear. "It's because of you that after a 176-year history in this city, a Black man can stand up and say that 'I've been elected to serve as your mayor.'"
While the election was officially non-partisan, the candidates offered a clear political choice for voters. Johnson, who was first elected to the Common Council in 2016, received the backing of some local Democratic politicians, including former Milwaukee County Executive Chris Abele, along with the state Democratic party. Donovan, a longtime conservative voice from the city's southwest side who unsuccessfully challenged Barrett in 2016, garnered support from state Republicans. Democrats supporting Johnson far outspent Republican expenditures on behalf of Donovan in the race to lead the solidly Democratic city.
The election followed a seven-way February primary in which Johnson and Donovan easily emerged as the top two finishers. Donovan's base of support remained strongest in and around his former aldermanic district on Milwaukee's southwest side, while Johnson won a majority of votes throughout the rest of the city.
The packed primary stood in contrast to most Milwaukee mayoral races in recent decades, which have often featured a well-known incumbent seeking reelection. The election was the first since 2004 not featuring an elected incumbent.
Improving public safety was a major theme of the race. Milwaukee is entering the third year of the highly disruptive COVID-19 pandemic facing historic levels of violence. There were a record 197 homicides in the city in 2021, mirroring spikes in homicides seen in other large cities around the United States. Tackling reckless and risky driving, improving the support for the city from the state Legislature and developing high-quality jobs in the city were among the other high-priority issues the candidates addressed during the campaign.
In the week leading up to the election, Johnson acknowledged that he had yet to implement much of a plan to improve public safety he touted soon after announcing his candidacy, citing time constraints amid the campaign. Donovan had been critical of Johnson for his slow implementation of the plan.
Donovan, who conceded the race less than an hour after polls closed, acknowledged the long odds his campaign faced.
"If you were to look up 'underdog' in the dictionary you'd see a picture of Bob Donovan in this campaign," Donovan told supporters gathered at McKiernan's Irish Pub on Milwaukee's south side.
In his victory speech, Johnson said his top priorities as mayor would be to tackle gun violence, improve public safety and attract and retain small businesses and quality employment.
"Tonight we celebrate, and tomorrow we continue the hard work of governing — the hard work of transforming our city to a place where all of our residents can thrive," he told supporters.
Johnson will serve the remaining two years of the term Barrett was elected to in 2020. While Johnson is the first Black man to be elected mayor of Milwaukee, he is not the first to serve. Marvin Pratt served briefly as acting mayor in 2004 after former mayor John Norquist resigned just three months before his term was set to expire.
Editor's note: This item has been updated with maps by John D. Johnson showing the ward-level results in the 2022 Milwaukee mayoral vote.
---
Recent Here & Now
//php dynamic_sidebar( 'news-sidebar-2' ); ?>