March from Milwaukee to Madison Draws Attention to Immigrant Rights
Voces de la Frontera is leading a walk across Wisconsin for access to driver licenses and citizenship for migrant workers.
By Murv Seymour
June 22, 2021 • Southeast Region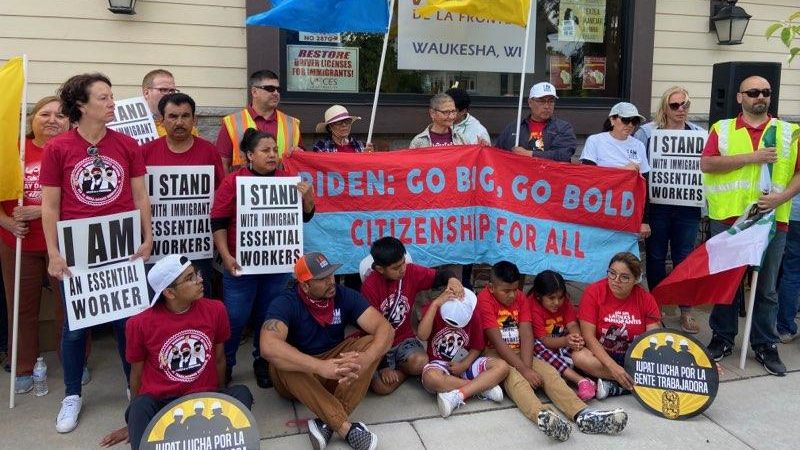 ---
On Sunday Voces de la Frontera, the largest statewide immigrant rights organization in Wisconsin, began marching from downtown Milwaukee, headed to the state Capitol in Madison.
The trek of about seventy-five miles from Milwaukee to Madison will take nine days. The group is walking the entire way to demand that immigrants in Wisconsin and across the United States gain the ability to receive a driver license and a legal path to citizenship.
Organizers want funding in an upcoming federal infrastructure and jobs bill to include money to help immigrants.
"We understand the struggle that is facing migrant workers. We see it every day with our clients, with people in the community. It's all around us," said Maria Del Pilar Wadina, the vice president of community engagement for La Casa de Esperanza in Waukesha.
Her organization helps the Hispanic community with child care, education, home ownership opportunities, and other needs.
The group walked from Waukesha to Wales on Tuesday, the third day of the march. On Monday, they marched from downtown Milwaukee to Waukesha.
During a brief rally in downtown Waukesha, Wadina and others said they believe immigrant workers need better access to jobs and healthcare. Wadina said immigrants are essential to the success of Wisconsin businesses, particularly those that are experiencing a worker shortage.
"Our business partners are hurting for factory workers, drivers, food service, and many other jobs. Businesses are having to close because of the current workforce shortage crisis we are experiencing," Wadina added.
Participants carried signs and flags that demanded President Joe Biden and Wisconsin lawmakers create policies that provide immigrant workers a path to obtain driver licenses and receive government benefits.
Organizers said immigrant workers are willing to do just about any job. However, they cannot get them because of restrictions in immigration laws and some have challenges getting to their job because they cannot get a driver license.
Jim Schultz, the lead trainer with the Wisconsin Commission on Occupational Safety & Health, told the group of about 50 ralliers that he supports the effort to include more access to benefits for immigrant workers. He added that it is unconscionable to use a necessity like a driver license to keep immigrant workers out of the workforce.
"WISCOSH knows and understands driver's licenses are a very basic need for every worker that does not work at home or next door their home. We need to be able to travel. We need to be able to get to where we have to do our work, to do the things that support doing our work," said Schultz.
Those participating in the march plan to walk between eight and 10 miles every day for the following six days. The rally is expected to gain followers as it gets closer to Madison.
For the remainder of the week, rallies are scheduled in Cottage Grove and near Oconomowoc. The rally will culminate with a 10 a.m. rally at Olbrich Park in Madison on Monday, June 28, followed by a 1 p.m. event at the state Capitol.
---
Recent Here & Now
//php dynamic_sidebar( 'news-sidebar-2' ); ?>