Legislators, DHS Staff Discuss State Response to Coronavirus
Update: 14 cases are now pending in Wisconsin to determine whether those patients have novel coronavirus. There are however, no new confirmed cases of novel corona virus.
March 4, 2020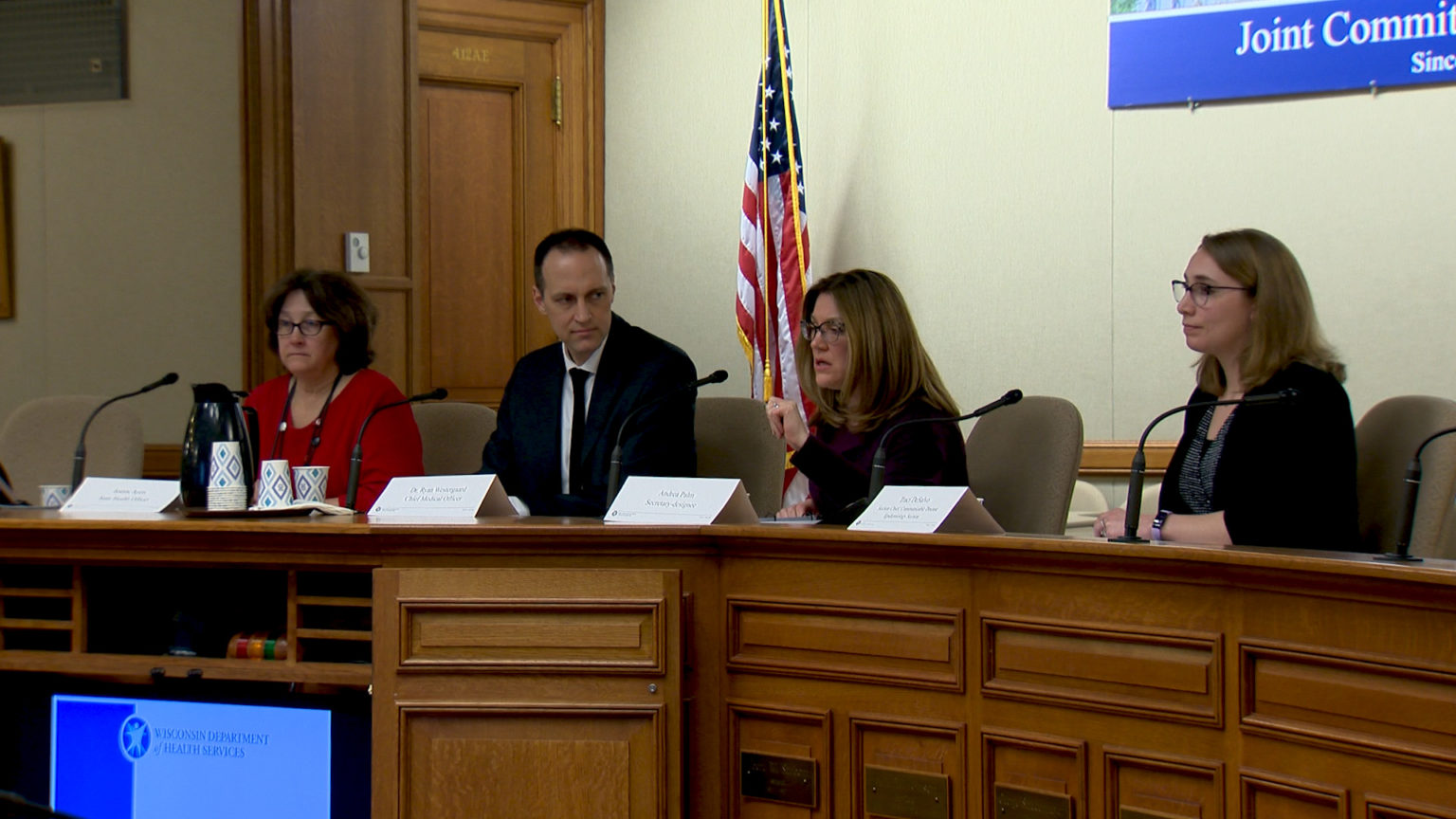 ---
Wisconsin's top health officials said novel coronavirus risk is still low but preparations are in place during a March 4 briefing for members of the state legislature and the public. 
Legislators took the opportunity to ask Department of Health Services staff how the state plans to handle certain at-risk residents in their districts, like those in close-quarters at nursing homes or schools. 
"Those are one of our areas of vulnerability," said State Health Officer Jeanne Ayers in response to a question from Rep. Paul Tittl, R- Manitowoc, about nursing homes in his district. Ayers said the state is conscious of existing worker shortages at similar facilities, and part of the collaborative response to coronavirus in Wisconsin will be to ensure long-term healthcare can continue if workers call in sick. 
Chief Medical Officer Ryan Westergaard said if a teacher or a student contracts the virus, the state will treat that incident similar to the other confirmed Wisconsin coronavirus case–a Dane County patient who is now free of the virus. DHS will track people that patient has been in contact with and keep them in quarantine. 
Assembly Speaker Robin Vos attended the briefing and said he has confidence in the department's current response to the virus. 
"We want to ensure the department does their job, that we give them the resources and the time that they need to do it, and that we do it in a way that does not give undue worry to the public," Vos said. 
The state health officials reiterated guidance DHS gave earlier in the week: that Wisconsin's risk remains low and domestic travel remains safe, but that travellers should consult the Centers for Disease Control before going abroad. Westergaard said that while DHS has not detected any new case of novel coronavirus, "it is possible and in fact likely that we will detect additional cases in the coming days or weeks."
He said that there is still much that remains unknown about the virus. According to Westergaard, this coronavirus is genetically similar to severe acute respiratory syndrome (SARS) or Middle East respiratory syndrome (MERS) and in its impact on the body's lower respiratory system. If the novel coronavirus is similar to SARS and MERS, Westergaard said there is a possibility that the novel coronavirus will only flare up once and not be a seasonal occurrence like the flu. 
"We just really don't know," Westergaard said. 
Health officials said the department would be updating their outbreaks page daily with information on pending and confirmed cases and the UW Hospital created a hotline at (608) 720-5300 for questions about the disease or if a person is considering seeing a doctor at a clinic, urgent care or emergency room for COVID-19.
See more coverage of the novel coronavirus at WisContext.
---
Recent Here & Now
//php dynamic_sidebar( 'news-sidebar-2' ); ?>