How Far Will Wisconsin's Effort to Reform Policing Policies Go?
Here & Now Extra: Advocates for greater accountability standards for law enforcement officers point to the Speaker's Task Force recommendations on training and policies as only the beginning of efforts toward change.
By Marisa Wojcik | Here & Now
April 29, 2021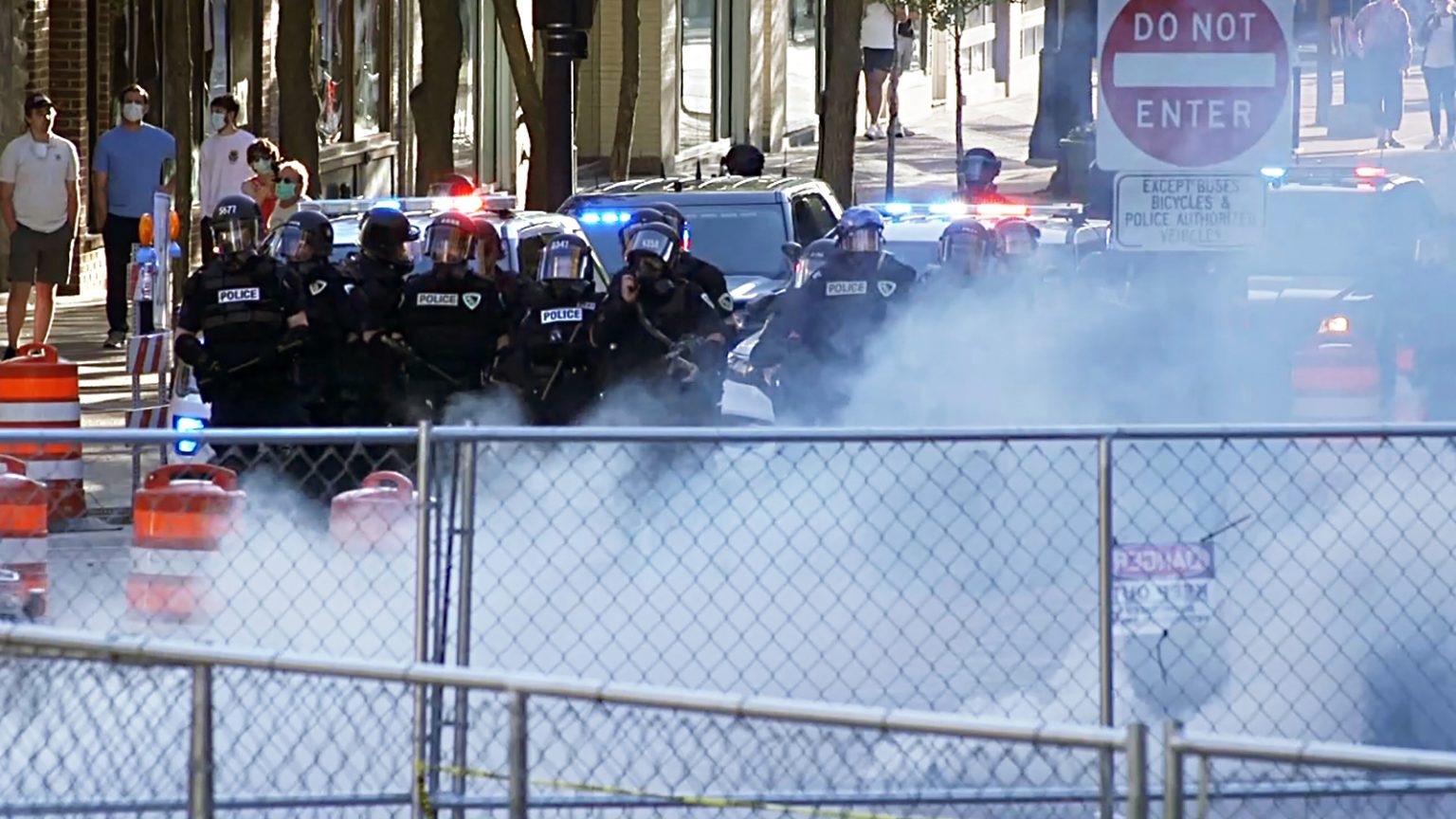 ---
Nearly a year following the murder of George Floyd, the state has taken a step forward toward making reforms in how law enforcement officers across Wisconsin are trained and held accountable for their actions.
For Rep. Shelia Stubbs, D-Madison, listening to a Minnesota jury deliver three guilty verdicts in the trial of Derek Chauvin for the murder of Floyd was momentous. On that same day, the Speaker's Task Force on Racial Disparities, which Stubbs co-chairs, had just finished seven months of work of scrutiny and analysis of policing practices in order to recommend changes to law enforcement policy for Wisconsin.
"I cried because for so long you watched so many families go through the criminal justice system and we never feel like there is any sight of justice," said Stubbs in an April 23 interview on Here & Now Noon Wednesday. "It's a start but we have a long way to go in this fight for justice."
Her ongoing fight for justice comes in the form of a report and recommendations from the task force's Subcommittee on Law Enforcement Policies and Standards. Following seven months of meetings of the committee, which included law enforcement representatives, community leaders and legislators, Stubbs and task force co-chair Rep. Jim Steineke, R-Kaukauna, the group consolidated its work into 17 recommendations for legislation.
"I am incredibly proud of the bipartisan work we've done to have the hard conversations that will make a difference in the lives of people of color in Wisconsin," said Steineke, the Assembly Majority Leader,  in a statement released with the recommendations. "Our report comes from methodical, purposeful discussions to find a path forward and includes recommendations that our subcommittee members agreed would be positive changes for both our communities and law enforcement."
These recommendations reflect conversations that overlapped with national unrest and continuing instances of police violence toward Black and brown people.
"When the verdict of the Jacob Blake case happened, our task force continued to meet. During the verdict of the Breonna Taylor case. And our task force had just completed our work an hour before the verdict in the George Floyd case," Stubbs said. "It's important that I take what I hear in the streets, and the policies and demands, and come in that room and craft legislation that is meaningful."
One major focus for task force members was their intention to create a statewide definition of  "use-of-force" spending many hours over the course of multiple meetings debating what that term should mean for policing policy. However, by the conclusion of their final meeting, the group could not come to a consensus.
The task force turned to a use-of-force policy from New Jersey as the basis of their discussions to create a standard for Wisconsin. Ultimately, though, members differed on the meaning of New Jersey's language describing a "duty to use only objectively reasonable, necessary, and proportional force." Critics of that wording said "objectively reasonable" force and "proportional" force are still too open to interpretation.
"I think it was important for every task force member to speak truth to whatever that issue was and I think you heard some really, really personal conversation, which is you don't understand what it's like to be in a car driving down the street — Black — and your cell phone is mistaken as a gun. Like you don't understand because you're white," said Stubbs, remarking on the relevance of emphasizing the Black experience with police.
Stubbs said Black community members aren't looking for empathy, but understanding.
Among the recommendations is a proposed law to require law enforcement officers intervene when a fellow officer is using force against an individual that is excessive. Any officer who observed such behavior would have a responsibility to report it to a supervisor or possibly face criminal penalties if they don't.
Another recommendation strengthens protections for state employees from retaliation if they report excessive use-of-force, abuse of power or dangers to public safety.
There's also a proposed statewide ban on chokeholds that  would curb a police department from including them in use-of-force standards "except in life-threatening situations or in self-defense," as defined in the report. However, this recommendation also noted there was objection from one member for any exceptions to such a ban.
The task force also recommended data on use-of-force by law enforcement agencies in the state should be collected and reported to the Wisconsin Department of Justice. Moreover, law enforcement agencies' use-of-force policies should be made public.
In terms of recommendations related to technology and equipment, one states all patrol-based law enforcement should be equipped with body cameras, with policies detailing when a camera is activated.
Task force members couldn't come to a consensus as to whether or not to propose banning no-knock warrants, which have been condemned by many Black Lives Matter activists following the April 13, 2020 killing of Breonna Taylor by plainclothes officers while sleeping in her home in Louisville, Kentucky.
Under a personnel-related recommendation, law enforcement officers would have to consent to psychological evaluations that would assess personality characteristics, their ability to perform what's required of police officers and overall wellness.
Recommendations would also increase specialized training for crisis intervention and school resource officers, as well as mandate every county have a crisis response team specifically tasked with responding to mental health crises.
Questioning the task force
While there may be bipartisan agreement in Wisconsin to take action on changing law enforcement policies, political differences — even among Wisconsin Democrats — point to a potential uphill battle to move  recommendations into legislation and law.
Lt. Gov. Mandela Barnes said many provisions put forward in the task force's recommendations were in legislation proposed by the Evers administration in June 2020, including a statewide use-of-force standard.
"It's about making sure those standards exist so that everybody, both the community and the police, know what is expected of them," Evers said in a June 5, 2020 interview on Here & Now.
Gov. Tony Evers called a special session of the Wisconsin Legislature to consider his administration's package of nine police reform bills and many lawmakers didn't even show up, including almost all Republican lawmakers.
Barnes characterized the subsequent formation of the Speaker's Task Force on Racial Disparities by Republican Assembly Speaker Robin Vos "a delay tactic."
Task forces or "blue ribbon commissions" are sometimes perceived as a political ploy to stall any movement on legislative action. In the case of commissions formed to address racial justice issues, studies have found this critique to be often valid.
"We presented the Legislature with a package of bills and if they thought there were issues, it should have been debated on the Assembly floor and on the Senate floor," Barnes said in an April 23, 2021 interview on Here & Now. "It feels like the leadership of the majority party in the Legislature has chosen to ignore those Black lawmakers who've already introduced bills."
Stubbs argued the task force is necessary, bringing together a diverse group of participants to have extensive conversations that don't rely only on lawmakers, but also includes the voices of community members.
"It was strategically designed that way, so we can hear from outsiders and not have the elected officials moving forward in that way," said Stubbs. "We're going to have people say it didn't go far enough, it should have gone this way. But what I can say is you show me an opportunity where you have law enforcement and community come together — and bipartisanship in the state of Wisconsin — draft the legislation that we did and tell me why you don't think this legislation should move anywhere."
Barnes called for a coordinated effort between local, state and federal lawmakers.
"At the state level, with our law enforcement agencies, the governor is taking the necessary step, a step that he's able to take right now," said Barnes.
On April 20, the governor issued an executive order directing state-level law enforcement agencies, including the Wisconsin State Patrol, State Capitol Police and the Department of Natural Resources Bureau of Law Enforcement, to analyze and update their use-of-force policies. However, this order doesn't cover municipal and county-level law enforcement agencies that employ the most officers in the state.
At the federal level, one bill that's been passed by the Democratic-controlled U.S. House of Representatives is named after the man whose murder rekindled the Black Lives Matter movement.
The George Floyd Justice in Policing Act would ban chokeholds, ban some types of no-knock warrants, introduce criminal penalties for reckless officers, and remove some current barriers to families who want to sue police for illegal conduct carried out by an officer.
In his April 28 address to a joint session of Congress, President Joe Biden urged members of the Senate to pass  the George Floyd Justice in Policing Act with a deadline of May 25, the one-year anniversary of Floyd's murder.
"My fellow Americans, we have to come together. To rebuild trust between law enforcement and the people they serve. To root out systemic racism in our criminal justice system. And to enact police reform in George Floyd's name that passed the House already. I know the Republicans have their own ideas and are engaged in productive discussions with Democrats," Biden said in his address.
Angela Lang, executive director of Black Leaders Organizing for Communities, said the policies in the federal bill are just a start.
"There's very tangible policies, but there needs to be a complete overhaul because you can enact policies, but if you have officers that are not trained in bias and understanding how they're reinforcing white supremacy every day, we're not going to solve anything," said Lang in an April 22 interview on Here & Now Noon Wednesday.
Lang said changes like requiring more body cameras won't stop the killings by officers — they will just record them. She spoke to a longer history of police violence, referencing the historical role of law enforcement to catch slaves.
"That was the role of sheriffs and police officers, and now that system has evolved, and if we don't know our history, we don't understand how pervasive white supremacy has become in all of these institutions," said Lang. "If we don't fully understand how we got here, we don't know how to fix it or keep history from repeating itself."
---
Recent Here & Now
//php dynamic_sidebar( 'news-sidebar-2' ); ?>