'Here & Now' Highlights: U.S. Sen. Tammy Baldwin, Janine Geske, James Small
Here's what guests on the December 2, 2022 episode said about the U.S. Senate passing the Respect for Marriage Act, a U.S. Supreme Court case over the authority of state legislatures in elections and why the emergency medical services system in Wisconsin is in crisis.
By Frederica Freyberg | Here & Now
December 5, 2022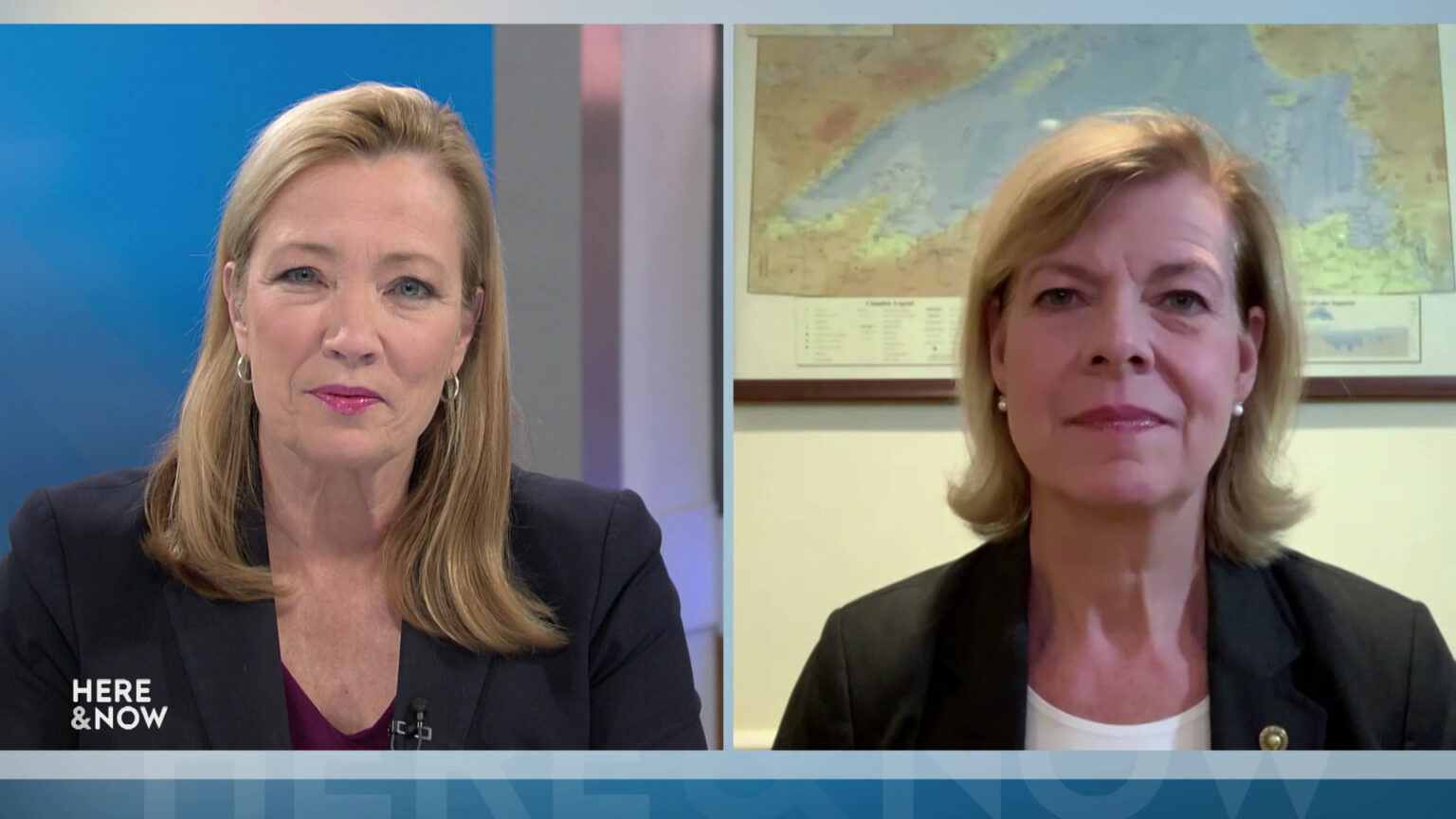 ---
Wisconsin Democratic U.S. Sen. Tammy Baldwin was lead sponsor of the Respect for Marriage Act, which ensures that same-sex and interracial marriages are enshrined in federal law — she discusses her support for the bill. Former Wisconsin Supreme Court Justice Janine Geske is sounding the alarm on the importance of an election administration case set for oral arguments in the U.S. Supreme Court. The emergency medical services system across the state is in dire shape due to lack of funding, according to James Small, rural EMS outreach manager for the Wisconsin Office of Rural Health.
U.S. Sen. Tammy Baldwin
(D) Wisconsin
Sen. Baldwin said many people had been worried about the future recognition of their marriages because of the threat after the Dobbs v. Jackson decision in the U.S. Supreme Court in June 2022. The Respect for Marriage Act passed in a 61-36 bipartisan vote in the U.S. Senate and is headed toward passage in the U.S. House before moving on to the President's desk.
Baldwin: "Countless individuals have said how much it means to have a little bit more peace of mind now that the Respect for Marriage Act is headed towards being signed into law by President Biden. It's also meaningful in a sort of bigger arc of history, if you will. This vote would have been unimaginable just a decade ago. That's not where the Senate was. That's not where the Congress was. That's not where the people of the United States were. And what we've seen since marriage equality became the law of the land in 2015 is that there's nary a person around in Wisconsin or America who doesn't know somebody who's been impacted and benefited by marriage equality. It might be a neighbor. It might be somebody you go to church with. It might be a staff member, a colleague, a family member. I mean, it is now hard to imagine, you know, not knowing somebody who has been impacted, couples and families. And so I think hearts and minds have changed. In fact, I know that that's the case — 70% plus of Americans and Wisconsinites support marriage equality. And I guess we're gaining on those numbers. In the U.S. Senate, we had at least 61 out of 100 join together to pass the Respect for Marriage Act, and that says a lot about where we're moving as a country."
Wisconsin Republican U.S. Sen. Ron Johnson voted against the bill. "The Democrats continue to use this to create a state of fear over a settled issue in order to further divide Americans for their political benefit. The substitute amendment did not provide sufficient protection for those with strongly held religious beliefs," Johnson said in a statement. Baldwin responded to Johnson's no vote.
Baldwin: "He was on all sides of this issue, which was quite puzzling. I know early on he talked with a Wisconsin reporter and said he saw no reason to object to it, to not pass it, and then went through lots of machinations in particular, I think, citing some of the religious liberty concerns that some of my other Republican colleagues voiced. But we were able to fashion a response to that that led to the endorsement of this broad coalition of faith based organizations."
Janine Geske
Former Wisconsin Supreme Court Justice
Moore v. Harper, a highly anticipated U.S. Supreme Court case set for oral arguments on Dec. 7, has legal experts sounding the alarm on its implications for every state, including Wisconsin.The case originates out of North Carolina, where that state's high court struck down Republican-drawn congressional maps, calling them an egregious partisan gerrymander. Republicans there then appealed to the U.S. Supreme Court, arguing state legislatures have sole authority to set rules for elections, including voting maps, election rules and outcomes. Geske signed on to a brief in the case calling on the high court to reject what's called the "independent state legislature theory."
Geske: "The court is considering the fact that there will be no state court review of any actions by legislatures for congressional races. So how the election rules are set, how people vote, how they're counted, and ultimately how the lines are drawn will not be reviewable by state courts. That's pretty unique so that the governor has no veto power over it and the courts have no reviewable ability. … It really does take that independent review by the state consistent with the state constitution of whether this was a lawful gerrymander or whether it's a lawful rule. I think that we've seen how important that is over the last several elections, where people are arguing about whether elections are valid or invalid and how you count votes and things. And I think not to have review ability in the state is very dangerous."
James Small
Rural EMS outreach manager, Wisconsin Office of Rural Health
The emergency medical services system in Wisconsin is in crisis according to experts now working to figure out how to save it. The problem is there is not enough money for responding to health emergencies in smaller communities – not enough staff or equipment. The paucity of shared revenue from the state is the primary reason, but so is a system built on a dwindling number of volunteers, especially in rural areas. Advocates are looking to the Legislature for a fix as budget writers will work to aim a projected $6.5 billion surplus toward spending needs.
Small: "In many communities around the state and around the country – this isn't just a Wisconsin issue —this is a national issue that's going on. There's many communities that have historically depended on volunteers or near volunteers where they're being paid some small amount, but not a full time wage for providing EMS and response. What we're finding is that we've had a decline in the number of people that are available to do that, and there's not the financial resources to replace them with full-time staff. So as you look around the state at what the system looks like, about a third or maybe a little over a third of the ambulance services in Wisconsin to date are not able to staff 24-7-365 like they're required to. So one in three, let's say. In addition to that, there's another third that are concerned that they can't do that through 2023. So within the next year, they may have system outages, too. One of the challenges with that is that it then places a burden on their neighboring services to handle their calls. And there's even been situations where somebody has called 911 and the ambulance never made it to their house because they couldn't get an ambulance for them."
Watch new episodes of Here & Now at 7:30 p.m. on Fridays.
---
Recent Here & Now
//php dynamic_sidebar( 'news-sidebar-2' ); ?>