'Here & Now' Highlights: Tommy Thompson, Charles Franklin, McCoshen & Ross
Here's what guests on the June 30, 2023 episode said about the future of the UW System, initial polling about 2024 candidates and the partisan politics of the biennial state budget.
By Frederica Freyberg | Here & Now
July 3, 2023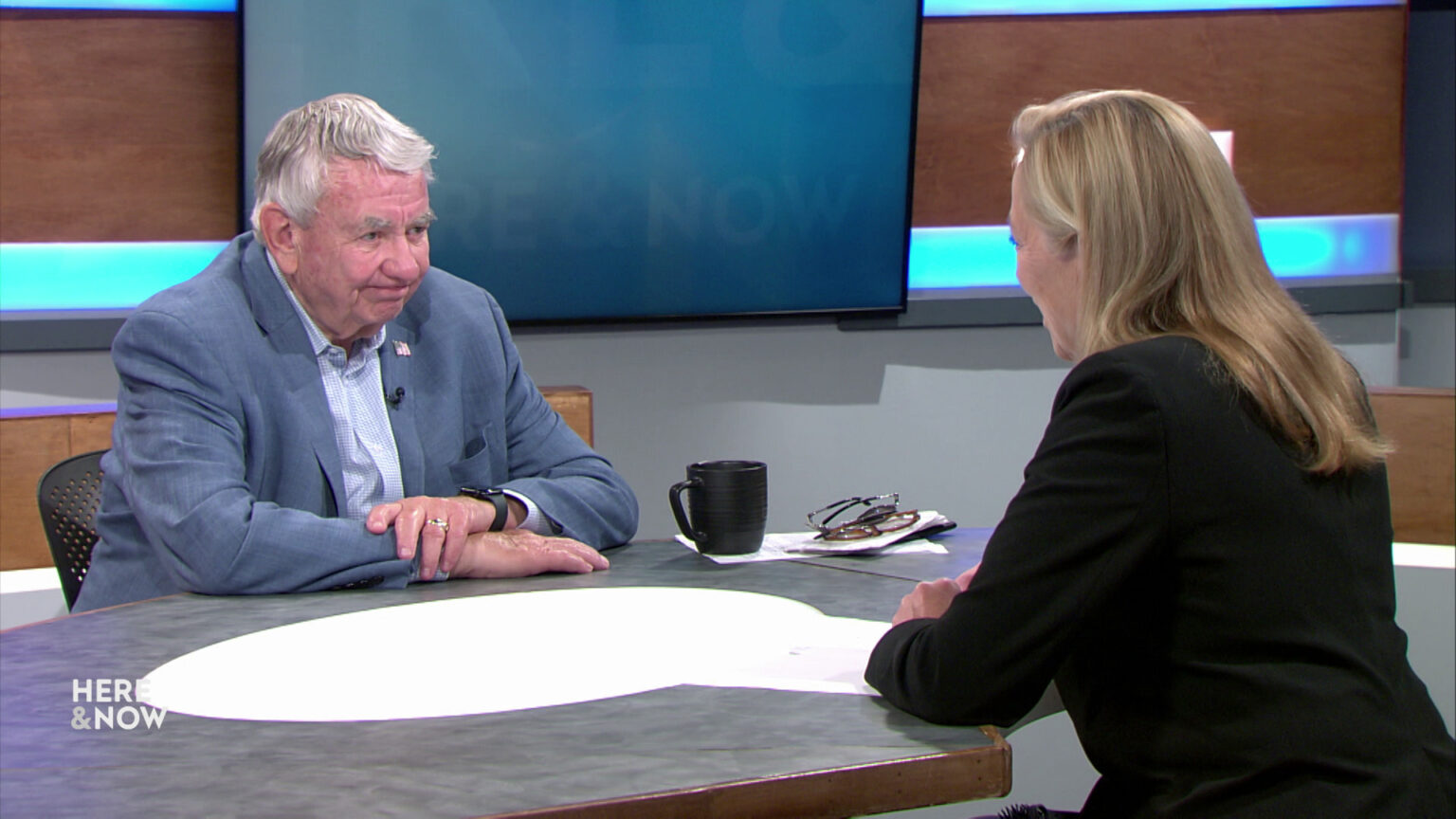 ---
Tommy Thompson, a former governor and former president of the UW System, said the time is now to address the fiscal future of the statewide public university system and overlaps with technical colleges across Wisconsin. Marquette University Law School Poll Director Charles Franklin released a summer survey that shows a big jump in job approval numbers for Gov. Tony Evers. Political panelists Bill McCoshen and Scot Ross disagreed on spending choices made in the Legislature's two-year state budget.

Tommy Thompson
Former governor and UW System president
Most University of Wisconsin System schools face budget deficits and enrollment is down with demographic shifts leaving fewer young students at the 26 campuses, particularly the 13 two-year campuses. There's also the Wisconsin Technical College System, which consists of 16 two-year schools. Thompson said costs and inefficiencies between the two higher education systems must be addressed urgently. Meanwhile, the state Legislature cut $32 million from the UW budget to eliminate its diversity, equity and inclusion programs, and Thompson said he agreed there are too many positions dedicated to that work.
Thompson: "When you take a look at the affirmative action opinion that came out of the Supreme Court this week, it's obvious that maybe the university has got to come to grips with the fact that they're going to have to work with the Legislature. I'm not saying one side is right and the other side is wrong, but I'm saying cooperation and leadership and discussion is what is needed. And I don't think there's enough of that."
Charles Franklin
Director, Marquette University Law School Poll
A statewide Marquette Law School Poll conducted in June surveyed the favorability of sitting politicians and those running for office in 2024. It also measured opinion on abortion – showing 66% of registered voters in Wisconsin favor the procedure being legal in all or most cases. One measure stood out: high approval ratings for Gov. Tony Evers, with 57% of respondents approving of the job he's doing and 39% disapproving. It's an 11-point increase in Evers' job approval numbers since October 2022.
Franklin: "I think there are two things. One is, it was just before the election. Of course, you're in the heat of an electoral battle, and so that tends to push down the approval numbers. But then he won that race by over three percentage points. And I think during the spring, he's had a pretty good legislative session. He certainly hadn't gotten most of what he wanted, but he's gotten a fair bit of what he wanted. So I think the spring has been fairly good. It's also striking that he's the one person that's really had this substantial rise in approval since October. Other rises are much more modest. So I do think we have to give some credit to him."
Bill McCoshen and Scot Ross
Republican and Democratic panelists
Both chambers of the Wisconsin Legislature approved the nearly $99 billion biennial state budget and sent it on to Gov. Tony Evers, who can sign it, make partial vetoes or veto it in full. Ross said his sources told him it's 50-50 that Evers will veto the document in its entirety over the Republican tax cuts that are part of the budget. Both panelists responded to whether the Legislature's budget was what they expected given a $7 billion state surplus.
Ross: "I think it's a $7 billion wasted opportunity by Republicans to support things that are going to help the people – Wisconsin men, women, children — thrive and excel. We missed the opportunity to end the criminal abortion ban. We're gashing the UW system. We're not fully funding public education. And let's just talk about child care. There was an opportunity to provide real child care, but instead we're giving a tax break to the top 1% — 25,000 people are getting the $300 million that could have otherwise prevented 2,500 child care facilities from closing over the next couple of years. It's just shameful."
McCoshen: "I think your viewers should be really excited about this budget. This is the first budget in divided government. This is Tony Evers' third budget with Republicans in the majority where they have grand bargains on some key issues that voters care about. Let's go through those: shared revenue, historic increase in funding to local government agreement, K-12 and charter and choice schools — historic investments in both of those. So all kids benefit regardless of which choice their parents make for their education. Housing: $500 million to increase the housing stock not only in the urban areas but in the rural areas as well — and that's a workforce development issue. Literacy, transportation and pay raises for state employees. All of those things they agreed on. That's the first time that's happened in the last three budgets. So I think there's a lot to be really excited about in this budget."
Watch new episodes of Here & Now at 7:30 p.m. on Fridays.
---
Recent Here & Now
//php dynamic_sidebar( 'news-sidebar-2' ); ?>