'Here & Now' Highlights: McCoshen and Ross, Dr. William Hartman and Jake Dean
Here's what guests on the Oct. 22, 2021 episode had to say about the race for governor in Wisconsin, COVID-19 boosters and the global supply-chain crisis intensified by pandemic consumer demand.
By Frederica Freyberg | Here & Now
October 25, 2021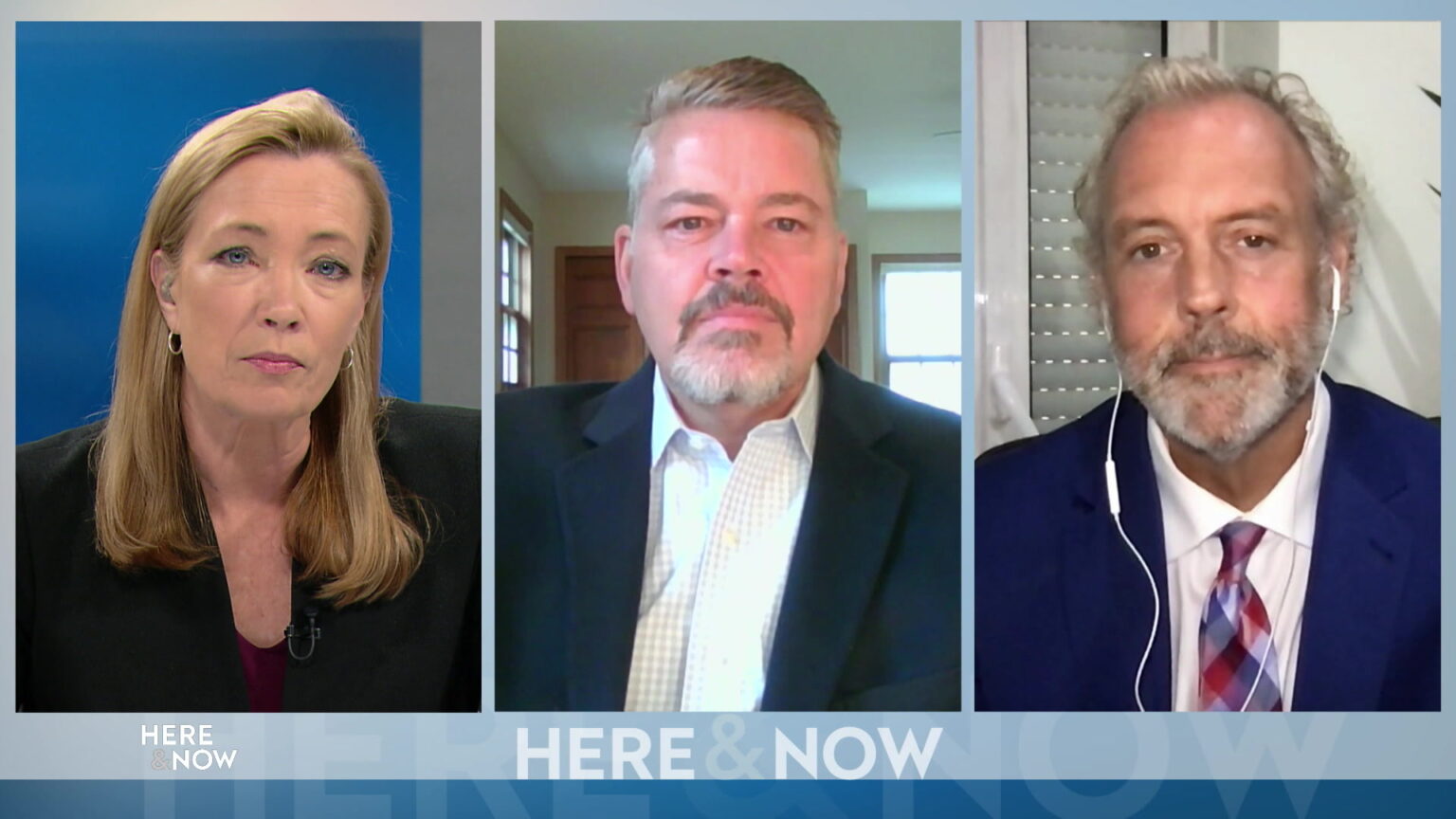 ---
Did Here & Now break 2022 election news during an interview with political panelists Bill McCoshen and Scot Ross? (Think: Another well-known Wisconsin Republican running for governor.) A physician from the UW School of Medicine and Public Health who is on the front lines of COVID-19 research weighed in on pediatric vaccinations expected to soon be approved. A supply-chain expert looks at the impacts of what's regarded as a global crisis that could be years before it is resolved.
Bill McCoshen and Scot Ross
Republican and Democratic political analysts
The analysts responded to former President Donald Trump endorsing former U.S. Rep. Sean Duffy, R-Wausau, for governor in Wisconsin's 2022 election. Duffy is retired from political office and lives in New Jersey. The Trump endorsement of Duffy had to sting for former Lt. Governor Rebecca Kleefisch, a Republican front-runner early in the campaign. They also threw another big-name candidate's name into the mix: former governor and current University of Wisconsin System Interim President Tommy Thompson.
McCoshen: "If Donald Trump endorses someone else, whether it's Sean Duffy or it could be [Eric] Hovde, John Macco, maybe Tommy Thompson — who knows. That person will instantly jump to the front of the line. So Donald Trump controls his supporters, controls all of the county parties statewide, and what he did last Saturday [endorsing Duffy] froze this race until another candidate emerges."
Ross: "Let me just say that Tommy running for an office is the story out of every Republican convention since I moved here in 1997, and that was when he was still running! … You know, Rebecca's mentor, Scott Walker, has groveled and genuflected at Trump's feet every moment since 2016 and Walker's kids work for Kleefisch, and he still out of nowhere came and said, 'Let's make Sean Duffy the nominee.'"
Dr. William Hartman
Assistant professor at the University of Wisconsin School of Medicine and Public Health
Dr. William Hartman leads clinical trials for COVID-19 vaccines and treatment therapies. He responded to the imminent approval of vaccines for 5 to 11 year-old children and said he believes getting that age group vaccinated is key in the fight against the pandemic.
Hartman: "I think it's very important, especially as we have been so infected with the Delta variant and the Delta variant really was preying on people who are unvaccinated, and this age group obviously did not have the vaccine available to them. And so we saw the numbers beginning to really increase in terms of infections in this age group. And at one point, they made up close to 30% of all new infections."
The FDA and CDC recommended Moderna and Johnson & Johnson vaccine booster doses for everybody aged 65 and older, as well as for people who are at higher risk to the disease and live or work in higher-risk settings. The federal agencies also approved mixing and matching different vaccine types.
Hartman: "Following the data, both here in the United states and worldwide, it does appear that it would be very appropriate to follow up the J&J vaccine with one of the mNRA vaccines. The data shows that when the J&J was followed up with Pfizer, the antibody levels increased by 42 times. When it was followed up by Moderna, that antibody level increased by 75 times, and so it greatly enhances the overall effectiveness and protection that these vaccines can convey."
Jake Dean
Director of the Grainger Center for Supply Chain Management at UW Madison
Whether it's a new car or household goods, such products can be hard to find and more expensive to buy these days. Shortages and resulting higher prices are being blamed on what's regarded as a global supply-chain crisis. Dean said the world has never experienced anything like this and he doesn't know how soon it will end.
Dean: "What happened here was we had a crater in everything in March of 2020 and then essentially not a ramp back, but just a step-function back, and that's the situation we're in and it's global. It's not confined to one region, one country — it's all over the place. … For many people, they realized, 'I was still employed. I'm not going anywhere. My house needs something. I need a new couch. I need something, something, something,' and there just isn't the extra capacity to get us all the stuff we want."
Dean: "We're going to be with this thing well into 2022. We had some members of our advisory board in a few weeks ago, and they were saying, maybe being conservative, they were saying 2023, early 2023. It's going to take a long time for things to normalize, because what's going to come out of this is such a backlog in demand of things that are yet to be made, that those things have to work their way through, and then we have to see where we come out on the other side."
Watch new episodes of Here & Now at 7:30 p.m. on Fridays.
---
Recent Here & Now
//php dynamic_sidebar( 'news-sidebar-2' ); ?>