'Here & Now' Highlights: Charles Franklin, Karen Timberlake, Corri Hess
Here's what guests on the Nov. 5, 2021 episode had to say about COVID-19 vaccines for grade school children, the latest statewide political polling and the Kenosha trial of Kyle Rittenhouse.
By Frederica Freyberg | Here & Now
November 8, 2021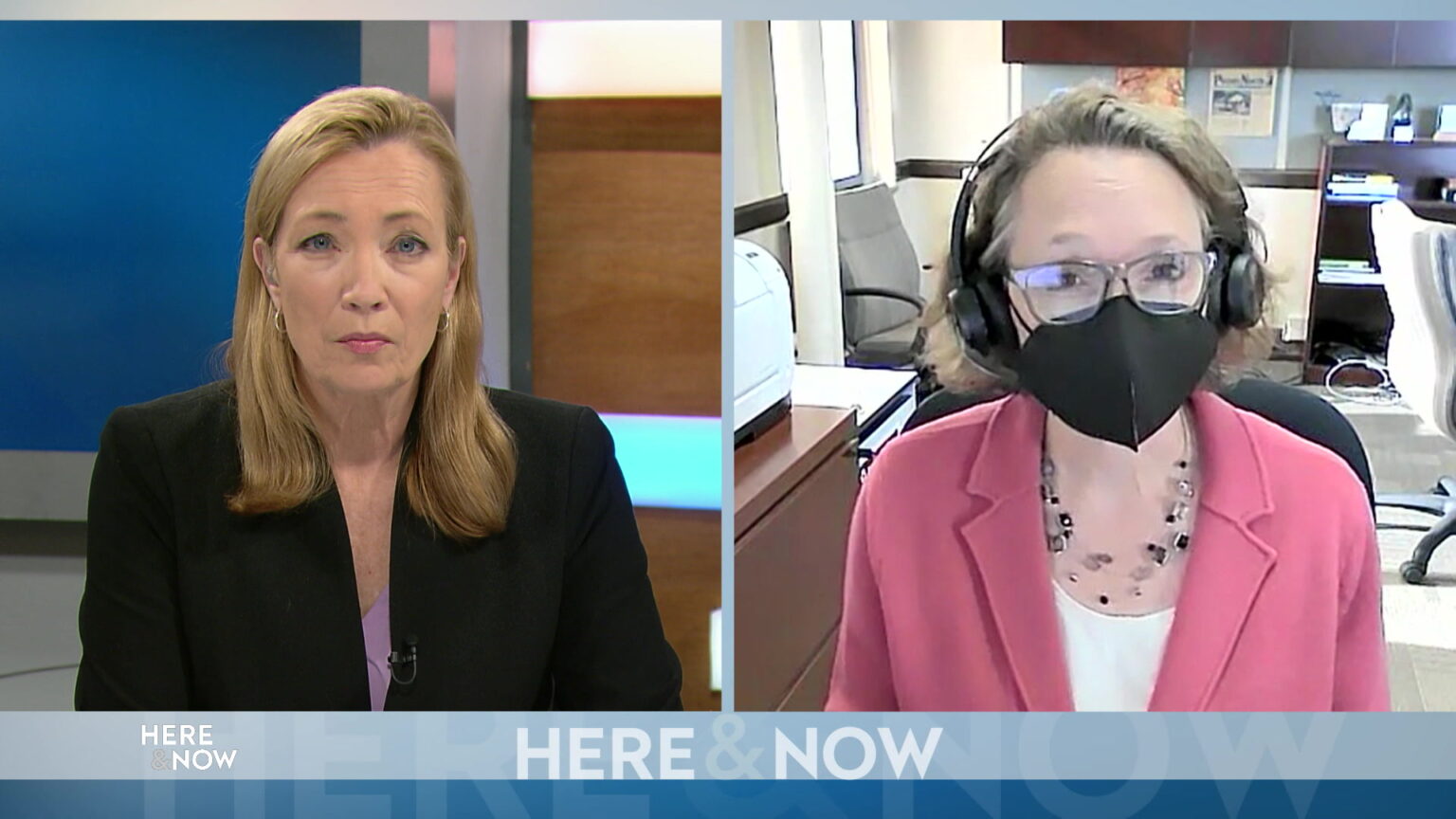 ---
Children ages five to 11 are eligible to get a new pediatric COVID-19 vaccine. Wisconsin Department of Health Services Secretary-designee Karen Timberlake describes the rollout and addresses parental hesitancy about vaccination. The latest Marquette University Law School Poll results suggest a "grumpy electorate," according to its director, Charles Franklin. He describes why poll respondents are likely feeling negatively about officeholders a year out from the 2022 elections. In Kenosha, the trial of Kyle Rittenhouse rounds out its first week. Rittenhouse's attorney is seeking to convince jurors the teenage gunman acted in self-defense when he killed two men and wounded a third during protests in Kenosha in the wake of the police shooting of Jacob Blake.
Charles Franklin
Director, Marquette Law School Poll
Franklin reports the October 2021 poll had respondents giving negative favorability ratings to all of the politicians asked about for the first time since he started statewide surveys — a decade and 67 individual polls ago. Hence, Franklin offered his description of a "grumpy electorate." An example of this is the poll question asking whether respondents would vote to re-elect Gov. Tony Evers and Sen. Ron Johnson: 53% said "no" to re-electing Evers, while 52% said "no" to re-electing Johnson.
Franklin: "If I told you that a Democratic politician was at 40%, what would you think the Republican politician on the same survey would be? I think you would think they'd be at 60% because we're so polarized. So, to find both of them suffering equal opportunity grumpiness is, I think, a kind of telling thing. People within each of their parties are still strongly supportive of both [Tony] Evers and of [Ron] Johnson. And the opposite party is just bitterly negative, but it's independents who are not happy with either of them and say they would vote for someone else."
Amid investigations of the 2020 presidential vote and allegations of election fraud, Franklin also discusses the poll result that showed 65% of respondents have confidence in that year's election, with 32% saying they don't have confidence. He notes a strong partisan split in response to the election question, with 99% of Democrats showing confidence and 64% of Republicans not having confidence. A third group, however, stands out: self-identified independents.
Franklin: "Among independents, which can be an important group is a closely divided state like this, two-thirds, 67%, say they're confident in the election outcome — just 30% do not. And that, I think, is really an important political issue because it says this issue is burning within the Republican Party, but it's really not burning with the general electorate."
Karen Timberlake
Secretary-designee, Wisconsin Department of Health Services
Wisconsin received its first allotment of Pfizer vaccine for the 500,000 children ages five to 11 in the state who are eligible for the two-dose series.
Timberlake: "The good news is we're being told there will be plenty of vaccine for kids ages five to 11. It just is going to take a few weeks, as we've kind-of gotten used to now with these vaccine rollouts — a few weeks for all of the doses that Wisconsin will be eligible for to arrive in our state. So the best things parents can do, and guardians and caretakers, when they're looking for those first shots … is to start with your child's regular pediatrician or primary care provider or check vaccines.gov, which is a great resource for all of the locations where a vaccine is available across our state."
Timberlake did not respond to the news Green Bay Packers quarterback Aaron Rodgers tested positive for COVID-19 after admitting he had not been vaccinated, but said she was encouraged by the overall rate of vaccinations in Wisconsin.
Timberlake: "The overall progress across our state is still really strong. I think if you look at our older adults, we have vaccinated more than 85% now of people 65 and older, which is just remarkable. When you look at people 18 and up — so that's working age population — we're at about 69% have gotten at least one shot. Almost 70%, so that's really positive. And obviously, we have a ways to go yet with kids 12 to 17 and now just starting with the five to 11 year-olds. So there's still a ways to go, but we're making really good progress."
Corri Hess
Reporter, Wisconsin Public Radio
The Kenosha County court homicide trial of 18-year-old Kyle Rittenhouse has completed opening statements and its first full week of testimony. Charges against Rittenhouse include first degree intentional homicide and first degree reckless homicide for shooting three people, killing two and injuring another. The shootings were during fiery street protests after a Kenosha Police officer shot Jacob Blake in August 2020. Rittenhouse pleaded not guilty and is claiming self defense.
Hess: "I think there's so much interest in this trial nationally, because so much of it played out on video. There's so much video, and really all of that has been the star witness this whole week. Jurors have watched just hours of this video that was taken by protesters and journalists. It's grainy and sometimes really graphic video of Kyle Rittenhouse throughout the night on August 25, 2020 — shooting and killing Joseph Rosenbaum and then also Anthony Huber, and then shooting Gaige Grosskreutz."
Prosecutors have the burden of proving the charges against Rittenhouse and disproving he acted in self defense when he took to the streets of Kenosha with an AR-15-style gun.
Hess: "The defense is that Kyle was there to protect his city after looting had happened in the days before, and that he came and wanted to just be this protector, and that he was defending himself when he killed two people and wounded another. [The] prosecution is trying to prove that he was this massively armed teen who was in over his head — [that] he came and just like this trigger-happy kid who started killing."
Watch new episodes of Here & Now at 7:30 p.m. on Fridays.
---
Recent Here & Now
//php dynamic_sidebar( 'news-sidebar-2' ); ?>