'Here & Now' Highlights: Brian Schimming, Richard Shaw
Here's what guests on the January 13, 2023 episode said about the Republican Party of Wisconsin's plans for 2023 and why a community coalition in Milwaukee opposes the proposed expansion of I-94 in the city.
By Aditi Debnath | Here & Now
January 17, 2023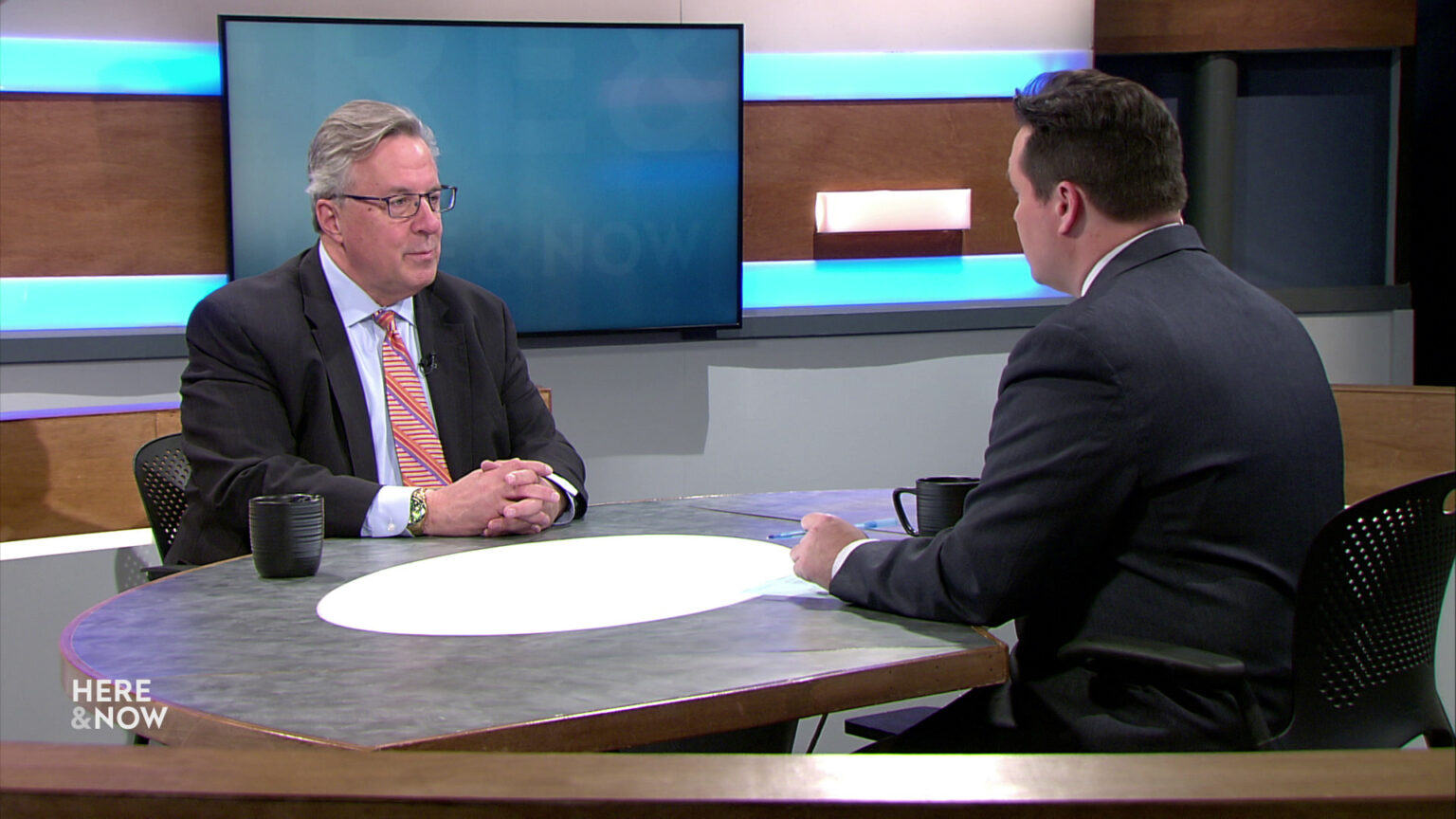 ---
As 2023 sets up a budget season and what's likely to be another close and contentious election, the new chair of the Republican Party of Wisconsin, Brian Schimming, discusses a flat tax proposal and the party's presence in Milwaukee. Richard Shaw, president of the Milwaukee Inner-City Congregations Allied for Hope, shares why the group opposes plans to expand a portion of Interstate 94 to eight lanes in the middle of the city.

Brian Schimming
Chair, Wisconsin Republican Party
Wisconsin Republicans proposed instituting a 3.25% flat income tax rate by 2026, which could be vetoed by Gov. Tony Evers if passed. Schimming said that there will be additional proposals for lawmakers to consider in light of the historic budget surplus in the state.
Schimming: "I think some type of tax reform will probably end up going into the budget. I mean, that'll be dependent on the governor. The flat tax is one proposal. There'll be others, I'm sure, both in the Senate and in the Assembly. So there will be different ideas out there. I trust our legislators to get that right. But it will take the governor saying, 'Look, I'm willing to look at what has historically been a high-tax state and figure out ways to make it more affordable for everyone watching this program, and the 6 million people in this state.' So, I hope the governor comes to the table and works productively on it."
An email by Robert Spindell, a Republican appointee to the Wisconsin Elections Commission board, referenced a "multifaceted plan" that helped depress Democratic votes in Milwaukee, which Democrats and voter organizing groups are decrying as voter suppression. Schimming said Spindell was referring to Republican efforts to appeal to communities of color in Milwaukee.
Schimming: "The multifaceted plan is that the Republican Party of Wisconsin and the Republican National Committee opening offices on the north side, in predominantly African-American neighborhoods, and on the south side, in predominantly Latino neighborhoods, staffing them with paid staff, with volunteers. We've been active in Milwaukee, and I've been on the board with Bob Spindell for a lot of years. He's been the chief proponent of increased activity in Milwaukee in the minority community. So perhaps his statements weren't as artfully put as they could be, but I don't doubt that what he means is that we are going to continue to work those neighborhoods and other neighborhoods in Milwaukee. I have had an office in Milwaukee for years. We're going to continue to work those neighborhoods, and frankly, we upticked a little bit. Republicans did, generally, in Milwaukee, and that's going to continue. Frankly, I want to highlight Milwaukee as the Republican National Convention comes to town. So, in fact, I had a meeting on this in the last couple of days, and I was in Milwaukee in the last couple of days. So we're going to continue our outreach efforts in Milwaukee. And I'm not going to get distracted by those kinds of stories."
Richard Shaw
President, Milwaukee Inner-City Congregations Allied for Hope
The Wisconsin Department of Transportation announced a $1.2 billion plan to expand Interstate 94 to eight lanes over a three-and-a-half mile stretch in Milwaukee. Richard Shaw, a member of a coalition opposing the expansion, said this would not help Milwaukee residents so much as those living in suburban areas.
Shaw: "The primary opposition would be ignoring the public transit issues that we have where some of that funding, or a good bit of it, would better benefit the residents of Milwaukee in terms of helping them to get from neighborhood to neighborhood. We're also concerned about the environment. You're talking about expanding to eight lanes, which will increase emissions; it will also increase salt and contaminate the land. So there are various things in it, but for the most part it does not benefit the residents of Milwaukee as much as it would those who live in the suburban areas, who aim to get downtown to work and for entertainment, so those funds could just be better spent."
Opponents of the I-94 construction project hope to change the city's plans while there is still time to provide public comments. Shaw said people should consider the needs of marginalized communities when they speak out.
Shaw: "Think about humanity and people. I know that it looks good from the outside. It gives the impression of advancement for a city, but at the end of the day, there are the marginalized who are speaking, but they're not being heard. Those who are saying, listen, we need transportation, safe transportation within our neighborhoods. So this is what I would encourage people to speak out about. Not necessarily your convenience to get from the suburbs to downtown, but consider humanity, and consider the least of these."
Watch new episodes of Here & Now at 7:30 p.m. on Fridays.
---
Recent Here & Now
//php dynamic_sidebar( 'news-sidebar-2' ); ?>