Evers Extends Emergency Orders as Hospitals Reach Capacity
Over one third of Wisconsin hospitals are experiencing critical staffing shortages as hospital official warns without steps taken, the health care crisis will turn into a catastrophe.
By Marisa Wojcik | Here & Now
November 20, 2020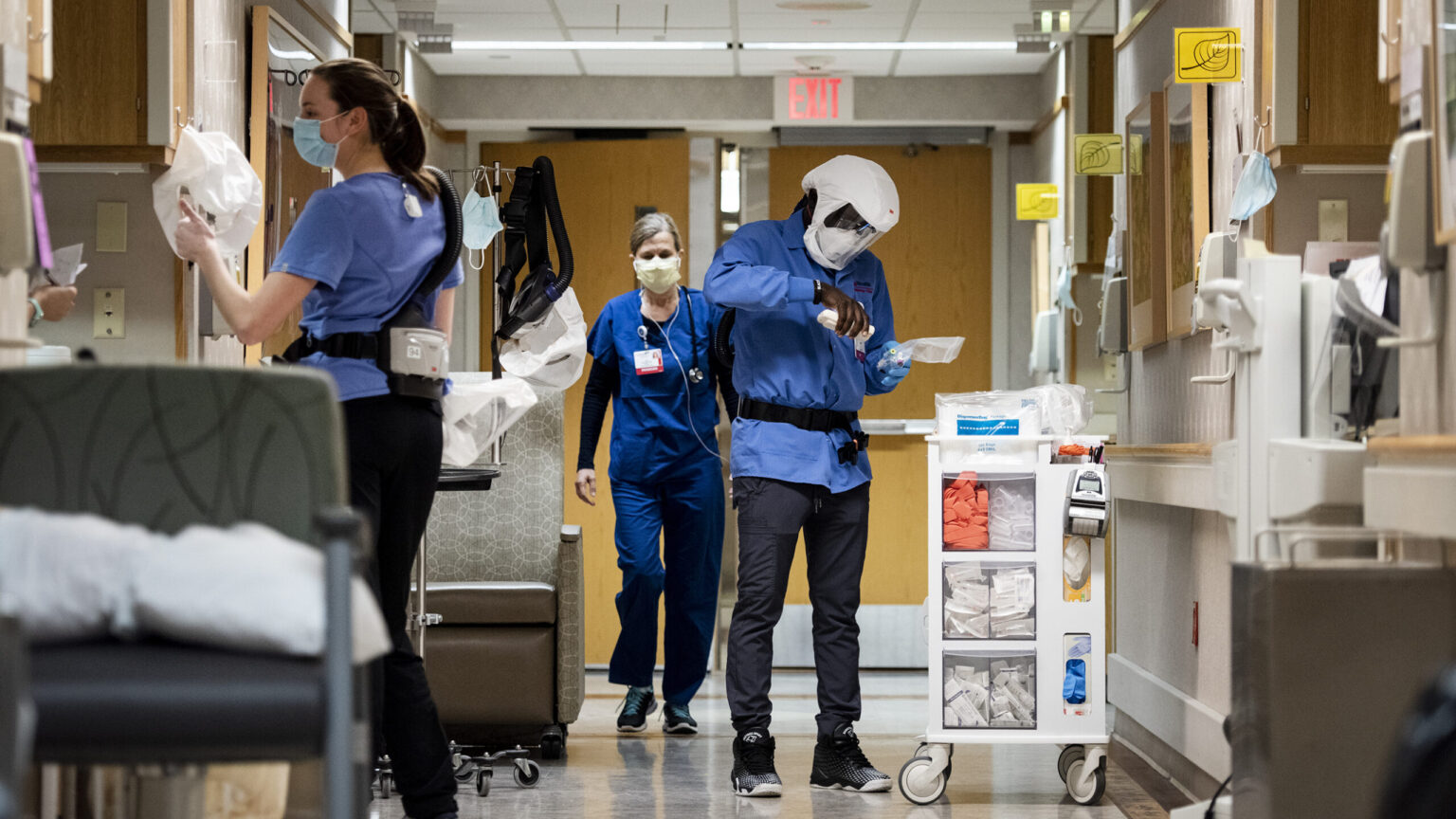 ---
Gov. Tony Evers issued a new public health emergency in the face of the state's hospitals reportedly maintaining or exceeding maximum capacity. Simultaneously, over one third of Wisconsin hospitals are experiencing critical staffing shortages, according to a press release issued by the Evers administration Friday.
Along with the new declaration comes an extension of the governor's order mandating face coverings indoors. Both orders are set to expire in 60 days.
A four-page bluntly worded letter from Wisconsin Hospital Association President and CEO Eric Borgerding, sent to Evers and Legislative leaders Thursday, warned that Wisconsin's health care system is on the verge of a "catastrophe" if action is not soon taken to slow the spread of COVID-19.
Borgerding called for action from state government leaders as health care facilities and workers are reaching their breaking point. Additionally, experts are forecasting the situation to get worse as Wisconsin's trends are being considered the worst in the country.
"We need you, the state's top elected officials, to come together immediately with unified actions to slow demand for care by mitigating the spread of COVID-19 and to increase the capacity for care by making significant investments in our workforce and care sites and further streamlining regulatory policies," Borgerding wrote.
Messages of crisis and the need for action may be resonating enough for the governor, Assembly Speaker Robin Vos, R-Rochester, and Senate Majority Leader Devin LeMahieu, R-Oostburg, to meet Friday to discuss plans to address the pandemic. It was the first such meeting since May.
Details about what was discussed have not been released, only that the conversation was "productive," and leaders may meet again after Thanksgiving, according to Evers spokeswoman Britt Cudaback.
"As expected, there were issues we agreed on and some that we didn't," Vos said in a statement.
In response to the WHA letter, Vos said he was not surprised by its contents and called for unity to "find bipartisan answers."
The governor and the Republicans each offered up their separate plans to address the pandemic earlier this week.
Borgerding identified the rapid community spread of the virus as the "root cause" of the state's crisis. Among the calls to action laid out in his letter, the first was to slow the spread by instituting a statewide mask policy or bolstering the authority of counties and municipalities to give local orders.
Evers first issued the statewide masking order back in September and it is currently being challenged in Wisconsin's Supreme Court. The current order was set to expire Saturday.
In addition to virus mitigation, Borgerding detailed specific measures to relieve pressure on the state's health care system, including:
· Addressing immediate care capacity and workforce needs – the number of patients continues to rise, while health care staff are dwindling from contracting the virus themselves. Last week, Gundersen Health System had 469 staff unable to work due to their own exposure to COVID-19.
· Establishing more alternate care facilities – Wisconsin has opened one alternate care facility at State Fair Park near Milwaukee. However, Borgerding says being transferred that far away isn't an option for many patients living elsewhere in the state.
· Expanding testing and contact tracing – contact tracers are unable to keep up with the volume of calls as Wisconsin returns thousands of new positive cases daily. "No one knows the importance of testing and tracing better than hospitals and health systems," Borgerding said.
· Medicaid reform – Borgerding stated the misalignment of state and federal policies is making it difficult for hospitals and care facilities to administer appropriate inpatient and outpatient care, further straining capacity.
· Permanently removing licensing barriers for health care workforce – a temporary waiver for health care workers with lapsed or out-of-state licenses to work in Wisconsin has expanded facility's ability to meet workforce demands, but it is set to expire in January.
Wisconsin's rate of positive cases has increased exponentially in the last two months. White House Coronavirus Response Coordinator Dr. Deborah Birx chided the state the for its status.
"Your case numbers are extraordinarily high, your rate of hospitalizations are extraordinarily high and we know what follows that is a high rate of fatalities. Not only that it's high, it's the rate of increase that has us very concerned," Dr. Birx said. "What you're doing is not enough to flatten that curve."
The state had 6,473 new cases Friday, bringing the seven-day average to 5,316, and 78 more deaths.
A total 2,954 people have died in Wisconsin due to COVID-19, with a new daily record being reached on Monday with 92 COVID-related deaths in a single day.
While hospital bed capacity varies based on the facility, on average the state's hospitals are at 86% capacity, with 1,540 beds immediately available. In the last week, the Wisconsin Hospital Association reports more than 2,000 hospitalizations due to COVID-19 per day.
---
Recent Here & Now
//php dynamic_sidebar( 'news-sidebar-2' ); ?>