Anticipating the Chauvin Verdict, Madison Officials and Local Leaders Urge Restraint
In the hope of avoiding clashes that echo 2020 unrest, the city's new police chief prepares for potential demonstrations as the trial over the killing of George Floyd concludes.
April 19, 2021 • South Central Region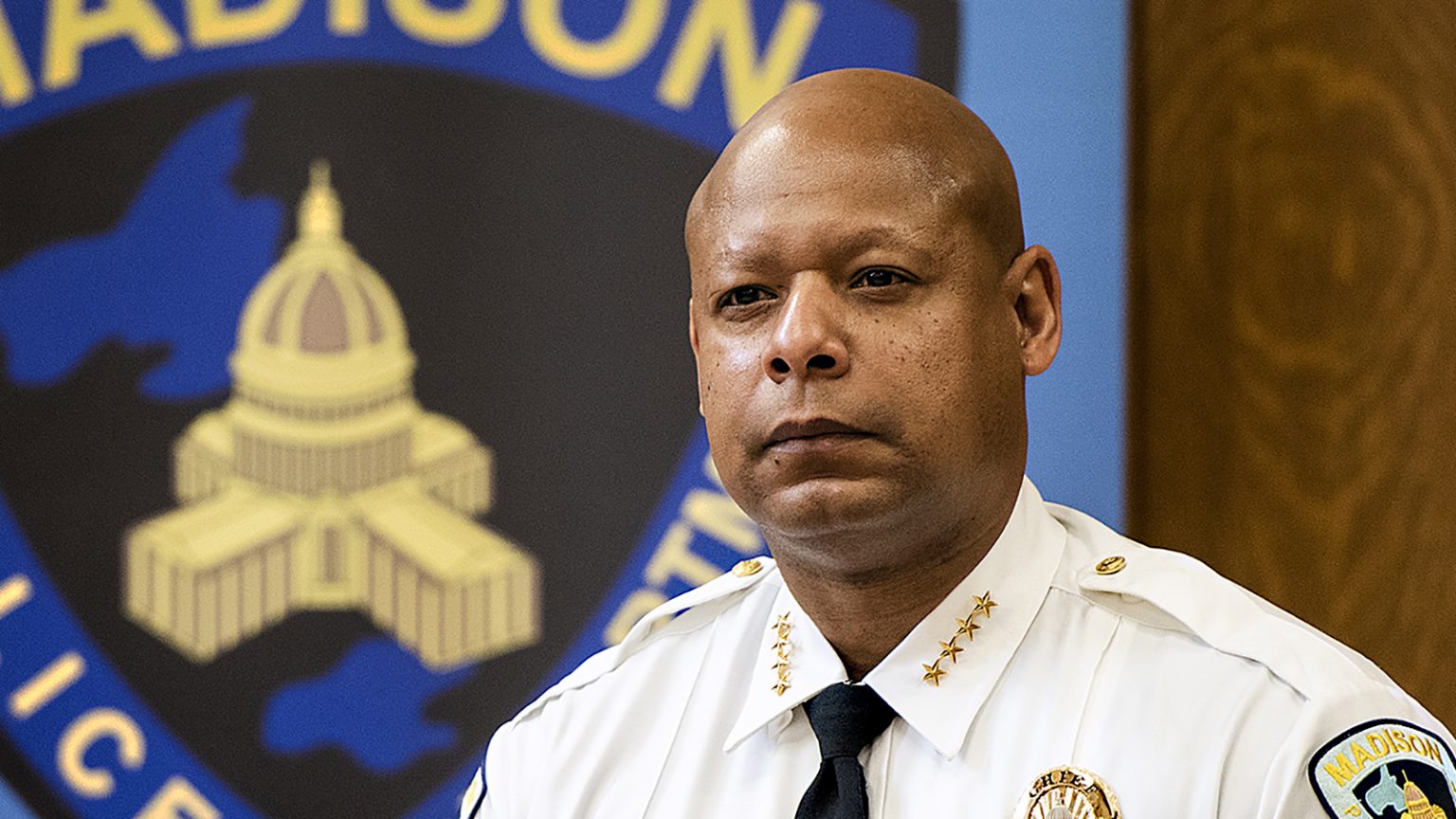 ---
Tens of millions of Americans are on edge as closing arguments were delivered to the jury in the trial of Derek Chauvin, the former Minneapolis police officer charged with murdering George Floyd.
"When injustice occurs in Georgia, Louisville, Minnesota, down the street in Kenosha, Wisconsin, it will have a local reaction here because with each episode of excessive use of force, it reopens wounds not just in Minnesota, but across the nation," said Ruben Anthony, president and CEO of the Urban League of Greater Madison during a press briefing Monday.
Following the previous summer's agitated and sometimes combative clashes between law enforcement officers and Black Lives Matter protesters, elected officials and leaders of community organizations in Dane County toed a fine line during the briefing between encouraging protesters to speak out against police injustice while also pleading to maintain peaceful demonstrations and work with law enforcement.
"The American criminal justice system has not always defined and or exhibited justice in a manner in which we expect," said Madison Police Chief Shon Barnes. "As a Black man in America, I'm aware of this. And as a police officer I acknowledge this."
Barnes was sworn in as chief in February 2021 and was not in charge of the Madison Police Department during the 2020 unrest. Since starting in this position, Barnes has said he's committed to data-driven community policing, and the department has been reviewing its policies to "do a better job for our Madison community."
Last summer, police used crowd-control tactics in response to protests that included pepper spray and tear gas, while subsequent rioting included looting and vandalism of businesses and the setting of fires. Barnes said any demonstrations held in response to a verdict in the Chauvin trial will be managed by what the department refers to as the "Madison Method," which are seven guidelines officers are to follow when policing crowds and demonstrations.
"Managing protests is, you know, a day-by-day, minute-by-minute, hour-by-hour decision-making process," Barnes said.
Barnes said deploying crowd-control weapons like tear gas or pepper spray would be used "as a last resort."
"We use them to protect people who are being hurt or being injured," Barnes said, emphasizing their focus is on preventing situations from getting there in the first place. However, critics argue that police showing up to a protest in riot gear, enforcing curfews and other aggressive tactics is what leads to escalation of clashes in the first place.
Michael Johnson, president and CEO of the Boys & Girls Club of Dane County, called on both police officers and protesters to take responsibility for their actions in the streets.
"I would ask our police officers and to those who manage police officers to continue to listen before using any form of force against those who are protesting in our streets, while at the same time I would ask those who are protesting to do the same and to refrain from using confrontational tactics that can cause harm to those who are responsible for protecting our streets."
Johnson and other community leaders walked with protesters last year and even hired 75 "peacekeepers" to try to quell tensions when it looked like protests were becoming destructive and called on more people to take an active role in maintaining peace, which he said was lacking in 2020.
"There was a lot of business people and community leaders that sat on the sidelines and went to social media to offer their feedback without being involved and trying to bring solutions to the table," Johnson said. "And this city is going to need collective leadership."
Madison Mayor Satya Rhodes-Conway and Barnes said they have been meeting with community groups involved in organizing protests of police injustice to hear their concerns when exercising their First Amendment rights.
"We must do more than just facilitating people exercising those rights," Rhodes-Conway said. "As a community, we have a long and complicated road ahead of us reimagining public safety and bringing internal reforms to our policing."
"Seeing officers who have killed people who look like me as a Black male in the United States of America is emotional, it's draining, and it's traumatic," Johnson said.
Madison Common Council President Sheri Carter underscored that it is up to everybody to bring about change: "May the coming days and weeks be peaceful and meaningful in the name of change for justice."
---
Recent Here & Now
//php dynamic_sidebar( 'news-sidebar-2' ); ?>