Q&A Introducing Quick Fit With Cassy
March 21, 2020 Connor Glasbrenner Leave a Comment
PBS Wisconsin is pleased to introduce our new, digital fitness series — Quick Fit With Cassy. Led by Cassy Vieth, a professional trainer and instructor in Spring Green, Quick Fit  focuses on zero impact stretching and strengthening performed in short workouts of 10 minutes or less. All you need is a sturdy chair!
Cassy shares her decades of experience translating techniques of corrective movement for students. She is passionate about demonstrating that a daily practice of gentle, easy movement empowers all of us — at every age — to live better, longer, and to embrace a form of self-care that sustains and centers through times of ease or uncertainty.
We sat down with Cassy to learn more about her and what we can anticipate with Quick Fit. You can find all videos to get started at pbswisconsin.org/quickfit. 
What brought you to fitness as your profession and passion?
Fitness has been part of my life my entire life. From a young age I researched and read about it, wanting to do my best for my health. Then in 2011 my husband Cameron and I opened our gym in Spring Green. He told me, "You're going to run it!"  I love every aspect of the intersection of business and fitness.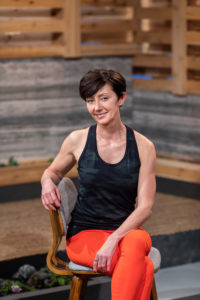 Clients come to me for answers to all their fitness and nutrition questions. That's a big responsibility and a great motivator to dive deep into the subject so I have current, informed answers for them.
How would you describe Quick Fit and the need for it?

I deliver a wide range of movement training. I'm a CrossFit trainer and have a background in high intensity fitness, which has offered wonderful insight into the gentle movement classes I design like
Quick Fit. I love movement, understanding the science of it and translating that for clients.
Quick Fit is gentle stretching and strengthening that evolved out of a variety of people coming to me with specific questions — how to get rid of shoulder pain, how to address pain in the knees, how to deal with muscle and joint tension from a job that requires you to sit all day, or stand all day. Even how to get back on your motorcycle! I've spent considerable time with motorcyclists who need to recover lost strength and mobility that's limiting their range of motion and ability to control a heavy bike. With a regular routine of repair exercise and self-care, they can get back to doing the thing they love most. 
What are your goals with Quick Fit With Cassy?

The message I'd like to convey to people is that they need to repair, prevent and maintain. Repair our overstressed and underused muscles and joints, so we find natural healing. Prevent further injury that could hold us back from the life we want to lead. And maintain a level of fitness particular to our style, needs and goals — whether it's running marathons or just living a life with energy.
There's also a misconception that gentle fitness is only for people with injuries or people who are aging. That's false. All ages benefit from this sort of deliberate repair and maintenance of the body, and I'm so excited to share that message. 
What brought you to PBS Wisconsin?

I want to share the benefits of daily, gentle movement practice with a wider audience in an accessible way. PBS Wisconsin's outreach mission and statewide reach allow for that. We're also great partners because my clients and PBS's audience are very similar. They're interested and curious, and want to learn. They've got healthy, inquisitive minds and they want to stay that way.
I think those who need gentle movement are an underserved audience. There's a big group of people who want to find a gentle fitness routine that doesn't make them feel "old," yet is very effective at meeting their needs.
What health and fitness advice or mantras do you want Wisconsinites to embrace?

A disciplined fitness routine will echo into the rest of your life. If you're going to be a fit person, you have to be consistent and diligent and do the things you say you're going to do, even if it's just a promise you made to yourself. 
And my main mantra is: Live better, longer. I want people to know that aging well is possible. They have control. Life is movement. So keep moving!