LGBTQ+ Archives as Recorders of Resistance
Preserving LGBTQ+ history in Wisconsin is itself an act of social struggle and overcoming.
Wisconsin Pride, as with all documentaries, relies heavily on historical research. The two-part program, including the books from which it takes inspiration, published by partners at the Wisconsin Historical Society, are sourced by abundant historical records. Many of these are housed, preserved, and made accessible to researchers and the community by archival institutions like state and local historical societies, university archives, and some established community-led archives — important access points to our public and collective memory.
LGBTQ+ communities have a complex historical relationship to archival records, institutions, and practices. As LGBTQ+ people faced centuries of persecution, criminalization, and cultural and political marginalization — forced to hide or mask their sexuality and/or gender identity — records of their lives and the stories accessible to historians and the public were too often limited to LGBTQ+ encounters with their oppressors — police records, court proceedings, salacious newspaper stories. This perpetuated biased, inadequate, even harmful representation of LGBTQ+ histories.
Mainstream historical societies and library-based archives, themselves, have long been governed by cis hetero, patriarchal norms influencing what records and artifacts they've chosen to actively collect, interpret, and exhibit. Only in relatively recent American history have some of these institutions formalized a commitment to collecting and preserving LGBTQ+ history in their collection policies— the result of activist efforts by LGBTQ+ communities who highlighted this erasure in the archive and advocated for inclusion.
An unknown quantity of records — surely vast — documenting an expansive view of LGBTQ+ lives in America are the personal documents, objects, and memories held privately in the hearts and homes of LGBTQ+ people.
Sitting alongside mainstream archival institutions and personal collections are independent and grassroots, community-led LGBTQ+ archives and archiving efforts. Possessing varying resources to house, preserve, and maintain important documentation of LGBTQ+ lives, these archives ask critical questions of historical societies and libraries about who should be granted the resources and authority to hold, interpret, and render accessible the records of our collective past.
Wisconsin is fortunate to have several of its archives and libraries actively collecting and preserving LGBTQ+ materials for researchers, historians, and the community. Many also engage in ongoing, thoughtful reflection about the historical relationship between archives and marginalized populations, holding themselves accountable for gaps in their collections, acknowledging their privilege and forging meaningful partnerships with LGBTQ+ Wisconsinites.
Mainstream state and library-based archives are not always geographically accessible and can otherwise seem like removed and alienating institutions to the very public whose collective memory their work stewards. To remedy this, Wisconsin's archivists, librarians and associated staff perform extensive educational outreach and engagement across the state through traveling exhibits, community-based programming, and book publishing on Wisconsin LGBTQ+ history.
Since 1846, the Wisconsin Historical Society has been the state archive and manuscript repository. Its Division of Libraries, Archives and Museum Collections maintains active archival acquisitions documenting Wisconsin and three national topics: organized labor, mass communications, and social action. WHS has collected materials related to the civil rights movement, including LGBTQ+ rights and women's rights, since the early 1970s.
The Historical Society's ongoing commitment to LGBTQ+ history is significant across its archives, outreach activities and publishing arm, the Wisconsin Historical Society Press. It's LGBTQ+ book series includes the groundbreaking, two-volume work by the late historian, activist, author, R. Richard Wagner — We've Been Here All Along: Wisconsin's Early Gay History (2019) and Coming Out, Moving Forward: Wisconsin's Recent Gay History (2020). In 2021, the press published We Will Always Be Here: A Guide to Exploring and Understanding the History of LGBTQ+ Activism in Wisconsin, written for and in partnership with teens and young readers seeking an entry point to learn about Wisconsin LGBTQ+ history and activism.
Beginning in June 2022, A WHS traveling display, "We Will Always Be Here: Wisconsin's LGBTQ+ Historymakers," began traversing the state to schools, GSAFE programs, public libraries, historical societies, and civic organizations.
The Madison LGBTQ Archive is part of the University of Wisconsin-Madison Archives and formed from a desire to create a stable, permanent home for Madison's and Dane County's queer past. It began in 2007 when the UW-Madison Oral History program initiated a project to record the memories of local LGBTQ+ people.
In 2015, oral history collection efforts grew into the formal LGBTQ Archive, adding personal papers, photographs, ephemera and organizational records related to LGBTQ+ life in Madison and Dane County from the 1940s to today. The archive actively seeks contributions toward achieving a more comprehensive, accurate depiction of local queer lived experiences in the past and present. View a current summary of its holdings.
In the mid-1990s, the University of Wisconsin-Milwaukee established the LGBTQ+ Archive at its Golda Meier Library to become a publicly accessible home for primary source material documenting the lives of the Milwaukee queer communities. The archive's active collecting areas include liberation and activism, lesbian feminism, queer culture and community, and HIV and AIDS activism. Most of its materials date from the post-Stonewall Riots era and it maintains a substantial digital collection.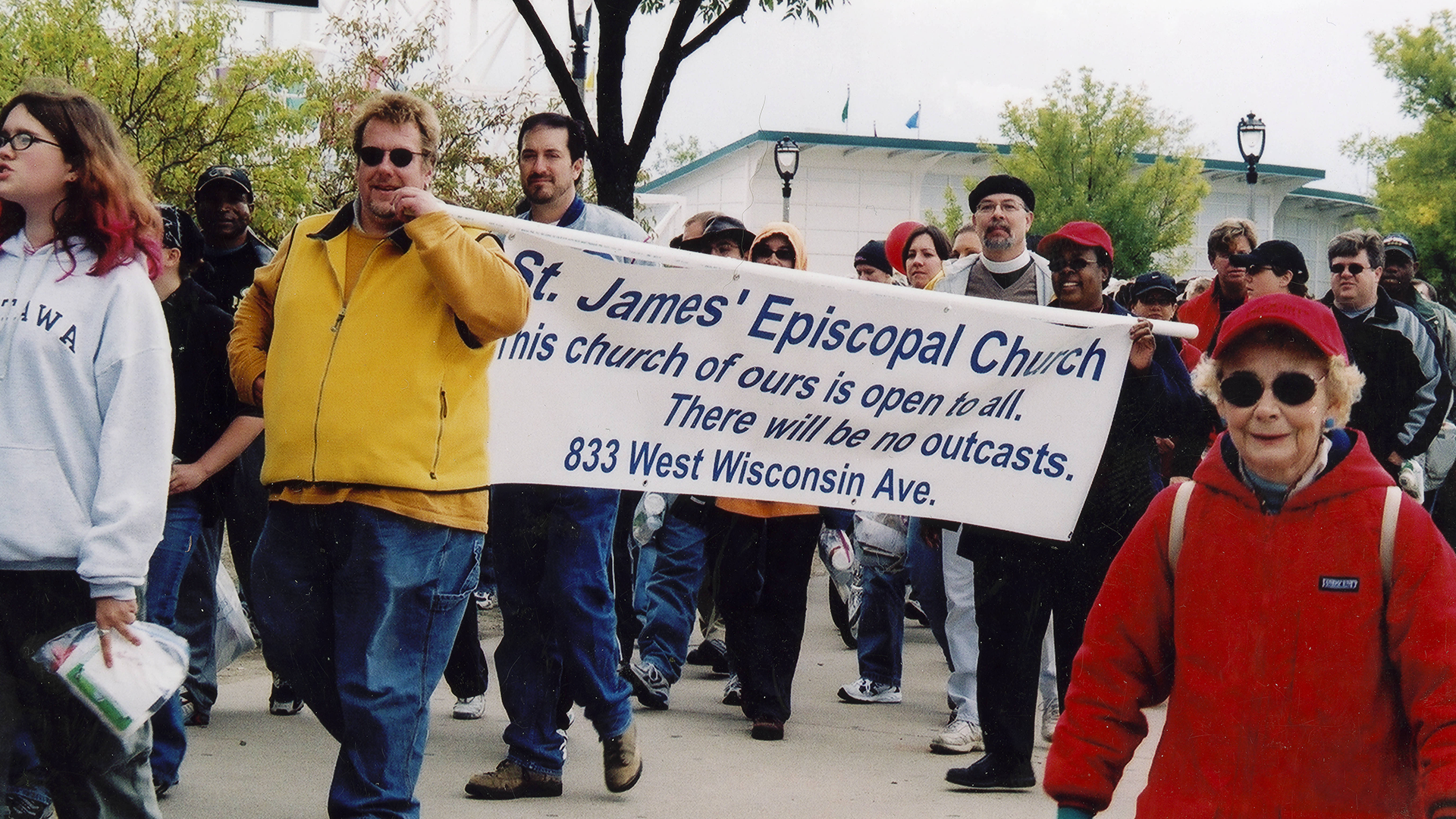 A remarkable example of a grassroots, community-based LGBTQ+ archive is the Wisconsin LGBTQ History Project, created by local activist and archivist Don Schwamb. It began humbly in the mid-1990s with a display mounted at Milwaukee Pridefest celebrating LGBTQ+ elders in a series of biographical posters.
In 2003, Schwab launched the Wisconsin LGBTQ History Project website. A substantial set of materials about Wisconsin's collective queer past, it parses the LGBTQ+ record into major categories: People, Organizations, Businesses, Media and Events. Particularly useful to researchers is its online repository of Wisconsin's decades of LGBTQ print media.
In addition to its archiving mission, the project researches LGBTQ+ history and advocates for its recognition. Curator Michail Takach led efforts to uncover the story of the Black Nite Brawl and have the now-vacant site of the former gay bar commemorated by the Milwaukee County Landmarks Commission in 2022.
Another grassroots LGBTQ+ archive that intentionally sits outside mainstream archival institutions is the Queer Zine Archive Project (QZAP) based in Milwaukee and launched in November 2003. QZAP's published mission is "to establish a 'living history' archive of past and present queer zines and to encourage current and emerging zine publishers to continue to create."
QZAP maintains a free, online searchable database of its substantial zine collection, allowing for full digital downloads of its holdings. It features national author-publishers and those local to Milwaukee. QZAP emphasizes archival accessibility, fitting with the underground, punk culture of zines, hoping to collect a canon of queer zines available to as diverse and wide an audience as possible.
The University of Wisconsin Green Bay Archives and Area Research Center (ARC) is not only the repository of UW-Green Bay's archival record, it actively collects materials pertaining to Northeastern Wisconsin. In 2021, borne of a university course led by UW-Green Bay Associate Prof. Kimberley Reilly, and in partnership with Deb Anderson, UW-Green Bay archivist, it launched the Our Voices: LGBTQ+ Stories of Northeastern Wisconsin project.
Students in the course conducted local LGBTQ+ oral histories, collected and interpreted primary source LGBTQ+ materials like publications, studied Green Bay queer friendly bars, and researched regional queer artists. The Archives also became the permanent repository for several significant LGBTQ+ organizations and establishments. These form the groundwork of a growing Our Voices collection to preserve a set of important regional stories of LGBTQ+ lives in the state.