The History of Bi+ Activism in Wisconsin
Learn about Wisconsin's bi+ history of activism in the 1990s in the context of that era's national struggle for bi+ visibility.
While a term in wide use, it bears repeating that the acronym LGBTQ+ stands for Lesbian, Gay, Bisexual, Transgender, and/or Queer or Questioning, as well as many other ways people identify across a broad spectrum of gender and sexuality (e.g. intersex, asexual, pansexual, nonbinary), for which the (+) invites inclusion and evolution. LGBTQ+ is shorthand for those whose gender identity and/or sexual orientation sit outside historically mainstream, socially prescriptive, dual-gendered (man vs. woman, referred to as the "gender binary") — heteronormative society.
The "B" within this term of reference, for Bisexual — some use Bi, Bi+,  and/or  "pansexual" — has its own complex history of struggle for inclusivity, both within LGBTQ+ activist circles, and as part of the collective struggle for LGBTQ+ rights.
While there is no fixed definition of bisexuality, it generally refers to individuals with the capacity to be sexually and/or romantically attracted to more than one gender.
Bi+ erasure
The practice of rendering bi-identified individuals invisible amid discussions of LBGTQ+ identity, politics, history, and lived experience is called "bisexual erasure." It manifests in a number of ways, the most extreme being an assertion that bisexuality does not exist — that those who identify as bi or bi+ are insincere or indecisive and "fundamentally" either heterosexual or homosexual; that their bisexuality is just a phase.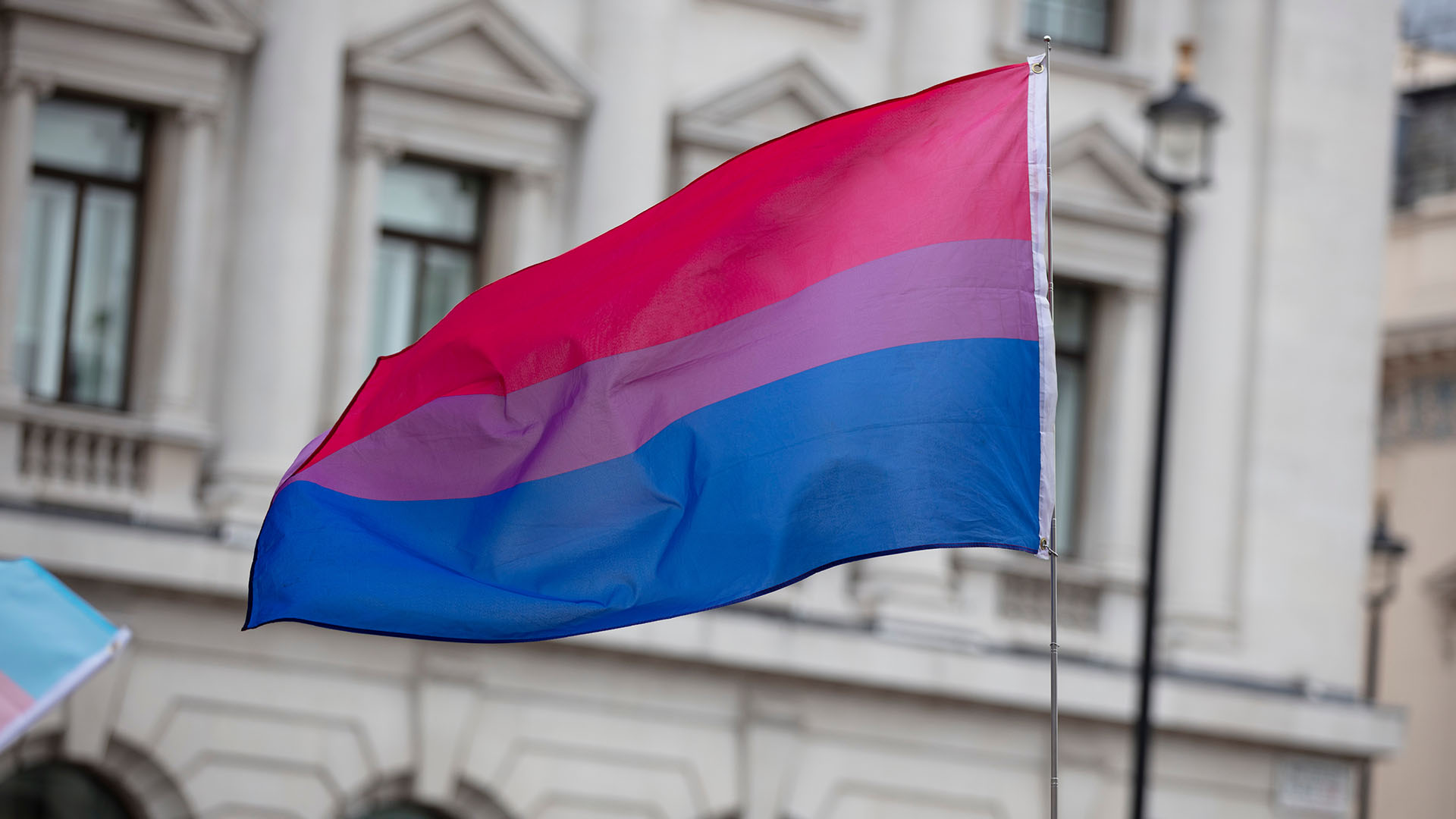 Another form of bi erasure is granting legitimacy to women who identify as bi+ while rejecting its validity in men. Further variants include claims that bisexual individuals are "hypersexual," or ignoring the bisexual identity of a person based on the gender of their partner — miscategorizing them as straight or gay. This miscategorization, itself, grows out of an increasingly anachronistic cultural and political discourse that adheres to two dichotomous poles of sexuality — heterosexual and homosexual.
Bi+ erasure is perpetrated by members of the LGBTQ+ community and their straight allies, as well as by individuals and institutions who discriminate against all LGBTQ+ people. It may also, though not always, manifest into an aggressive form of biphobia, and has been linked to adverse legal and harmful health outcomes for bi+ identified individuals.
Bisexual organizing in the 1990s
Struggling against marginalization within and outside of LGBTQ+ circles, bi+ organizers reached a fulcrum of activism in the late 1980s and early 1990s, establishing a visible bisexual contingent in what, until then, had been considered the "gay and lesbian movement." The harmful rhetoric of the AIDS crisis which stoked fear in the so-called general population that this "gay" disease could spread to them through sex with bi+ individuals served as a powerful motivator for bi+ activist organizing.
Two national political rallies in the nation's capital, in 1987 and 1993, provided a springboard to vibrant bi organizing at the national and local levels. The 1987 March on Washington for Lesbian and Gay Rights gathered half a million, including a small group of bisexual participants who convened what some consider the first nationwide bisexual gathering, leading to the later development of what is now known as BiNet, or the Bisexual Network of the USA. Bisexuals gained formal inclusion in the 1993 March on Washington for Lesbian, Gay, and Bi Equal Rights and Liberation, an event that heightened the level of local bisexual organization across the United States.
Local Bi+ History in Wisconsin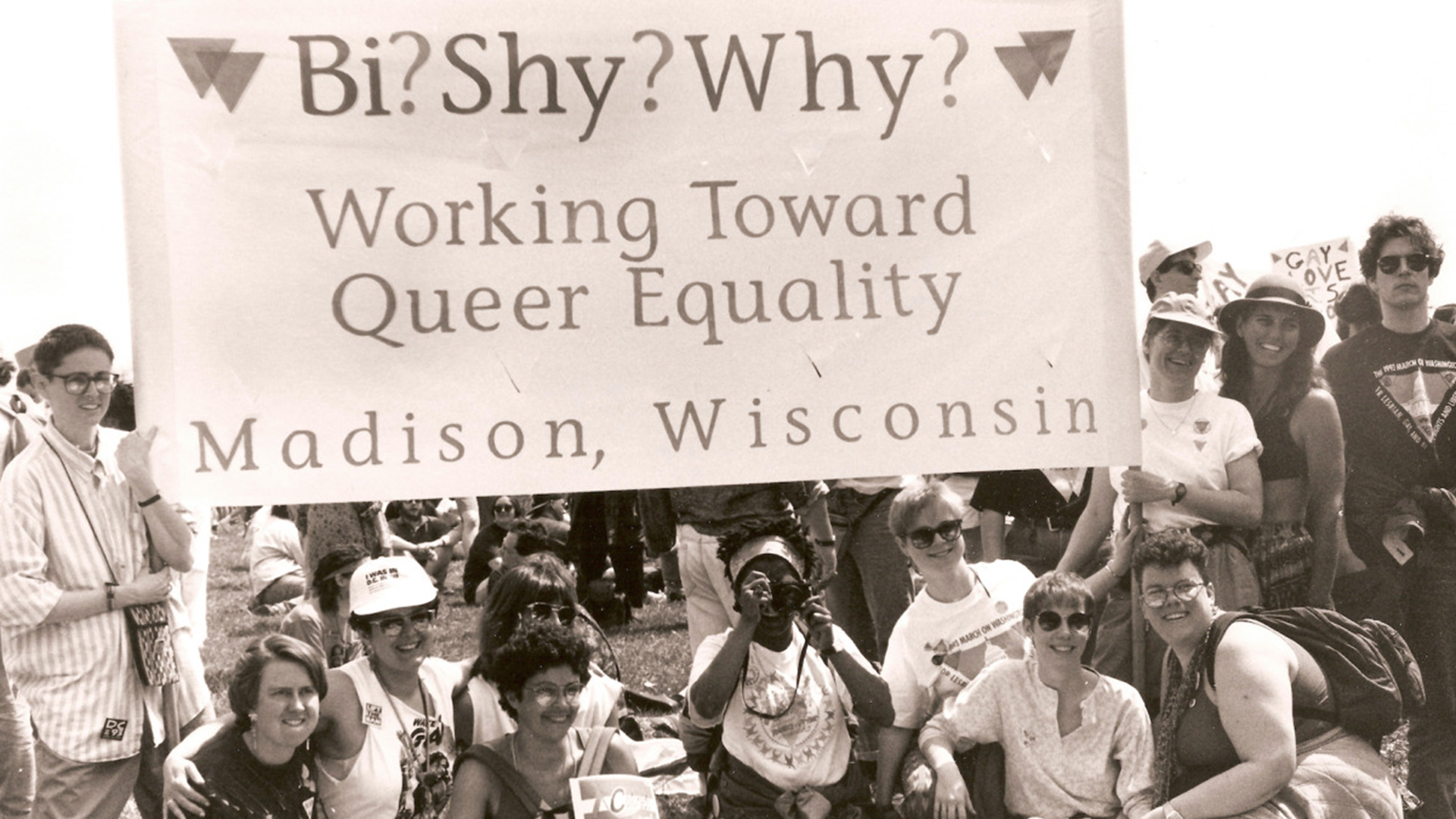 Evidence of bi+ organizing in Madison in the early 1990s includes activities of the former Bisexual Women's Support Group who formed an inclusive space for bisexual community among predominantly cisgender women. Supported by the Campus Women's Center, the group called out harmful bi+ erasure enacted by heterosexual and lesbian communities.
A similar group called Bi? Shy? Why? established itself in the spring of 1992, publishing the first issue of its newsletter that year, in November, called Bi-Lines: A Newsletter for the Bisexual Community, an archival collection of which is held and preserved by the LGBTQ Archive housed at UW Madison. Partially funded by the Ten Percent Society, over its four-year history (1992-1996), Bi-Lines gave voice to the personal stories and political demands of bi-identified people through reporting, nonfiction, poetry and fiction. An issue of Bi-Lines reports that Bi? Shy? Why? sent a contingent to the 1993 March on Washington for Lesbian, Gay, and Bi Equal Rights and Liberation.
In the mid-1990s in Milwaukee, a bisexual support group called Bi Definition arose from a merger of two other bi+ groups who would meet at the Counseling Center of Milwaukee, one of them a women's group called BiDesign and a local bi+ men's group. Bi Definition's mission was to nurture a safe, cohesive bisexual community across metropolitan Milwaukee, work for equal rights for bi individuals, and educate the public on bisexuality. As part of this effort, Bi Definition published an organizational and activist newsletter called Bi All Means! From 1996-2004. Bi Definition discontinued its newsletter and regular formal meetings in 2004. More recently, in 2018, a new group called Bi+ Pride began in Milwaukee for bisexual and pansexual solidarity building with an active community presence on Facebook.
Publications like Bi-lines and Bi All Means! were among a proliferating set of bi+ activist newsletters and community magazines across the U.S. in the 1990s, including Anything That Moves, from the San Francisco Bay Area; Bi- Monthly, from Champaign- Urbana, Illinois; Boston Bisexual Women's Network Newsletter; North by Northwest, out of Seattle; BiAtlanta; Bi- Centrist, from Washington, DC; Bi-Lines, from Chicago; and Bi- Focus from Philadelphia. Collectively, these provide historical evidence of the local geographic scope and extent of bisexual activism that spread across the nation, marking a pivotal historical moment inviting the public to rethink and reimagine its strict and oppressive notions of binary gender and sexuality that continues today.
The ongoing activist struggle and triumphs of bi+ identifying individuals are formally celebrated every year on September 23rd marking Bi Visibility Day — to recognize, take pride in, and reflect on bisexual communities and the history of bisexuality.