Wisconsin's Covid Condition: Youth Vaccines Approach as the Delta Wave Lingers
Cases and hospitalizations around the state are gradually declining from the most recent pandemic surge, and a slackening rate of vaccinations is expected to pick up again as mandates are implemented and the first pediatric vaccine is approved.
By Will Cushman
October 28, 2021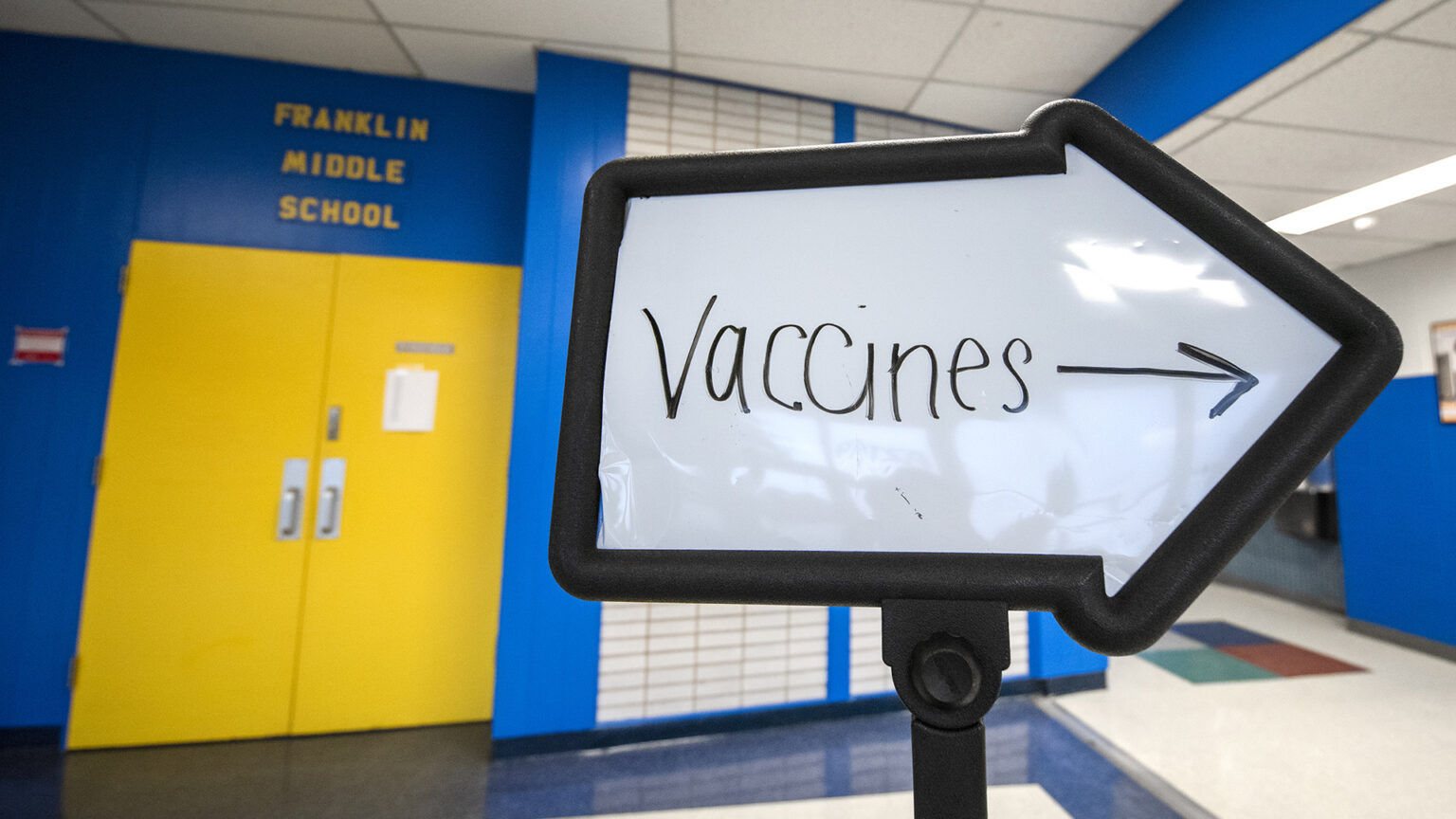 ---
The number of new COVID-19 cases reported in Wisconsin 20 months into the pandemic remains at a higher level than at most points since the disease struck the state. As October 2021 ends, hospitalizations and deaths due to covid also remain high across the state. The disease's spread has slowed somewhat since late September, though how this trend may be affected by the approaching winter months when more people spend more time indoors remains an open question.
Meanwhile, federal regulators are poised to approve the first pediatric COVID-19 vaccine in the United States nearly a year after first authorizing vaccinations for adults. Here's the status of the COVID-19 pandemic in Wisconsin.
A gradual decline in disease
New confirmed cases of COVID-19 are continuing to drop in Wisconsin following a late September peak of the Delta wave, but this decline is proceeding at a slower pace than after the larger surge at the end of 2020.
The average number of new daily cases reported across the state fell by just over one-fifth between Oct. 13-26, according to the Wisconsin Department of Health Services. Given how high these figures were earlier in the month though, the agency classified case activity as "very high" across the state, with "no significant change" in its trajectory over the latter half of October.
At the local level over the same period, only eight of Wisconsin's 72 counties saw their trajectory of new cases shrink. Counties with shrinking caseloads were primarily centered around population centers, including the Milwaukee metro area, Appleton and Green Bay.
Meanwhile six counties saw a growing trajectory during the latter half of October: Bayfield, Polk, Price, St. Croix, Sheboygan and Vernon. Some of these counties are in sparsely populated parts of northern and western Wisconsin, but also include denser St. Croix and Sheboygan on the state's western and eastern edges. The remaining 58 counties in the state saw no significant change in caseloads.
Dane County continued to have the lowest case rate in Wisconsin in the latter part of October. The second most populous county in the state is the only one to have reinstated a local mask mandate in response to the Delta wave. It also has the highest vaccination rate in the state, with 71.8% of local residents fully vaccinated by Oct. 27. The county's case rate was about half the statewide rate during this period, and nearly five times lower than in Marinette County, where cases spiked in recent weeks. Fewer than half of Marinette County residents were fully vaccinated as of Oct. 27.
The number of patients hospitalized for COVID-19 fell below 1,000 on Oct. 22 for the first time in six weeks, and as of Oct. 28 hit its lowest level in two months, according to the Wisconsin Hospital Association. Statewide, there were 887 patients, which is about one-quarter fewer than when hospitalizations hit their highest levels of 2021 (so far) on Oct. 11. The number of patients requiring intensive care has declined more slowly, with 281 people with covid receiving treatment in ICUs on Oct. 28, down by about one-tenth from Oct. 11.
Vaccination requirements and approvals
The number of new COVID-19 vaccinations being administered in Wisconsin has fallen to a new low, with its 7-day average dropping below 4,000 daily shots by late October. Just under 70% of Wisconsin adults have received at least one dose of a vaccine as of Oct. 27, with the vaccination rate just under 60% of the state's entire population
Overall vaccination rates are likely to climb in November, though. The University of Wisconsin System has confirmed it would comply with President Joe Biden's executive order mandating vaccinations for federal contractors.
"We cannot afford to jeopardize millions of dollars in federal contracts, which are integral to our academic and research missions," said Tommy Thompson, the system's interim president, in a statement emailed to reporters on Oct. 27. "Therefore, we intend to be in compliance with the federal executive order on vaccine mandates."
Meanwhile, federal regulators continue to move toward authorizing the first pediatric COVID-19 vaccine available in the U.S. On Oct. 26, a U.S. Food and Drug Administration vaccine advisory committee recommended that FDA regulators approve Pfizer's pediatric covid vaccine for children ages 5-11. The recommendation was based on data provided by Pfizer showing that the two-part vaccine safely prevented about 90% of symptomatic infections during a clinical trial among more than 4,000 children.
The FDA is expected to act within days on the committee's recommendation. Doses of the pediatric covid vaccine, which are one-third the strength of Pfizer's adult vaccine, can begin shipping following FDA authorization, but cannot be administered until the Centers for Disease Control and Prevention approves them. A CDC panel is set to meet Nov. 2 to weigh whether to recommend approval of Pfizer's youth vaccine.
Dr. James Conway, a pediatric infectious disease specialist at the University of Wisconsin-Madison, said he expects the CDC advisors to look closely at Pfizer's safety data and would likely debate whether the vaccine should be authorized for all children in the age group or only those at higher risk of serious disease.
Ultimately, Conway said he would be surprised if the CDC did not authorize the vaccine for the entire age group.
"They would get a lot of grief and a lot of blowback if they tried to parse out and essentially deprive certain populations of the opportunity to be protected," he said.
A September 2021 survey by the Kaiser Family Foundation found that about one-third of American parents said they would get their children in the 5-11 age group vaccinated "right away" upon approval of a pediatric vaccine, with another third saying they would "wait and see." About one in four parents said they would "definitely not" get their children vaccinated.
While the survey results suggest a higher level of hesitancy on the part of parents over whether to vaccinate their kids for COVID-19 compared to other common pediatric vaccines, Conway said he is hopeful a majority of parents would recognize the covid vaccine's benefit.
"What we hope to see is similar to what we saw with the adult vaccines, that the majority of the people that are on the fence don't drift to the hard no side, they actually generally drift to the other side," Conway said. He believes some of this hesitancy is rooted in common misconceptions that children aren't as susceptible to infection and don't get especially sick when infected.
While most children fully recover from COVID-19, Conway pointed out that a significant number do not.
"More healthy kids die from covid than have died in even the worst flu seasons," he said.
Between the beginning of the pandemic and Oct. 27, 2021, the CDC reported 657 covid-related deaths among Americans ages 0-18. Since 2004, the most deadly U.S. flu season for children occurred in 2009-10, when the CDC recorded 288 pediatric influenza deaths.
Children can also be drivers of infections in households and schools, which have largely returned to in-person instruction.
"Kids can get sick, kids can get severely sick, and kids can transmit to people that they're around, especially the unvaccinated," Conway said.
As more people return to in-person activities, Conway said getting vaccinated would help prevent unnecessary disruptions to daily life that have become commonplace during the pandemic.
"The last thing we want to do is have to consider closing down schools again if there are outbreaks," he said. "And that is certainly in the cards."
Editor's note: PBS Wisconsin is a service of the Wisconsin Educational Communications Board and the University of Wisconsin-Madison.
---
Recent Here & Now
//php dynamic_sidebar( 'news-sidebar-2' ); ?>