Wisconsin's COVID Condition: Youth Vaccinations, New Mask Recommendations
Approval of the Pfizer vaccine for 12- to 15-year-olds comes as school boards around the state debate whether to maintain pandemic protocols, while the CDC says fully vaccinated people can stop masking in most settings.
By Will Cushman
May 14, 2021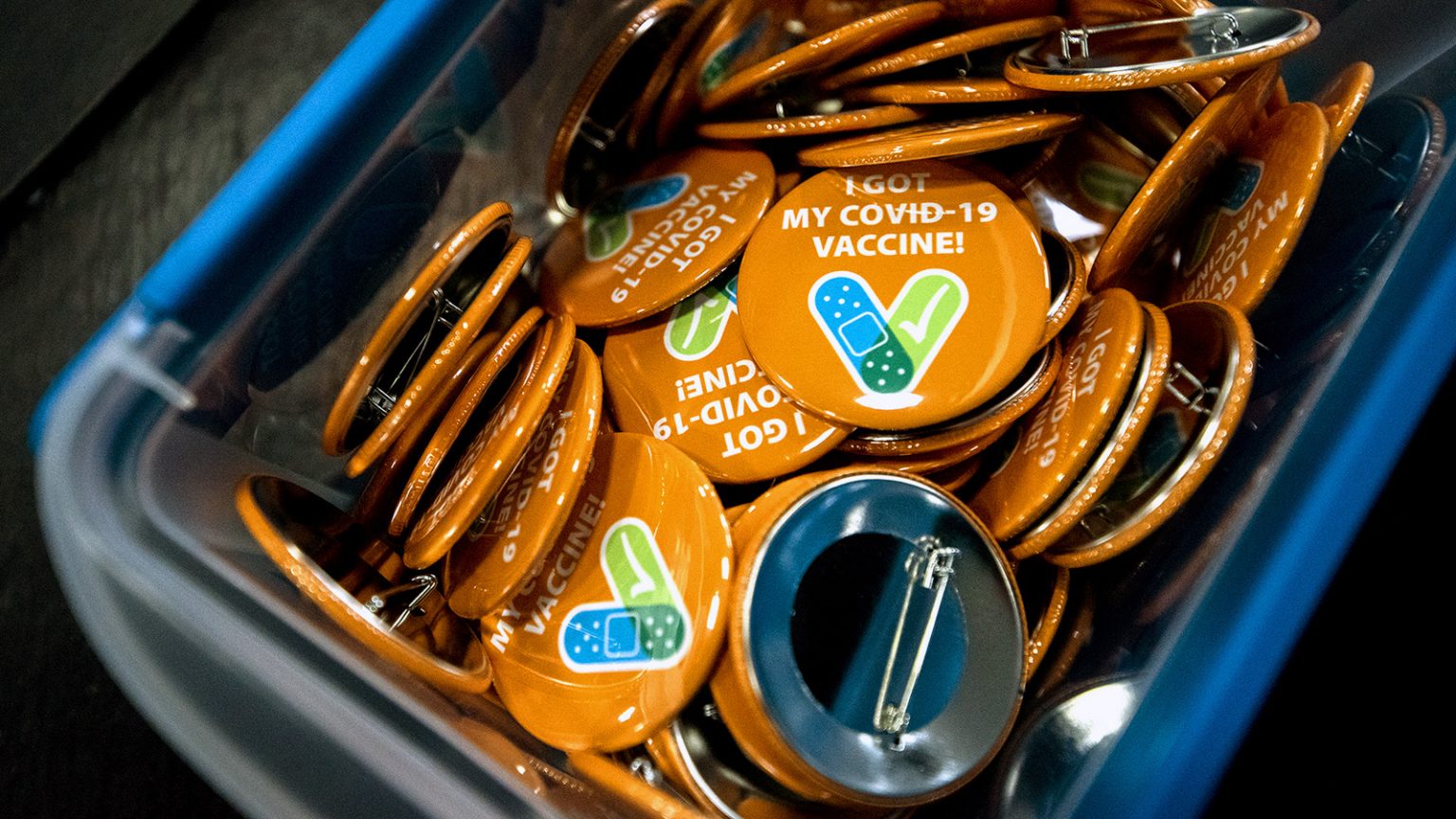 ---
Health providers in Wisconsin have started administering Pfizer's two-dose COVID-19 vaccine to younger adolescents as demand for the shots among adults continues to wane. At the same time, new cases are once again dropping in the state, while school boards, sports teams and event venues mull changes to their coronavirus safety protocols.
Perhaps the biggest pandemic changes are at the federal level, as the Centers for Disease Control and Prevention announced significantly loosened mask guidance for fully vaccinated individuals, which President Joe Biden hopes will encourage more people to get shots.
Halfway through its second May, here's where the pandemic stands in Wisconsin.
Vaccinations for adolescents and shifting rules in schools
On May 13, children ages 12-15 around Wisconsin started getting Pfizer's COVID-19 vaccine. This expansion of eligibility came after a CDC advisory panel recommended the two-dose vaccine for the age group a day earlier and just a couple more days after the U.S. Food and Drug Administration approved Pfizer's emergency use application.
In a May 12 press briefing, Julie Willems Van Dijk, deputy secretary for the Wisconsin Department of Health Services, said a slowdown in vaccine demand among adults meant vaccinators across the state should have enough supplies of Pfizer doses to accommodate the newly eligible age group.
Any additional demand for the vaccine is likely to be relatively small, though, as 12 to 15-year-olds number around 300,000 in Wisconsin, or about 5% of the state's population. At the same time, a nationwide survey conducted in April indicated only three in 10 U.S. parents were eager to get their children vaccinated right away.
Acknowledging this lackluster enthusiasm, Willems Van Dijk emphasized data demonstrating the Pfizer vaccine's efficacy and safety, including among younger adolescents.
"In the clinical trials for this age group, nobody who received the vaccine was infected with COVID-19," she said. "You can't get any better than that. As a parent, if I had a child that age, I would absolutely be front in line bringing my child to be protected from a virus that we know can be lethal even for children and can be prevented with a very, very safe vaccine."
While vaccination eligibility expands to cover more of Wisconsin's younger residents, school boards around the state are debating whether to relax pandemic safety protocols — even before most children have an opportunity to get a shot. Meanwhile, vaccine approvals for kids younger than 12 likely remain months away.
That consideration didn't stop the Waukesha school board from ending its districtwide mask mandate on May 12, less than a month before its school year is set to wrap up. By a 5-4 margin, the district's board of education voted to make masks optional inside buildings and on property of the state's seventh largest district effective immediately. The decision came about a week after that school board ended quarantine rules for students exposed to the coronavirus, also in a 5-4 vote.
As of May 14, 49.8% of Waukesha County residents had received at least one dose of COVID-19 vaccine, somewhat higher than the statewide figure which sat at 44.9%.
Other school boards around the state have considered ending masking rules in recent weeks, often during contentious meetings filled with emotional testimony from both mask proponents and opponents.
In a 6-3 vote on May 10, the Wausau school board, including several new members who campaigned in the spring election against the district's pandemic policies, chose to make masks optional outdoors on district property immediately. The board opted to maintain the mandatory use of masks indoors through the end of the school year in June.
On the same evening in Kewaunee County, the Luxemburg-Casco school board voted unanimously to reinstate its COVID-19 protocols, including an indoor mask requirement, through the end of the school year in early June.
The move came just five days after a special meeting in which the board voted to make masking optional and to drop quarantine and distancing requirements immediately. That original vote was cheered by some parents but prompted backlash among others, as well as the cancellation of athletic games by opposing teams in districts continuing COVID protocols.
A number of other districts, from the Northwoods to the Milwaukee metro area, have weighed easing their own mask requirements and other protocols since the Wisconsin Supreme Court deemed emergency orders by Gov. Tony Evers that established a statewide mask mandate to be unlawful at the end of March.
New national mask guidance
In a move that will impact public health practices across the United States, the CDC outlined new recommendations that mark a major shift in mask guidance for fully vaccinated individuals. Citing the nation's sustained downward trajectory in new cases, gradually rising vaccination rates and a growing body of evidence that fully vaccinated people are very unlikely to contract or transmit the coronavirus, CDC director Rochelle Wolensky announced on May 13 that fully vaccinated individuals can stop masking and distancing in most settings, indoors and outdoors.
The updated recommendations signal a new phase in the U.S. response to COVID-19 and set the stage for a broader return to many pre-pandemic social and business activities.
"If you are fully vaccinated, you can start doing the things you had stopped doing because of the pandemic," Wolensky said.
The new guidance maintains recommendations for masking in some settings, including public transportation, hospitals and healthcare clinics, as well as where local and state mask regulations remain in place.
Local mask mandates in Wisconsin's two largest metros remained in a place a day after the CDC announced the recommendations.
The city of Milwaukee had previously announced it would lift capacity and gathering limits on June 15 while maintaining the city's mask ordinance. That prompted the Milwaukee Brewers to announce a return to full stadium capacity at home games beginning in late June. The move came just two days after both the baseball franchise and Milwaukee Bucks announced an increase to 50% capacity at home games.
Local health officials told the Milwaukee Journal Sentinel they were not anticipating the CDC announcement and would need time to decide whether it necessitates a change in local policy. However, Milwaukee Health Commission Kirsten Johnson said the city's mask ordinance would remain in effect at least through June 15.
In Dane County, a local mask order would continue to be enforced at least through May 18 as health officials review the CDC's new guidance, according to the Capital Times.
The new advice continues to recommend masking in most public settings for unvaccinated people, which still includes all children younger than 12 and a large share of adolescents and adults. However, compliance with the guidelines is an open question, as experts in Wisconsin warned high rates of vaccination would be critical to preventing future outbreaks.
Wolensky acknowledged that CDC recommendations may shift again depending on the pandemic's trajectory in coming months.
President Joe Biden indicated he hoped the new guidance would incentivize vaccination among those who remain unmotivated or hesitant. Polling shows those eschewing the COVID-19 vaccine up to this point includes nearly half the nation's Republican voters along with a number of elected officials. U.S. Sen. Ron Johnson, a Republican from Oshkosh, has been a prominent opponent of the effort to vaccinate as many Americans as possible, and has made spurious claims about the vaccines unmoored from scientific evidence.
Following the CDC's May 13 announcement, Biden made clear on Twitter he hoped the new guidance would spur holdouts to consider vaccination.
"After a year of hard work and so much sacrifice, the rule is now simple: get vaccinated or wear a mask until you do," Biden tweeted.
A few days earlier, Gov. Tony Evers responded to speculation that vaccination might become a requirement for all Wisconsinites. In a May 10 interview with the Racine Journal Times editorial board, the governor said such a requirement is "not going to happen" in Wisconsin, or, he believed, anywhere in the U.S. Evers has not ruled out creating other incentives to encourage Wisconsinites to get vaccinated, however.
Cases fall as deaths, hospitalizations stay flat
As the push to vaccinate younger Wisconsinites starts, the average number of new daily cases in the state is falling once again after plateauing for more than a month.
The 7-day average for new daily cases sat at 444 on May 14, down from 588 a week earlier. The average is now at its lowest point since late March, when a monthslong decline in new cases began reversing. The average is now in line with figures seen in summer 2020 prior to a spike in cases that prompted the first statewide mask mandate.
New reported cases continue to be highest on a per capita basis along the Minnesota border east of the Twin Cities metro region. Higher per capita rates also persist along the Illinois border, particularly in Rock County, with a handful of counties in central Wisconsin seeing an uptick as well.
Despite progress against the disease, Wisconsinites continue to be hospitalized and die from COVID-19 on a daily basis. The 7-day average for new daily hospitalizations stood at 56 on May 14, barely budging from a week before. The daily average for new deaths stood at 10 and has hardly changed for more than two weeks.
---
Recent Here & Now
//php dynamic_sidebar( 'news-sidebar-2' ); ?>