Wisconsin's COVID Condition: Variants Cause Cases to Spike Again As Universal Adult Vaccine Eligibility Begins
The state's weekly average of new confirmed coronavirus infections is at its highest level in two months, with new cases rising most among kids — health officials urge continued precautions but are encouraged by the growing pace of vaccinations.
By Will Cushman
April 9, 2021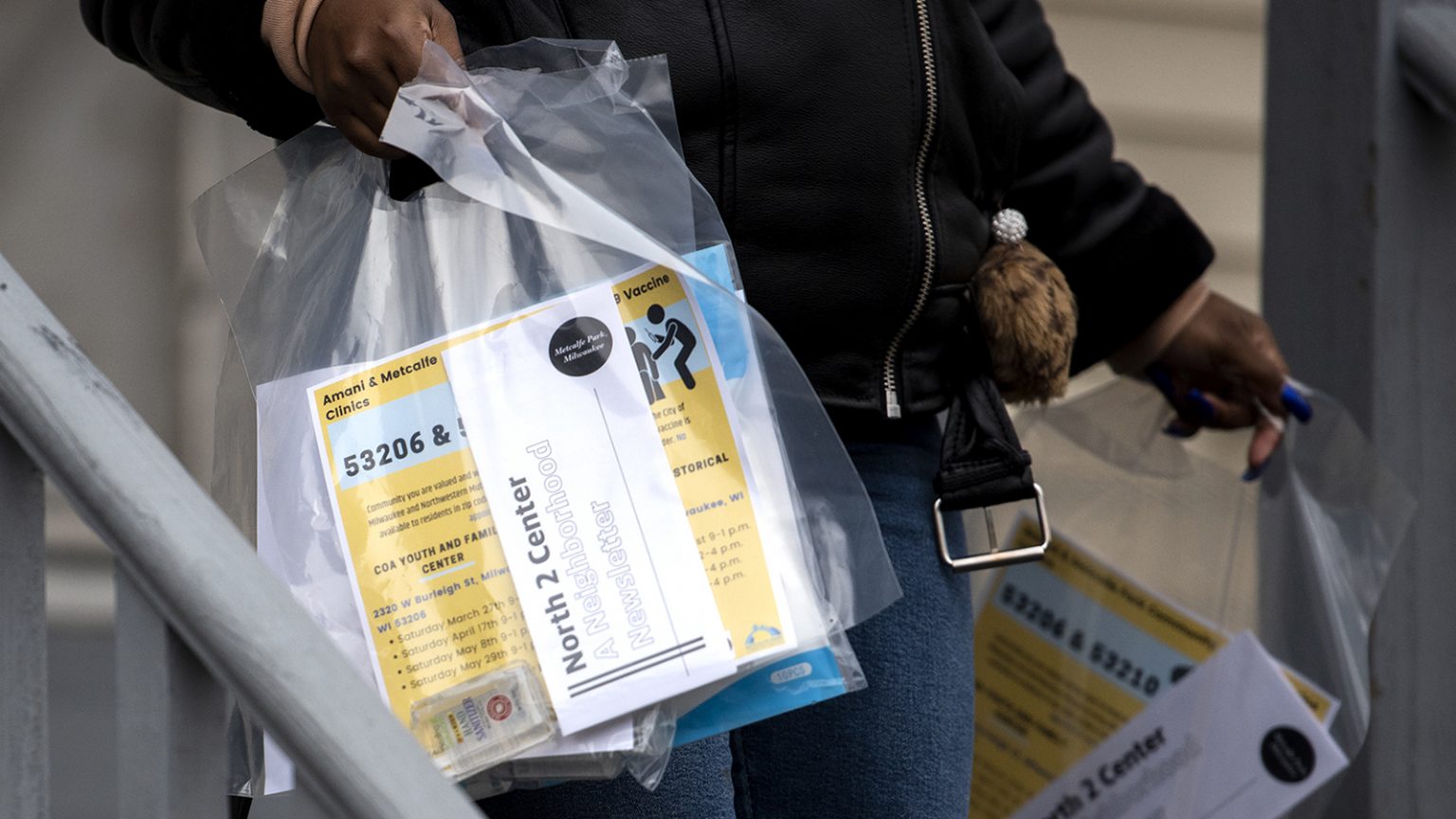 ---
The COVID-19 pandemic in Wisconsin has taken another turn in early April as a rise in daily case counts becomes more pronounced. More than a week after the Wisconsin Supreme Court knocked down a statewide mask mandate, more contagious variant strains of the coronavirus spread, largely among younger people. Meanwhile, large shares of older residents have completed their vaccine series. Here's where things stand in Wisconsin.
Rising case counts
The daily number of new confirmed cases of COVID-19 in Wisconsin has steadily increased over the past week after declining for months and then holding steady for much of March. The 7-day average for new cases is 764 as of April 9, at its highest level since mid-February. While it remains well below a November 2020 peak of more than 6,500, this measure has more than doubled since its low point on March 11.
The rise in new cases is being fueled by more contagious coronavirus variants, warns the Wisconsin Department of Health Services. The agency is tracking the five variants the Centers for Disease Control and Prevention highlights as worrisome due to evidence they are more contagious, and in some cases, cause more serious outcomes.
"All five of these strains are currently in Wisconsin, and the proportion of cases associated with them is growing every week," said Dr. Ryan Westergaard, the chief epidemiologist for the department's bureau of communicable diseases, in an April 8 press briefing.
That same day, the state health department began publishing data on the prevalence of the variants in each of Wisconsin's seven hospital regions. The data, based on only a small sample of positive test specimens, showed a higher prevalence of variants in northern parts of the state, though Westergaard said each of the variants are likely circulating throughout Wisconsin. He said a particularly contagious variant first identified in the United Kingdom — the B.1.1.7 variant — was following a trajectory in Wisconsin documented elsewhere, including other upper Midwest states.
"I expect that in the next few weeks if not already, B.1.1.7 will be the dominant strain in Wisconsin," he said.
Westergaard pointed out that a higher proportion of new cases are occurring among younger Wisconsinites than previously during the pandemic.
"As of this week, the highest number of cases in any age group is among those under 18," Westergaard said.
Notably, COVID-19 vaccines have not yet been approved for children 15 and younger, and variant-driven outbreaks at schools and childcare centers in Wisconsin and neighboring states — including Minnesota and Iowa — have highlighted the ongoing risk of spread among younger age groups. At the same time, some school districts in Wisconsin have lifted masking requirements since the state Supreme Court struck down the statewide mask mandate on March 31.
Julie Willems Van Dijk, deputy secretary for the state health department, said in the April 8 briefing that now is not the time to stop wearing masks in public.
"The worst thing in the world we can do right now is say 'No mandate, no mask,'" she said.
Vaccines for all adults
Evidence pointing to the increasingly disproportionate spread of more contagious variants among younger people is both concerning and in some sense reassuring to public health officials, as it points to the effect of growing vaccination rates among older Wisconsinites.
On April 5, Wisconsin officials opened COVID-19 vaccine eligibility to anyone 16 and older who lives, works or studies in the state. The eligibility expansion came as vaccine supplies have increased, particularly in the Milwaukee area. However, Willems Van Dijk said that boost for Milwaukee would be temporary, adding that demand is generally continuing to outstrip supply statewide. She expects supplies of the one-dose vaccine produced by Johnson & Johnson would continue to fluctuate widely from week to week as the company grapples with manufacturing mishaps.
"We've had a little bit of a rollercoaster," Willems Van Dijk said, though she added that the overall pace of vaccinations continues at a rapid clip.
More state-managed community vaccination clinics are opening their doors, she said, including one in Marathon County and another set to open in Douglas County. They join established clinics in Rock, Racine and La Crosse Counties. Wisconsinites seeking vaccines at these and some other clinics can book an appointment through the state's online vaccine registry.
Meanwhile, the Federal Emergency Management Agency is now providing resources for mass vaccination sites at the Wisconsin Center in Milwaukee, the Alliant Energy Center in Madison and at Zorn Arena on the UW-Eau Claire campus.
The state and federal clinics are in addition to hundreds of vaccination sites throughout the state, largely operated by retail pharmacies and healthcare providers. Still, vaccination rates are lagging considerably among some vulnerable populations in the state: Just 7% of prison inmates had been vaccinated as of April 5. Racial and ethnic disparities in vaccination rates are persisting as well, spurring community groups in the state to work toward narrowing that gap through door-knocking campaigns and other outreach.
As of April 9, 3,380,401 doses of COVID-19 vaccine have been administered in the state, with 2,089,526 Wisconsinites, or 35.9%, receiving at least one shot and 1,330,471, or 22.9%, completing their series.
Fully two-thirds of Wisconsinites 65 and older have now completed their vaccine series, and more than three-quarters have received at least one dose. Younger Wisconsinites, many of whom have only recently become eligible for the vaccine, are well behind: Only one-fifth of those 18-24 have received at least one dose.
The University of Wisconsin System is offering incentives to students to receive the vaccine in an effort to boost vaccinations among the younger age group. However, the plan has received pushback from at least one member of the UW System Board of Regents who expressed vague concerns about vaccines that are unsupported by any evidence.
"All three of the vaccines we have are very effective and very safe," said Westergaard during the April 8 briefing.
Federal food relief in doubt
While a growing number of vaccinated Wisconsinites may help blunt any impact from the end of the state mask mandate, state officials confirmed Wisconsin would lose out on nearly $69 million in monthly federal food assistance beginning in May. That's because states must have an active public health emergency declaration to qualify for the federal emergency assistance. Wisconsin's mask mandate was connected to such an emergency declaration by Gov. Tony Evers, which the state Supreme Court deemed unlawful.
Residents across the state will be impacted by this policy change, as discussed by a director of a Milwaukee-based non-profit focused on alleviating hunger.
---
Recent Here & Now
//php dynamic_sidebar( 'news-sidebar-2' ); ?>