Wisconsin's Covid Condition: State Sees Highest Number of ICU Patients Since 2020
Vaccinations are also rising, albeit slowly, as the Pfizer shot receives full FDA approval and political fights over masking and vaccines drag on.
By Will Cushman, Marisa Wojcik
August 27, 2021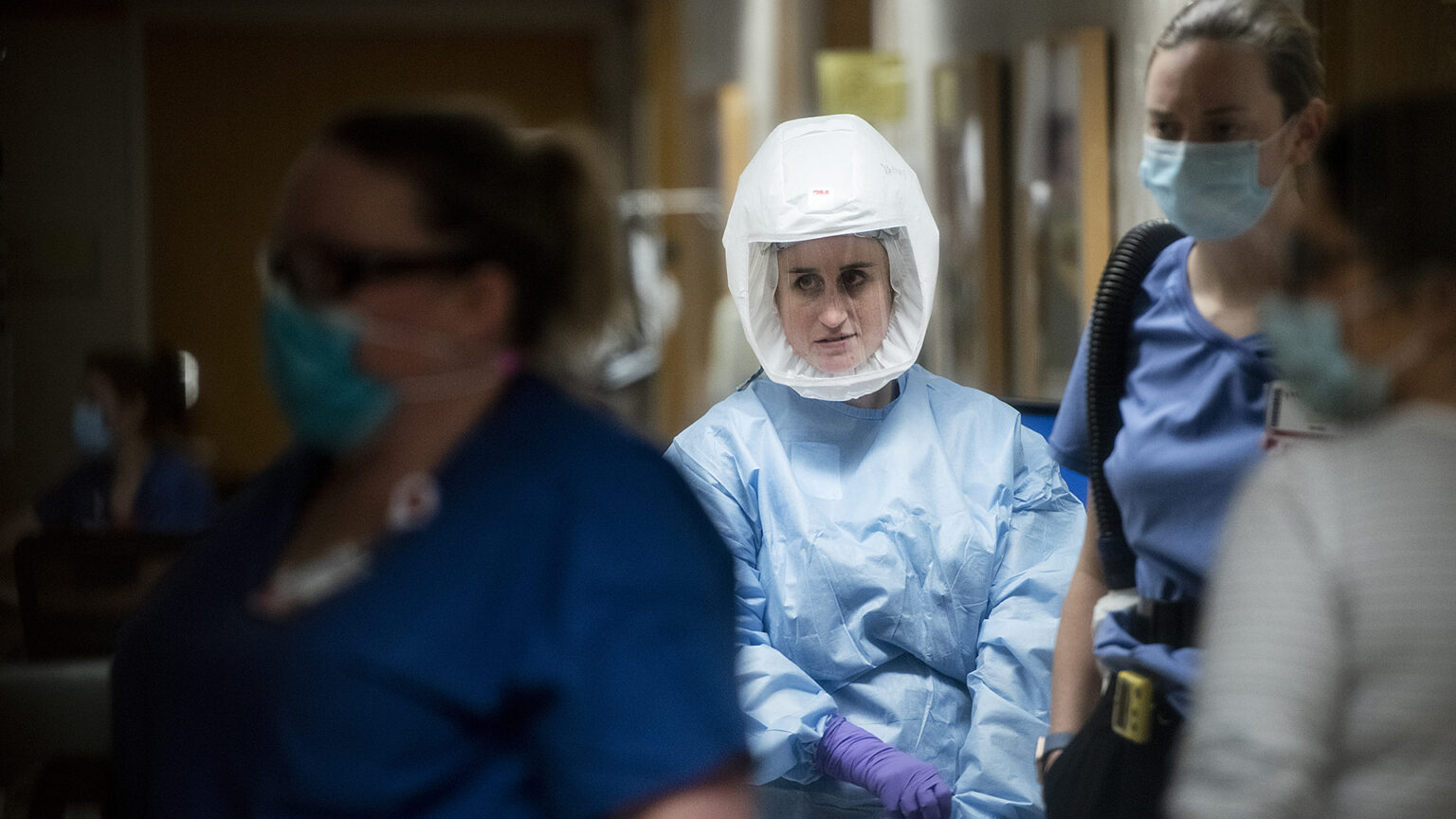 ---
As the Delta coronavirus variant forces Wisconsin communities back into the thick of the pandemic, exhausted hospital workers are faced with the largest wave of patients requiring intensive care since 2020 while millions of Wisconsinites remain unvaccinated.
Protests against masking rules are disrupting school board meetings as more districts opt to heed state and federal advice and adopt universal masking for the start of the school year. Meanwhile, the first COVID-19 vaccine has received full approval from federal regulators, prompting more employers in the state to add the shots to their lists of required vaccinations. Here's the status of the COVID-19 pandemic in Wisconsin.
Rising cases, hospitalizations, deaths
The extremely contagious Delta variant is continuing to drive new confirmed cases of COVID-19 up across Wisconsin, with community transmission in all of the state's 72 counties at substantial or high levels as of Aug. 27, according to the Centers for Disease Control and Prevention.
The 7-day average for new confirmed cases stood at 1,584 on Aug. 26, the measure's highest point in more than seven months and an increase of about 40% from two weeks earlier.
The variant's swelling spread in August has led to an ever growing number of people requiring hospitalization across the state from week to week. On Aug. 27, there were 865 people hospitalized for COVID-19 in Wisconsin, the highest number since Jan. 19. The rise in patients comes at a difficult time for Wisconsin hospitals dealing with acute nursing shortages and burnout among staff. However, unlike early in the pandemic, access to testing, vaccines and protective equipment is allowing healthcare systems to continue to offer elective procedures.
At the same time, data from the Wisconsin Hospital Association show that extremely ill patients requiring intensive care continue to make up a significant share of hospitalizations in late August.
The number of COVID-19 patients receiving care in an ICU on Aug. 27 reached 259, the highest number since Dec. 23, 2020, and accounting for nearly 30% of all hospitalizations in the state. For comparison, patients requiring intensive care on Dec. 23, 2020, made up about 20% of all hospitalizations on that date.
That statistic points to one difference with the Delta-fueled wave: Unlike during previous surges, the proportion of hospitalized COVID patients requiring intensive care has thus far grown alongside rising hospitalization numbers. During previous waves, the proportion of patients in the ICU generally fell as overall hospitalizations grew.
Meanwhile, people stricken in the latest wave are being ventilated at similar rates as previous waves. Nearly 12% of COVID patients were ventilated on Aug. 24.
Patients requiring a ventilator in August have included the Catholic prelate Raymond Burke, who became ill while visiting family in southwest Wisconsin, and state Sen. André Jacque, R-De Pere. Both men have been vocal skeptics of COVID-19 mitigation strategies like mask rules and vaccine requirements, and neither has disclosed his vaccination status. As of Aug. 23, Burke remained hospitalized but was no longer on a ventilator, while the last known status for Jacque, from Aug. 25, was that he remained ventilated but was in stable condition.
While the Delta variant is associated with more breakthrough cases among fully vaccinated people, data from the Wisconsin Department of Health Services show that the vaccines remain very effective at preventing death and reducing the risk of developing serious symptoms requiring hospitalization.
The number of Wisconsinites dying from COVID-19, a lagging indicator during the pandemic's various waves, has been rising along with cases and hospitalizations since mid-August. As of Aug. 26, the 7-day average for new deaths reported across the state stood at eight, the highest it's been since early March.
Full vaccine approval, more mandates
On Aug. 23, the U.S. Food and Drug Administration gave full approval to the Pfizer COVID-19 vaccine for people 16 and older. The vaccine remains available under an emergency authorization for children between the ages of 12 and 15, while the vaccines produced by Moderna and Johnson & Johnson remain available for all adults under separate emergency authorizations.
Health officials in Wisconsin welcomed the first full FDA approval of a COVID-19 vaccine by urging eligible Wisconsinites who haven't gotten vaccinated yet to do so.
"This is an important milestone," said Karen Timberlake, secretary-designee of the state health department, in an Aug. 26 press release. "It builds on evidence from across the country that the Pfizer vaccine is safe and effective for everyone ages 12 and up. It's more important than ever that everyone who is eligible to get vaccinated so we can keep ourselves, our kids, our friends, family and neighbors safe."
Local officials also welcomed the news, with Milwaukee Mayor Tom Barrett announcing during an Aug. 24 media briefing that it had prompted the city to require all general city employees to get vaccinated by Oct. 29 or face possible termination.
"I think for a number of individuals the fact that [the vaccines] had not received that formal approval was one of the reasons that they were hesitant to get a shot," Barrett said, expressing hope that the Pfizer approval would encourage some hesitant people to get vaccinated. However, anecdotal reports indicate that many Americans who remain unvaccinated were unmoved by the news.
Still, vaccinations in Wisconsin continue to slowly rise from a low point set in early summer. On Aug. 25, the 7-day average of the daily number of vaccine doses administered in the state was 9,005. That's nearly 70% higher than the lowest 7-day average of 5,345 set on July 8. Average daily doses administered have risen steadily since late July.
At the same time, about 45% of Wisconsinites have received no doses of vaccine as of Aug. 26, including about 35% of the state's adults.
Debate over school, university rules
As the beginning of the fall semester begins amid rising COVID-19 case counts, the state health department and Wisconsin Department of Public Instruction are pushing schools to implement safety procedures to prevent further spread of the virus.
DHS is providing regular testing for students at schools that opt in to the testing program and whose parents sign consent forms allowing their child to be tested for COVID-19. The department is also encouraging teachers, staff and students over the age of 12 to get the vaccine.
The issue of masking, however, has brought about intense controversy as politics continue to become injected into public health. Health officials are practically begging school districts to institute universal masking policies, including a letter from UW-Health signed by almost 500 physicians vocalizing support for masks in the classroom.
School districts in Madison and Milwaukee and a number of other cities have instituted universal masking for students and staff. Some districts, such as Green Bay and Appleton, have reversed decisions from optional masking to mandatory.
Opposition to universal masking is making it increasingly difficult for school boards to implement any such policy. School officials in Oshkosh had to delay an Aug. 25 school board meeting after anti-mask protesters descended on the meeting two days after the district announced a universal mask rule.
Meanwhile, University of Wisconsin System campuses, which last year were free to mandate masking and testing, are now having to contend with the state Legislature.
Earlier in August, the Republican majority on the Joint Committee for Review of Administrative Rules voted to require all UW System campuses to have any COVID safety protocols approved through committee. This week, UW System interim President Tommy Thompson, himself a former Republican governor, defied lawmakers, saying the system has "complete authority" to maintain its own health policies.
State Sen. Steve Nass, R-Whitewater, who co-chairs the committee has criticized Thompson saying, "It is not surprising that the Ivory Tower administrators at the UW System are opening defying state law to issue Covid-19 mandates to control every adult who dares to walk on their campuses with the notable exception of 70,000 plus ticket paying fans at football games in Madison."
UW-Madison Chancellor Rebecca Blank said in an Aug. 27 Here & Now interview that football game attendees would have to follow guidelines when they are indoors, for example when they go inside the stadium to use the restroom.
Blank also said the campus is taking a number of steps to open safely for the fall semester and that the university is trying to open "as fully in-person as possible."
According to Blank, over 96% of faculty and staff on campus are fully vaccinated, alongside the city of Madison community vaccination numbers being high. Student vaccination rates are still being collected and reported, and are currently over 80% vaccinated.
---
Recent Here & Now
//php dynamic_sidebar( 'news-sidebar-2' ); ?>