Wisconsin's COVID Condition: Pause on Johnson & Johnson Doses Complicates Vaccination Campaign at Critical Juncture
The pause is forcing some vaccinators to adjust planned clinics this week, though health officials say it won't greatly impact the state's vaccine progress as variants drive ongoing surges in neighboring states.
By Will Cushman
April 16, 2021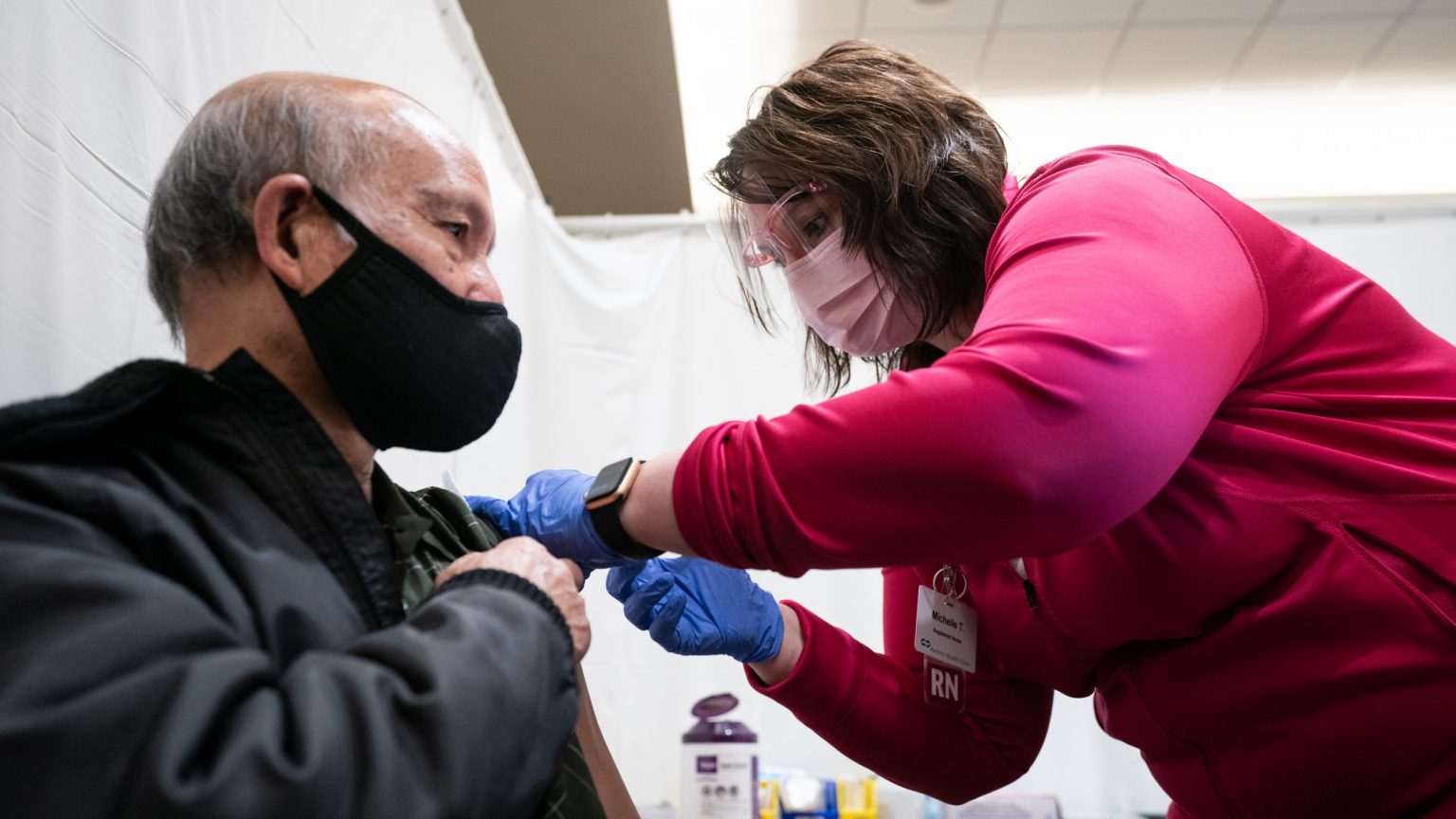 ---
The COVID-19 pandemic in Wisconsin is continuing to gradually worsen in April, as average daily case counts rise from recent lows set in March. The share of coronavirus infections from more contagious variant strains is growing larger, though Wisconsin has so far escaped more dire variant-driven surges seen in some neighboring states, particularly Michigan.
At the same time, an extremely rare but serious potential side effect of Johnson & Johnson's one-dose COVID-19 vaccine has spurred state health officials to order a temporary pause in administering the shots on the advice of federal regulators as they work to understand how common it is and what its association with the vaccine might be. Here's where things stand in Wisconsin.
Johnson & Johnson 'pause'
On Tuesday, officials at the U.S. Food and Drug Administration and Centers for Disease Control and Prevention urged vaccinators to temporarily pause administering the single-dose COVID-19 vaccine manufactured by Johnson & Johnson. The directive followed reports of serious blood clots in a half-dozen of the more than 7 million recipients of the vaccine to date.
The same day, the Wisconsin Department of Health Services instructed vaccinators in the state to withhold their doses of Johnson & Johnson's COVID-19 vaccine and to place them in storage out of an abundance of caution. In a Friday press release, interim DHS Secretary Karen Timberlake said vaccinators should store their unused Johnson & Johnson doses until federal regulators complete a review of safety data for the vaccine.
The CDC's Advisory Committee on Immunization Practices held an emergency meeting on Wednesday to assess data on the extremely rare blood clots, which have resulted in at least one death.
Data presented at the meeting showed the clots — a rare type known as cerebral venous sinus thrombosis — have occurred at higher rates among vaccine recipients than would be expected in a general population. In several cases, the clots occurred alongside unusually low blood platelet levels. The atypical symptoms require treatment that differs from more standard protocols for blood clots and resemble distinctive symptoms reported in Europe among a small number recipients of the AstraZeneca COVID-19 vaccine.
Ultimately, the CDC committee opted to wait for more data before deciding to resume administration of the Johnson & Johnson vaccine while acknowledging that the half-dozen reported cases amounted to an extremely rare occurrence. If the preliminary data hold true, an individual is more likely to be struck by lightning in the U.S. in 2021 than to develop the clotting symptoms after receiving this vaccine. The committee is set to meet again April 23.
Wisconsin health officials said the pause, while not ideal, should not greatly affect the state's COVID-19 vaccination campaign. In a Tuesday press briefing, Julie Willems Van Dijk, deputy secretary of the state health department, pointed out that only about 4% of doses administered in the state as of that date were the single-dose Johnson & Johnson.
The vast majority of doses administered in Wisconsin so far have been the two-dose mRNA vaccines produced by Moderna and Pfizer. These two vaccines are based on a different technology than the Johnson & Johnson and AstraZeneca shots, and have not been flagged for possible safety issues.
However, the single-dose Johnson & Johnson vaccine has some significant logistical advantages over the two others — primarily that its storage requirements are not as cumbersome, and recipients don't need to return weeks after their first dose for a booster shot. As a result, state and local officials have prioritized the vaccine for underserved and difficult-to-reach communities.
Organizers of several community vaccine clinics around the state scheduled to use Johnson & Johnson doses have had to adjust their plans. These include a planned clinic on the south side of Madison hosted by the Boys and Girls Club of Dane County. Scheduled for Saturday, the clinic was to be the second of three Johnson & Johnson clinics hosted by the organization, with enough doses to vaccinate 500 people. On Thursday, the Boys and Girls Club announced the clinic would go on as planned, and people with appointments would instead receive their first of two doses of the Pfizer vaccine.
Vaccine progress
The Johnson & Johnson pause notwithstanding, Wisconsin continues to make progress on COVID-19 vaccinations. This week, the number of residents who have completed the vaccine series surpassed 25% of the state population, while nearly 80% of Wisconsinites 65 and older have received at least one dose.
These include more than 62,000 residents of more than 2,900 long-term care facilities in Wisconsin, according to the state health department. On Friday, the agency announced the end of a federally-funded partnership with retail pharmacies to vaccinate residents and staff at the state's nursing homes and assisted living facilities. Nearly 110,000 residents and staff completed the vaccine series through the program.
"This partnership with CVS and Walgreens, as well as other independent pharmacies, has been a critical part of our efforts to protect Wisconsin's most vulnerable," said Timberlake.
As of Thursday, some 3,693,199 doses of vaccine have been administered in the state, with 2,239,906 people (38.5%) receiving at least one dose and 1,504,167 (25.8%) completing the series.
Meanwhile, more than a week after all Wisconsinites 16 and older became eligible for vaccination, the first signs of slackening demand for the vaccines are emerging in the state as health officials focus on convincing hesitant residents to get inoculated.
"We've always known that [vaccinating] the first 30-40% [of the population] was going to be the easy part of this," said Willems Van Dijk on Tuesday. "Those were going to be the very eager people who wanted to be first in line. There'll be a middle group that has been hanging back … waiting to see how their family and friends do. And they will likely come forward as they see others doing well. Then there will be a group that may need a lot more support and information before they're ready to make a decision."
More variant spread
The ongoing spread of more contagious coronavirus variants is continuing to underscore the urgency of Wisconsin's vaccination campaign. Neighboring states, including Michigan, Minnesota and Illinois, are battling variant-driven surges in disease as the upper Midwest emerges as a spring hotspot in the U.S.
In Wisconsin, most counties with the highest rates of new infections in recent weeks are near the Minnesota border. St. Croix County, near the edge of the Twin Cities metro area, is seeing a particularly pronounced increase in new cases in recent weeks. The county had long maintained one of the lowest per capita rates of COVID-19 in Wisconsin.
Genome sequencing of positive specimens in Wisconsin is also showing a larger proportion of several worrisome variants, with detections of some variants doubling or more in the last week.
Seven-day averages for new cases topped 800 on Wednesday and Thursday for the first time since mid-February before falling back down to around 750. That figure is still more than twice as high as a recent low point in March. Average new hospitalizations, a lagging indicator of the pandemic's severity, have also ticked up in the last week, topping 60 for two consecutives days for the first time since late February. On the other hand, the 7-day average for new deaths is remaining relatively low, which is likely evidence of the impact of vaccinations among older residents.
Federal food relief ensured
Also this week, Gov. Tony Evers announced that federal food assistance amounting to nearly $70 million monthly would continue beyond April. The assistance had been in doubt after the Wisconsin Supreme Court ruled in March that Evers' repeated emergency declarations in response to the pandemic were unlawful. The federal aid required an active emergency declaration related to the pandemic. On Tuesday, Evers said his administration worked out a deal with the U.S. Department of Agriculture to continue the assistance.
And finally, on Wednesday the state Supreme Court once again ruled against Evers in a case contesting his powers to limit capacity at bars and restaurants. It was the court's third ruling against the Evers administration's use of emergency powers to combat the pandemic.
---
Recent Here & Now
//php dynamic_sidebar( 'news-sidebar-2' ); ?>