Wisconsin's Covid Condition: Omicron subvariant could test 'return to normal'
While hospitalizations around the state have fallen to their lowest levels in eight months, wastewater samples suggest transmission of COVID-19 is picking up steam again as full responsibility for mitigation measures is at the individual level.
By Will Cushman
March 22, 2022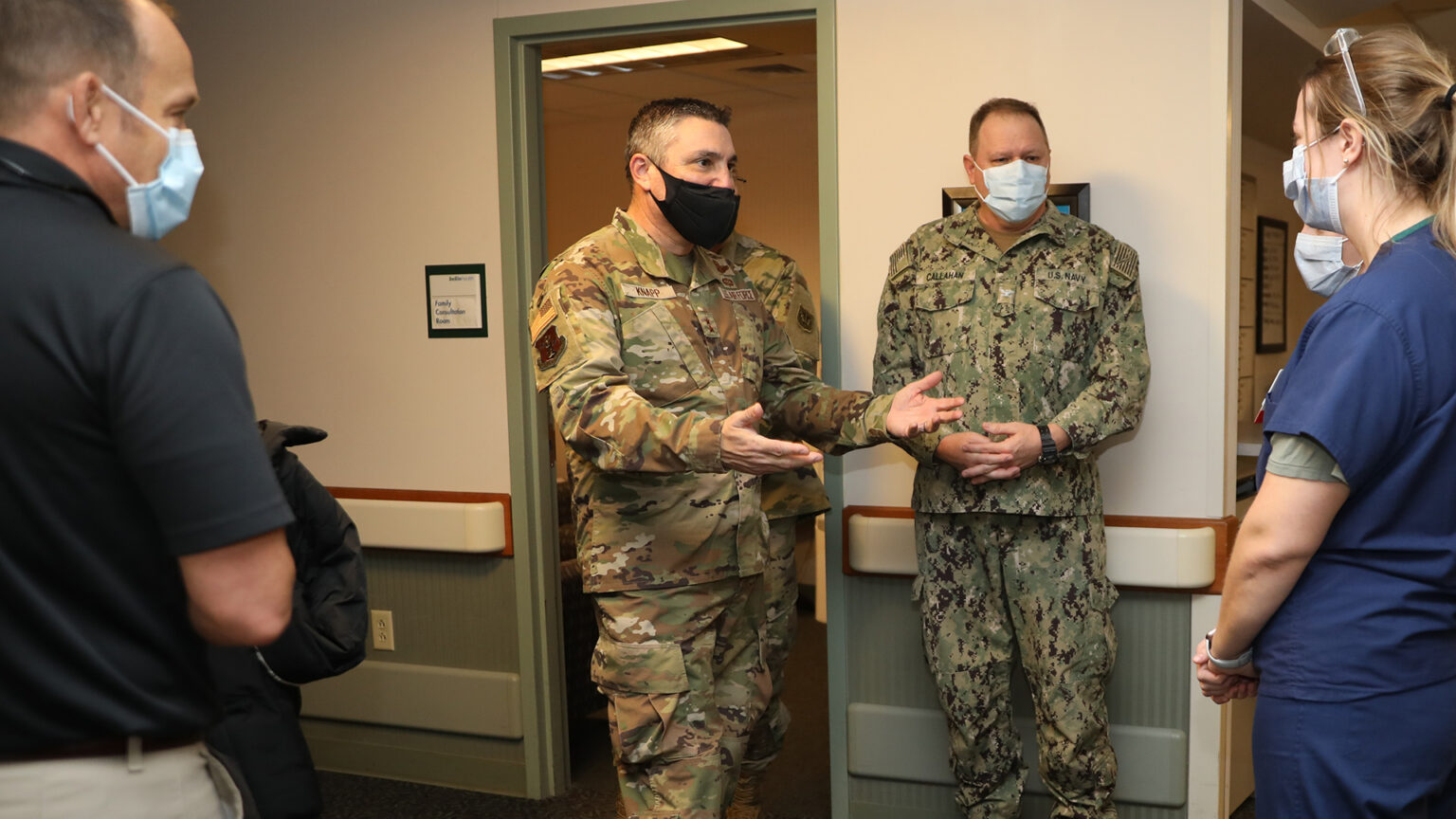 ---
Two months after COVID-19 hospitalizations started plummeting in Wisconsin after reaching a pandemic peak, a lull in the disease's presence is persisting — for now.
An omicron subvariant is driving fresh surges around different areas in Asia and Europe, perhaps presaging yet another wave of illness in the United States. At the same time, steep declines in new cases and hospitalizations around Wisconsin are showing signs of stalling, weeks after the final pandemic-related public health restrictions in the state expired. Here's the status of the COVID-19 pandemic in Wisconsin.
Another omicron subvariant looms
Genome sequencing first identified an omicron subvariant known as BA.2 in Wisconsin in early February. This subvariant of the SARS-CoV-2 virus is likely more transmissible than the original omicron variant, according to the World Health Organization, and BA.2 is behind record daily case counts in Germany and other western European nations more than two years into the pandemic. Since its first detection in Wisconsin, BA.2 has been found in a minority of samples taken from covid patients, while the original omicron subvariant remains dominant.
On the other hand, BA.2's heightened transmissibility indicates it could soon take over and fuel another spike in cases in Wisconsin. Such was already the case in about a dozen states by mid-March.
"That's something we're following closely," said Dr. Jon Meiman, chief medical officer for environmental and occupational health at the Wisconsin Department of Health Services.
Wastewater surveillance has been detecting higher levels of the virus than earlier in March in several cities across eastern Wisconsin, including Milwaukee, Green Bay, Appleton and Oshkosh. People can shed the virus through feces even if they don't have symptoms of COVID-19, making wastewater surveillance an increasingly useful tool for detecting new outbreaks before they become apparent via testing or hospital admissions.
While virus levels are increasing in some cities' wastewater, they remain much lower than during the peak of January's omicron wave, and Meiman cautioned against drawing early conclusions about an imminent return of widespread disease.
"Really what [wastewater surveillance] gives us is an indication, potentially, that there could be increasing community transmission," he said. "I wouldn't say that's the case across the board."
While the wastewater surveillance in Wisconsin does not identify variants, Meiman said the presence of BA.2 omicron "wouldn't be surprising, given what we're seeing over in Europe."
Meanwhile, after steadily declining for two months, the daily number of new COVID-19 cases detected in Wisconsin has leveled off by late March. On March 21, the state's 7-day average for new daily cases stood at 331, according to the state health department. The average has declined gradually from around 400 over the past two weeks.
At the same time, the number of people hospitalized with COVID-19 around the state stood at 224 on March 21, according to the Wisconsin Hospital Association. That's the lowest level since the end of July 2021, with a steep decline since mid-January gradually slowing in mid-March.
Meiman said the state's efforts to support an exhausted health care workforce are proving fruitful. He said 154 Wisconsin National Guard members had been trained as certified nursing assistants through a partnership with technical colleges in the state, helping open up more than 200 skilled nursing beds throughout the state.
"That's been a tremendous benefit not only to the nursing facilities, but to the hospitals that rely on them," Meiman said.
While Meiman emphasized the dramatic improvement since January, he acknowledged that COVID-19 remains a public health threat in Wisconsin.
"It's possible that certainly in the coming weeks or months we could have high numbers of cases here," Meiman said. "And that, of course, raises concerns about people who are vulnerable to this disease."
An ongoing threat, particularly for vulnerable populations
The threat of another wave of COVID-19 is crystallizing just weeks after the last local mask mandates in Wisconsin expired amid dropping case counts. At the same time, analysis by the U.S. Centers for Disease Control and Prevention indicate "low" community risk in all but two Wisconsin counties as of March 18. The CDC's fresh guidance, which is based on case rates and local health care capacity, only recommends universal masking in indoor public areas with "high" community risk.
The new federal guidance recommends that people who are immunocompromised or otherwise at high risk for severe COVID-19 maintain heightened personal vigilance even in communities with low general risk.
This guidance, which seems to shift responsibility for mitigating the virus toward the individuals who are most susceptible to it, troubles Richard Keller, a medical historian and bioethicist at the University of Wisconsin-Madison. Combined with statements by Rochelle Walensky, the CDC's director, that some COVID-19 deaths among people at high risk would need to be "tolerated" as the disease becomes endemic, Keller said the new guidance favors "returning to normal" over a proper valuing of the lives of vulnerable people.
"I'm as sick of COVID-19 as anybody," Keller said. "I'm not arguing that we should mask forever, but I do think we need good metrics for deciding when to sort of scale down basic restrictions … and the metrics just aren't there right now."
Specifically, Keller pointed to the shifting emphasis toward tying mitigation strategies more closely to hospitalizations as a recipe for a sluggish response to new outbreaks, as some epidemiologists and health policy experts have argued.
The state health department supports the CDC's new guidelines while promoting booster shots, testing and masking depending on the situation.
Meiman pointed out that COVID-19 risks are different for everyone in spring 2022 than they were during previous parts of the pandemic, thanks to multiple vaccines that are highly effective at preventing severe disease, as well as new life-saving therapeutics. Still, he acknowledged that not enough people are vaccinated yet — including all children ages five and younger.
About two-thirds of Wisconsinites had received at least one dose of vaccine as of mid-March, though only about one-quarter had received a booster shot. Meiman said the state health department would continue to focus on increasing vaccination rates and booster shot uptake, while making sure testing remains accessible for vulnerable populations.
---
Recent Here & Now
//php dynamic_sidebar( 'news-sidebar-2' ); ?>