Wisconsin's Covid Condition: Amid Aaron Rodgers drama, the pandemic surges again
Public health officials and advocates are concerned about how opposition to COVID-19 vaccination by the star quarterback for the Green Bay Packers will affect efforts to expand the uptake of their use, particularly among parents of newly eligible young children, even as new cases and hospitalizations start growing rapidly once again around the state.
November 11, 2021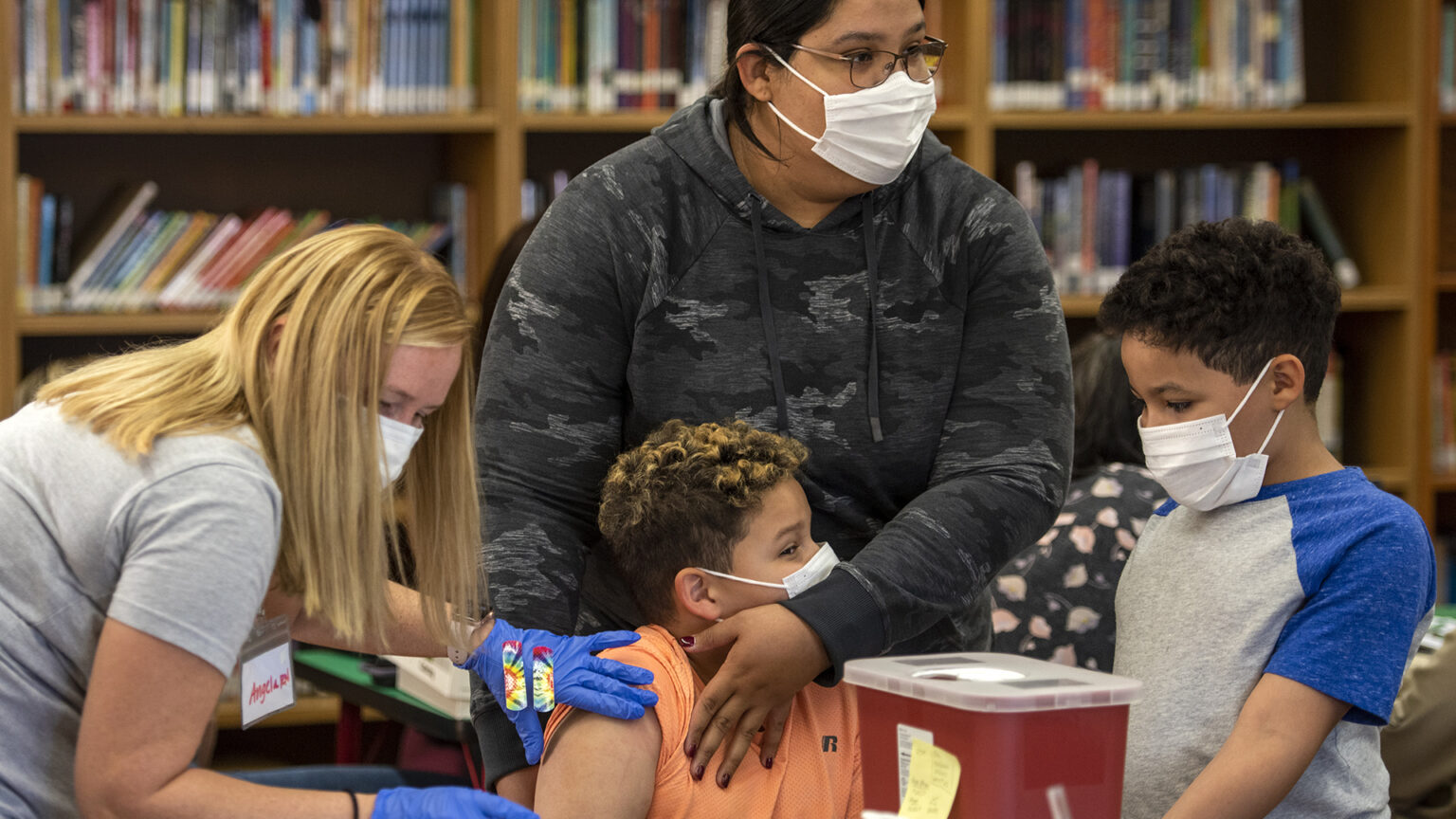 ---
Just two weeks before Wisconsinites mark a second pandemic Thanksgiving, it's clear that COVID-19 will once again be an unwelcome presence over the year-end holiday season as the coronavirus roars back.
Rising caseloads and hospitalizations come as school-aged children are beginning to receive the first pediatric covid vaccine, which federal regulators greenlit in early November. This upsurge is also coinciding with a fracas over Green Bay Packers quarterback Aaron Rodgers's deceptions about and rejection of vaccination that public health advocates in the state worry will complicate efforts to convince more people to get a vaccine as 2021 comes to an end. Here's the status of the COVID-19 pandemic in Wisconsin.
Another November surge
The trajectory of COVID-19 in Wisconsin is on the rise once again after a somewhat erratic couple of months. The highly contagious Delta variant set off the state's second largest wave of COVID-19 in late summer, with new cases peaking in late September. Over the course of the following month, new case reports and hospitalizations slowly declined but remained at a high level.
Since Halloween, though, both cases and hospitalizations have resumed growing. As of Nov. 10, the 7-day average for new daily cases stood at 2,576, according to Wisconsin Department of Health Services data. That's 40% higher than the average recorded for Oct. 30.
Hospitalizations are rising alongside new cases. On Nov. 11, the
Wisconsin Hospital Association reported
1,062 patients were hospitalized for COVID-19 across the state. That's about one-fifth higher than the number reported on Oct. 28, when a trend of declining hospitalizations since early October reversed.
At a more local level, a handful of rural and exurban counties in northwestern Wisconsin and Marinette County in the state's northeastern corner have seen the highest rates of transmission in recent weeks.
Several counties with higher levels of transmission have covid vaccination rates below the state's overall rate, according to state health department data. Polk County, which is located on Wisconsin's western border with Minnesota, has led the state in new cases per capita over the previous two weeks and month. Just under half of the county's residents had completed the vaccine series by Nov. 4 — not far below the statewide vaccination rate of 55.1%.

The state health department has not updated its vaccination data since Nov. 4 due to reporting errors discovered during the course of data auditing. The errors arose from corrections Walgreens has been making to its COVID-19 vaccination records across the United States, according to an online explanation by the agency. This message indicated it was hoping to report updated data on Nov. 12.
These data difficulties have coincided with the first full week that children ages 5 to 11 are eligible to receive Pfizer's two-dose pediatric COVID-19 vaccine, the first one available for the age group.
As a result, it remains unclear how many parents and guardians in Wisconsin have acted quickly to vaccinate newly eligible children, who number about 500,000 in the state. Only a little over one-fourth of parents of kids in the age group said they would get their children vaccinated "right away," according to a national survey conducted by the Kaiser Family Foundation in October. That compares to strong enthusiasm expressed among roughly one-third of parents a month before.
While the data lag means it's not yet clear how many parents in Wisconsin booked appointments for their kids during the first week of eligibility, the Biden administration touted figures indicating that about 900,000 elementary school-age children across the U.S. received their first doses by the end of the day on Nov. 10.
In Wisconsin, parents who have taken their children to get vaccinated have expressed relief that their kids are receiving and helping provide protection from the disease, as well as astonishment that other parents are hesitating or completely opposed to the shots.
Indeed, the October survey from Kaiser indicated hardening resistance to vaccinating younger children among some parents — 30% of those surveyed said they would "definitely not" get their children vaccinated, up from 24% in September.
All eyes on Rodgers
Persistent anti-vaccine attitudes among a minority of American adults continue to concern public health experts. Green Bay Packers quarterback Aaron Rodgers fueled this anxiety in early November when he expressed a litany of negative opinions about COVID-19 vaccination that included debunked falsehoods that have permeated various communities and corners of the internet.
Rodgers aired his misgivings during a Nov. 5 interview on a widely viewed sports radio talk show. The interview occurred two days after it was revealed the quarterback was self-isolating under NFL protocols for unvaccinated players after testing positive for COVID-19. The news was a surprise to many, because during an August press conference Rodgers responded to a reporter who asked if he had been vaccinated by saying, "Yeah, I've been immunized."
During the Nov. 5 radio interview, Rodgers claimed that his evasive response did not amount to lying because he believed an "alternative treatment" he said he received over the summer had immunized him from COVID-19. Employing a number of politically charged phrases, Rodgers revealed his frustration with the NFL's covid protocols, made false claims about the purpose, side effects and benefits of the vaccines, and defended his right to make medical decisions for himself.
During a follow-up interview a few days later, Rodgers acknowledged that he "misled some people" about his vaccination status and said he accepted responsibility for that. He did not express misgivings about spreading vaccine misinformation. On Nov. 10, the NFL fined Rodgers $14,650 for breaking its covid protocols. Meanwhile, the league fined the Packers organization more than $300,000.
In the wake of this drama, public health efforts are contending with a new and culturally potent purveyor of misinformation that could further complicate the difficult endeavor of convincing millions of unvaccinated Americans to get a shot.
Meanwhile, some prominent sportscasters have denounced Rodgers for his behavior, and Green Bay-based Prevea Health has cut sponsorship ties with the star athlete. Insurance giant State Farm has opted to maintain its sponsorship contract with Rodgers, though company leaders in a statement said they did not agree with some of his statements. At the same time, State Farm television ads featuring Rodgers have nearly disappeared.
Rodgers' views reflect a broader sentiment against COVID-19 vaccination in certain communities. The October Kaiser survey noted that a third of rural Americans and nearly a third of Republicans remained firm in their decision to "definitely not" get vaccinated.
Some of the lowest vaccination rates in Wisconsin are in rural Republican strongholds. In mostly-rural Shawano County, a short drive from Lambeau Field in northeast Wisconsin, only 42% of residents were fully vaccinated as of Nov. 4. A retiring Republican state assemblyman from the area, Gary Tauchen, is participating in an ad campaign meant to boost vaccinations in the county. Tauchen said he was not worried about any political backlash because he is not seeking re-election.
At the other end of the enthusiasm spectrum, a clinical trial of Moderna's vaccine for children ages 6 months to 4 years old filled up almost immediately at UW-Madison in Dane County. The county, dominated by a liberal-leaning electorate, has the highest vaccination rate in Wisconsin. Nearly three-quarters of residents there were fully vaccinated as of Nov. 4.
---
Recent Here & Now
//php dynamic_sidebar( 'news-sidebar-2' ); ?>