Wisconsin Health Officials Launch New COVID Vaccination Push As Backlash Churns
Here & Now Extra: Breaking through pandemic-era divisions and extreme rhetoric by Republican lawmakers poses an ongoing challenge for efforts to vaccinate as many Wisconsinites as possible.
By Will Cushman | Here & Now
June 8, 2021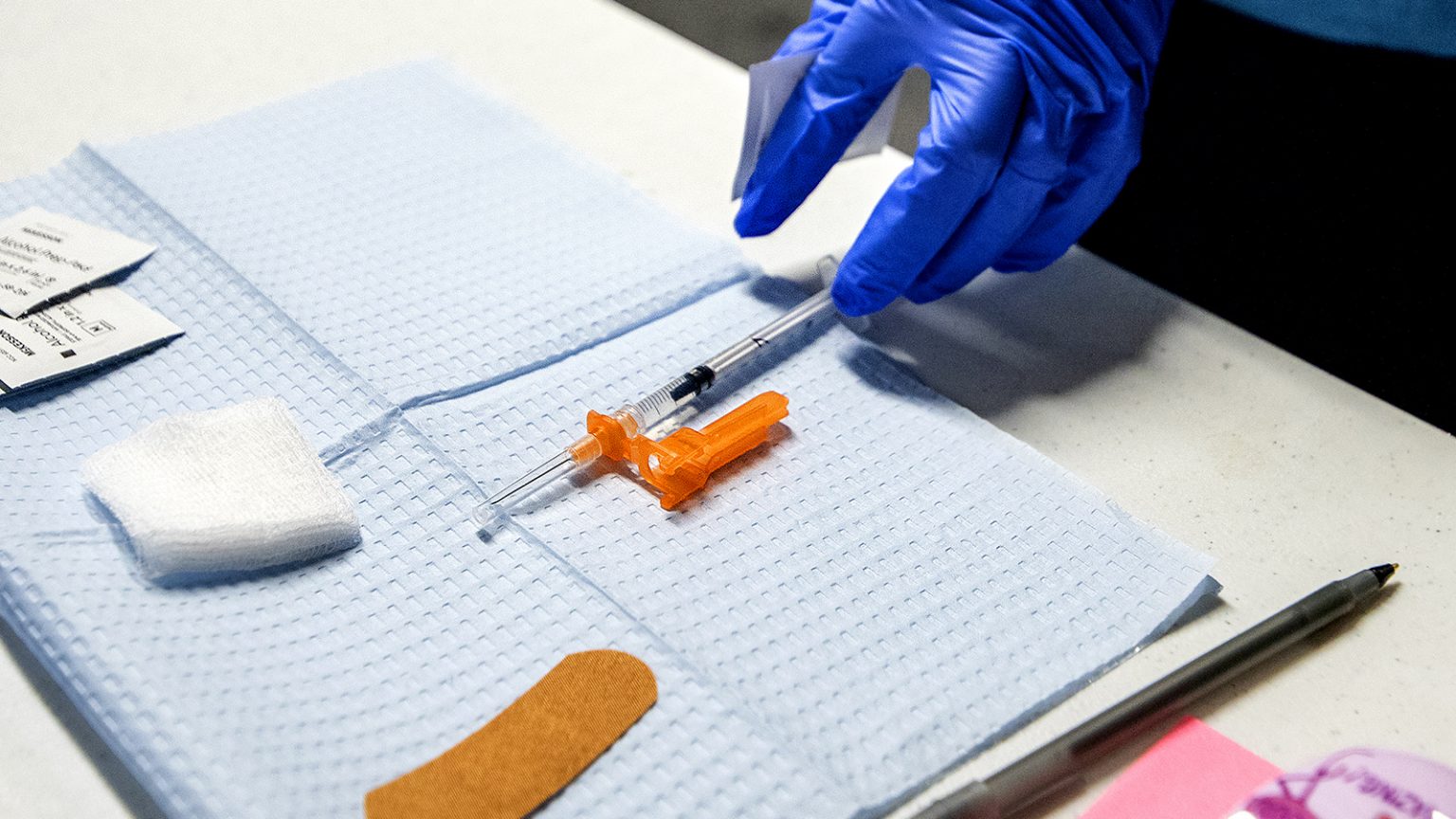 ---
Perhaps more than at any other time since March 2020, the COVID-19 pandemic has taken on a choose-your-own-adventure quality for Wisconsinites. For some, their journey through the pandemic remains cautious. Meanwhile, others threw caution to the wind long before the threat of infection began to subside.
COVID-19 vaccines are widely available for anyone 12 and older, and public health restrictions in Wisconsin have fallen away as new confirmed cases plummet.
While attitudes toward public health interventions like vaccination and masking aren't necessarily straightforward, actions — to mask or not to mask, to be vaccinated or to eschew — often amount to drawing a line in the sand. Public health officials are hoping they can break through the political divisions that often steer these decisions and persuade Wisconsinites to reconsider their actions in a non-adversarial way. In the process, they hope to make headway on vaccination rates.
As of June 8, 2021, nearly half the state's residents had received at least one COVID-19 vaccine dose, with more than 43% completing their vaccine series. But the rate of new vaccinations has tumbled since April, and the state appears unlikely to reach a national benchmark of 70% of adults receiving a first dose by the Fourth of July holiday.
Many fully vaccinated individuals are opting to continue wearing face masks in public even as federal, state and local health officials say they no longer benefit from their use. On the flip side — and perhaps provoking the caution among some who are vaccinated — the lifting of restrictions and a lack of vaccination requirements means those Wisconsinites who aren't heeding public health recommendations are mingling in public maskless and unvaccinated.
While these personal decisions can deepen the social and political divisions laid bare by the pandemic, public health officials in the state are urging Wisconsinites to practice patience with each other at the same time they're encouraging unvaccinated people to receive a vaccine and to heed masking guidance.
"I think like all things related to individual decisions, we deserve to give and receive kindness and compassion and empathy to each other as we make these decisions," said Dr. Ryan Westergaard, state epidemiologist for communicable diseases, in a June 5 interview on Here & Now. "There is no one right way or wrong way to feel or act in this environment."
At the same time, Westergaard said getting vaccinated "is the single most important thing people can do" to help ensure they and others don't come down with COVID-19 — and to speed up the return to some level of pre-pandemic normalcy.
Here & Now extra
While the decision to get vaccinated for COVID-19 remains up to individuals, a small but growing number of institutions in the state have decided the benefits of requiring vaccination outweigh any risk of backlash.
On June 7, the administration of Marquette University, a private Catholic university in Milwaukee, announced the school would require all students to be vaccinated prior to the start of the fall 2021 semester. Marquette joined two other private higher education institutions in the state that had previously announced students and faculty would be required to share proof of vaccination before the fall term: Lawrence University in Appleton and Beloit College in Beloit.
A similar mandate for the state's public universities and technical colleges is unlikely, however, as University of Wisconsin System leaders navigate the state's biennial budget-writing process with a Republican majority in the state Legislature deeply skeptical of public health mandates. However, UW-Madison is reportedly considering a narrower mandate that would apply only to students living in on-campus housing.
Republicans in the Legislature have largely opposed COVID-19 pandemic-related restrictions. In May 2020, Republican lawmakers prevailed in a lawsuit before the state Supreme Court seeking to strike down the state's stay-at-home order.
Nearly a year later, lawmakers passed a series of bills largely along party lines banning the Wisconsin Department of Health Services or local health departments from requiring residents to be vaccinated. Gov. Tony Evers, a Democrat, vetoed the bill but also said he did not think a government vaccine mandate would happen in Wisconsin. Another Republican-sponsored bill seeking to ban businesses from mandating vaccination for employees or patrons is still working through the statehouse.
Meanwhile, multiple Republican lawmakers are using more extreme rhetoric in their opposition to mask requirements some organizations are maintaining, as well as general masking recommendations for unvaccinated people.
On June 5, Rep. Shae Sortwell, a Republican from Two Rivers, shared a Facebook post by the Central Wisconsin Children's Museum in Stevens Point detailing the museum's mask policy for unvaccinated visitors, which by definition include all children younger than 12. The museum's policy requires proof of vaccination to visit without masks, which Sortwell compared to the tactics of Nazi secret police during World War II. The post incited a flurry of vitriolic comments directed at the museum, as well as comments sharing misinformation about COVID-19 vaccines and health privacy laws.
That followed comments by Rep. Scott Allen, a Republican from Waukesha, during a June 3 public hearing at the Capitol declaring that signage in the building instructing unvaccinated visitors to wear a mask was "discriminatory" against those individuals.
Amid this rhetoric, state health officials announced on June 8 a new public information campaign encouraging more Wisconsinites to get vaccinated. A reiteration of the state health department's "You Stop the Spread" campaign from 2020, these efforts will employ advertisements on social media, newspapers, television and radio to share facts about the vaccines and where to get them. It will also partner with community health clinics and leaders in communities with lower vaccination rates, and will encourage people to share on social media why they've chosen to get vaccinated.
The campaign was announced shortly after Sen. Devin LeMahieu, a Republican from Oostburg and the Senate's majority leader, revealed during a June 8 forum held by Wisconsin Health News that he had not yet been vaccinated for COVID-19. LeMahieu said he didn't want the vaccine to interfere with his training for a triathlon but also indicated he would consider appearing in a public service announcement promoting the vaccines but hadn't been asked.
In detailing the new campaign, state health officials said they accept that some Wisconsinites remained hesitant or suspicious of the vaccines while underscoring them as the best tools available to beat the pandemic.
"For those of you who have not been vaccinated yet and still have questions, that's OK," said Julie Willems Van Dijk, deputy secretary of the state health department, during a June 8 press briefing. She said the ad campaign would coincide with a push to make vaccines easily accessible at all hospitals and health clinics throughout the state.
The goal is to have 80% of the state population vaccinated, which Willems Van Dijk acknowledged would be a long road, but a worthwhile one.
State epidemiologist Dr. Ryan Westergaard, who joined the June 8 briefing, emphasized these vaccines as a life-saving tool.
"Everyone who dies of COVID-19 is dying a preventable death," he said.
---
Recent Here & Now
//php dynamic_sidebar( 'news-sidebar-2' ); ?>