Wisconsin and the national battle over access to gender-affirming care for children
Here & Now extra: Model legislation called the "Help Not Harm Act" is the basis for a bill passed by both chambers of the state Legislature that would prohibit gender-affirming surgeries for minors in the state.
By Hannah Ritvo | Here & Now
November 16, 2023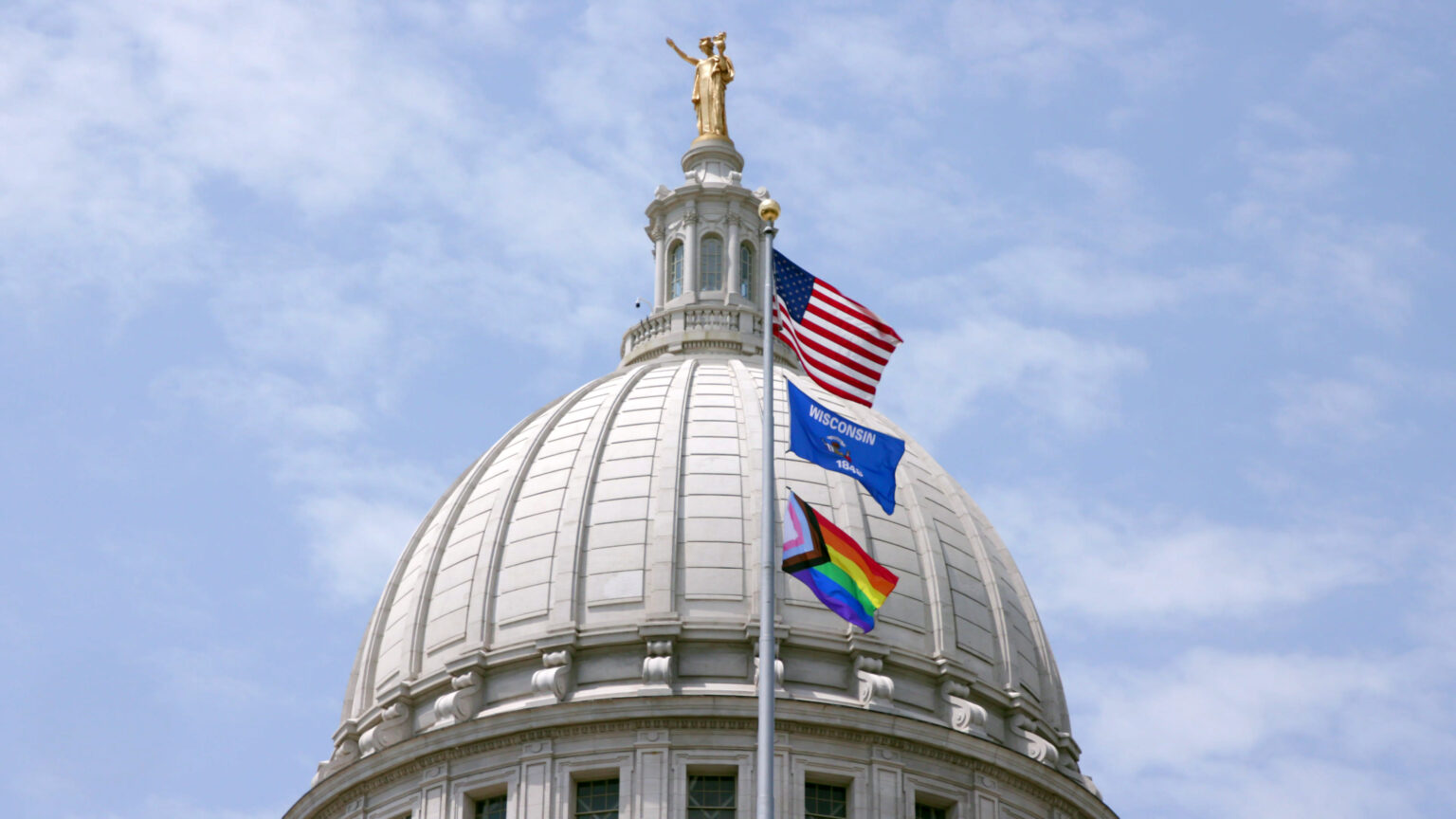 ---
As a child, Lily loved pop divas, playing with dolls and dress-up. She drew her first self-portrait in preschool, a simple pink and purple line drawing of a girl with long flowing hair.
Lily was assigned male at birth, and didn't feel comfortable in her skin until she began transitioning in middle school. Like many transgender youth, she began with a social transition, which occurs when a trans person changes how they present their gender to others. For Lily, this meant changing her name, using she/her pronouns and dressing in feminine clothes.
"It wasn't like a switch turned on by any means," said her father. "From the earliest times, she expressed herself as a girl."
A resident of southern Wisconsin, Lily started seeking care at the Pediatric and Adolescent Transgender Health Clinic (PATH), a UW Health clinic for gender-expansive children and teens. Based in Madison, PATH provides services ranging from observation and guidance to puberty suppression and gender-affirming hormone therapy.
Lily, which is a pseudonym, met with a therapist and a medical support team at PATH before deciding to take hormone blockers to pause puberty in seventh grade. She started taking estrogen in high school, which lowers the amount of testosterone the body makes and triggers the development of feminine secondary sex characteristics.
Lily and her parents were confident they were making the right decision, and talked carefully with her doctors through the process, which requires parental and medical endorsement.
"It was life-changing," her father said. "She was much happier and just seemed so relieved. Her long periods of depression ended."
A national campaign to restrict gender-affirming care
Legislation to restrict rights and eliminate health care options for trans people is surging across the United States, with close to 1,000 bills proposed over the past four years, according to the Trans Legislation Tracker. These bills are a product of a coordinated national effort to promote anti-trans legislation that bans gender-affirming care for children – including treatments for Lily — along with other bills that deny access to bathrooms, education, athletics, legal recognition and the right to openly exist in public schools. In Wisconsin, the tracker is following eight bills, as of mid-November 2023.
A considerable portion of this legislation is being written and promoted by the Family Policy Alliance (FPA), the lobbying arm and "sister ministry" of Focus on the Family, an evangelical Christian ministry that has opposed LGBTQ+ rights for decades. The FPA trains legislators at its Statesmen Academy to introduce and pass model legislation in state governments.
"Though the debate over transgenderism will continue to be fought in the cultural and media spheres of society, the solution will come from the political realm," stated a March 2023 article in Daily Citizen, an FPA publication that "provides a faith-based perspective to counter the mainstream media's anti-Christian bias."
Along with other groups promoting this type of legislation, Focus on the Family and the FPA advocate against marriage equality, abortion and adoption by same-sex couples, while promoting conversion therapy and traditional gender roles.
The FPA works with 40 state-based affiliates that seek to shape public debate and policy on marriage, family and religion by supporting bills in state legislatures. The group has more than 320 employees and says it works with "over 40,000 church partners, and millions of Christian advocates."
"All of us as state organizations are working towards the same goals, have the same missions and share the same visions," said Julaine Appling, president of Wisconsin Family Action, an FPA affiliate in Wisconsin. Each state organization receives training from the FPA, which meets with their staff regularly and remains in contact year-round.
"They're number one," she added. "We work very closely with Family Policy Alliance. … We are proud to be allies to them."
Twenty-two states have laws that ban access to gender-affirming care for trans youth, detailed in an October 2023 report from the Williams Institute at the UCLA School of Law. Nineteen of those bills were passed in 2023.
The first state ban on gender-affirming care for minors, titled the "Save Adolescents from Experimentation" (or SAFE Act) became law in Arkansas in 2021 after Rep. Robin Lundstrum, an alumnus of Statesmen Academy, helped craft and push it through — one of around 150 Republican legislators in 35 states the group has trained.
There are more than 500 bills "targeting LGBTQ+ rights" in the U.S. in 2023, according to the American Civil Liberties Union. "This is a coordinated moral panic that is happening around the country," said Jon McCray Jones, a policy analyst at ACLU of Wisconsin.
What is gender-affirming care?
Gender-affirming care is health care for youth that supports and affirms a patient's gender identity and expression, according to the American Association of Medical Colleges. Care is individualized for each patient, and consists of a wide variety of services that can include mental health counseling, support services for patients and their families, hormone therapy and gender-affirming surgery.
"There's going to be a lot of consultation, a lot of discussion, a lot of education [for] the parent and the child about what this is going to mean for that individual for the rest of their lives," said Bill Keeton in an Oct. 13, 2023 interview on Here & Now.
Keeton is chief advocacy officer of Vivent Health, a clinic that focuses on providing care to LGBTQ+ patients with 10 locations in Wisconsin along with more offices in Colorado, Illinois, Missouri and Texas.
"This is recognized treatment, developed with protocols, developed by leading providers in this space," Keeton said.
Dr. Brittany Allen is a pediatrician at PATH in Madison, where its doctors conduct a careful mental health evaluation before developing an individualized gender-affirming care plan that works for patients and families.
"We take really great time and care to clarify a person's goals and expectations," Allen said.
Although less frequent than other forms of gender-affirming care, older adolescents with stable mental health and parental support who have demonstrated a consistent and persistent gender identity may receive certain medical procedures like genital and chest surgery. In Wisconsin, genital surgery is not performed before the age of 18.
Gender-affirming care is evidence-based and endorsed by every major U.S. medical association representing over 1.3 million doctors, including the American Medical Association, the American Psychiatric Association and the American Academy of Pediatrics. At the advocacy level, the Human Rights Campaign, a nonprofit that seeks to support LGBTQ+ people, offers resources related to gender-expansive youth.
"Gender diverse folks have existed throughout culture and history and now are fortunate enough to have evidence that really shows the benefits of that care," Allen said.
Wisconsin's 'Help Not Harm' Act
The FPA first drafted model "Help Not Harm" legislation with the aim of "protecting" children struggling with "sexual identity confusion," according to Daily Citizen, the group's publication. The campaign states: "When a child is struggling, they need compassionate care – not experimental hormones and surgery."
Wisconsin's version of the Help Not Harm Act was first introduced by state Rep. Scott Allen, R-Waukesha, in 2021, whose office requested the bill be "modified heavily" to reflect the Family Policy Alliance's model legislation, according to its drafting request form.
Allen attended the Statesmen Academy in 2021, the program that trains and equips evangelical Christian legislators "to advance godly values," according to the FPA. The week-long trip gives legislators access to media training, worship, devotions and lectures.
"We've recommended a number of people," said Appling of Wisconsin Family Action. "I've been very pleased with what they've learned, what they've come back with, and how they've been able to utilize what they received at the Statesmen Academy."
The 2023 version of the Help Not Harm Act introduced by Allen — AB 465 — uses the same title and definitions of terms, mirroring FPA model legislation introduced in states across the nation.
After attending the Statesmen Academy, participants receive ongoing training and resources, including model legislation, talking points, research and polling, and media interview preparation.
"[Rep. Allen] sent everything from the right-wing think tank directly to the drafter. It was a really lazy job by the legislator," said state Rep. Robyn Vining, D-Wauwatosa. "It has the [FPA's Help Not Harm] logo and their talking points."
Vining said bills like AB 465 are being used for political over policy purposes.
"Groups like the Family Policy Alliance are using the LGBTQ+ community as political footballs," she said. "The political ambition of your own party isn't something you should be willing to put above the health and safety of our state's kids."
Allen did not respond to multiple requests for comment.
State Rep. Scott Allen, R-Waukesha, testifies at a Wisconsin Assembly committee hearing on Oct. 4, 2023, about a bill he introduced to restrict gender-affirming care for children in the state. The Assembly and Senate subsequently passed the bill. (Credit: Courtesy of Wisconsin Eye)
State Rep. Robyn Vining, D-Wauwatosa, participates in a Wisconsin Assembly committee hearing on Oct. 4, 2023, asking state Rep. Scott Allen, R-Waukesha about his sponsorship of AB 465, which would restrict gender-affirming care for children in the state. (Credit: Courtesy of Wisconsin Eye)
AB 465 would prohibit gender transition procedures for minors in Wisconsin if done "for the purpose of changing the minor's body to correspond to a sex that is discordant with the minor's biological sex," according to a Legislative Reference Bureau analysis.
The bill would ban puberty blockers, hormones and surgeries for minors, making an exception for those "born with a medically verifiable genetic disorder of sex development." Medical providers who violate its prohibitions would be subject to investigation by the state's Board of Nursing, Medical Examining Board and Physician Assistant Affiliated Credentialing Board, and could lose their medical licenses.
Anti-trans legislation and mental health
Following a public hearing that was replete with misinformation, AB 465 was passed by the Republican-controlled Assembly and Senate in October, with both advancing along party-line votes. Democratic Gov. Tony Evers vowed in July to veto any anti-trans bills. Against this backdrop in the state Legislature, many LGBTQ+ advocates and allies say the mere introduction of these bills is harmful to this community.
"Whether or not this passes, the goal is to continue this cycle of hurting us and trying to deny that we exist and trans healthcare works," said Tessa Price, a trans woman who is the founder of Trans Advocacy Madison, a grassroots organization that supports the trans community and combats misinformation.
Among trans and nonbinary youth, 86% say recent debates around anti-trans bills have negatively impacted their mental health, according to a 2022 survey by Trevor Project, a suicide prevention group focused on LGBTQ+ youth. The survey also shows that nearly half of trans and nonbinary youth seriously considered suicide over the previous year.
LGBTQ+ advocates also worry about the impacts anti-LGBTQ+ bills have on public opinion and hate crimes.
There was a 33% increase in crimes perpetrated against trans and gender-nonconforming people from 2021 to 2022. An FBI report found 469 recorded hate crimes against trans and gender-nonconforming people in 2022, up from 353 in 2021.
"We've seen across the country a skyrocketing of hate crimes against trans people at the same time there has been a skyrocketing of rhetoric and bills introduced attacking trans people. These things aren't independent. The more you stigmatize a group, the easier it is for people to justify attacking them," said Jones of Wisconsin's ACLU.
Jones said these types of bills are a governmental infringement on a decision that should be left between families and health care providers.
"Restricting this gender-affirming care for trans kids is going to lead to deaths," Jones said.
Meanwhile, advocates of bans on gender-affirming care for children continue to advance their policy goals.
"We want to see a Wisconsin where God is honored, human life is cherished, families thrive and religious freedom flourishes. And that's what we work towards every single day," said Appling of Wisconsin Family Action.
Lily is 25 years old, and when she received gender-affirming care, it was not the political issue it is now.
"Over the last several years, these anti-gay and anti-trans bills are overwhelming" said her father, adding that bills like the AB 465/Help Not Harm Act fuel hostility, incite violent episodes and decrease acceptance.
"It's a travesty, engineered by a very small group of people that are trying to impose their beliefs on a wider population," he said. "No one in Wisconsin identified it as any kind of problem before this was suggested to them."
Note: This article is corrected to note Bill Keeton is chief advocacy officer at Vivent Health.
---
Recent Here & Now
//php dynamic_sidebar( 'news-sidebar-2' ); ?>