Uprising in Madison Protests Cause Strong Reaction
Protesters responded to one of their own being forcefully arrested by toppling two statues at the state's Capitol building.
June 24, 2020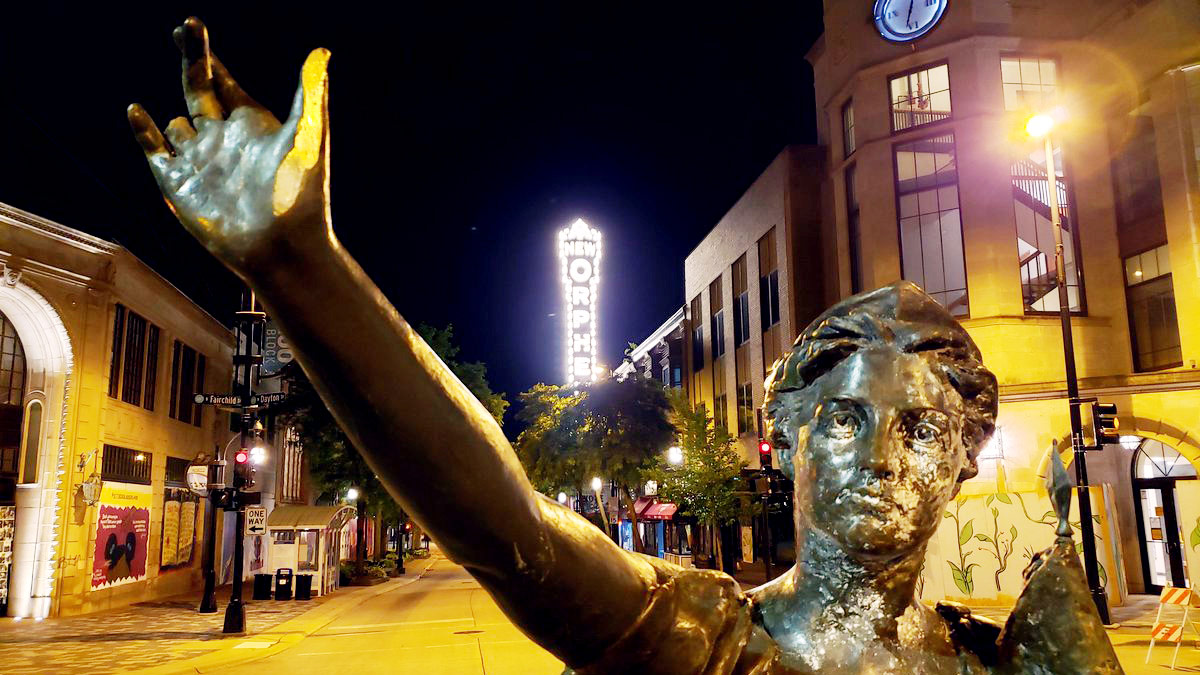 ---
Madison protesters toppled two statues Tuesday night outside of the Wisconsin State Capitol building.
The vandalism was in response to an activist arrested earlier in the day at Cooper's Tavern, near the Capitol, while speaking through a megaphone and carrying a baseball bat with "Black Lives Matter" written down the side.
The arrested activist who called himself Yeshua Musa, but arrested under the name Devonere Johnson, was pinned to the ground by multiple Madison police officers after exiting the restaurant.
During the evening's events, state Sen. Tim Carpenter, D-Milwaukee, was tackled, punched and kicked when protesters saw him recording on his phone. Protesters told media to leave and did not want photos or videos taken, not wanting to be identified for fear of retribution.
Protesters also threw a Molotov cocktail at the City-County Building, starting a small fire and causing the 911 Emergency Call Center to be evacuated, and tried to break into the windows and doors of the Capitol building.
Madison Police arrived after 1:00 a.m. in full riot gear and engaged in a standoff with protesters. Throughout the month, Madison Police have largely not been present at protests that have blocked traffic or damaged property near State Street.
"Madison Police Department serves profit, not people," said organizer Ebony Anderson-Carter, in a statement representing multiple groups there in protest. "They would have protected us when we were being hit out here and not being violent."
Protest organizers have said that they are being hit by cars and harassed in the streets.
In response to the actions by protesters, Gov. Tony Evers authorized the Wisconsin National Guard to support law enforcement in the area.
"The protests in Madison last night resulted in serious injury to bystanders as well as significant damage to state property," Evers said. "The Wisconsin National Guard will serve in a limited authorization meant to make sure people can exercise their First Amendment rights while ensuring the safety of members of the public and state buildings and infrastructure.
In a press release, Senate Majority Leader Scott Fitzgerald called on Evers to stop the protesters.
"Enough is enough," Fitzgerald said. "Governor Evers has all of the tools at his disposal to stop this. He commands the State Patrol. He commands the Capitol Police. He commands the National Guard. The governor must step up and immediately put an end to this violence. He cannot allow this to continue."
The two statues that were removed from their pedestals were dragged to alternate locations. Forward, which stood at the top of State Street, was dragged a block away and placed in the middle of the street. The other statue of Hans Christian Heg had its leg removed and rolled down the street into Lake Monona. Both statues have been recovered.
On Wednesday, Madison Mayor Satya Rhodes-Conway announced at a virtual news conference that leaders in the city and the school district have agreed to end contracts to  support police liaisons in public high schools.
---
Recent Here & Now
//php dynamic_sidebar( 'news-sidebar-2' ); ?>