Pence Applauds Increased Ventilator Production During Madison Visit
The VP says the Trump Administration will use the Defense Production Act to make sure facilities like the one in Madison are adequately supplied to keep production moving forward at increased capacity.
April 21, 2020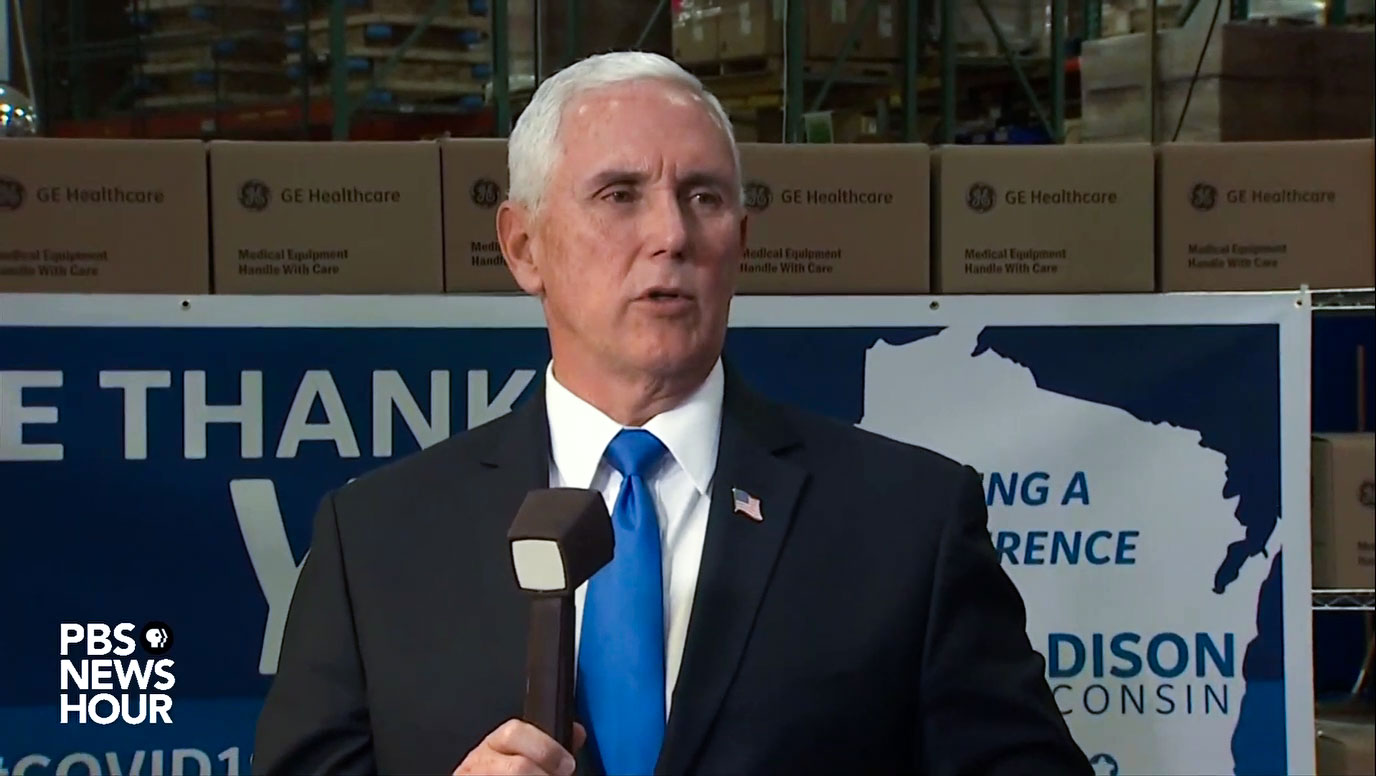 ---
Vice President Mike Pence toured a GE Healthcare manufacturing facility in Madison Tuesday, as the state and country move to increase production of ventilators and other critical medical equipment.
"Frankly, I felt more than a little emotion looking at a lot of members of the team here," Pence said. "It's a privilege for me to be able to be here just to say thank you for what you all are doing."
The vice president said the increase in production is in an effort to make sure that demand for ventilators does not exceed current state or national supply.
"At present moment, we've managed through our national stockpiles and elsewhere to distribute some 11,000," he said. "The governor was able to confirm to me today that while there are more than 300 Wisconsinites who are on ventilators today, that there are some 1400 ventilators available in the state."
At the same time, Wisconsin Democrats pushed the Trump Administration to do more, saying the Federal Emergency Management Agency had not given the state all the medical equipment it had requested.
"The bottom line is that the federal government response has been pathetic to where we need it to be," U.S. Rep. Mark Pocan, D-Town of Vermont, said in a press call Tuesday morning. "There is no FEMA presence in Wisconsin, and that's the question for Vice President Pence today."
Democratic U.S. Sen. Tammy Baldwin of Madison also charged the administration with not utilizing their full authority in a column Tuesday.
"When states like Wisconsin faced shortages for critical medical supplies, Trump instead attacked governors and refused to use his authority to unlock the full power of the Defense Production Act," she wrote.
While not taking questions directly, Pence addressed those concerns during a roundtable. He told workers that the administration would "continue to use the Defense Production Act working through HHS [the U.S. Department of Health and Human Services] to make sure that you have the ability to put this critical equipment together."
Over the weekend, the president announced he would invoke the Defense Production Act to increase production of testing supplies, addressing some of the concerns Pocan mentioned Tuesday.
"If we can't test, we can't open up," Pocan said. "We need the president to get reagents and test kits and personal protection equipment that we've asked for…We've known about this since December 31."
"We have a ways to go, but together we will meet this moment," Pence said. "We will, I believe with all of my heart, reach that day someday soon when we can put the coronavirus in the past."
---
Recent Here & Now
//php dynamic_sidebar( 'news-sidebar-2' ); ?>