How could the 2023 Wisconsin Supreme Court election impact medical malpractice lawsuits?
A liberal majority on the Wisconsin Supreme Court once struck down caps on payouts to victims and then a conservative majority late upheld them — would a high court under liberal control revisit the issue?
Wisconsin Watch
March 31, 2023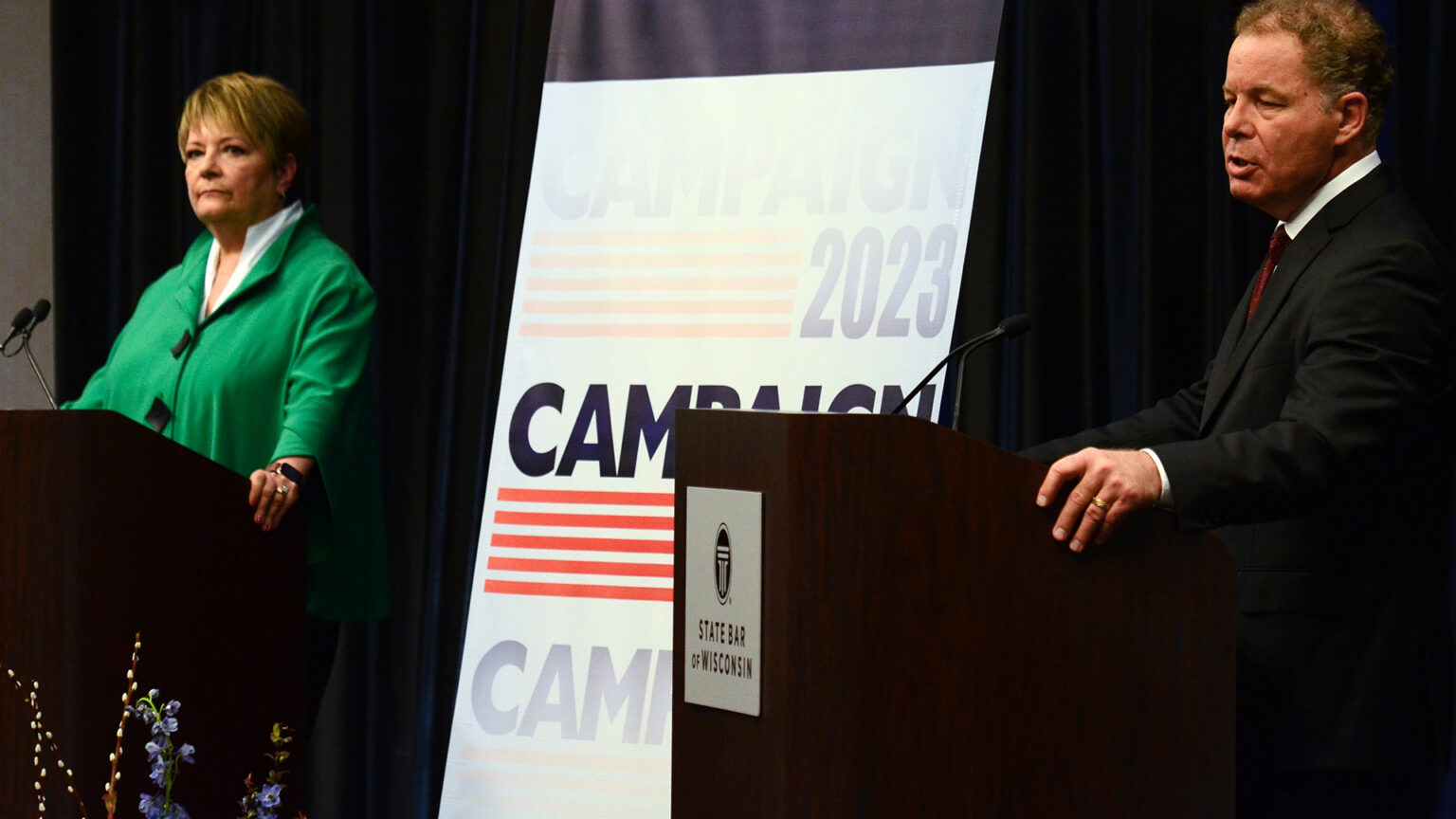 ---

In the past two decades, the Wisconsin Supreme Court has flip flopped on whether a limit on damages in medical malpractice lawsuits is constitutional.
In three cases involving people who suffered horrific, life-altering injuries or died due to negligence from doctors, the court set three different precedents, including one that overturned one of those precedents.
In the 2023 Supreme Court election, liberals could retake a majority for the first time in 15 years, meaning issues previously settled by the conservative-controlled court could be revisited — again.
Back in 2004, the court ruled the state's $300,000 cap on noneconomic damages — money a jury awards to compensate for pain and suffering — was constitutional in a medical malpractice wrongful death case involving a 5-year-old girl who died when a doctor failed to diagnose her acute diabetic ketoacidosis.
A year later, after a liberal justice was appointed to replace a conservative one, the court tossed a cap involving injury but not death, finding it violated the equal protection clause of the state constitution. In that case, a doctor's error when delivering a baby left the boy's arm deformed.
Then, 13 years later in 2018, a conservative-dominated court ruled that the new cap set in 2006 at $750,000 did not violate that same part of the constitution. The case involved the failure of doctors to diagnose a catastrophic infection in Ascaris Mayo, leading to amputation of all four of her limbs, who had been awarded more than $15 million by a jury.
As the medical malpractice issue shows, sharp changes in case law hinge on how the sitting justices view the importance of judicial precedent.
At their only debate on March 21, both candidates were asked that question. Both said they were open to overturning precedent.
Liberal Milwaukee County Circuit Judge Janet Protasiewicz used the U.S. Supreme Court examples of the 1896 case, Plessy v. Ferguson, which found racial segregation in "separate but equal" public accommodations to be constitutional; and Brown v. Board of Education, a 1954 decision that struck down Plessy as discriminatory when it comes to public schools.
"Precedent changes when things need to change to be fair and work well for absolutely, you know, everybody in our society and everybody in our community," she said. "So of course, we give great, great weight to precedent, but it doesn't mean that it doesn't change from time to time."
Former Wisconsin Supreme Court Justice Daniel Kelly didn't cite an example, but said justices must look at how current precedent comports with the "original authority" contained in a specific statute or section of the constitution.
"We don't want to simply follow what's been done before if we know it's wrong," the conservative former jurist said. "To do that would just be to propagate errors from now until the end of time. And that's not what we do. And that's not the role of the court."
Kelly was in the majority for the 2018 precedent-setting case that upheld the $750,000 cap in the Mayo case but did not author a separate opinion.
Stare decisis at the Wisconsin Supreme Court
Precedent is often addressed at length in briefs to the court and between justices as they draft opinions. The arguments revolve around stare decisis, (Latin for "let the decision stand") the notion that justices should honor precedents set by their own courts to provide consistency and enhance public perception of the court's integrity.
Writing in the 2005 case that found the medical malpractice cap unconstitutional, then-Chief Justice Shirley Abrahamson dismissed arguments the court should uphold a precedent set just a year earlier. Precedent is "not mechanical in application, nor is it a rule to be inexorably followed," she wrote, adding that stare decisis didn't apply because the 2005 case was about a grievous injury, not a wrongful death.
Precedents are intended to ensure that courts have strong reason to overturn past decisions, due to changes in the law or circumstances.
Writing a dissent in the Mayo case, Justice Ann Walsh Bradley noted the court's precedent from 13 years prior rejecting the malpractice award cap. She cited another state Supreme Court opinion that said justices shouldn't overturn past cases "merely because the composition of the court has changed."
Chad Oldfather, a Marquette University Law School professor who teaches state constitutional law, said the Supreme Court has overturned its own precedents in recent years, but the liberal justices have frequently made the point that the court shouldn't do it often.
"So I think that, too, plays a role here," he said, "in the sense that it's going to make them less inclined to revisit questions because they've been, you know, sort of singing this song consistently for the past few years of 'No, we really ought to adhere to what we've decided in the past.'"
Courts play role in medical malpractice law
In 2014, the Milwaukee Journal Sentinel reported the number of medical malpractice lawsuits filed in Wisconsin had dropped by more than 50% since 1999. The balance in the state-run insurance fund — created to avoid rising malpractice insurance premiums — had ballooned to $1.15 billion, the newspaper reported, a total larger than all the money it has paid out during its 39-year history.
That year, $21.6 million was paid out in Wisconsin malpractice cases, the lowest annual total since 1990, according to federal data.
The fund surpassed $1.2 billion in 2020 and, according to a report released in March, has decreased but remains above $1 billion. In 2022, $20.1 million was paid out in malpractice payouts. And since 2014, nine medical malpractice insurance policies increased in cost and the same number either stayed flat or decreased, according to Medical Liability Monitor, a trade publication that tracks rates.
J. Michael End, a Milwaukee medical malpractice attorney, said he thought the horrible circumstances before the Supreme Court in the Mayo case presented justices with the best reasons he had seen to prove the cap should be tossed for good.
"I thought that if there was ever a case that would've brought about a change in the law, that was it," End said.
End was cautious to predict whether a medical malpractice cap case would return to the Supreme Court if the April 4 election goes in Protasiewicz's favor. But it could, perhaps years from now.
End said any challenge to the cap would likely take years, noting the Mayo decision came eight years after the plaintiff lost her arms and legs in 2011.
Because there are now fewer medical malpractice cases, the pool of possible challenges is relatively small. A lawsuit would also need to have noneconomic damages in excess of $750,000, with rulings from the trial court judge and Court of Appeals that allowed for the case to even reach the Supreme Court.
"There may well be the opposite result someday," End said, "because we're going to have new justices on the Supreme Court."
Kelly didn't respond to questions for this story.
Protasiewicz declined to say which case — the one tossing or the one affirming the cap — should be precedent in Wisconsin, saying she'd have to hear a case and its arguments before reaching a conclusion on what should be done going forward.
"There should be a very high bar to overturning prior decisions," she told Wisconsin Watch when asked her views on precedent. "If a precedent is no longer workable or doesn't meet constitutional standards, reversing precedent can happen, but those examples should be few and far between."
The nonprofit Wisconsin Watch collaborates with WPR, PBS Wisconsin, other news media and the University of Wisconsin-Madison School of Journalism and Mass Communication. All works created, published, posted or disseminated by Wisconsin Watch do not necessarily reflect the views or opinions of UW-Madison or any of its affiliates.
---
Recent Here & Now
//php dynamic_sidebar( 'news-sidebar-2' ); ?>