'Here & Now' Highlights: Miriam Seifter, Eric Wilcots, Rob Henken, Tony Gonzalez
Here's what guests on the May 5, 2023 episode said about a lawsuit over Wisconsin's 1849 abortion statute, the racist video of a UW-Madison student, the shared revenue bill put forth by Republican lawmakers and a campaign to permit driver licenses for undocumented immigrants.
By Frederica Freyberg | Here & Now
May 8, 2023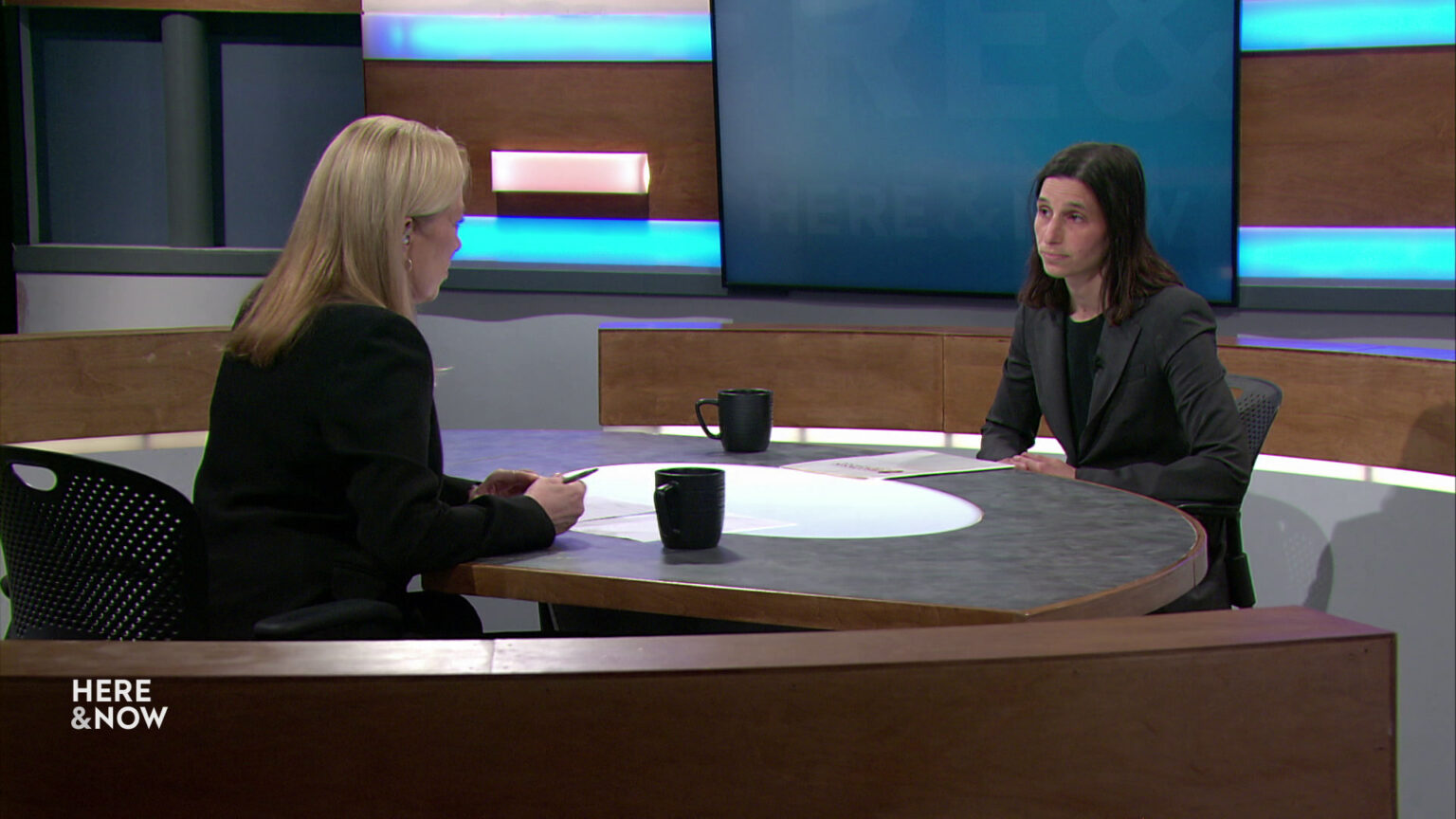 ---
As a lawsuit over Wisconsin's abortion laws begins, UW Law School Professor Miriam Seifter analyzed legal arguments made in Dane County Circuit Court. UW-Madison Interim Provost Eric Wilcots responded to the racist video that prompted protests on campus. Republicans in the state Legislature released a bill to boost shared revenue to local governments — Wisconsin Policy Forum President Rob Henken described its implications. American Hispanic Association Director Tony Gonzalez detailed why the central Wisconsin group is calling for all immigrant workers in the state to be able to legally drive.

Miriam Seifter
Professor, University of Wisconsin Law School
In an initial court hearing, a Dane County judge heard arguments whether to dismiss Wisconsin Attorney General Josh Kaul's lawsuit over the state's abortion statutes. A near total ban on abortion from an 1849 law is in effect after the U.S. Supreme Court's Dobbs v. Jackson decision in June 2022. Kaul argues later abortion laws conflict with the earlier statute and that ban should be nullified for lack of enforcement over many years. Seifter dug into the legal intricacies and real-world implications of the case.
Seifter: "I think if there was a notable feature of the case or of the argument, it was just how much uncertainty surrounds Wisconsin law right now. There were nearly two hours of argument about how this interlocking web of statutes fits together or doesn't. I think that speaks to the level of uncertainty that the state faces right now. There are other states around the country that have settled, in one way or the other, the legal status of abortion. But Wisconsin remains in limbo. And you heard the physician's attorney speak to that, saying that physicians in the state are not performing care. They were trained to provide, not because there's been a court ruling, but actually because there hasn't been one."
Eric Wilcots
Interim Provost, UW-Madison
A video of a UW-Madison student making racist statements went viral online as the semester was ending. In reaction, more than 50,000 people signed a petition asking the student be expelled from the university, while a student group led protests on campus – and inside the chancellor's office – where they presented a list of demands including academic accommodations, mental health resources and expulsion of the student in the video. Meanwhile, Republican Assembly Speaker Robin Vos has said additional funding for state universities could be reduced if the UW System does not eliminate diversity, equity and inclusion offices. Wilcots responded to that possibility.
Wilcots: "I think that's a horrible idea. And I think this incident proves that we need to focus on making sure our campuses are open and welcoming for everybody. That requires dedicated professionals who are in these positions, who are allowing us to understand what are the best practices. That's what these rules can deliver for our campus and to create the climate that our students are really asking for."
Rob Henken
President, Wisconsin Policy Forum
Republican members of the Wisconsin Legislature have introduced a bill to boost shared revenue to local governments, leaving Democratic Gov. Tony Evers threatening to veto the measure in its entirety, in part because it doesn't spend enough. Henken noted where there has been agreement of this budget-adjacent proposal.
Henken: "I don't think anybody could have reasonably expected that this was going to go completely smoothly, from the perspective of local governments. The important thing is that there is solid agreement among leaders of both parties [for] not only boosting the amount of shared revenue, but tying it permanently to a percentage. In this case, one-fifth of the state sales tax is something that they agree on. And that will be very important for local governments, both in the immediate funding increase it would provide over the next two-year budget, but also in terms of ensuring that there is some growth in that critical revenue source."
Tony Gonzalez
Director, American Hispanic Association
When Republican budget writers started from scratch on the state's 2023 spending plan, they eliminated more than 500 items in Democratic Gov. Tony Evers' budget proposal – including legalizing driver licenses for undocumented immigrants. Wisconsin's agricultural economy depends on migrant workers, and Gonzalez described how not being able to legally drive – especially in rural areas — hampers their lives and productivity.
Gonzalez: "Those immigrant workers that are in the fields putting the food on America's table — whatever people feel about immigrants, the reality is that they're working, that businesses are knowingly hiring them and needing their labor. Otherwise, we wouldn't have a lot of production here in north-central Wisconsin, where public transportation is nonexistent, just about. very limited. The distances are so great. So it's very important that they get there in a safe way. Also, one has to consider the fact that a lot of those immigrants' kids are American-born kids. They go to schools, they need to go to hospitals, they need things, and they need to arrive there in a safe way. So it's an important thing that people do so in a safe way, and that we know that we all want to know that those that are sharing the roads with us are people that have been trained and know how to follow the rules of the road."
Watch new episodes of Here & Now at 7:30 p.m. on Fridays.
---
Recent Here & Now
//php dynamic_sidebar( 'news-sidebar-2' ); ?>