'Here & Now' Highlights: Mayor Cavalier Johnson, Devin Anderson, Sharyn Tejani
Here's what guests on the May 26, 2023 episode said about special conditions for Milwaukee under a shared revenue proposal and a new federal law requiring accommodations for pregnant workers.
By Frederica Freyberg | Here & Now
May 30, 2023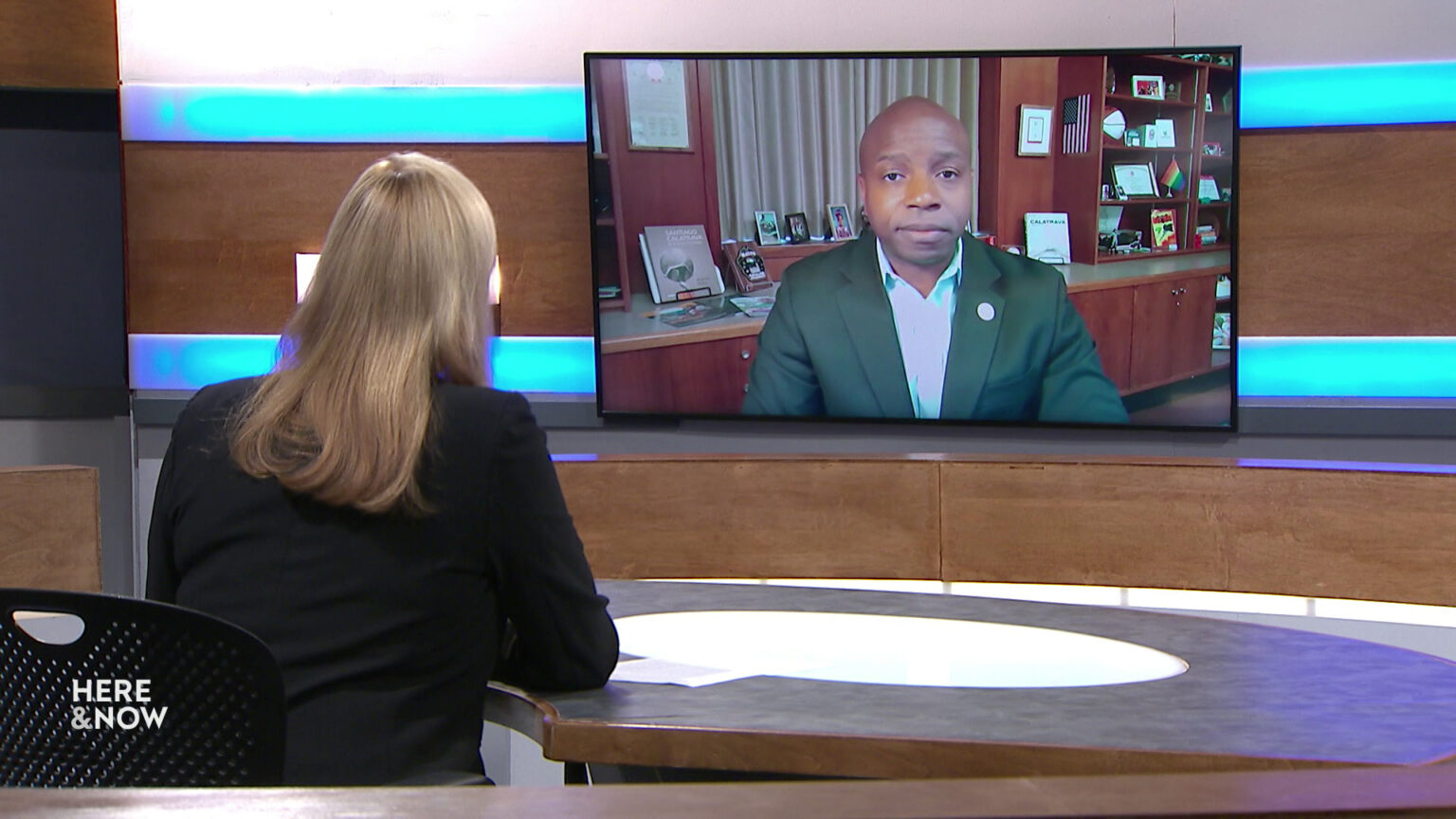 ---
Republicans lawmakers in the Assembly and Senate are at odds over whether to require Milwaukee to hold a referendum to pass up to a 2% in additional sales tax as part of the shared revenue package making its way through the Wisconsin Legislature — Mayor Cavalier Johnson is opposed to letting voters decide. Meanwhile, the African American Roundtable organization opposes the entirety of the plan as it affects Milwaukee, with its campaign director Devin Anderson saying the proposal overemphasizes the police force and overburdens low-income residents with an additional sales tax. At the federal level, a new law named the Pregnant Workers Fairness Act offers accommodations for childbirth-related limitations — U.S. Equal Employment Opportunity Commission attorney Sharyn Tejani described what the provisions can do.

Cavalier Johnson
Mayor, City of Milwaukee
The mayor of Milwaukee said he's looking for consistency with other units of local government across the state when it comes to a bill requiring the city's residents to vote to approve an increase in the sales tax to help pay for police and fire pensions. Johnson said he's concerned the vote would fail, a dire result for Milwaukee's finances – and the state at large.
Johnson: "What happens in Milwaukee has an outsized impact on the rest of the state of Wisconsin. It really, really does. I mean, you think about the services that we provide here. They are good, not just for my constituents, the residents in the city: Milwaukee. They're good for our regional economy. And we've got thousands of people who drive into the city each and every single day for work and for dining and the like — from the Waukesha, Ozaukee, Washington County suburbs. We in the city of Milwaukee , generally, we're the largest tourism destination in the state of Wisconsin. About a quarter of all tourists who interface with our state and then therefore pay sales taxes that go to Madison and then are diverted to other communities around the state. They come to Milwaukee, right? They experience the hospitality, the tourism that we have here in the city. And then, of course, some of the most iconic businesses in the entire state of Wisconsin are located right here in the city of Milwaukee. Now, if we're not able to provide those sort of city services that all of those constituencies depend on, that would put us in a dire situation where those visitors don't come, where those businesses perhaps decide to leave."
Devin Anderson
Campaign director, African American Roundtable
Organizations including the African American Roundtable that serve Black communities in Milwaukee oppose a legislative package on shared revenue passed by the Assembly because it overinvests in police and taxes the city's poorest residents. "All of it is pretty bad," said Anderson, describing why the group rejects the plan altogether.
Anderson: "If you look at it in its totality, the provisions that it places on Milwaukee in particular, bringing cops back into school, friends and leaders, igniting a transformation of the really strong organizing to get cops out of school. If you look at just the continued investment that Milwaukee would have to make into policing. Part of the reason Milwaukee's in the problem – the budget problem – that it has is because of its overinvestment in policing. And so this bill doubles down on that investment, and we haven't even gotten to the 2% sales tax. That's a regressive tax. And a regressive tax disproportionately impacts the poorest residents. Residents of Milwaukee are already struggling to make ends meet, and adding a 2% sales tax when they're really getting no increase in services is a bad deal."
Sharyn Tejani
Associate legal counsel, U.S. Equal Employment Opportunity Commission
In August 2022, Walmart employees in Wisconsin, represented by the U.S. Equal Employment Opportunity Commission, lost a federal court case that tried to argue pregnant workers — like those who are injured on the job — should receive temporary light duty work. Following that case, a new federal law was enacted that requires reasonable accommodations for pregnant workers. The Pregnant Workers Fairness Act takes effect on June 27, 2023 — Tejani agrees the law is a game-changer.
Tejani: "When you look at what Congress was talking about when it was passing this law, some of the accommodations they were talking about were incredibly simple things, things like carrying around a bottle of water, additional breaks to go to the bathroom, a stool if you normally have to stand. … Some employers obviously provide these kinds of things to their employees as a matter of course, and in certain types of jobs if you work in an office, for example, or lawyers, for example, who work at a law firm, the idea that they would need a federal law in order to be able to carry water around with them — of course not. Most people who work in offices are able to do that. But different kinds of jobs have certain rules. And for those kinds of jobs, this is going to be a very important thing for pregnant workers. Up until now, they didn't have a direct path in order to get these kinds of accommodations."
Watch new episodes of Here & Now at 7:30 p.m. on Fridays.
---
Recent Here & Now
//php dynamic_sidebar( 'news-sidebar-2' ); ?>