'Here & Now' Highlights: Kirsten Johnson, Joe Grande, Anthony Chergosky, Lois Brooks
Here's what guests on the July 21, 2023 episode said about the 988 Wisconsin Lifeline, mitigating PFAS risks at the tap, third-party presidential candidates in 2024 and artificial intelligence on campus.
By Frederica Freyberg | Here & Now
July 24, 2023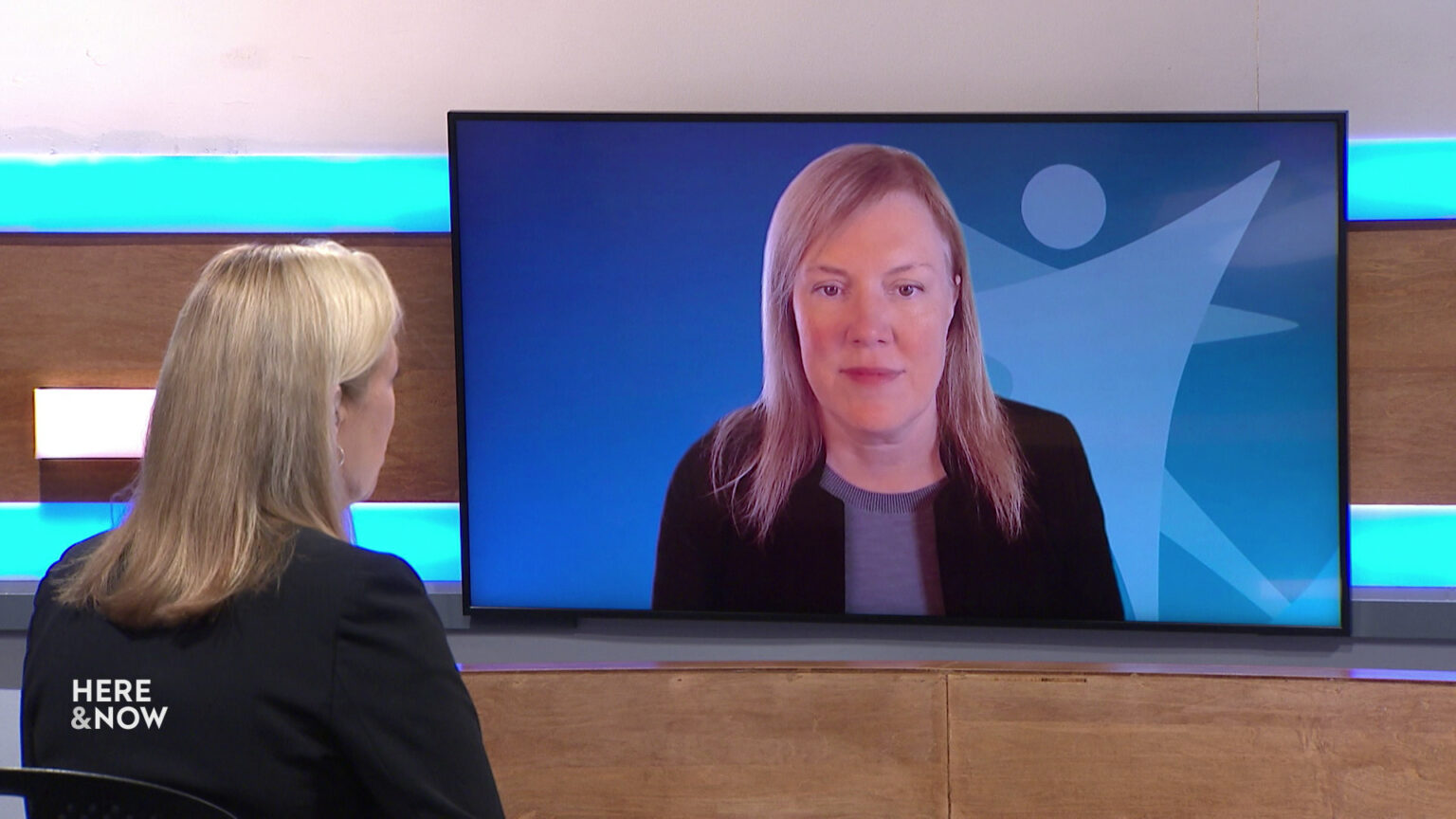 ---
The Secretary-designee of the Wisconsin Department of Health Services, Kirsten Johnson, discussed the widespread use of the state's 988 Suicide & Crisis Lifeline service offering live mental health help, Joe Grande with the Madison Water Utility described the kinds of filters that clear drinking water of PFAS "forever chemicals," UW-La Crosse political science professor Anthony Chergosky weighed in on third-party candidates influencing presidential elections. Lois Brooks, the chief information officer at UW-Madison, offered insight into academia and the growing use of artificial intelligence to generate content.
Kirsten Johnson
Secretary-designee, Wisconsin Department of Health Services
In its first year, the 988 Wisconsin Lifeline has received nearly 92,000 calls and other types of contacts from people across the state seeking mental health or substance use help on a 24-hour basis from trained counselors. Operated by Family Services of Northeast Wisconsin, 98% of the calls are deemed resolved to the extent the caller feels comfortable hanging up the phone and the counselor believes them to be safe. Overall, Johnson said this 988 system frees up other crisis services that might otherwise be called upon.
Johnson: "About two-thirds of callers are actually repeat callers. So there are people who now recognize that this is a resource that they can access. It has alleviated some of the demands on our crisis call centers in our counties. It also alleviates some of the demands on our 911 call centers. So people who are really calling just because they need that immediate sort of touchpoint, they just want somebody to talk, to actually have an outlet in some place to call where they have a warm body who's talking them through whatever the scenario they're currently in."
Joe Grande
Water quality manager, City of Madison Water Utility
A nationwide study by the U.S. Geological Survey found 45% of tap water contains cancer-causing PFAS forever chemicals. Wisconsin is working to clean up PFAS contamination, but Grande said reducing exposure to these chemicals at home can include water filters.
Grande: "There are treatment alternatives that can reduce PFAS concentrations in drinking water. Those include activated carbon, sometimes called a charcoal filter. It might be in a pitcher filter, it might be something that is attached to your kitchen sink. There's also an ion exchange filter which is less commonly used that's more for large users like utilities that are treating it before it is sent out to consumers. And then there's reverse osmosis, and that's another way that you can remove. So those are the three general technologies that are available."
Anthony Chergosky
Professor, UW-La Crosse Department of Political Science and Public Administration
There's an uptick of talk about hird-party candidates running in the 2024 presidential election. The centrist group No Labels is looking for a "unity" candidate to add to state ballots alongside major party candidates Joe Biden and potentially Donald Trump. While skeptical that such a movement will gain much traction, Chergosky said in a swing state like Wisconsin a third-party candidate could spoil a candidate's victory in the state.
Chergosky: "The third-party candidate could be highly relevant in Wisconsin, even if the third-party candidate would not win the state because our elections here are so close. So in Wisconsin, a third-party candidate could make a big difference, even if they only take a small percentage of the vote."
Lois Brooks
Chief Information Officer and Vice Provost for Information Technology, UW-Madison
Generative artificial intelligence can produce content like text or images. Machine learning has been in use for at least a decade for applications like chemical therapy in medicine, where AI algorithms can help scientists understand interactions at a mass scale. In other academic settings, generative AI comes into play in situations like students using it to write term papers. Books explained how UW-Madison is working to understand its implications.
Brooks: "There is an active conversation around the use of AI to, for example, generate a paper that the student was expected to write. There's an active conversation in a couple of ways. First, the standards haven't changed that cheating has always been disallowed. This is just a new way to potentially do it. But we're also having an active conversation with our professors around — are there ways to assess student performance? Oral exams, active learning, project-based learning that would not introduce the possibility of a machine-generated response?"
Watch new episodes of Here & Now at 7:30 p.m. on Fridays.
---
Recent Here & Now
//php dynamic_sidebar( 'news-sidebar-2' ); ?>