'Here & Now' Highlights: Kevin Krentz, Margaret Thelen, Kevin Bahr, Jeff Spitzer-Resnick
Here's what guests on the July 28, 2023 episode said about crops struggling in drought, dangers of excessive heat, Wisconsin's economy and the widespread practice of restraining grade school students.
By Frederica Freyberg | Here & Now
July 31, 2023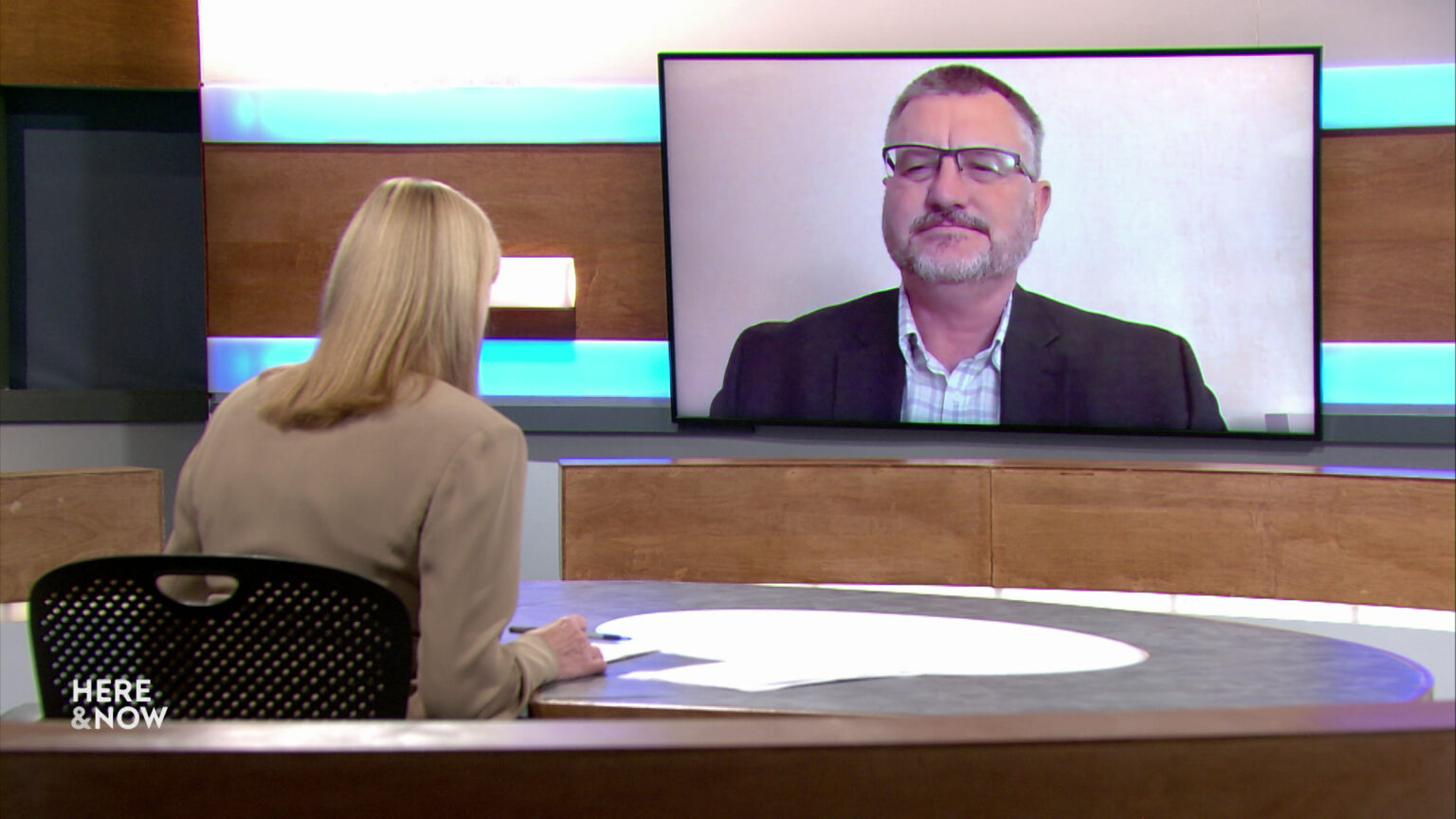 ---
Two swaths of the state are designated as in "extreme drought," and Kevin Krentz of the Wisconsin Farm Bureau Federation described which crops are struggling most. Along with lack of rain in many areas, excessive heat is putting people in danger, according to Margaret Thelan from the Wisconsin Department of Health Services. Like the rest of the nation, Wisconsin's economy is doing well with low unemployment and falling inflation, UW-Stevens Point professor emeritus Kevin Bahr explained. In the education world, the Wisconsin Department of Public Instruction released a report noting the number of K-12 students secluded or restrained over the 2021-22 school year — civil rights attorney Jeff Spitzer-Resnick expressed dismay that thousands of young students are subjected to the practice.

Kevin Krentz
President, Wisconsin Farm Bureau Federation
The U.S. Department of Agriculture has declared more than two dozen Wisconsin counties are eligible for natural disaster relief as of late July due to ongoing and intense drought conditions. Krentz described a "huge amount of stress" on crops like corn, soybeans and wheat in affected areas, because the drought started in early May at the onset of the growing season. Other crops — including various vegetables — could also suffer, leading producers to avail themselves of insurance and emergency loans. Krentz described the importance of agriculture to Wisconsin's economy.
Krentz: "When you're talking the vegetable side of things, we're number two in potatoes, number one in cranberries. But corn and soybeans go to feed a lot of our livestock industry. We're number two in the dairy industry in the nation, right up there with the beef industry as well. So it's extremely important for Wisconsin's economy — [a] $105 billion industry in Wisconsin. But the key part of being such a large economic driver is farms support local communities across the state. If one farm struggles, local communities struggle. Because even a number of years ago, I did the research on my own farm and found that 62% of my expenses are spent within a 15 mile radius of my farm. So you multiply that by the 60-plus thousand farms across the state, and it's a huge impact on local communities."
Margaret Thelen
Climate and health program manager, Wisconsin Department of Health Services Bureau of Environmental and Occupational Health
The Wisconsin Initiative on Climate Change Impacts projects that areas of the state will experience nearly a month of 90-degree high temperatures by mid-century, Thelan said. She described this type of excessive heat as "very dangerous," and pointed to the symptoms of serious effects of sizzling hot weather.
Thelen: "With heatstroke and heat exhaustion, you become really dizzy. You become confused. You start rapidly breathing. It really turns dangerous when your internal body temperature is above 104 degrees. And when that happens, you need to be able to immediately find shade or find a cool area, be able to drink water."
Kevin Bahr
Professor emeritus, UW-Stevens Point Sentry School of Business and Economics
Unemployment rates are low nationally and sit at 2.5% in Wisconsin. Due to a shortage of workers, salaries have been on the rise, and with inflation coming down consumer buying power is going further.
Bahr: "Wage growth in the last two years has been higher than at any other point this century in the United States. Wage growth has been coming down the last couple of months. But the good news is, although wage growth has been coming down the last couple of months, inflation has been coming down. Now you have wage growth exceeding inflation. So your purchasing power has actually been going up. If I might point out, one of the main reasons why inflation has gone from 9% to 3% — there were global economic factors that really drove inflation throughout the world."
Jeff Spitzer-Resnick
Civil rights attorney
An analysis of data released by the Wisconsin Department of Public Instruction  showed about 5,900 students in K-12 schools were placed in seclusion in the 2021-22 school year, and about 6,900 were subject to restraint. Restraint is defined as a restriction that immobilizes or reduces the ability of a student to freely move their torso, arms, legs or head – to be used as a last resort when a student's behavior presents a clear, present or imminent risk to the physical safety of the student or others. Seclusion is the involuntary confinement of a student to an area they are physically prevented from leaving. The Department of Public Instruction called the number of incidents "concerningly high." Spitzer-Resnick noted that the vast majority of the children secluded and restrained are in grade school and are students with disabilities.
Spitzer-Resnick: "That's a lot of kids who are suffering from really an abhorrent behavior on adults' part — being secluded, restrained. I would ask any adult to imagine themselves being held against their will and being put into a room where no one else is — how would they feel? But second, when we look at the numbers, we see that it's a huge percentage. Almost all of them are in elementary school. So we have these young children. Now, you might ask me, why are they young children? I think there are two reasons. One, and they're really the same reason, as children grow older, staff just aren't going to. They're just not going to try that with a bigger kid. So this power imbalance is really problematic. It's like we can so-called 'get away with it' with young children.
Watch new episodes of Here & Now at 7:30 p.m. on Fridays.
---
Recent Here & Now
//php dynamic_sidebar( 'news-sidebar-2' ); ?>