'Here & Now' Highlights: Ajay Sethi, Van Wanggaard, Kelli Thompson, LaTonya Johnson
Here's what guests on the Feb. 25, 2022 episode said about moving into a new and it's hoped safer pandemic phase, the debate over changing Wisconsin's cash bail standards and a plan by Democratic lawmakers to attract and retain teachers.
By Frederica Freyberg | Here & Now
February 28, 2022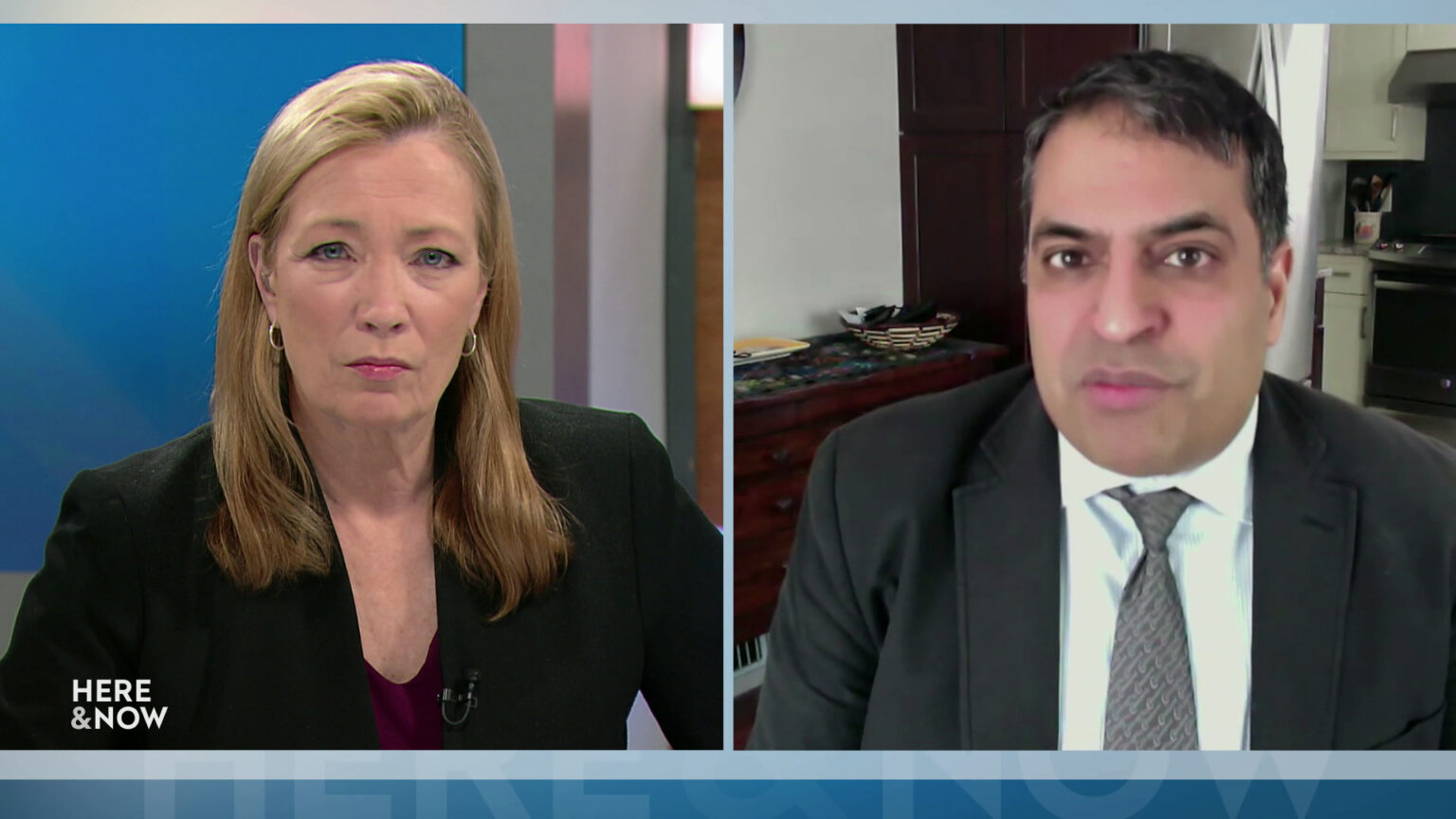 ---
With COVID-19 numbers quickly declining, Ajay Sethi at the UW-Madison School of Medicine and Public Health said a new phase of the pandemic is starting – not unlike the months following the rollout of the vaccines. State Sen. Van Wanggaard, R-Racine, authored an amendment to the Wisconsin Constitution to change the state's cash bail system with an aim to protect the community from defendants who get released from custody pending trial. Wisconsin State Public Defender Kelli Thompson objects to the proposed changes and said it would mean many more people who are presumed innocent would be held in county jails. State Senator LaTonya Johnson, D-Milwaukee, is among legislators who want lawmakers to take up paying teachers more to try to grow their ranks in the midst of a critical teacher shortage.

Ajay Sethi
Assoc. Professor, UW-Madison School of Medicine and Public Health Dept. of Population Health Sciences
Dane County has had in force the last municipal mask mandate in the state, but it's going away as of Mar. 1. The Centers for Disease Control also announced it is loosening its masking guidance. These moves come as daily COVID-19 infections across the nation and in the state continue to sharply drop. Wisconsin reported a 7-day average of just under 800 new cases on Feb. 25, a figure that compares to a peak average of nearly 19,000 daily cases at the height of the omicron surge in January.
Sethi: "We're just getting past the spike in cases due to omicron that also led to a lot of hospitalizations and deaths. It's a time to sort of rethink our next phase of the pandemic and how we can move forward living with covid, but also taking the necessary precautions as needed. … There's definitely a lot of immunity out there, and it's from that past infection, from vaccination and a combination of both. There are estimates that maybe 70% or higher of people in Wisconsin have some form of immunity, and that definitely helps create a bit of a wall for the virus — to prevent the virus from being passed from one person to another.
State Sen. Van Wanggaard
R-Racine
State Sen. Wanggaard authored a resolution proposing to amend the state constitution to change the way cash bail is set for people charged with a crime. Currently, judges and court commissioners set bail amounts only to ensure the defendant appears for their next appearance. The change would allow judges to consider the seriousness of the crime, prior criminal history and community safety. Both chambers of the Legislature passed the resolution in the 2021-22 session and would have to do so again in the next session for it to subsequently be a question on the ballot for Wisconsin voters. Such resolutions are not eligible for a governor's veto.
Wanggaard: "The problem with monetary bond, the way our constitution reads now, is monetary bond is designed to assure that that individual is going to appear in court for appearance. But if I say, OK, I'll put up, you make my bond $50,000, I'll come up with $50,000 from somewhere. But you know what, if I get out, I'm going to kill every witness and all the people who are involved in my case when I get out — but I'll show up for court. Well, the judge has to be able to consider all of those potential threats and intimidation … and then can they deliver on what those threats are. Those things should be considered now. But the way the law reads, monetary bail is supposed to be a reasonable amount that somebody can make to tie them to the community … so they show up for court."
Kelli Thompson
Wisconsin State Public Defender
Those opposed to changing how the cash bail system works in Wisconsin say it would result in many more people held in county jails pending trial. Wisconsin State Public Defender Kelli Thompson said these people are presumed innocent and may not, in fact, pose a serious risk to the community.
Thompson: "It likely will lead to additional people being held pretrial, because cash bail does not equate to risk. We can have you and myself be charged with the same crime and be provided a cash bail by the court or by the commissioner. One can pay, one cannot pay. That doesn't necessarily mean that the person that can pay is less risky. We have individuals in our criminal justice system, in our jails right now, presumed innocent, and they just don't have the ability to pay the cash bail that has been set in their particular case."
A group of Democrats in the state Legislature is pursuing a slate of eight bills designed to attract and retain teachers in Wisconsin. The state Department of Public Instruction reports schools are facing historic teacher shortages as fewer students get education degrees. The proposed legislation would set a minimum salary for teachers at the $56,000 annual salary state legislators earn. It would also include $7,000 bonuses for every five years of service a teacher completes.
Johnson: "We have more than enough money to pay for the package. We have $1.7 billion sitting in our rainy day fund, and we are anticipating $3.8 billion to come in [general purpose revenue]. So that's a total of over $5 billion that we should invest back into our classroom and back into those individuals who are educating our children. … It's going to be an uphill battle, and in most cases, this legislation probably will never reach the floor to get a vote this session, as it's going to quickly come to an end in March. But we wanted to make sure that people knew that there are individuals out there, especially on the Democratic side, that we understand the need to have well-qualified teachers in the classroom teaching our most vulnerable and our most valuable. We have seen my Republican colleagues on the other side not show any care or concern, especially for public education. I have to be honest about it. I am not against choice or charter schools. My daughter graduated from a private high school on choice, so I do understand the need. But I don't understand the bias in my Republican colleagues choosing to want to pit school systems against each other rather than adequately funding and making sure that all school systems across the board have what they need, and the resources that they need to provide a quality education to our children."
Watch new episodes of Here & Now at 7:30 p.m. on Fridays.
---
Recent Here & Now
//php dynamic_sidebar( 'news-sidebar-2' ); ?>