Getting Dairy Products to Food Banks Has Win-Win Potential
As aftershocks from COVID-19 devastate the dairy industry, local and statewide efforts are trying to make a pipeline for dairy products to get to food pantries.
By Andy Soth
April 19, 2020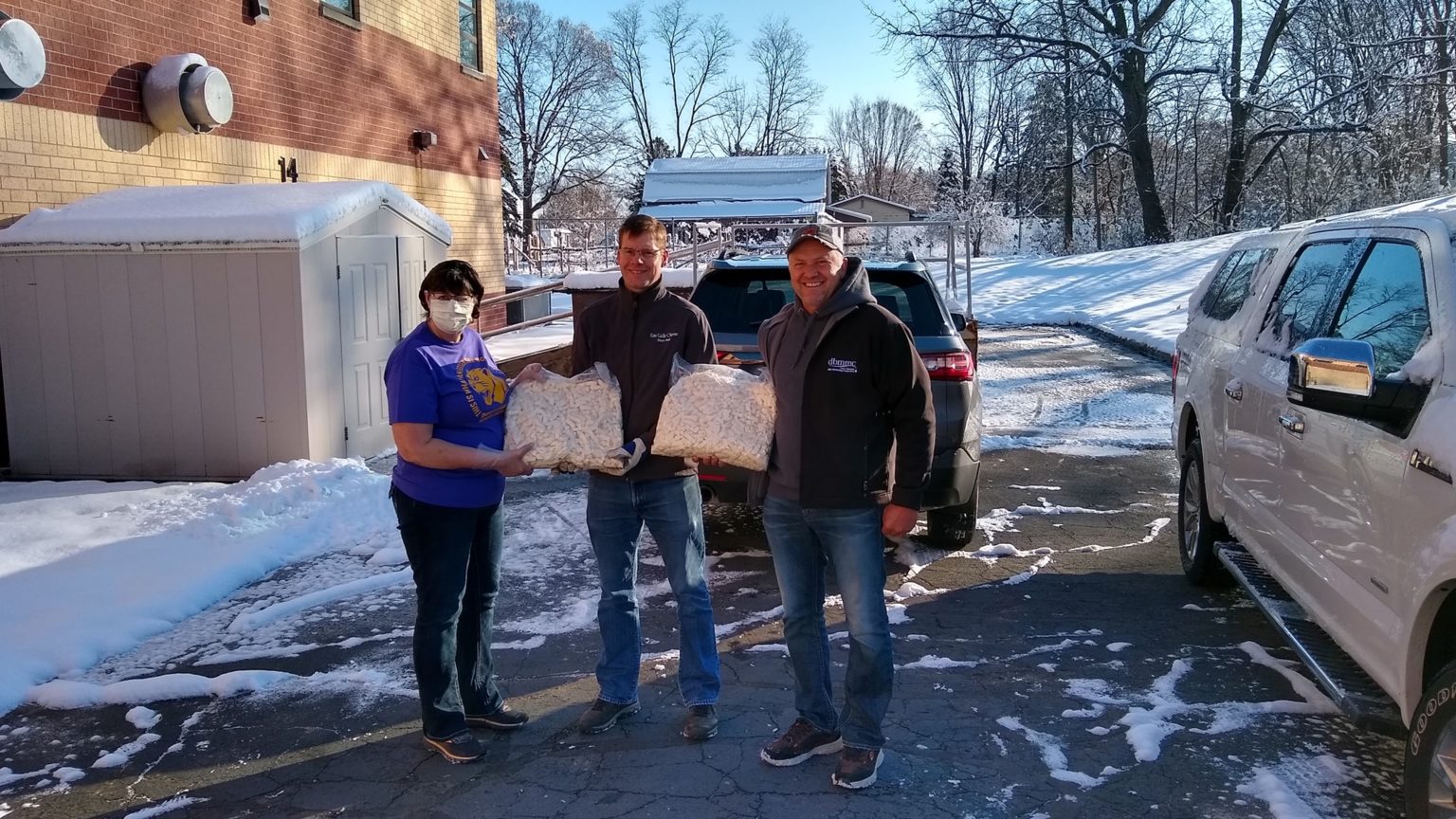 ---
In early April, country music DJ and radio station owner Brian Winnekins was in the cab of his truck in the parking lot of a cheese factory as he went on Facebook live to encourage viewers to help the area's struggling dairy farmers. Holding up a bag of fresh cheese curds he'd just bought, Winnekins said he was on his way to the food pantry in downtown Durand to donate them and a bagful more.
"I look at it this way. One, it helps out the dairy farmers because their milk is being used. It helps out Eau Galle Cheese Factory," Winnekins told his audience. "And I'm helping out some other residents as well who may need a helping hand at this time with the food pantry."
The idea caught on in and around Durand, the seat of Pepin County. Many businesses, organizations and individuals added more curds, fluid and powdered milk for distribution to those in need at the pantry and in meals going out to free and reduced lunch-qualified students stuck at home.
As unemployment rates soar to unprecedented levels and milk prices plummet, getting dairy that might otherwise go to waste to those struggling to buy groceries looks like a win-win solution. Milwaukee-based Hunger Task Force announced a $1 million partnership on Wednesday with DATCP and Dairy Farmers of Wisconsin to provide dairy products to pantries.
But it is also a solution that is not as simple as it sounds. As shoppers have been stocking up during Safer At Home, consumer demand has been high. "Those fluid milk plants are going flat out right now, just trying to get volume through them," said UW dairy economist Mark Stephenson.
It is in the institutional and food service sector, now largely shuttered, where demand has disappeared. These customers account for about half of the state's cheese production, according to Patrick Geoghegan of the Dairy Farmers of Wisconsin, and the product output is not packaged for distribution to individuals and families.
"There's oversupply in the dairy industry with the disruption to schools and others. [Food bank delivery] is an alternative to get milk off the farms and into homes. But the challenge is the quantity and the size," U.S. Department of Agriculture Secretary Sonny Perdue said in an April 8 telephone press conference. "The logistical challenges are more on the receiving and distribution end to the customers at food banks rather than getting it to [the food banks]," Perdue added.
Stephenson provided an image that would be familiar to many Wisconsin tavern-goers: "If you're going out to a casual dining or a bar and you get a plate of nachos and they pump that kind of semi-plastic cheese on, now that stuff is all made from what we call barrel cheese. Those are five hundred pound barrels of cheese. And those plants overnight lost their orders. Just gone."
Simply rolling out those barrels to food pantries won't work easily, as it will take enormous labor to right-size the portions. "They might have to have people who are cutting that up and wrapping in smaller packages to put them in bags or boxes to give away so we could use the products. But, you know, it's going to take a small army of people just to try to make that food giveaway work," said Stephenson.
The milk oversupply has led to the troubling image of milk being poured out. While it is hard for individual producers to see the results of their hard work put to waste, it can be part of a collective strategy to reduce supply as demand wanes.
"Much of the dumping that's been done has been done through co-op members. So the entire co-operative might realize that they can't sell all their members' milk, that the plants just can't take it. And so they turn around and they would ask producer A, B and C, to dump their milk on this day," explained Stephenson. "The co-op will usually re-blend the value of that milk back across to all their members so that they share the loss. Any one producer doesn't feel too much of that happening at any one point in time."
Located in Ellsworth, the "Cheese Curd Capital," Ellsworth Cooperative Creamery is one of the many co-ops seeking ways to reduce supply from its members, including incentives to help those who may be ready to leave the business.
"Ellsworth is going to stick with the true cooperative model," Co-op board member Marty Hallock told the Mid-West Farm Report. "We're not going to have one loser and 300 winners. We're going to stick together."
That spirit resonates with DJ Brian Winnekins, who was back on Facebook live from his truck on Wednesday: "We're taking the bull by the horns and helping out our local dairy farmers."
---
Recent Here & Now
//php dynamic_sidebar( 'news-sidebar-2' ); ?>